Do you have the curiosity to know about the Best Bluetooth Ceiling Speakers to buy in 2022? 🤔 You can easily Find out now in this definitive list with our detailed review.
Without any further delay, let's find out. 🔎🔎
Do you know that good surround sound vibe you get when you have music playing through great ceiling speakers? Even if you don't know the feeling yet, prepare to be impressed by the first use of any of these ceiling speakers.
The fact that Bluetooth speakers serenade you while staying entirely out of your way is a thrill for many people, and it is not just enough to buy anyone you see out there.
The puzzle becomes which Bluetooth ceiling speaker is best for you and how exactly you make that choice.
We have come a long way in the digital audio world, from a period of bulky devices connected with wires that get in your way to these hands-free ceiling speakers that stay out of the way so that you don't have to deal with them when you are not using them.
This article provides the top Bluetooth ceiling speakers with sound quality, battery life, and easy installation.
Everyone picked it out for its great performance We put together this list to make it easier for you to choose and a guide to help you pick the right Bluetooth ceiling speaker.
You read right; the Bluetooth speakers in this list are in the frontier category of their competitors for simply outperforming in a different category.
As you read, you will be able to pick out which one is better suited for you.
Best Bluetooth Ceiling Speakers – Our Picks
1. Klipsch CDT-5650-C II
The Klipsch CDT-5650 has so many positive reviews from customers it is hard to resist not clicking right away (which is fine because this is a treasure). However, there are three things to note about the speakers who earn it's a high rating.
First of all, the speakers are surprisingly easy to install; if you have had any experience with ceiling speakers, you would understand how important this is.
It means that you are not put through a herculean task before you start using it, and you won't have to sigh and mumble thinking about readjusting it.
The second important feature is that the woofer and tweeter can be rotated, so you don't need to reinstall it just to direct the sound to the right angle. Thirdly, you need to hear the sound of this baby.
Delivering the sound quality that is associated with only high-end speakers, you can get to forgive the price tag on the Klipsch CDT-5650-C II.
Features:-
It is a wired ceiling speaker by Klipsch
It uses a 2-way channel mechanism
The output of the speakers is from 50Watts to 200Watts
It requires a 100Watts amplifier
It has a 96decibels sensitivity
It has a rotatable tweeter and woofer
It comes with a limited lifetime warranty from Klipsch
Pros:-
From the beginning, it is easy to install
The tweeter and the woofer can be located when you need to direct the sound for efficiency.
Clear, top-quality sounds even at very high volumes
It is very convenient to use even in small spaces
You can use it with a Bluetooth amplifier
CDT technology improves the surround sound experience when you use it.
Cons:-
It is relatively expensive
Too many wires at the back make the backless aesthetically pleasing.
Notes:- At the end of the day, it is hard to expect anything less of the Klipsch speakers in terms of either performance or price. Because after testing it with some songs, you will find that the sound quality is premium.
This is for anyone looking for the best of the bunch; just remember that you have to get a Bluetooth amplifier.
Check Price on Amazon
Klipsch CDT-5800-C II Dolby Atmos In-Ceiling Speakers - Unboxing
2. Pyle 8.0" PDICBT286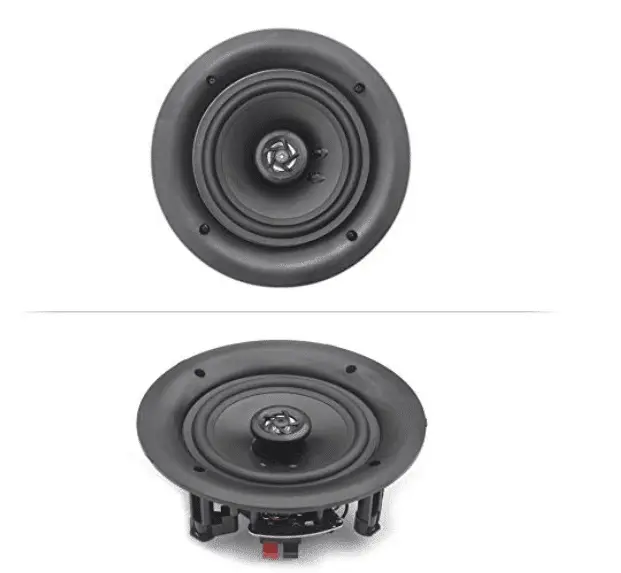 This Pyle speaker with inbuilt Bluetooth is one of the best out there. It produces clean and clear sounds that can get very loud (up to 300 Watts power of sound output).
The inbuilt Bluetooth of the speakers makes it possible for you to adjust it fast and via mobile devices. This makes for convenient usage of the speakers.
In addition to the commendable sound quality (even at high volumes), it is also known for being easy to install.
So there is no need to be hesitant about buying it for installation because the speakers are built to last for a long time.
Features:-
It has an inbuilt Bluetooth receptor that can be picked up from a distance of 30 to 40 =ft
You can change the grills because it comes with two of them
It can deliver high-volume sounds of up to 300 Watts
It doubles as an in-wall and ceiling speakers
It has a durable exterior-ABS plastic material
Cut-out templates foster easy installation
Pros:-
Installation leaves a pretty appearance.
The appearance of the speakers after installation is flush, blending with your room decoration.
The body material is sustainable and durable
It produces clean and clear sound quality
It is very affordable
It can be used on the walls and the ceiling
It is capable of producing a high volume of up to 300Watts
Easy installation of the speakers
It easily flushes into the surface it is being used on
The bass on the speakers does not overpower the sound being produced
Cons:-
The bass of the speakers is low
Notes:- coming next to the Klipsch, the Pyle 8.0" is a relief on the price tag. Therefore, it is suitable for anyone looking for something inexpensive and one that flushes well. A tip is to try it as an in-wall speaker to get you better surround sound.
Check Price on Amazon
3. SpeakerCraft AIM8
SpeakerCraft is easily one of the top brands of speakers out there, and it is no surprise that one of theirs had to belong to this list. The AIM8 speakers are high-performing Bluetooth speakers that are aesthetically pleasing when installed, which is why customers rate them highly.
You have inconsistent sound production with many other speakers that is better at one of the levels. Still, SpeakerCraft AIM8 sets itself apart from them by producing clear sounds at all levels, giving consistency above so many of its other competitors.
Although the SpeakerCraft does not come with an inbuilt Bluetooth receiver, the overwhelming performance and design put it on this list. with this one installed in your space, you can enjoy a beautiful full surround sound experience.
Features:-
The 8 inches aluminum core woofer can be rotated.
The frequency of speakers response is between 37Hz t 20Hz
It has an impedance of 8 ohms
The speakers' sensitivity is 89 decibels which are adjustable by ±3 decibels.
It uses Waveplane technology for the sound
It has Accu-Grille
The speaker installation requires a 9.34 inches cutout in the ceiling to accommodate it.
It comes with a limited lifetime warranty.
Pros:-
It produces theatre-quality acoustics.
You can rotate the woofer/tweeter to be able to achieve directed sound
It allows you to control the decibels of the speakers to the extent that you don't see any other one
The large size of the speakers, as well as their volume, allows you to be able to use them for a surround sound experience.
It has three speakers, making it loud and good enough for a home theatre experience.
The exterior of the speakers easily flushes and blends the ceiling design
Cons:-
Notes:- Although these speakers will perform great all around, if you want to use them, the best way is to use them as home theatre speakers since it gives perfect and full surround sound.
Check Price on Amazon
4. Leviton AEC80
Although without an inbuilt Bluetooth receiver, once connected to a Bluetooth amplifier, you have one of the best with the Leviton AEC80.
With high compatibility drivers that work well even with other brands, you can get the best of both worlds with the Leviton AEC80, because you do not have to use a Leviton amplifier.
With a sensitivity of 89 decibels coupled with impressive aesthetics, AEC fits perfectly into your space while giving you crisp quality sound in return.
Also, if you have space with a unique geometry, you can adjust the tweeter to maximize directional sound aside from the sound quality; what qualifies this speaker as one of the best in its impressive aesthetics that fit into just any ceiling in a space.
Features:-
It is a 2-ways speaker by JBL
It requires 100W and has an impedance of 8 ohms
It uses an SSP crossover network
It uses JBL titanium laminate drivers to produce the high-end sound of the speakers.
The semi-circular plastic woofers surround the pole piece magnet
Transparent grilles as cover for the speakers
It comes with a dog-ear mounting bracket
Pros:-
High-quality sound produced
Low diffraction of sound as a result of the technology used
It blends well with the interior decoration of any ceiling
You can get directed sound with the help of the adjustable tweeter
It is easy to install even if you are not an electrical engineer.
The sound technology used is top quality, usually used for cinema-purpose speakers.
It is great for setting up surround sound.
Cons:-
It doesn't have an inbuilt Bluetooth receptor.
Notes:- If you are meticulous about the interior design of your space and want some speakers that will blend in without being too distorting, the Leviton AEC80 is the right pick for you since the transparent grilles cover the speakers and increase their ability to blend in. this means that the plan for your room décor is not disturbed and you get great sound quality.
Check Price on Amazon
At the time of our research on "Bluetooth ceiling speakers with an amplifier," we found a video about "12 Strange Sounds on Earth Science Can't Explain," which is worth watching. 🏆
12 Strange Sounds on Earth Science Can't Explain
5. MartinLogan Electro Motion IC
The MartinLogan Electro motion IC is one of the high-end ceiling speakers out in the market, but thankfully, its performance does well to meet the high price.
MartinLogan put a lot of detail and precision into manufacturing these speakers, which shows when you listen to something play on it. The speakers were built to suit the home theatre needs of people but can be used for a different kinds of listening and suit almost any part of the house.
With MartinLogan Sound technology and a durable build, there is no reason why you shouldn't buy this if sound quality is what you seek.
Features:-
It is Manufactured by the MartinLogan company and uses its drivers.
It has an aluminum cone woofer that is sized 6.5."
It uses folded motion tweeters
It has micro-perforated grilles
It weighs 8 pounds
It has a 5years warranty from MartinLogan
Pros:-
It produces a high-end sound quality
It has very good bass quality in the sound
It is easy to install
You get a premium home cinema sound when you use them
It can fit into any kind of room, whether bedroom, kitchen, bathroom, or living room
Cons:-
Notes:- if you like detailed and high-quality sound, the MartinLogan speakers are amazing, although you may need to acquire a taste for the aesthetics of it. However, if you can look beyond that, and of course the price, you have a great buy yourself.
Check Price on Amazon
6. Polk Audio RC80i – Bluetooth home ceiling speakers
If you want good quality, affordable, durable speakers, the RC80i is the one for you.
First, you should know that with these speakers, you can install them in any space in the home, whether dry or humid.
This is because the speakers can perform well in a moist environment due to the use of moisture-resistant material in their build, so do not be scared to buy them if you intend to use them in the bathroom.
What the RC80i offers you is simply quality at an affordable price because when tested, it was able to meet up with the sound quality of some other more expensive speakers, making the RC80i a relatively cheap option.
Features:-
It has a composite cone
It has rubber surrounds that are durable
It uses a mounted tweeter that can be swiveled to up to 15o
RC80i has a response frequency range of 20 to 35Hz
It comes with a cutting template
No inbuilt Bluetooth receiver
It can withstand moisture
It has an audio sensitivity of 90 decibels
Pros:-
It is affordable
It produces good quality sound
It is suitable to use for large rooms as well as smaller rooms
With an added sub-woofer, you can improve the bass level of the speakers
It can pair well with simplifiers from other brands
With an external Bluetooth amplifier, it gets a hands-free feature
Since it is moisture resistant, you can use it in the bathroom of the house, or a spa and steam room without trouble
It has numerous positive ratings from customers
Its usage is not restricted to indoor spaces, as it can also be used outdoors.
Cons:-
Notes:- The RC80i speakers are a versatile option if you need something that can serve in different kinds of spaces, especially in wet spaces. At an affordable rate, you will get good quality sound.
Check Price on Amazon
How To Install Polk Audio RC60i / RC80i In-Ceiling Home Theater Speakers
7. PolkAudio MC80 – in ceiling speakers with Bluetooth
This MC80 Polk Audio speaker is much like the RC80i version, except that it is not as flexible. With a lower bass sound and lower versatility, it still comes with sound quality better than many of its competitors, making this one of the leading brands for a speaker at the moment.
You will enjoy using this speaker's indoor spaces with impressive response time and damping effect.
Features:-
The speakers have a response frequency range of 50 to 20000Hz
It has an 8 inches woofer and a silk dome tweeter that you can adjust
The audio sensitivity of the MC80 is 92 decibels
It has a white matte grille that is paintable
It has moisture resistance construction
It comes with five years warranty from PolkAudio
Pros:-
It can be used in wet and dry spaces because it is moisture resistant
It comes with a warranty from Polk Audio, making it safer to buy.
It is an affordable in-ceiling speaker.
It is easy to install after you buy it.
It performs well as a part of a surround sound setup
If you don't require high bass, you will enjoy the balance
Cons:-
It could do with more bass
Notes:- If you don't need the added versatility of the RC80i that allows you to use it outdoors, you will enjoy the MC80. With similar specs, affordability, and quality sound, you have yourself one of the best.
Check Price on Amazon
8. Yamaha NSIC800WH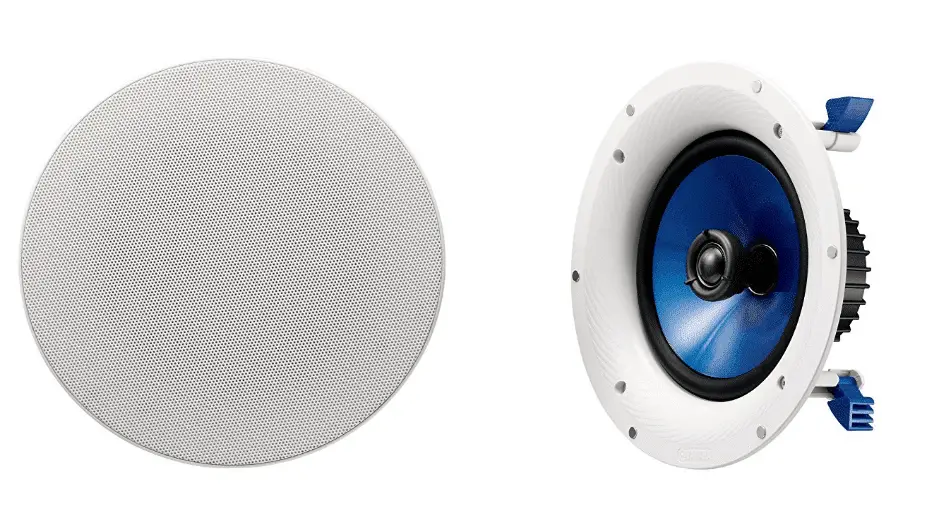 Whether for movies with a softer sound or for music with stronger bass, the Yamaha NSIC800WH is a great in-ceiling speaker to have. The speaker doubles as a ceiling and a wall speaker and is kept in place with the help of non-slip grips.
There are many good things to be said about these Yamaha speakers; many of them have taken it up as one of the best in-ceiling speakers, and when paired with a Bluetooth amplifier, it has become one of the top Bluetooth ceiling speakers with a subwoofer list.
With a swiveling tweeter to help you direct the sound, dust, and moisture protection and a design that flushes very well with different ceiling designs, it is easy to fall in love with the Yamaha NSIC800WH. Not to mention that it is surprisingly affordable for a brand with its kind of repute.
Features:-
It is a wired in-ceiling speaker by Yamaha
It comes with two speakers
It uses a 2-way crossover channel mechanism
It has an output power range of 50 to 140 watts
The audio sensitivity of these speakers is 90 decibels and has a nominal impedance of 8 Ohms.
It has a 50Hz to 28000Hz frequency response range
The drivers are made from polypropylene
It weighs 4.19 pounds
Pros:-
It is easy to mount whether you are using it on the ceiling or the wall with the help of mounting clamps included in the package.
It can perform well in different spaces.
It has protection from dust and moisture to increase durability
The design of the speakers easily flushed into ceilings
The sounds produced are rich and have good clarity
It is an affordable ceiling speaker
It allows for even and natural sound dispersion
Cons:-
It is more suitably built for efficiency over small to medium spaces
Notes:- This Yamaha NSIC800WH speaker produces high-quality sound with impressive response frequency and is cheap for such a brand; however, it has a space limitation for medium-sized spaces at best. To use it in larger spaces, you could add an extra woofer.
Check Price on Amazon
Other ceilingBluetooth speakers notable for delivering good quality sounds are the; Pyle PDIC60for an affordable, high-quality home theatre experience, the MCM 8" for inbuilt Bluetooth speakers with good quality audio, and the Yamaha NS-IW480CWH as cost-effective surround sound speakers.
If you need a little something extra, you could go for the Lithonia Lighting with integrated speakers.
Best Bluetooth Ceiling Speakers: What To Consider
Picking the right Bluetooth speakers should not be complex as long as you consider the right things. With so many available because of higher demands, you need to buy one that you will enjoy for a long time.
To go about it, you need to know about the following considerations:-
Response time:-
 This is a part of the specification measured in Hz. Just as the human ears can only hear sound in a certain frequency, so can speakers only interpret in a certain frequency; hence the wider the range, the more sounds the speakers interpret, the richer the audio quality.
The key here, however, is to search for speakers with a wider range; also note that even at that, the human ear cannot pick sounds higher than 20000Hz; hence even if some speakers include a number higher than that, it will not serve you.
It is always good advice to do a personal calculation of the range and set the limit at 20000Hz.
Whether you need a Bluetooth receiver or not:-
 Although you want a Bluetooth ceiling speaker, you don't need to get one with an in-built Bluetooth receiver.
In most cases, better-sounding speakers do not have inbuilt Bluetooth receivers, but this is solvable by connecting an external amplifier with a Bluetooth receiver.
The audio sensitivity:-
 The audio sensitivity of the speakers is measured in decibels and is, interestingly, a feature that matters a lot.
The more sensitive the speakers are to sound, the less energy they will require to transmit loud sounds. This means speakers with higher audio sensitivity are more energy-efficient than their counterparts.
Movable tweeters:-
 Directed sound improves the experience of the listener. Instead of evenly spreading sound over a large area, if you can direct it towards the people in the room, it enhances their experience with a little speaker work, hence efficiency. This is possible with the help of adjustable tweeters.
The room size:-
 You need to know the size of the room the speakers will serve and how many of them will be enough to do a good job and strategic placement.
You will not appreciate the sound using too few or ill-placed speakers. Also, note that the ceiling height is as important as the room's floor area.
A function of the room:-
 Things like the room function determine the extra features you may want. If you want to install the speakers outdoors, you should get one that can cater to that.
In damp-prone areas, always opt for speakers with anti-dampening treatment. Also, while most speakers in this list were tested at home, some can still perform very well in more public spaces.
FAQ's on Best Bluetooth Ceiling Speakers
Below are a couple of queries everyone expects to answer, and I did include the same for my readers.
What are the best ceiling speakers?
1. Klipsch CDT-5650-C II 2. Pyle 8.0" PDICBT286 3. SpeakerCraft AIM8 4. Leviton AEC80 5. MartinLogan Electro Motion IC
Do ceiling speakers sound good?
Generally speaking, ceiling speakers are best for multi-room music systems. In-wall speakers are ideal for space-saving surround sound.
Can ceiling speakers be used in wall?
YES! . You're more likely to get less weird looks with In-wall speakers in your ceiling than if you put In-ceiling speakers in your walls.
How many ceiling speakers do I need?
Use two pairs of speakers for balanced sound in larger rooms.
What size in ceiling speakers do I need?
The most common sizes of ceiling speaker are either 6.5 or 8-inch.
Conclusion
In conclusion, the best Bluetooth ceiling speakers in this list are arranged in no particular order, and the list also includes ceiling speakers that do not have in-built Bluetooth receivers; this is because you could easily connect a Bluetooth-included amplifier and have a better performance than if you had a speaker with an inbuilt Bluetooth receiver.
It is also worth noting that this list was influenced by ratings, sales, and important speaker factors.