When you enjoy reading books but are hesitant to purchase one since you don't know how the book will turn out, good or bad? 
This makes it very difficult to pick between books because we don't want to be disappointed if the book we choose doesn't meet our expectations. 
Because we don't want to buy a book blindly, we should look at the reviews it has received from people who have already read it. A book review is an excellent way to check a book before purchasing it from a store.
The more and better the reviews, the more likely we are to buy it because we know we will love reading it after hearing from so many others who have!
We've compiled a list of the top 11 most popular book review sites to provide a valuable review.
Best Book Review Sites – From Bestsellers to Hidden Gems
1. Goodreads
Goodreads, a leading Book Review Site for enthusiasts who want to read books and check out other known and sounded novels, is first on our list of top ten book review sites.
After reading one, people who want to read a new genre book usually go to Goodreads, which offers a wide range of reviews for millions of books and their finest quotes.
On this website, you'll discover a limitless number of book lists created by users to explore. Goodreads also publishes its favorite and greatest list of books from various categories so that readers have various options regarding what they read.
This website also allows you to participate in book discussions and reading groups with other Goodreads users, allowing for more perspectives to be expressed globally through its platform.
You may score it here based on your experience if you have read a book. It also includes question-and-answer sessions with writers to allow for a more in-depth discussion of the book.
Download the App from Google Play Store
Download the App from Apple App Store
2. LibraryThing
How can we talk about book review sites without mentioning a book club? Isn't it remarkable that LibraryThing is regarded as one of the world's largest book clubs?🧐
It has made a reputation among the book reader community, with over 2.3 million users, and is classified as a part-cataloging and part-social networking site.
It has given readers the right to have and offer an honest evaluation of the books they have read so that others may have a better sense of what they are reading.
If you want to join this website, you must sign up; it's free! You may quickly add up to 200 books that interest you to your library, and if you want to share your list with friends and family, you can do so.
Regarding book reviews, it's a bookmarking site because each book has user-generated ratings, reviews, and tags.
All of these might help you get a good idea of how a book and its tale are.
3. Book Riot
Book Riot is yet another of the best book review sites that produce articles on various topics, the majority of which discuss and focus on the greatest books available in a certain genre so that others may read them and decide which one they want to read.
The reviews might include everything from the finest writing books to the best video games based on novels.
Their goal is to write about books since they are as varied and full of opinions as book genres and reader preferences, which are both flexible and attractive.
As a result, they tend to focus on book conversations that include readers and publishers, so anybody who wants to be a part of the Book Riot community may profit from these articles and debates. 
If you are passionate about books and literature, this site is highly recommended and worth bookmarking or adding to your list of the best book review websites.
4. Bookish
If you're a book club member and alternately attend meetups, you should read and learn from Bookish before your next meetup and tell others about it so that you can all prepare well.
Bookish is a website that can assist you in getting ready for your next meeting, with the aid of all accessible discussion guides, book quizzes, and even book games on our website.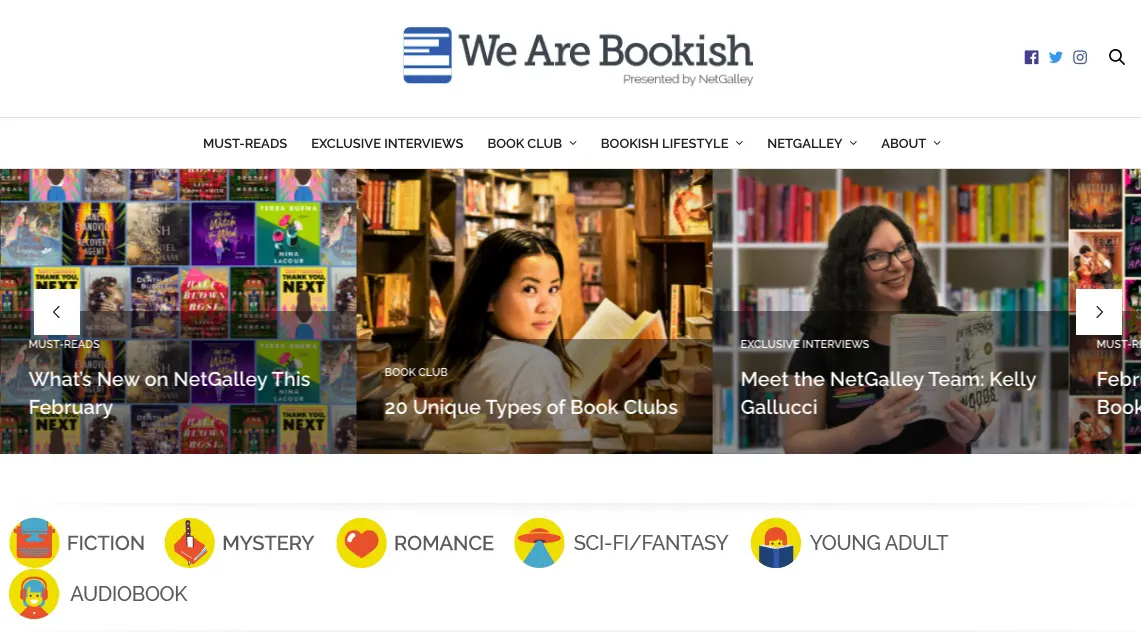 Aside from that, you might wonder what else this website has to offer. It also includes your food and dr#ink recommendations and music choices.
This site may be compared to additional book club meetings, where you can learn about other viewpoints on a book and gain a new perspective on how individuals who have read it feel.
It also offers a wealth of editorial material in the shape of author interviews, opinion articles, book suggestions, reading challenges, and giveaways, all of which can be found on one website. Isn't that incredible?
5. Booklist
Booklist is a print magazine with an online gateway where you may spend your leisure time reading about various topics every other day.
The evaluations or reviews on the website are written and published by trustworthy professionals from the American Library Association.
They ensure that anything you read is informative and worthy of your time.
If you have a book in mind and want to learn more about it, this website can help you. You may browse fragments of reviews for many books from various genres on the website.
But, you know, not everything is free. You must subscribe to their plan if you want to read the entire article or review it. Their yearly plan, which allows you to read and see articles annually, costs roughly $169.50.
6. Fantasy Book Review
This book review site is for you if you enjoy the world of fantasy and desire to be a part of it in real life while dreaming about it most of the time.
As the name implies, Fantasy Book Review (Visit Here) is a website that evaluates books based on fantasy, so if you love fantasy works, this website should be among your favorites.
Regarding fantasy literature also depends on the reader's age, as children's imaginations differ from adult fantasies. As a result, this website offers reviews for children's and adult books.
Every month, they have a book of the month, which is picked from all of the books that have been reviewed. It also features a rating system for books ranging from zero to 10 stars.
It also keeps its list of must-read books for each year up to date on the internet. You'll find must-read fantasy novels that vary from recent to very old, most likely starting from the 1980s.
7. LoveReading
LoveReading has established itself as a top book suggestion website in the United Kingdom, offering customers various reviews of genre novels.
This website, popular in the United Kingdom, has also been proven useful for individuals in the United States.
Their mission is straightforward. They want to share their passion for books with people who feel the same way, who enjoy reading a good book as much as they do.
They assist their users by providing them with the necessary guidance and information so that they may choose a book that they would like to read. Fiction and nonfiction pieces are split into two primary categories or genres on the site.
In both genres, the website publishes a variety of content that focuses on the relevant books in those genres, such as weekly staff picks, books of the month, debuts of the month, ebooks of the month, or even nationwide bestsellers, to keep you informed about the books that are coming out or have gained widespread acclaim.
As a result, each book on the list is accompanied by a detailed evaluation so that you may decide whether or not to read it. One benefit? It's all completely free!
Also, check out the LoveReading Books part of the website, which can help you locate themed reading lists like World War One Literature or even the Green Reads.
8. Kirkus
Kirkus can be considered vintage if that's the right term. On the other hand, Kirkus has been around since the 1930s and has produced fantastic book reviews for its customers.
Kirkus is one of the most established book review sites. It offers you information and listings, such as the bestselling novels of the week and a detailed evaluation of each book. 
This website also has some beautifully crafted "best of" lists, such as the best of fictitious novels. It provides individual book reviews for various books in many categories and genres.
Also, if you want to find out whose book was the best-seller last week or anything else, go to the Kirkus prize area, where you'll discover all of the previous winners and thoroughly evaluate their book.
You may like to read our guide on 7 Best
Book Summary Apps
To Get Key Ideas in 15 Min.
9. Reddit: r/books
Reddit is a well-known website where you may get a lot of answers to a variety of issues that you may have daily.
It also includes a subreddit dedicated to all book reviews and listings of what to read next or the best-rated books of the week.
You might wonder what exactly a subreddit entails. Weekly planned discussions discussing a specific topic or genre may be found on Subreddit.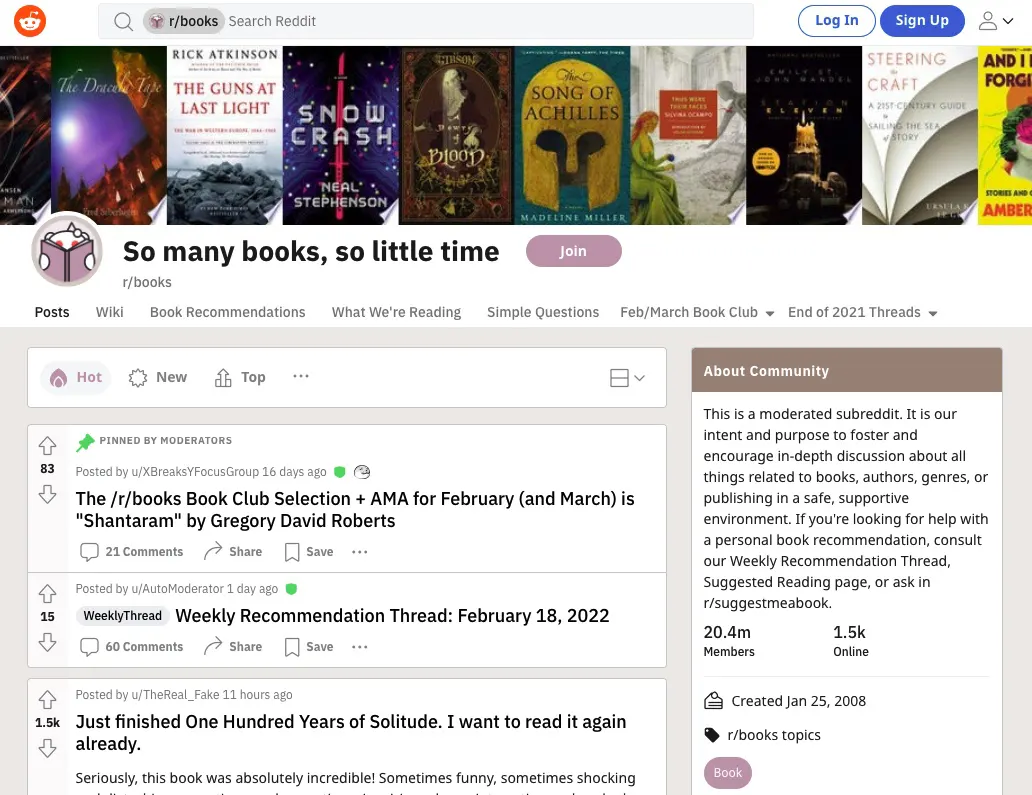 Aside from that, anyone who is a Reddit user may provide their thoughts or insights on the recommended books so that others can learn what to read and what not to read.
The goal of having a subreddit is straightforward. They want to encourage people to have in-depth discussions about everything related to the books, including the authors who wrote them and the genres in which they are published, while also answering questions about publishing in a safe and supportive environment where people can freely express their opinions and perspectives.
Every day, several threads are created with topics such as favorite books on public service, must-read beach reads, and so on to encourage readers to explore new books creatively.
While exploring best-paid book review sites To Discover Books You Will Love for you, I found an awesome video on "10 Amazing Books You Must Read Before You Die," worth watching.😎😍👍
10 Amazing Books You Must Read Before You Die
You may like to read our guide on 13 Best
LibGen Alternatives
For Downloading Your Favorite Books.
10. YouTube
You might think, "YouTube and book review?" on the first try. That's correct, although if YouTube isn't the first website that springs to mind when you think of book reviews, it may be a valuable resource when looking for them.
YouTube is a video-sharing and social media network where anyone may make an account on YouTube and begin recording and posting videos in various genres, ranging from how-to style videos to book reviews.
YouTube is one of the most popular websites, with thousands of video channels made by users on a wide range of topics, including some you would not have considered. 
One of these is a book review channel that many people have created, where they review books on a daily, weekly, or biweekly basis and offer an in-depth analysis of what they liked and didn't like about the book, as well as an overall rating of how much they would suggest it to you to read.
If you go to YouTube to look for a certain book review, you will discover several video channels that have done so.
Better Than Food: Book Reviews, Little Book Owl, PolandBananasBooks, and other video channels may be of assistance in determining which book to read next or add to your list.
✅ FAQs 📗
What are some professional book review sites?
Some popular examples of professional book review sites include Kirkus Reviews, Publishers Weekly, and BookPage. These sites are trusted sources for readers looking for thoughtful and in-depth analyses of books across various genres.
What are the best paid book review sites?
Some popular paid book review sites include BlueInk Review, Foreword Reviews, and IndieReader. These sites typically charge fees for their services, but they can provide valuable exposure and credibility for authors seeking to build their readership.
Are there any book review sites for students?
Some popular examples include Common Sense Media, Teenreads, and Reading Rockets. These sites provide reviews and recommendations for books for young readers and students of all ages.
Are there any book review websites that pay reviewers?
Yes, some book review websites pay reviewers for their work. Some examples of such websites include Online Book Club, Booklist Online, and Publishers Weekly.
These sites typically require reviewers to have some writing experience or expertise in a particular genre. They may offer compensation through cash, free books, or other perks.
What is the best website to get book reviews?
Some popular options include Goodreads, BookPage, Publishers Weekly, and Booklist Online.
Is there a website that ranks books?
Yes, several websites rank books based on various factors such as popularity, sales, ratings, and reviews. Some popular ones include Amazon, Goodreads, Barnes & Noble, and LibraryThing.
What does Kirkus pay for book reviews?
Kirkus pays their freelance book reviewers a flat fee of $50 per review. However, they also offer expedited reviews for an additional fee of $425.
Are paid book reviews worth it?
Paid book reviews can benefit authors as they can help increase the visibility and credibility of their work. However, it's important to ensure the review is honest and unbiased to maintain the integrity of the work.
Is there Rotten Tomatoes for books?
Several websites offer a rating system similar to Rotten Tomatoes for books, such as Book Marks by Lit Hub and The StoryGraph.
Does Kirkus give bad reviews?
Kirkus is known for its honest and sometimes harsh reviews, but they do not intentionally give bad reviews. They aim to provide an unbiased and critical analysis of the book.
Is there a website like IMDb for books?
Yes, there are several websites like IMDb for books, such as Goodreads, LibraryThing, and Book Riot.
Do Amazon book reviewers get paid?
No, Amazon book reviewers do not get paid for their reviews. They can leave their honest opinion on a product without compensation.
How do you get paid to read books for Amazon?
Amazon offers a Kindle Direct Publishing (KDP) program, where authors can self-publish their work and earn royalties for each sale. Readers can also join Amazon's affiliate program to earn a commission for promoting and selling books.
How to be a book reviewer at Kirkus?
To become a book reviewer at Kirkus, you must have experience in book reviewing, journalism, or a related field. You can submit your resume and writing samples on their website to apply.
What are the disadvantages of book reviews?
One disadvantage of book reviews is that they can be subjective and may not always reflect the reader's opinion. Additionally, some reviews may contain spoilers, which can ruin the reading experience for others.
How do you make money reading and reviewing books?
You can make money reading and reviewing books by becoming a freelance book reviewer, starting a book review blog, or joining affiliate programs that offer commissions for book sales.
Can you really get paid to read books?
Yes, there are several ways to get paid to read books, such as freelance book reviewing, starting a book review blog, or joining affiliate programs that offer commission for book sales.
What is the alternative to Rotten Tomatoes?
Some alternatives to Rotten Tomatoes include Metacritic, IMDb, and Fandango.
How rare is 100% on Rotten Tomatoes?
A 100% rating on Rotten Tomatoes is rare but not impossible. It means that every critic who has reviewed the movie has given it a positive review.
What has 100% rating on Rotten Tomatoes?
Several movies have a 100% rating on Rotten Tomatoes, such as "Toy Story," "Get Out," and "Lady Bird."
Is Galatea worth the money?
The value of the Galatea depends on personal preferences. Galatea is a reading app that offers interactive stories and audiobooks with a subscription model.
Some users find it enjoyable and worth the money, while others may not find it a good fit for their reading preferences.
Is there a better app than Goodreads?
Depending on the user's preferences, several book-related apps may be better than Goodreads. Some popular ones include LibraryThing, The StoryGraph, and Book Riot.
Is Blinkist worth it?
Blinkist is a book summary app that condenses non-fiction books into bite-sized summaries. Whether it's worth it depends on the individual's reading habits and preferences. If you enjoy reading non-fiction and want to save time, Blinkist may be worth the investment.
Does Yelp delete fake reviews?
Yes, Yelp has a team dedicated to detecting and removing fake reviews. They have algorithms in place to detect suspicious activity and also rely on user reports to identify fake reviews.
Will Amazon ban me for reviews?
Amazon has strict review guidelines and may remove reviews or ban users who violate their policies. Some actions that can lead to a ban include posting fake reviews, posting reviews in exchange for compensation, and reviewing products you have a financial interest in.
Does Amazon have fake negative reviews?
Yes, Amazon has had issues with fake negative reviews in the past. However, they have taken steps to address this issue and have implemented measures to detect and remove fake reviews.
What are the sites like Ranker?
Some websites similar to Ranker include Listverse, Top Tenz, and RankRed.
Is JW org the most visited website?
No, JW.org is not the most visited website. As of 2023, Google is the most visited website in the world.
Can I get a job as a book reviewer?
Yes, it's possible to get a job as a book reviewer. Many publications hire book reviewers, and there are also opportunities for freelance book reviewers.
How much can I make as a book reviewer?
The pay for book reviewers varies widely depending on the publication and experience level. Freelance book reviewers may earn anywhere from a few dollars per review to several hundred dollars per review.
Does Audible pay you to read books?
Yes, Audible has a program called ACX, where authors and narrators can produce audiobooks and earn royalties from their sales.
How much does Amazon pay you for books?
Amazon offers a royalty rate of 70% to authors who sell their books on the platform. The amount earned per book sold varies depending on the book's price and the royalty rate.
Does ACX pay you to read books?
Yes, ACX offers a payment model where narrators and producers can receive payment for their work upfront or through a royalty-based system.
What is the best website for book reviews? 
The top websites for book reviews are Goodreads, LibraryThing, Book Riot, Bookish, and Booklist, among others, to assist you in avoiding purchasing books you'll regret reading and always select the books that are worthwhile spending your time and money on. 
Can I get paid to do book reviews? 
You can make good money through book review websites, yes. You can use affiliate marketing to earn a commission on the book you review on your blog.
However, you must read the book and have a strong interest in reading for that to happen. 
Your blogging abilities should be strong; you can start with a blogger's simple tutorial. Another challenge is drawing visitors to your website or blog.
You may write paid book reviews on some of the greatest websites, like The US Review of Books, Reedsy Discovery, Booklist Publications, Kirkus, and Online Book Club. 
Is Kirkus Review legit? 
In addition to being legitimate, Kirkus is a respected source used by writers, publishers, journalists, libraries, bookstores, and readers. It is a recognized measurement throughout the world.
With over a million internet page views each month and a regular stream of titles being reviewed by its army of reviewers, it has a vast scope. At least 10,000 titles are reviewed annually. 
Will Amazon pay you to read books? 
Publishers and authors need to upload their books to Audible by Amazon. This implies that reading books aloud can earn you money. 
Utilizing Amazon's Audiobook Creative Exchange is one way to find jobs (ACX). With the use of this portal, narrators can find books to narrate. 
What app pays you to read? 
If you enjoy reading, earning money online using Scribd can be a terrific option. There are a few additional sites, like Bookyap, Wattpad, etc., where you can get paid to read. 
Can I read books online and get paid? 
There are a few websites where readers can get money by recording audiobooks and submitting book reviews. This cannot be a full-time endeavor nor a way to become wealthy.
You won't get rich quick, but you will become more productive and intelligent because you will read books from diverse writers that interest you.
Some of the best websites to visit if you want to learn how to write good book reviews and get paid include Kirkus Reviews, Booklist, ACX, Findaway Voices, Voices, US Review of Books, etc. 
Does Reedsy pay for reviews? 
You'll receive complimentary copies of novels that haven't been released yet in return for reviews. Additionally, there will be the chance to make a little additional cash through tips from other users and other exclusive member benefits. 
How do you become a paid reviewer? 
"Get Reviewed" is one of the greatest sites to explore if you want to get paid to write reviews. You will receive payment from the website for sponsored blog posts and reviews.
You must have a self-hosted website with a high domain authority of at least 20 to participate in this program.
You can also check out other websites to work as a paid reviewer, such as CrowdTap, Ciao, ListVerse, etc. 
How much does a book reviewer make? 
The average yearly wage for book reviewers in America is $44,791, or $22 per hour. The least 10% earn less than $22,000 annually, while the richest 10% earn over $88,000 annually. 
How can I get paid to read books?

 
The Top 5 Ways to Earn Money Reading Books! 
If you love to read and are a natural at grammar and spelling, why not proofread for others?

 
On VoiceBunny, read books aloud.

 

Some apps, including Audible, Wattpad, and Bookyap, pay users to read.

 

Websites like Goodreads, Readsy Discovery, Kirkus, etc. that feature book reviews

 

Affiliate programs for books.

 
How do I become a book reviewer?

 
Reading as often as you can, make time to read.

 

Think about getting your bachelor's in literature. Consider earning your bachelor's in literature.

 
Start conducting independent book reviews. Start reviewing the books you've read.

 

Grow your readership.

 

Apply for a position writing a book review.
Conclusion
A book is believed to be a person's closest friend since it never betrays them, but the question is if the story will be in their favor. Choosing a book is vital, but understanding the story is even more crucial because you can't judge a book by its cover!
We have selected the top 10 best book review sites above to assist you with book reviews of all genres. These sites will let you read book reviews of books that interest you so you can decide which ones to add to your list and which ones to leave off!