Brave: An Overview
Its ability to block ads even without any external extensions installed gives it an edge in terms of speed and privacy.
Duckduckgo: An Overview
Features of Brave:-
1. Adblocking:-
2. Brave Attention Token:-
Though you cannot convert the Brave Attention Token to cash, you can gift it to your favorite websites or publishers, or allow Brave to automatically do so based on what sites you spend the most time with. This way publishers are rewarded for quality content.
3. Speed:-
4. Privacy:-
5. Security:-
6. RAM usage:-
Features of DuckDuckGo:-
1. No tracking:-
2. Privacy:-
None of your personal information is stored or used by DuckDuckGo. In addition, it is easy to delete your browsing history.
3. No personalized results:-
4. Website grading:-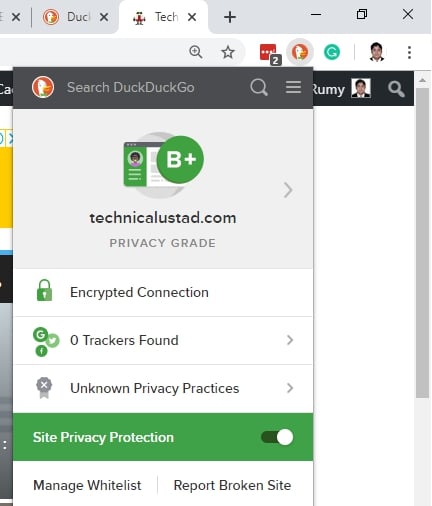 5. Infinite Scroll:-
On DuckDuckGo the search results are not categorized into pages, rather you have an infinite scroll of results. A downside of this is that you may have difficulty in remembering the relative position of a certain result. On the other hand, you will not have to keep on loading the next page while searching.
6. Instant answers:-
7. !bangs:-
You can search for results on other websites using the bangs feature. If you have DuckDuckGo as your default browser or you have the extension installed the !bangs can even work from the address bar.
Brave vs Duckduckgo:- A Pros vs Cons analysis
It is important to know the benefits and disadvantages of a product before you make decisions about it. We will be looking at the pros and cons of Brave as a browser, and DuckDuckGo.
Brave:-
Speed – Brave is one of the fastest browsers around. If speed is important to you, it is recommended you consider using Brave. A lack of ads means pages have less data to load and thus load faster. Brave displays how much time they saved you by using the browser.
Automatic adblocking – You don't need to install any extensions to block ads. This feature makes your browsing experience much more enjoyable. You do not have those annoying pop-ups constantly ruining your experience.
Built-in torrent client – You can do your torrent downloads easily and safely without the need for extensions.
Supports Chrome Webstore – This means you can enjoy almost the full range of extensions as Chrome users while enjoying the unique perks of Brave. Brave and Chrome are both Chromium-based browsers which is why similar extensions can work on both.
User control of ads – You can be paid for viewing ads through the Brave Attention Token. You can allow Brave to automatically pay sites the token you earn based on how much time you spend on them or you can do it manually. This gives users greater control of ads than they would have gotten with any other browser.
Safety and Privacy – With features like HTTPS everywhere and ads and trackers blocked, you are sure that your privacy and safety will be high.
Low RAM usage – Compared to other browsers, memory usage is low on Brave.
Battery consumption – Because Brave enables hardware acceleration the toll of using the browser is usually high.
Similar security risks to Chrome – Because they are both based on Google's open-source Chromium project they are liable to similar security issues. While Google has almost limitless resources and manpower to tackle any issues, Brave does not.
Sync issues – Brave only syncs tabs. It doesn't sync extensions or history.
DuckDuckGo:-
Privacy is a priority – DuckDuckGo does not save your IP address, nor does it store or use personal information. It does not track your browsing habits or your data and so can not personalize adverts or sell your data to a third party.
Instant answers – DockDockGo has a wide range of instant answers. For factual answers, rhymes, calculations a box will pop up with the result you need. Searching "stopwatch" will make a stopwatch pop up. "password" will generate a password.
!bangs – Bangs are commands that allow searching via a different website's search engine. This makes it easy to search for results on popular sites like Amazon, Wikipedia. Searching using bangs will automatically redirect you to the desired page.
infinite scroll – You don't have to click through pages while searching.
You can disable ads – This means you can enjoy your browsing experience without ads constantly disturbing. Also, note that the ads are none obstructive and are clearly labeled as ads. The ads are based on searched keywords, not your individual user data.
Numerous customization options – The site allows you to customize several aspects of the search engine's appearance such as font size, alignment, page width. There are also several premade themes available also.
No filter bubble – You get to see all the available results for a search. DuckDuckGo does not filter the results you can see based on user data.
No personalized results – The results you get may not be specific to your needs or situation. You may have to modify your search terms several times to get exactly what you want.
The browser app is not available on several platforms – The DickDuckGo browser is available only on Android and iOS. For other platforms, the search engine is all you have.
No date information on search results – There is no date to tell you when the page was published, which means you have no means of knowing if the information on the page is outdated.
Brave and DuckDuckGo Partnership:-
Final Thoughts
The websites you visit, the search engines you use, and your browser are constantly collecting and using data about you.
Brave and DuckDuckGo are amongst the best brands you can think of that also value your privacy.