What is the most important thing to you when deciding on what browser or search engine to use? How important do you consider your privacy to be when surfing the internet?
For users Brave vs Duckduckgo, the search engine creates a debate. That said, Brave and Duckduckgo are some of the best options for users who value their privacy on the internet.
Google is by far the most used search engine in the world, and Google Chrome, the browser is accountable for over half the web traffic globally. However, some are turned off by the number of ads they get or by the fact that websites can actively track user habits. Brave and Duckduckgo are welcome alternatives to Chrome and Google.
In this article, we will be conducting a detailed review of Brave and Duckduckgo and we will discuss the possibility of using Duckduckgo as the default search engine on the Brave browser.
Brave: An Overview
As has been mentioned, Brave is a welcome alternative to Google Chrome which dominates amongst browsers. Brave has a fast-growing userbase. Since its release in 2016, it has had over 10 million downloads and 8 million active users.
Based on Google's open-source Chromium project, Brave has many features in common with Chrome, however, its inbuilt adblocker and features that prevent tracking give it an edge. In this regard, it is just like Duckduckgo.
Its ability to block ads even without any external extensions installed gives it an edge in terms of speed and privacy.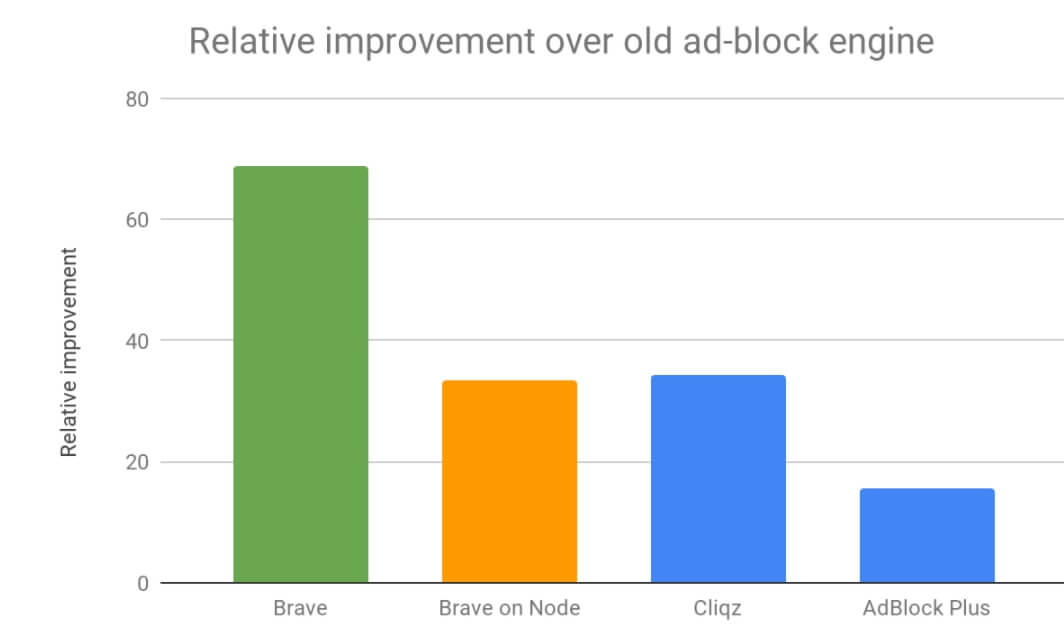 Duckduckgo: An Overview
Duckduckgo has gained popularity in recent years. As a browser, DuckDuckGo has versions for Android and iOS. This is perhaps its greatest limitation as a browser compared to Brave. It does not have a dedicated browser for other operating systems.
However, DuckDuckGo is better known as a search engine. In this regard, it is growing in popularity. It had a 50% rise in search traffic between August 2018 and August 2019. There are more than 45 million daily queries on DuckDuckGo on average.
Why Your Privacy Is Worth More Than You Think
DuckDuckGo has an emphasis on privacy. Its privacy features combined with its easy navigation and interface make it a good choice for users. It is now the 7th most popular search engine globally, both on desktop and mobile devices.
Features of Brave:-
1. Adblocking:-
Brave has inbuilt ad blockers. This means you can browse all day without having your experience marred by constant ads and pop-ups. As opposed to most browsers, you don't need any extensions installed in other to block ads, this happens automatically.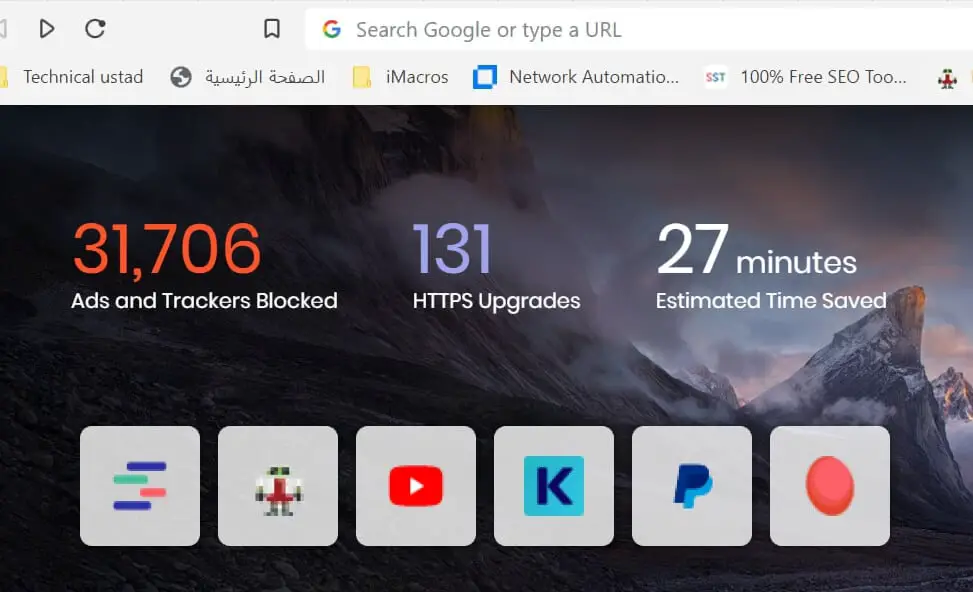 It's also worth noting that trackers are also blocked automatically. This is one of the standout features on Brave, and the number of ads and trackers blocked is on display whenever you use the browser.
Note:-
I have written a post for people looking for the
Brave vs Chrome
?, do read it If you are interested.
2. Brave Attention Token:-
Another interesting facet on their approach to ads is how much control it gives the users over ads they see. With most other browsers, user data is tracked for monetization purposes, and websites are rewarded for the number of ads on their site. Grave's approach rewards quality content instead of adverts.
Brave swaps ads on a site with ads of its own (which do not track you). If you choose to view these ads, instead of generating revenue for publishers, as you do on other browsers, you can earn up to 70% of the revenue the advertisers spend in the form of Basic Attention Token (BAT).
Though you cannot convert the Brave Attention Token to cash, you can gift it to your favorite websites or publishers, or allow Brave to automatically do so based on what sites you spend the most time with. This way publishers are rewarded for quality content.
3. Speed:-
There is no other way of stating this, Brave is fast. Very fast. It has one of the shortest loading times per page of any browser. This could be because of the ad blocking feature which means pages have less content to load.
Brave Browser Speed Comparison 2019
An advantage of having a fast browser is that cumulatively it saves you a lot of time. Brave displays to users how much time they have been saved by using the browser.
4. Privacy:-
For many, this is the major reason. They choose to use Brave as their default browser. Its privacy features are top-notch.
First, it blocks ads and trackers, without the need for third-party extensions. This means that websites will not be able to track user information for monetization purposes.
Also with features such as HTTPS everywhere, your interactions with websites are encrypted, making your information and activities more private and secure.
There are other options that increase the privacy of the user such as its fingerprint feature. Cookies are also blocked so websites would not recognize you.
5. Security:-
Brave has some interesting security features. The shield menu at the right of the address bar gives you a rundown of everything being allowed or blocked on the browser and allows you to choose your own preferences.
Brave offers ad and tracking blocking as has been discussed, forced HTTPS connections, and it warns you when you are about to enter a site that doesn't have secure connections. Cookies are also blocked.
Since some ads are avenues for malware to be introduced to the system, the ad-blocking feature is excellent security. A passcode can be set to protect your saved logins which give protection if your mobile device is stolen or lost.
A chink in the armor in terms of security is the fact that updates are not too frequent. For instance, though Chromium (on which Brave is based) is updated every two weeks, Brave receives updates less frequently than that.
In terms of security, Google safe browsing, which the browser comes with scans URLs for potential malware.
6. RAM usage:-
Because ads are blocked, and cookies also, the amount of data needed to load a page is less than for most other browsers. This means it is better in terms of how much of the device memory is used up by the browser.
Once I am using chrome, my memory and Disk are always close to 100 % but with brave, it's not going more than 65%. 🙂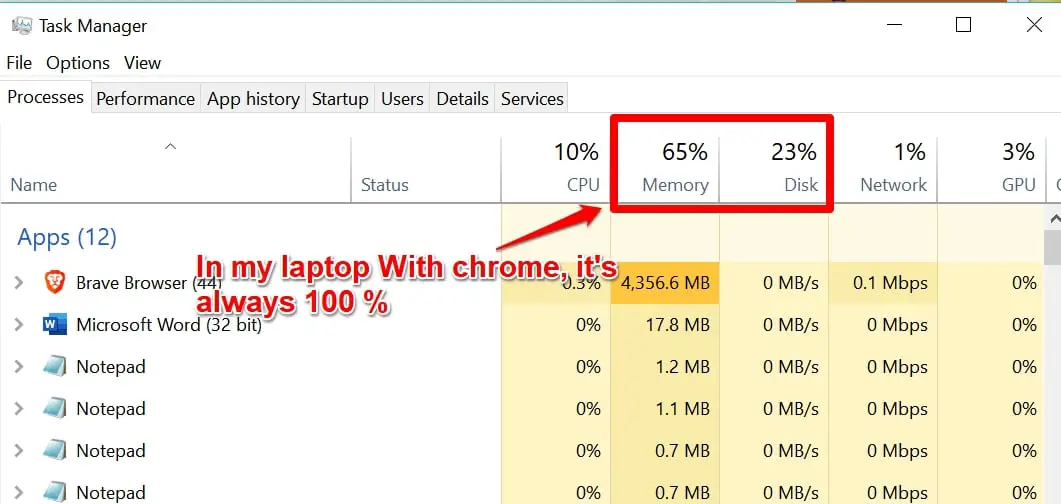 Features of DuckDuckGo:-
1. No tracking:-
When you visit DockDockGo, apart from the search box, you will notice the subheading "the website that doesn't track you". As a result, you can be assured that your personal history is not kept for monetization purposes or sold to third parties.
DuckDuckGo does not keep your personal information. They do not sell your personal information. They do not use any personal information to personalize the search results you get or the ads you see.
In the private browsing mode, there is no tracking.
2. Privacy:-
DuckDuckGo is a welcome alternative to Google for those who prize their privacy. A click on the menu button of their homepage allows you to protect your data on every device, subscribe to their privacy crash course, protect your devices by reading privacy guidelines, and find out more about the importance of reduced tracking. This shows how important your privacy is to DuckDuckGo.
None of your personal information is stored or used by DuckDuckGo. In addition, it is easy to delete your browsing history.
3. No personalized results:-
With other search engines that keep your personal information, you are likely to get personalized ads that target you based on your personal data, or search results that are personalized. The ads you see are based exclusively on the keywords in your searches.
With DuckDuckGo this is different. The same search results are shown for each search entry. You can be sure you are getting the same search result as everyone else who searches for the same thing.
Note:-
I have written a post for people looking for the
Is Brave Browser Safe
?, do read it If you are interested.
4. Website grading:-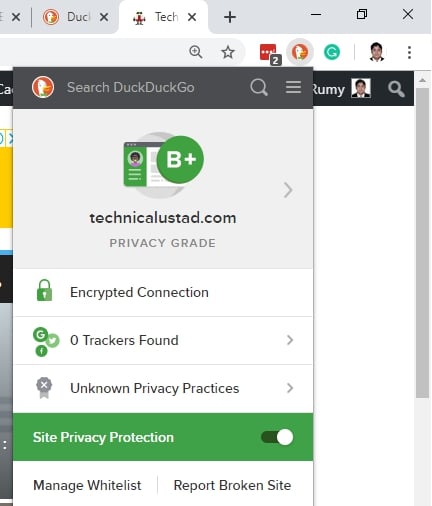 When you visit a website, you are shown a privacy grade for that website (A-F) that shows you how protected you are and how severely you are tracked on that website. The DuckDuckGo extension and mobile app offer this feature.
With this feature, you have all the information you need in deciding what websites to visit.
5. Infinite Scroll:-
On DuckDuckGo the search results are not categorized into pages, rather you have an infinite scroll of results. A downside of this is that you may have difficulty in remembering the relative position of a certain result. On the other hand, you will not have to keep on loading the next page while searching.
6. Instant answers:-
With over 100 sources to provide answers, you can get what you need without having to click on a result. DuckDuckGo instant answers are open source so any developer can view or provide fixes to them using the GitHub repository.
Things like factual answers, calculations, rhymes are covered by the DuckDuckGo instant answers. It can even help in generating strong passwords or checking the status of a flight.
7. !bangs:-
You can search for results on other websites using the bangs feature. If you have DuckDuckGo as your default browser or you have the extension installed the !bangs can even work from the address bar.
Your search on popular websites like Amazon or Wikipedia has been made simple using this feature. If you want to search for turtlenecks on amazon, you can simply type ! amazon turtlenecks.
Interestingly many popular sites have short versions, so, !a turtlenecks will lead you to Amazon's page for turtlenecks and !w Einstein will direct you to Wikipedia's page on Einstein.
Brave vs Duckduckgo:- A Pros vs Cons analysis
It is important to know the benefits and disadvantages of a product before you make decisions about it. We will be looking at the pros and cons of Brave as a browser, and DuckDuckGo.
Brave:-
Pros:-
Speed – Brave is one of the fastest browsers around. If speed is important to you, it is recommended you consider using Brave. A lack of ads means pages have less data to load and thus load faster. Brave displays how much time they saved you by using the browser.
Automatic ad blocking – You don't need to install any extensions to block ads. This feature makes your browsing experience much more enjoyable. You do not have those annoying pop-ups constantly ruining your experience.
Built-in torrent client – You can do your torrent downloads easily and safely without the need for extensions.
Supports Chrome Webstore – This means you can enjoy almost the full range of extensions as Chrome users while enjoying the unique perks of Brave. Brave and Chrome are both Chromium-based browsers which is why similar extensions can work on both.
User control of ads – You can be paid for viewing ads through the Brave Attention Token. You can allow Brave to automatically pay sites the token you earn based on how much time you spend on them or you can do it manually. This gives users greater control of ads than they would have gotten with any other browser.
Safety and Privacy – With features like HTTPS everywhere and ads and trackers blocked, you are sure that your privacy and safety will be high.
Low RAM usage – Compared to other browsers, memory usage is low on Brave.
Cons:-
Battery consumption – Because Brave enables hardware acceleration the toll of using the browser is usually high.
Similar security risks to Chrome – Because they are both based on Google's open-source Chromium project they are liable to similar security issues. While Google has almost limitless resources and manpower to tackle any issues, Brave does not.
Sync issues – Brave only syncs tabs. It doesn't sync extensions or history.
DuckDuckGo:-
Pros:-
Privacy is a priority – DuckDuckGo does not save your IP address, nor does it store or use personal information. It does not track your browsing habits or your data and so can not personalize adverts or sell your data to a third party.
Instant answers – DockDockGo has a wide range of instant answers. For factual answers, rhymes, calculations a box will pop up with the result you need. Searching "stopwatch" will make a stopwatch pop up. "password" will generate a password.
!bangs – Bangs are commands that allow searching via a different website's search engine. This makes it easy to search for results on popular sites like Amazon, Wikipedia. Searching using bangs will automatically redirect you to the desired page.
infinite scroll – You don't have to click through pages while searching.
You can disable ads – This means you can enjoy your browsing experience without ads constantly disturbing. Also, note that the ads are none obstructive and are clearly labeled as ads. The ads are based on searched keywords, not your individual user data.
Numerous customization options – The site allows you to customize several aspects of the search engine's appearance such as font size, alignment, page width. There are also several premade themes available also.
No filter bubble – You get to see all the available results for a search. DuckDuckGo does not filter the results you can see based on user data.
Cons:-
No personalized results – The results you get may not be specific to your needs or situation. You may have to modify your search terms several times to get exactly what you want.
The browser app is not available on several platforms – The DickDuckGo browser is available only on Android and iOS. For other platforms, the search engine is all you have.
No date information on search results – There is no date to tell you when the page was published, which means you have no means of knowing if the information on the page is outdated.
Brave and DuckDuckGo Partnership:-
As has been mentioned repeatedly, your privacy is important to Brave and DuckDuckGo. For many people who actively use the internet, privacy is one of the most important factors in deciding what browser or search engine to use.
As a result, DuckDuckGo has been integrated into Brave's privacy tabs, providing users a way to guarantee privacy.
Users who open new privacy or "incognito" tab on Brave will be presented with an option to select DuckDuckGo as their default search engine. Users are tracked by other search engines even when used in a privacy tab, hence this partnership is supremely important for privacy.
These privacy tabs are not logged in browser history and they disappear alongside their associated cookies when the browser is closed. The partnership between Brave and DuckDuckGo is about the best you can have if privacy is your primary consideration.
Final Thoughts
The websites you visit, the search engines you use, and your browser are constantly collecting and using data about you.
This data is used to personalize ads you see or your searches. Many people don't want that much formation about them in the hands of others.
Browser security
remains very important and should be safeguarded by any means possible.
Brave and DuckDuckGo are amongst the best brands you can think of that also value your privacy.