Windows registry is a very important background process. Every program, application, software, hardware, software update, or upgrade is entered automatically in the registry.
One of the sources of errors for Windows users is the broken registry items error. It is a problem many Windows users would have experienced at least once in the course of their computer usage.
This article will tell you what you need to know about the Windows registry. The most causes of broken Registry items will be explained, as well as possible fixes to the problem.
What Is Windows Registry? 🤔
Most Windows users never hear about Windows Registry—and are oblivious of its existence—until they experience broken Registry items. This is because the registry does its work in the background. It is automatically enabled when you turn on your computer.
Windows Registry is the total of all databases containing options, settings, all the vital information, and values for hardware and software installed in the computer. Regardless of what version of Windows you are using there is a Registry.
When you want to change or update or upgrade software, the computer refers to the Registry to obtain relevant keys and values for that software. As you work with the software and make changes with it on it, the Registry updates itself. The same applies to hardware installation and usage. 
There are two important elements contained in the Registry: keys and values
Keys and Values
Keys and values stored in the Registry contain all important information for software and hardware in the computer. The keys and values are always obtained for changes to be made on the computer. 
When you install software or hardware the initial configuration settings are stored as keys and values. These settings include information such as program location, version, and how to start the program. Changes made to the configuration will be updated while the hardware or software is being used.
Regedit
Since most of the operation of the Registry is done automatically, you may be wondering if there is a way for you to make changes in the Registry manually or even view the entries in the Registry. This is why Regedit is important.
Regedit is a free utility included by default in every version of Windows. It is an editor for Windows Registry. It allows you to access and configure the Registry.
In reality, RegEdit is a component of the Registry. It is that part of the registry that makes it possible for you to not only view but make changes in the Registry itself. You access the Registry editor by executing the RegEdit from the command prompt or by using the search box in the start menu.
What Are Broken Registry Items?
By now, you'll have seen how integral the Registry is to the everyday operation of your computer. It is a vital component in ensuring the stability, reliability, and high performance of the computer.
When there are problems with the Registry, it can have terrible effects on the general operation of the computer. Some of these problems in the registry are:
Fragmentation and corruption. If for some reason some entries in the Registry are corrupted, or invalid duplicates are made, it can cause errors in the computer.

Garbage entries. Invalid entries in the Registry take up memory and storage space unnecessarily.

Traces of programs improperly uninstalled.

Traces of programs are improperly duplicated during updates or upgrades.
All these are what are referred to as broken Registry items.
The main side effects of broken Registry items are reduced performance, reduced reliability, reduced stability, and system crash.
1. Reduced Performance
Broken Registry items make it take longer for each active process to reference the registry and receive or change registry entries. This means the software will run much slower on the computer, and all-around performance will be reduced.
2. Reduced Reliability
Due to duplicates and fragments, the Registry is larger than it should be. This increased size means the possibility of programs not being able to access their Registry entries is greater. Hence, programs will stop unexpectedly and you will lose unsaved data as a result.
3. Reduced Stability
As programs take longer to access their Registry entries, the occurrence of program freezes and restarts becomes more frequent.
4. System Crash
If the damage in the Registry is excessive, it may even lead to a system crash. It is therefore important that you try to fix all problems as early as possible.
Causes of Broken Registry Items:-
Many things can cause broken Registry items. A few of them will be explained briefly.
1. Malware and Viruses
Whenever there is a problem with your computer, malware and viruses are usually among the suspects. That trend also continues with the problem of broken Registry items.
Some viruses attack and modify the Registry. Even when removed, remnants of the malware may remain. Clean up the registry to remove all traces of the virus.
2. Fragmented Registry
When you update or upgrade software, sometimes there are invalid duplicates of the software in the Registry. This makes the Registry size bigger than it should be and consumes the computer's resources even more than is needed.
It is usually not a serious problem unless there are many fragments in the Registry.
3. System Shutdown Error
Every time you shut down the computer saves a copy of the Registry. If the system shuts down unexpectedly or experiences a crash, it can lead to serious broken Registry problems.
Methods To Fix Broken Registry Items
There are multiple possible fixes you can try to resolve all issues. You can try any of them, or a combination of them since only one method may not effectively resolve all problems.
These fixes aim to delete those fragments, duplicates, and uninstall remains; and resolve any other underlying issues. Here are some of these possible fixes explained.
1. Use Automatic Repair
The feature that allows you to make automatic repairs is present in the newer versions of Windows. It attempts to fix broken Registry items by repairing any corrupt or invalid keys in the Registry. Here are the steps involved in doing this.
Open Settings. You can search for Settings using the search feature of the Start menu. Open the Settings panel, then enter its interface.
Click on Update and Security. Click on Recovery.
Under Recovery, go to the Advanced Startup and click Restart now.
Wait for a little, when options appear, click Troubleshoot. Next, click Advanced options.
Click Automatic Repair/Startup repair.
In the automatic repair mode, when asked to enter a recovery key, do so, then click Continue.

Wait while the Automatic repair diagnoses and does repairs. The computer may restart the process.
2. Use System Restore
System Restore helps to restore the system to a state it was before it began experiencing problems. This is particularly true if the problems are recent, or if they began after a recent installation or update.
If you enable System Restore, Windows will automatically create restore points whenever you make major changes such as installing software or drivers or making an upgrade. Restore points can be created manually also. 
To try this method follow these steps:
Go to the Control panel. Select Recovery.
Under Advanced Recovery tools, choose Open System Restore.
In the Restore system files and settings, click next. Select the restore point you want to use. Scan for affected programs and drivers. Click OK to proceed.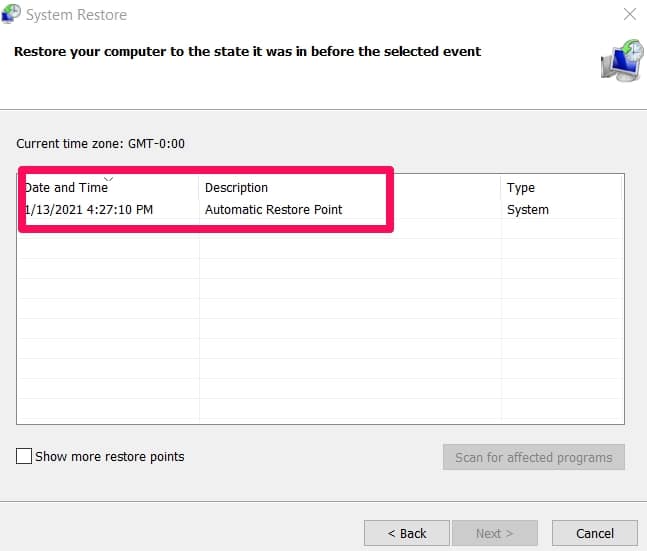 Click Next, then click Finish. Wait while system restore takes place. Restart the computer once it is completed.
3. Use System File Checker
This performs the repair in command prompt. File checker is a built-in tool in Windows to look for missing or corrupted files and make repairs. The steps involved are given below.
Type cmd or command prompt in the search bar
Right-click on the Command prompt and select Run as administrator to enter the command prompt interface.
Type the command: "sfc/scannow" without the quotes, then press Enter. This will help scan the protected system files. All damaged files will be replaced with cached copies.
Wait for the scan to be completed. Restart the computer after a scan.
4. Use DISM Command
This method can be used as a stand-alone solution or in combination with other methods. Here are the steps:
Run command prompt with administrator rights.
Use command: "DISM/Online/Cleanup-Image/ScanHealth" and press Enter.
Wait for the scan to be complete then restart your computer.
5. Resetting Windows System
Windows has a reset function. This reinstalls Windows. Follow these steps for the reset.
Go to Settings, click Update and Security, then click Recovery.
Under Reset, this PC, click Get started.
If you choose "Keep my files", apps will be removed but your files won't. If you choose Remove everything, then everything will be removed. Make sure to backup.
Choose either Just remove my files or Remove files and a clean drive.
Click Reset to begin. Make sure you read the reset information first.
After the reset, restart the computer.
Conclusion
Windows Registry is an essential element in ensuring stability, reliability, and high performance. If there are broken Registry items, your computer is likely to have decreased performance.
This article has explained everything you need to know about broken Registry items, and how to fix them.