When it comes to creating online courses using screen captures, where you use your voice to explain things, then you need to have Camtasia or Camtasia alternatives to make things easy for you. 
Camtasia allows its users to capture some parts of the screen or the whole screen, depending on the user's needs. With this screen capture software, you can record your work and can make videos out of it.
You can give your students tutorials on how to run a code, install software, debug a problem, etc. there is no limit to what you can capture. Whatever you are doing on the screen can be captured and repeated several times. 
Adding a voice of yours that explains what you are doing in the video can make a full-fledged presentation.
In addition to this, Camtasia also provides extra tools that can help you in editing your videos to make them more polished. You can learn this software online through online videos that are present on Youtube. 
But if Camtasia isn't software for you and you are out there on the internet searching for its alternative, then we got your back. We do know Camtasia has many features, which make it easier for teachers to use it and record their videos.
But now much new software has come up with the same and better features along with user-friendly UI. 
Why Do People Love Camtasia?🤔 
Techsmith is the company that has developed Camtasia and is currently helping 30 million users from over 180 countries.
The software came into existence in the year 2006, and it was one of the first few software that provides the ability to capture the screen of your computer. Surely it is old software, but in 2022 if you are looking for a change, you have plenty of options to choose from. 
Best Camtasia Alternatives – Our Top Pick 👌👌
Given below, we have a list of some of the highly reviewed Camtasia alternatives that will help you capture and share your computer screen with students, employees, and family members. 
1. Filmora Screen Recorder
Starting, we have Filmora – which is one of the best screen recording software that can be used as a Camtasia alternative for recording video tutorials for your students.
It comes with the ability to record videos in high definition and full high definition, which is the standard for Youtube videos worldwide.
In addition to this, you can even record your gameplay walkthroughs with multiple frame rate settings. The frame rate recording ranges from 15 FPS to 120 FPS depending on your need.
Likewise, you are free on your computer screen, as well as your webcam video simultaneously. It comes with basic to advanced level editing tools to help you make your videos look better after the editing is completed.
It is the software that allows its users to create some of the most detailed and descriptive videos. You can also overlap multiple clips and add annotations in some parts of your videos to provide extra insight to your viewers. 
It is said to be one complete video editing suite that supports a vast range of multimedia codexes. You can even enable pictures in picture editing and customize the recording field of your screen. 
With Filmora Scrn, you can create fully functional online video tutorials and lectures for your students and the YouTube channel. Also, it can be used by small businesses and companies to make launch videos of their products.
How to Record Screen - Filmora 11 Screen Recorder Tutorial For Beginners
Lastly, Esports players can take advantage of this software's ability to capture video at 120 FPS, providing better detail to viewers. 
There are two options available, either you can download this software with one year license or go with a lifetime license. The developers always provide consistent updates for both plans, and you will get the latest tools even if you go for a single-year plan. 
2. Screen Flow – Best Camtasia Alternative For Mac
If you are looking for a Camtasia alternative, which is easy to understand, and in no time you will be able to use it for your screen capturing, then Screen Flow is the best option for you. One of the features that make it in our top 5 is its user-friendliness.
It just simply works, and editing videos after capturing them is super easy even for newbies. When it comes to visual walkthroughs, this is the one software you can trust to give justice to your videos. 
The task of capturing and editing videos on this software isn't tedious, and in no time, you will finish with your post-processing of videos. If you want to make videos on your Mac system, this is your best alternative from Telestream Inc.
If we compare apples to apples, Screen Flow is a much better option for educators and marketers. Even mobile app developers can use it to showcase the demo of their working apps. 
It can create high-quality full HD tutorials, product demo videos, presentations, and training material for online courses and classes. The software is made to give its users a rich set of features that enables them to create attractive videos for training courses and presentations in a short time with just a few clicks. 
In case you have a multi-monitor setup, the software will detect it and record each screen separately for your ease. You can record both the audio and the video, which is playing on your computer and laptop. 
When it comes to the necessary cutting and editing of the videos, it is quite simple, and you will be done with your work in just a few minutes. On the other hand, if you are looking for different format options, then Screenflow has got your cover.
It can provide you with compressed videos with lossless audio and video compression. As a result, it is one of the favorite software for students who want to save space on their laptops. 
3. Snagit
Snagit is one solution to all your screen capturing problems. Whether you want to capture a video game walkthrough, a coding session, or a website build-up, you can do all of these works with Snagit.
It is relatively easy to use a screen capture program to capture every type of image, and you can edit those images and videos with ease.
In addition to this, it comes with a toolbar that you can place anywhere on the screen, and with a shortcut, you can start and stop the video capturing anytime.
It is one of the most innovative software that we have seen for a while. The UI is simple yet modern when it comes to feeling. 
Newcomers with below-average computer skills can learn how to use its unique tools. With this software, you can pinpoint which part of your screen you want to take a screenshot or video. The rest of the part on your screen will not be recorded. 
Likewise, you can create custom profiles for capturing screens, depending on your work. It is quite convenient when you are using the software quite often with different projects. You don't have to worry about remembering the various settings for different projects. 
This software lets you decide how you want to capture the screen. You can capture a whole screen, a specific part, or go with a separate window and the application. Moreover, you can copy the text from the image using this software and paste it into your text editor.
When you are done capturing the image, the software will take you to the edit window automatically. From there, you can edit out the image and add effects to make it better. It includes everything that you wish for in an editing tool.
🆕 How to use Snagit - Beginner Tutorial
4. Open Broadcaster Software
When we are talking about OBS studio, most people might think of it as gaming-centric software.
The common usage of OBS is to blast out your gameplay videos and recordings to the world. People you see on Twitch streaming their games, well, most of them are using OBS as it's free software and a great open source alternative to Camtasia. 
With the help of OBS, you can also create a screencast. To be honest, its an overkill for a simple capturing of screens, but if you are getting it for free, then there's no problem getting the software.
It's software that packs several settings and features, and if you have the time to learn, you can do anything with it in terms of video editing and broadcasting. 
Moreover, it comes with a wizard that lets you optimize the software. For example, if you have a multi-screen setup, you can play games on one screen, and the OBS can run on the second screen simultaneously. 
With just one press of a button, you can start streaming and recording your gameplay video. Some features are hidden from you, and you need to configure them manually to use them. 
You can add several items to your stream, such as recording, a picture in a picture, a stream of your webcam, your watermark, etc. 
Another great thing about this software is it isn't as taxing as other software in terms of hardware processing. You can run this on your budget PC while gaming, and it will work like a charm and stream your games to the audience with ease. 
5. SmartPixel
If you are looking for one of the best video capturing software, you should try your hands on SmartPixel. It allows you to capture every single moment that happens on your desktop screen. 
Software is said to be best when it not only captures the video from your screen but allows you to edit it. Also, you can include on-screen hand notes to highlight the areas of interest for your viewers.
In addition to this, it gives you the power to cut your video short, the parts where you have been defeated by the boss several times and don't want to be embarrassed. 
It doesn't matter if you are a veteran in capturing videos on your computer or a newbie. The software can help you prepare exceptionally well-edited tutorial videos, gaming walkthroughs, and presentations for your online courses. 
Even though it comes with multiple advanced tools that you need for editing, it is still relatively easy to use, thanks to its UI. You can set the framerate and the resolution of your recording. You can go all the way up to 1080p for your recording. 
Furthermore, you can use dark mode if you are into customizing the user interface. There is no denying that it requires some time for you to understand the software fully, but once you do it, it will be a piece of cake to record and edit videos. 
Lastly, you can upload your videos directly to your YouTube channel using this software; it comes with various video and audio formats, and you can easily export them. 
6. ActivePresenter
Everyone wants to share with the world what we are passionate about and have knowledge. You can make money from it, so it's quite natural.
With the help of ActivePresenter, you can have this dream of earning online that can be true in no time. 
Introduction to ActivePresenter 8 - eLearning Authoring Software
This software is an excellent Camtasia alternative, all thanks to its combination of different recording tools along with graphical and audiovisual editing tools. That makes things easier for a newcomer to edit their videos.
If you are looking to create video tutorials or videos to showcase how to use a particular program on a computer, then you need ActivePresenter to help with your screen recording needs, and you can cut, split, join and delete the subparts of your video to make it smaller and more informational. 
The interface is organized even if you had a minimal relationship with image and video editing software, and you will still enjoy using this software. The tabs, menus, and toolbars are quite similar to the ones you find in Mircosoft's word file.
In addition to this, if you are comfortable with the setup of toolbars, you can rearrange it according to your liking. 
While you are recording, you can take a screenshot using the mouse or your keyboard shortcut key. When it comes to editing your video and image, it can do everything that you want from premium editing software. 
You can change the speed of the playback, split the screen, crop the video, or join and blur it if you want. Also, you can add a freeze-frame in your video's timeline. 
The software allows you to record video from your webcam, and you can also capture the audio from your computer's mic or from a dedicated mic for better audio quality. 
7. Fraps 
For PC gamers, one of the most iconic third-party tools for capturing screens is Fraps. If you are a gamer and looking for a free Camtasia alternative, this one tool must have popped up in your mind. This software is pure screen recording software. You can take screenshots if you want to use its hotkeys. 
In addition to this, you cannot edit any of your videos on this software, so if you are looking for software that could do both, you should check out other software from our list.
This software is easy to use, and within minutes you will see all its functionality. One of the things gamers always want from their computer is a better frame rate. Fraps lets you know the framerate of your gaming session with its iconic yellow numeric numbers.
Fraps is an old-school no-bullshit software. When you press the button X, it doesn't go to the window's tray.
It closes the program, which you might not find in other screen-capturing software. When Fraps is running, you will always find the framerate counter in your game. 
You can capture the recording of your screen in different frame rates, and you can also record the audio from your mic.
In case you are using the free version like most people, you might not get the unique options that are only available in the premium version. The premium version can be brought for 37$ with a license for a lifetime.  
Well, if you think Fraps doesn't take much of the system resources, then you are in for a surprise. One of the drawbacks of Fraps is it takes a significant toll on your system resources.
You can have a large frame drop up to 15 fps when you are running Fraps alongside your game. So it's better you keep this in mind before downloading it. 
8. EzVid
It's software that will leave no watermark on your videos once you export them from the software. EzVid (Download Here) is a free alternative, but it has one issue you can only record for 45 minutes.
Then you need to make another video. But most of the videos that you see on YouTube average from 10 minutes to 15 minutes, so you can decide your sweet spot for the duration. 
Still, it is on our list due to its inbuilt editor and text-to-speech along with voice recording capabilities. As a result, you don't need any extra software for your voiceovers on videos. 
It gives you a hand-free recording experience with its shortcut keys that you can customize according to your requirement. 
When you are making multiple videos, they all can be pieced together with the help of this software with no visible break. It's a simple tool that makes it perfect for small projects and for young Youtube channels. 
Many free recorders that you see online lack one thing and that is the ability to put annotations while recording the screen. But when you are using EzVid, you will get this feature for free.
It can come quite handy when you are making video tutorials or teaching your viewers how to run and use a particular program on the computer. 
If you are using the Windows legacy system, you definitely need to get this software as it can run on Windows XP service pack 3, Windows 7, 8, and 10. 
9. Freecam 
Looking for a Camtasia alternative that is efficient and simple to use? Then Freecam (Download Here) is just the software for you. It is ideal for creating videos where you are capturing a screen in order to create tutorials and presentations of your demo software. 
One of the great things about this software is it will make you finish the work in a short time without making it troublesome for you to go dive deep in the learning curve of its editing tools. In just three clicks, you are all set to record your screen and share it with the world.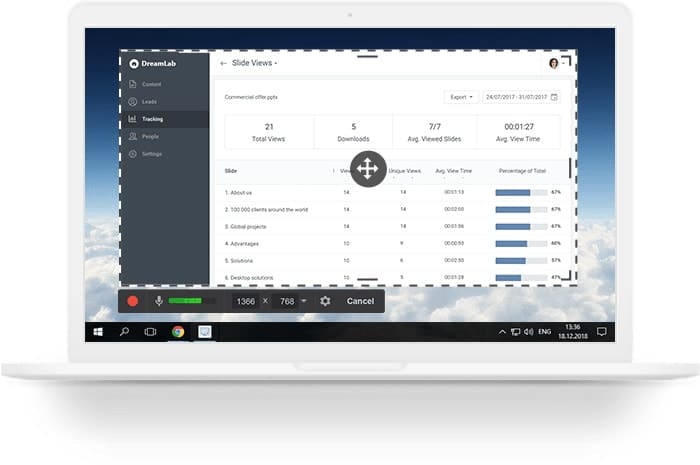 When it comes to the audio and video capturing ability, this software knocks the whole competition out of the park. Also, if you want to save time, you can directly upload your video from this software to your YouTube Channel. 
You can choose whether you want to capture the audio from the microphone, which is plugged in your computer, or you want to record the audio of the desktop.
You can even record both of these audios simultaneously. With the help of this feature, you can add narration to your videos and make them more compelling to your viewers. 
If you want to give more emphasis on some parts of your video where you click on a particular part of the screen. You can add a click sound manually from this software.
Also, when you are recording an audio signal, you always get some noise. With this software, you can remove the background noise and make the audio clear. 
With this software, you get extra effects that you can include in your videos to spice things up and get the viewer's attention to what's coming next in the video. You get the ability to trim, cut, and delete your recorded content from the video with ease.
Overall it's a lightweight screen sharing and screen recording tool which can record the whole screen or a specific part of it along with the application window.
There is nothing extraordinary about it. The only thing that makes it unique is its availability of premium tools at a free cost. 
10. Prezi
Being developed and launched as a PowerPoint antithesis, our last pick for the Camtasia alternative is meant to turn the tides of everything that is wrong with cooperative slideshow creators.
You might be thinking about what a slideshow maker is doing in the screen-sharing software list. Well, in 2019, Prezi (Download Here) stepped into the realms of video editing and sharing, and that's why it's on our list. 
With the help of Prezi, you can record videos from your computer's IO, such as a webcam, while still capturing your screen. You can use the added templates and graphics to make your videos more exciting and eye-catching to the audience. 
The minimal tools which the software provides you help you with typing and adding images to your videos to make it more visually appealing.
You can't really make any cuts or trim in the middle of your video. That's a bummer. But you can still do these at the very starting and at the end. 
Likewise, there's an app on both Ios and Android devices; you can create your videos using the web application that the company has developed.
With its Go Live feature, you can share the content that you have made on multiple platforms such as the Cisco Webex and Zoom video calling applications.
You can record your screen and add a voice-over to it. The same thing can be done for presentations. On the other hand, you get an analytics tool that gives you an analysis of your presentation and shares with you the number of viewers. 
You cannot compare Prezi to PowerPoint or any other PPT maker as the software has evolved with time and has now become more of a video sharing and creating platform for both newbies and veterans. 
11. Kdenlive
There was a time when free video-editing tools were far more basic than even fairly modest paid-for software. Now those days are over, as Kdenlive (Download Here) demonstrates with its wealth of advanced features.
The default interface should be familiar to anyone who's used video-editing software before. A window on the left of the screen stores your library of footage, while a preview window on the right lets you see your movie as you work.
Drag and drop clips to the timeline below and use your mouse to shrink, chop and rearrange them. There are two video tracks, so you can drop simple cuts next to each other on the same timeline, or overlap them in separate timelines if you want to apply a transition or effect.
 Audio has two tracks of its own, so you can edit it separately. If you need more tracks, you can add them to the menu.
Adding transitions and effects is easy: choose one from the extensive list and drop it on the clip you want to apply it to. Transitions straddle two video tracks because they affect both clips.
Click a transition to reveal contextual tools that let you control exactly how it works – such as which direction the screen 'wipes' to reveal the next clip. You can adjust the timing of an effect by stretching or shrinking it on the timeline.
These features are just the tip of the iceberg, however. Kdenlive is a phenomenal piece of software that's crammed with tools. There's even a standalone version that you can run without installing it on your PC.
Kdenlive isn't intuitive so it's worth committing some time to read its online manual. Choosing from the list of effects and transitions can be tricky, too, because they're represented by tiny icons with technical names.
Kdenlive's huge range of features can seem intimidating, but if you've outgrown simpler editing tools or you want more than a phone app can offer, you'll find that it gives you complete control over your videos. 
It isn't the easiest program to learn, but anyone who's used a video editor with a timeline should soon get to grips with it. While there's plenty of documentation available online, you can pick up a lot simply by experimenting – and the invaluable undo option means you can reverse any mistakes.
12. Microsoft Photos
Microsoft Photos (Download Here) is the successor to the eternally popular Windows Movie Maker, which Microsoft threw out with the bathwater when it decided that every piece of Windows 10 software must work on a touchscreen and come from its app store.
It's a fairly basic tool, but if you just want to string a few video clips together, it can do the job.
The benefit of adding video-editing tools to the Photos app is that you can use them to make photo slideshows and drop video clips in among your still images. It's perfect for this kind of project, with plenty of pan and zoom effects to make your photos look more dynamic.
The video tools have improved over time but Photos is aimed predominantly at photographers who have a few videos to slot into a slideshow. The worst omission is the lack of transitions.
The only option you have with this software is to trim your clips and join them with straight cuts. It's adequate for tidying up a library full of messy videos, but if you're serious about editing, you'll need more tools.
The main benefit of Microsoft Photos is that it comes with Windows, so you don't have to download any new software.
It's fine if you want to trim clips to size and stitch them together, but it won't let you do anything more complicated than that, such as creating transitions between clips.
📗FAQ
Which is better, Filmora or Camtasia?
Both are great, but some feel Filmora is better. You will likely get more video effects, audio, and transition options with Filmora. It is also cheaper compared to Camtasia.
Is Camtasia worth the money?
Compared to other eLearning authorings and video editing tools, Camtasia is entirely worth it. Services like Adobe and Articulate 360 need monthly or annual payments that can sometimes be costly.
Is Camtasia the best screen recorder?
TechSmith Camtasia is among the best screen recorder and avail screen recording of professional quality. You will experience powerful screen recording and video editing features with Camtasia.
Which is better, ScreenFlow or Camtasia?
For Mac users on a crisp budget, ScreenFlow is excellent for quality video editing and screen recording options. However, opt for Camtasia if you are a Windows user and not worried about the budget.
Is Filmora a monthly subscription?
Individuals need to pay $7.99/per month. On the other hand, businesses need to pay $155.88 yearly for one user. You will get Filmora features and tech support along with the subscription.
What do YouTubers use to edit videos?
Some popular programs YouTubers use for editing videos are Final Cut Pro, Adobe Premiere Pro CC, and iMovie. Beginners can use iMovie on MAC for effective use.
Is Camtasia good for professional video editing?
Camtasia is a popular professional-level video editor for Mac and Windows. The well-designed interface, controlled balance, and quality output make it ideal for videographers. It is excellent for content producers who want professional-level videos.
Which software is best for video recording?
Some of the best video capture apps are Loom, Screencast, Camtasia, OBS, Movavi, etc. Loom is excellent for recording videos quickly and sharing them on the desktop. Camtasia is ideal for advanced editing.
Is Filmora a watermark?
If you use the free trial of Filmora, you will likely see the watermark when you export the videos. However, you can eliminate the issue with the paid version of Filmora.
Is Camtasia hard to learn?
Camtasia is speedy to learn. You don't require any fancy editing skills to get started. You can start using a template or recording the screen and adding some effects.
Conclusion on camtasia alternative
From the above list, we are sure that at least one of the software has made its place in your mind as a Camtasia alternative. You can download 2-3 of them and use them on your projects, and then you can decide which is the best option for you. 
All of these come with a free trial or zero download payment. If you like the software, you can buy software on annual subscription bases, or you can go for a lifetime license.
There is no denying the fact that Camtasia is one of the best screen recording applications that are out there for desktops and laptops. But it's a fair thing to give a chance to some other software and see where the other stands in the race of technology.