You can try out the free online tools if you are not a pro at designing the basic images for your blogs or simply anything. You might have heard of Canva, the most popular graphics designing tool you will come across.
However, if you are not satisfied with it and looking for a change, you can check out the list of the best Canva Alternatives here.
There is no doubt that Canva is one of the best tools that not only make it easier for any beginner to get started with designing exceptional images online but also there are tons of options you can try out.
You can do everything from making the best logos to creating a pitch deck for your business. But then, if you are unsatisfied with this particular tool or wish to explore better options, you can easily find many tools online.
We did the most difficult part and saved you time researching the web. So, check out the multiple options listed below and choose which one looks much better.
Best Canva Alternatives For Graphics Designing
1. Stencil
We can start this list of applications with one of the most lightweight Canva alternatives you will find among all the names on the web. Stencil is super easy to use and understand, especially if you have already tried Canva.
It is perfect for bloggers, business owners, and even social media marketers who always need to create images for their social media handles. The main objective of this tool is to provide more speed and easier editing capabilities that may be perfect for any beginner.
You will get complete access to over 4,900,000 images free of cost that you can use to create content, along with 3,100,000 icons and a lot more resources that are free of cost, and all of them are made available at a very nominal price.
The best part is that you can use the photos for commercial or personal purposes since they are royalty-free. Moving on, over 140+ preset sizes are set up on the platform so you can easily share the image on social media platforms.
Stencil is integrated with multiple social media platforms that allow users to share their content directly with just a single click.
Also, since this tool is integrated with Buffer, you can schedule your posts once you create them so that you do not need to worry about posting them every time. Apart from this, you can buy the premium version and enjoy many more benefits.
Stencil: Creating an image
Pricing:-
Free
Pro-

$9/mo (when paid annually)

Unlimited-

$12/mo (when paid annually)
Pros:-
Perfect for beginners

Preset sizes available

Access to thousands of royalty-free images

Easy to schedule posts using Buffer

Ability to upload your font available
Cons:-
Adjusting the custom size of canvas difficult
2. Snappa – Best canva alternatives for presentations
Here we have another brilliant option to choose from with many graphic designing tools available on the web. Snappa is one of the best alternatives to canva that serves all the purposes such as logo designing, creating social media creatives, blogging banners, etc.
With this tool, you can easily learn every step of the way. For beginners, who might have no idea how to design images and use different tools, Snappa provides multiple tutorials to help you understand every part of it.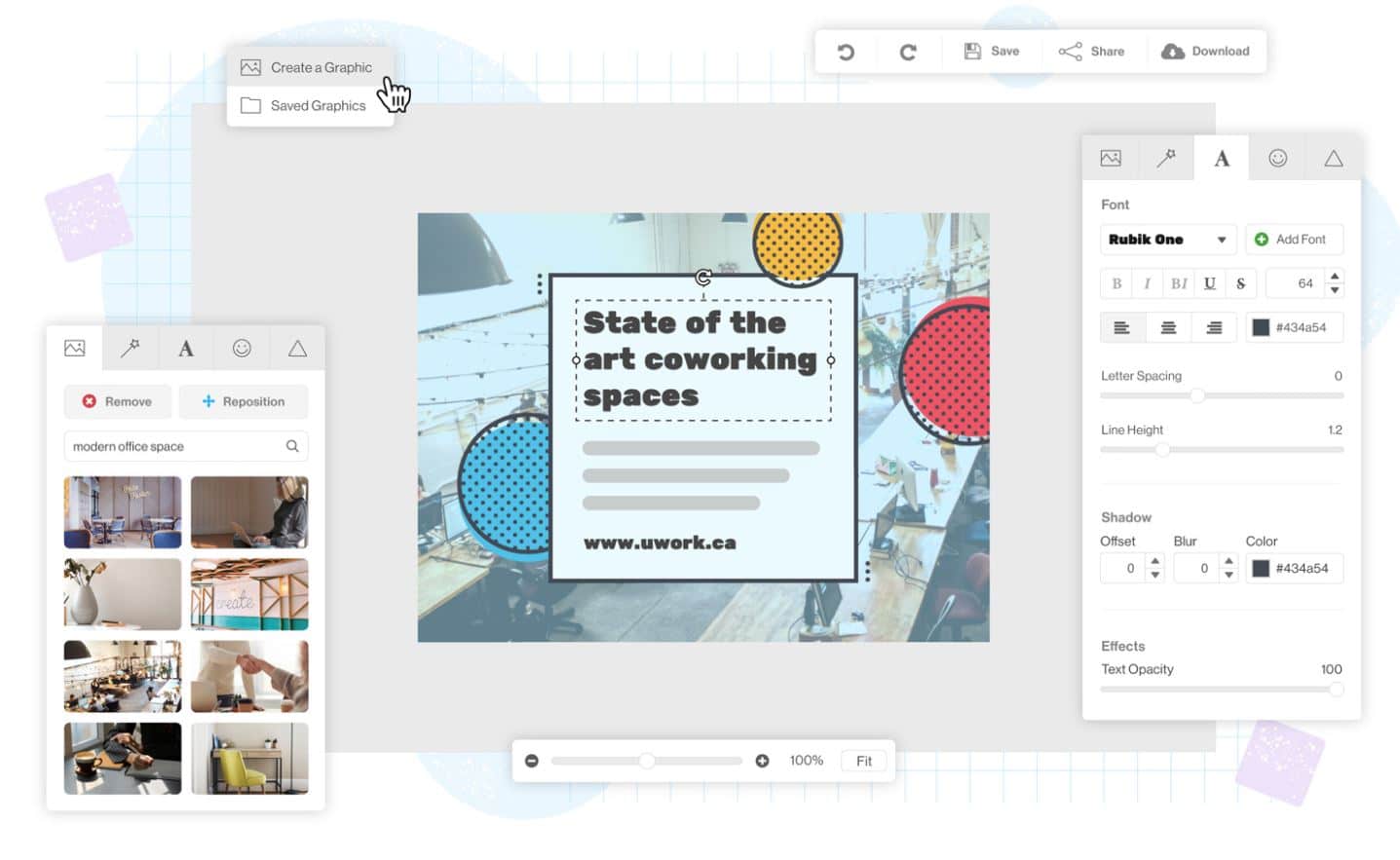 Also, you can easily find a massive list of templates ready to be used, and all you need to do is edit them on the web. You can remove the background from any image you have and edit it as you wish.
Every graphic or image on the platform is free of cost and ready for commercial use without worrying about copyright. Apart from this, you will find some of the most significant features: image resizing, editor, cropping, flipping, etc.
The site has predefined use cases that you might directly choose from our Instagram stories, YouTube thumbnails, Facebook cover photos, etc.
you can start with a free plan with sufficient features to get started with, and if you need more, you can switch to the paid version, which is also highly affordable. It is perfect for business purposes for those who have a team to work with.
How to Make an Instagram Story (+ Best Size & Dimensions)
Pricing:-
Free
Pro-

$10/mo (when paid annually)

Team-

$20/mo (when paid annually)
Pros:-
Highly intuitive user interface

Easy to export and share

Hundreds of pre-made templates are available

Quick and easy to use

Free of cost, and also the pro version is affordable
Cons:-
Lags at times

It cannot use without an internet connection
3. Vista Create (Formarly Crello)
Vista Create is one of the most favored and high-rated applications for graphics designing. The major difference that makes it better than Canva is that it features an Animation Maker suite.
Not only is it worth it to define images and other graphics, but you can also create your animated videos. Even if you have no clue about the basic aspect of either of them, Vista create provides proper guidance to help you through the way.
It has everything you need to edit images, resize them, add an audio bubble, and remove the background—crop, etc. You can easily design your own set of work with hundreds of icons, shapes, stickers, etc., available and share it with the people on the web through social media posts, blogs, YouTube, etc.
As we speak of the animation part, you can choose to resize the video, add basic animation effects, create animated logos, and trim the videos for the final walkthrough.
To add more to this amazing list of features, Vista creates features by adding audio to pictures, animations, etc., within seconds from the built-in library, or you can always upload your music from the device.
Furthermore, unlike Canva or most probably a lot of other tools in the list, this one has provided hundreds of pre-made templates for you to edit.
Also, the free version is available for any user forever, and if you want more from the tool, there is always an option to buy the premium upgrade.
Learn to use Crello in 5 easy steps
Pricing:-
Free
Pro-

$7.99/mo (when paid annually)
Pros:-
Easy to use a Background removal tool

Free of cost but also affordable, upgrade to the premium version

Excellent template library

Multiple templates are available for animation videos

User-friendly interface
Cons:-
Complicated search functionality for templates

Basic alignment settings are missing
4. DesignBold
If you are looking for something even remotely close to Canva, DesignBold is the one you need to look out for. It is lightweight and easy to understand once you start using it.
This tool is indeed highly powerful but also not too complicated for anyone who might know nothing about graphics design. You can easily find around 180 different fonts to choose from, with around 30 – 50 custom fonts that you might not find in Canva.
Hundreds and thousands of users are on Canva, and almost everyone has used the same templates with a similar design; DesignBold brings better designs and a fresh new look. You can easily use hundreds of newly designed templates to stand out from the crowd.
It can be used for your Blog banner, business posters, digital marketers, etc. You will be stunned to know that this tool is equipped with over 40 million premium images that you can easily use.
To add more, this tool stores all the work on the cloud with unlimited storage for your benefit. Also, you can now create an ebook of around 40 pages and easily download and save it on your system.
Furthermore, the premium upgraded version allows a special package for teams to share work and creatives with over 50 custom fonts available to work on. Furthermore, you can also try out the pro plan with a 30-day free trial and cancel anytime before you are charged.
Pricing
Free
Pro-

$7.99/mo (when paid annually)
Below is the summary of the main Pros and Cons of the DesignBold that makes it add to the Best canva alternatives 2022 list.
Pros:-
Easy to use and implement

30 to 50 custom fonts are available

Share designs on social media easily or invite people

Mark the favorite tools and templates for easy access

Unlimited storage for the pro plan
Cons:-
Minor bug issues at times

Not enough updates to fix the issues
5. Easil
Easil is easy to use and quick-to-understand software similar to many other tools mentioned in the list above. It is free of cost with limited features; however, if you wish to select the pro plan, you can get a lot of added features, including creating animated GIFs.
Also, it is highly affordable and worth spending every penny on. The most interesting aspect of this tool is the drag-and-drop feature that makes it easy to edit and be creative.
You can choose from thousands of pre-designed templates of the highest quality to easily create amazing social media posts, business posters, and other forms of creativity.
The text effects allow you to add shadow, blur the text, make it more glittery, and many other effects that will help your image stand out from the rest. As we mentioned, the pro plan allows you to create an animated GIF with pre-set templates for this, and you can also easily make one for your purpose without prior experience.
Moving on, another paid feature highly useful for social media influencers is when you can remove the background from the photos. With a simple click, eliminate the ugly backdrop and get amazing images to the best use.
This tool allows you to share the above features with your teams and sub-teams. Easil provides a brand kit where you can keep all the assets and resources for your team to share access and work collectively.
Pricing:-
Easil Basic-

Free

Easil Plus-

$6.25/mo (when paid annually)

Easil Edge-

$49/mo (when paid annually)
Pros:-
Dynamic Color palette generator

The free version has enough features to get started

The brand kit is unique and highly useful

Advanced locking feature on templates in teams

Affordable package with premium features
Cons:-
The free version does allow to download creatives in PDF format

Fewer customization options
6. Visme
If you are still confused based on the options provided above, here is another incredible graphic design tool you can try. Visme is not only your usual graphics designing tool but also helps every user learn and be creative through a single platform.
Visme - The Best Design and Presentation Tool for Non-Designers to create beautiful content.
You can create all forms of visual content such as presentations, infographics, charts & graphs, and many other useful creatives. Thousands of assets are provided to you on this tool, such as templates, icons, fonts, images, symbols, etc.
Moving on, the unique aspect of this tool that makes it one of the best Canva alternatives is that it is not a basic design tool for social media posts but is readily used by business professionals to create presentations and other creatives needed for their business activities.
Apart from this, Visme offers users the ability to integrate Google Sheets and create real-time data visualizations for creatives such as infographics.
You can expect high-quality output with minimal effort and better engagement from the customers online. Whether you are a social media influencer or simply a business professional, Visme is for everyone who wishes to create the most visually amazing creatives.
It is highly affordable if you want the pro or the premium version with many more features than the free version.
Pricing:-
Free
Basic-

$15/mo (when paid annually)

Business-

$29/mo (when paid annually)

Enterprise-

Custom
Below is the summary of the main Pros and Cons of the Visme that makes it add to the Best Canva Alternatives list.
Pros:-
Excellent customer support

Easy to make presentations and infographics

Perfect for beginners

Useful for businesses and teamwork

Easy to use and learn on the way
Cons:-
Difficult to resize shapes at times

Tiny glitches on multiple occasions
7. PicMonkey – Apps like canva for iPhone
If you are looking for a tool that is more focused on editing photos than covering the entire concept of basic graphics designing, PicMonkey is the best option currently, with tons of features.
You can start with a free trial that is only available for about seven days, after which you have to get the paid version to get a hold of all the features. This tool also features Brand Kits, where you can stack up all your assets, such as templates, graphics, images, etc., to access them when in need.
Welcome To PicMonkey YouTube!
Within seconds you can resize the images you would like to put up on multiple platforms or use the remove background tool that comes in very handy, especially when the background images are trash.
You can start off working on creating graphics by choosing a good template that has been pre-saved for social media posts, memes, slideshows, etc., and make the necessary changes to it.
Similar to Canva, you also have an Android or an iOS app so that you can make the necessary edits to the creatives right at your fingertips.
You can do everything from changing the font type to editing the images within minutes once you download the application on your smartphone. Although the overall cost of using this tool is much higher than expected, it still is worth spending money on if you need a legit photo editor.
Pricing
Free Trial for seven days
Basic-

€7.49/mo (when paid annually)

Pro-

€7.77/mo (when paid annually)

Team-

€30/mo (when paid annually)
Below is the summary of the main Pros and Cons of the PicMonkey that makes it add to the canva alternatives free for android list.
Pros:-
Available for both Android and iOS users

Hundreds of stock photos are available to use for free

Perfect photo editing tool for beginners

Easy to upload your fonts

Easy to learn and use.
Cons:-
Lacks some of the major advanced features

It does not have the drag and drops feature
Download the App on the Google Play Store and Apple App Store
8. Colorcinch
Colorcinch is your go-to tool if you're looking for a simple yet powerful graphic design and photo editing tool. The tool has a clean and intuitive interface that allows you to create beautiful cover art, banners, and social media posts with just a few clicks.
You can start exploring its free features by uploading your photo or choosing from its incredible collection of 2.5 million stock photos. 
It features hundreds of special artistic filters and effects that are adjustable and houses 50,000+ vector graphics & icons.
You can add texts, overlays (like snow, flares, falling rain, bokehs, and much more), and modern frames to your designs to give a customized look. That's easy because it has an intelligent layers panel that allows you to add and organize elements. 
Access to numerous essential effects and features is free, but if you want to take advantage of all its amazing features, you can upgrade to its premium plan, Colorcinch Plus. 
Pricing:-
Colorcinch Basic – Free

Colorcinch Plus (premium account) 

Annual Plan -$3.99/month (Billed annually at $47.88)

Monthly Plan -$5.99/month 
Pros:-
Clean, intuitive interface built for everyone 

Adjustable and unique filters & effects 

Incredible library of stock photos, vector icons, overlays, and frames

Basic photo editing is free; no sign-up is required
Cons:-
Fewer features for non-premium users

Web-based software, so an internet connection is always needed to access it
9. DesignEvo Logo Maker
A logo symbolizes a business or organization; for those with no design experience, no problem. DesignEvo Logo Maker is made for non-designers: Just drag and drop. You can also use various designs such as online shop logos, food logos, game logos, and many more. 
With DesignEvo Logo Maker, designing a logo has become easier and more fun! Everything can be done online. You don't need to worry about whether your computer just has enough space to install an application or not.
All you need to do is open the website and start your design. Create eye-catching logos for your business easily, even if you're not a design expert! This logo-making app is available on mobile & computer, so you can start your logo designing anywhere, anytime. 
You can start creating logos on a blank template or choosing a ready-made template from 10,000+ FREE templates created by professional designers to save you much time.
You can see various categories such as Art & Entertainment, Automotive & Logistics, Business & Finance, Childcare & Education, Fashion & Beauty, Food & Drink, Industrial & Construction, Legal & Politics, Letter, Lifestyle, Medical & Pharmaceutical, Nature & Environment, Technology & Communication, and many more.
Each category covers different styles and themes for different industries, and you may find one that fits your business.   
When you play editing your logo, DesignEvo Logo Maker offers endless options to customize the logo. Easily add some text, icons, and shapes to your logo. Change the font, size, style, color, spacing, and position flexibly. You can preview and download your logo or print it directly when you're done. 
When it comes to downloading the logo, it supports JPG, PNG, PDF, and SVG. You can download your logo for free or download it in a large size for printing.
It allows you to download a logo up to 5000 x 5000 px. All is up to you. You can download the font files and your final logo if you like. 
Pricing:-
Free

Basic- $24.99 One time

Plus-$49.99 One time
Pros:-
Perfect for non-designers

Access to 10,000+ ready-made logo templates

Millions of icons are available in this logo-making tool 

Flexible ability to customize your logo

Ability to preview the final logo on mockups like T-shirts, websites, notebooks, etc.

Support large quality image files and SVG format 
Cons:-
The free version does allow to download of high-quality images for printing. 
📗FAQ
Is there a better alternative to Canva? 
Yes, some amazing Canva alternatives are easily available on the App Store and Google Play Store.
You can look at the apps like Snappa, Stencil, Vista Create, DesignBold, Easel, etc., to get an ultimate graphic designing experience across multiple devices.  
Which is better Crello or Canva? 
Both apps provide excellent tools for small and large projects, yet Canva appears to be the winner.
With a lesser fee and more stock media, Crello might be the best option for you if you're not interested in working with a team or scheduling posts on social media. 
Canva's social media platform integration, team collaboration, and enormous storage capacity will probably pique your interest more if you work in the social media marketing or are a social media professional. 
Why is Adobe better than Canva? 
More tools and functions are available in Adobe Illustrator than in Canva, and it has a much wider range of formats for both print and digital design.
Without a doubt, if graphic design is your profession, Adobe Illustrator is the best option, particularly when creating a professional logo or branding design. 
Canva only produces bitmap images, but Illustrator produces scalable drawings and lets you create unique art rather than using templates. So, which one should you pick? It all depends on what you're producing. 
What is cheaper than Canva? 
Pixlr X is an excellent option and less expensive than Canva. It has excellent features, including access to a powerful graphic editor, hundreds of stock images, overlays, and stickers, and a picture editor with cutting-edge functionality. Snappa, Visme, Crello, Stencil, and other less expensive solutions are available. 
Is there a free program similar to Canva? 
You can try out various free Canva alternatives like Gravit, Snappa, Luminar AI, Xtenso, etc., to enjoy a full range of tools for professional-level designing, making presentations, logos, videos, and much more.  
Which is better: Visme or Canva? 
If you need to generate visual material but don't have the money to hire a graphic designer, Visme and Canva are both incredibly helpful tools.
Both apps provide access to a wide variety of films and images available without a license charge and design tools that enable you to produce truly spectacular products using them.  
However, Canva is unquestionably the winner in this comparison due to its fully working free plan, stronger feature set, and, most importantly, it's more affordable pricing. 
Is Figma better or Canva? 
They Are Not Competitors. Despite being members of the same industry, they both have distinct functions. Canva is a simple tool. Figma is an advanced tool. There are pre-made templates in Canva that can increase your productivity.  
The theme, color, alignment, text font, positioning, and other elements of a tidy and engaging design are handled by Canva. Figma, on the other hand, offers a blank canvas on which to begin developing your design.
Like Canva, there are no pre-made templates available. Each element must be created from scratch or imported from websites like Freepik, Unsplash, Pixabay, Font Awesome, and others. Professionals that want to add a unique touch to their design should use Figma. 
Is Canva or Illustrator better? 
In general, Canva is a fantastic choice if you need to make straightforward graphics and papers that don't require much creative expertise. 
However, Illustrator is a widely used application for graphic design that enables fully unique visuals for your customers, your blog, or your company. Compared to Canva, there is a little bit of a learning curve.
Still, once you get the fundamentals of the application, you'll find it incredibly user-friendly and robust, and you won't want to use anything else again. 
Conclusion
Well, here we are with a shortlist of some major canva alternatives you can think of before switching to one.
There are multiple others on the web that you might come across, but you never know if they are spending time or money on; hence we did our research to keep the list short and useful for all the users. Each option above is free to use with all the basic features available.
However, to access the most popular tools and make better graphics, you might need to spend a small amount of money to create the best graphics for your social media accounts or business purposes, etc.
All the tools mentioned above are easy to use and understand every step. If you feel it might not work out for you, you can always switch to something better and try it out before buying the subscription.