Are you looking for the Best Charity Donation Apps To Invest in Humanity to feed hungry people?🤔
You're in the right place.
Charity and donation have always been seen as gratuitous and kind acts. Philanthropists worldwide are always looking to do good and give back to society. Moreover, every person wishes to donate to a good cause to the best of his or her capacity.
However, not every person can seem to find the time to associate personally with charitable organizations. Also, most people don't know how it's done.
Besides that, it may not be possible to donate money to charity all the time. All in all, physical donations and charities have become quite challenging today.
But that doesn't mean that you cannot contribute towards charity. The world has gone digital, and you can pretty much find an application for everything. That's true for charity donations as well.
You can easily find applications for charity donations that are not just about money but work for multiple other causes. Donating to such applications is much easier and more convenient.
However, when it comes to technology, you cannot overlook fraud either. There are many instances of fraud, especially with things that involve money.
So, how would you know that the application you're relying on is genuine and working for the greater good? Well, there are several ways to know that.
Genuine applications always show transparency in how they utilize the donations and charities they receive.
You, as a contributor, would know where your money is being put to use, and you can even contact the recipients of your donations when you make donations on a genuine application.
But there's still this question about how you'd find the perfectly genuine application among hundreds and thousands of applications available over the web and play Store.🧐
Well, luckily enough for you, we've made things easier by compiling a list of some of the best charity donation apps that are 100% transparent and genuine.
Look at it and make the philanthropist within you contribute towards a good and genuine cause.
Best Charity Donation Apps – Our Pick👌👌
With so many applications available and the risks of fraud when it's about money, you might not be able to put your heart into these applications.
You may always worry if your money is used for the cause you donated it to in the first place. But with the right knowledge, you never have to worry.
We're here to help you gain that knowledge. Here are some of the best charity donation apps you could trust blindly for contributing towards all good causes and the greater good of society.
Have you ever felt guilty about ordering too much food? Well, it's always very convenient for us to order our meals, put in as much as our stomach can take, and then just leave the rest to be thrown away into the trash bin.
But wasting food must not be the last thing we should be doing.
While we dump this food into the trash, many struggles to get their meals and feel lucky even if they manage to have it once a day.
Many people almost pick up the food we dump in the trash just to satisfy their hunger.
Hunger is entirely solvable
Share the Meal is an app designed to do something to eradicate this distressing and pathetic condition and make sure that people don't starve themselves or put themselves in a condition where they have to pick leftovers from the trash cans and dustbins.
Using this application, you can easily donate meals for children. You can simply pay for the meal on this application, and your donation will reach a hungry child.
The best part about the application is that you need not worry if your donation has been put to the right and a good cause or not.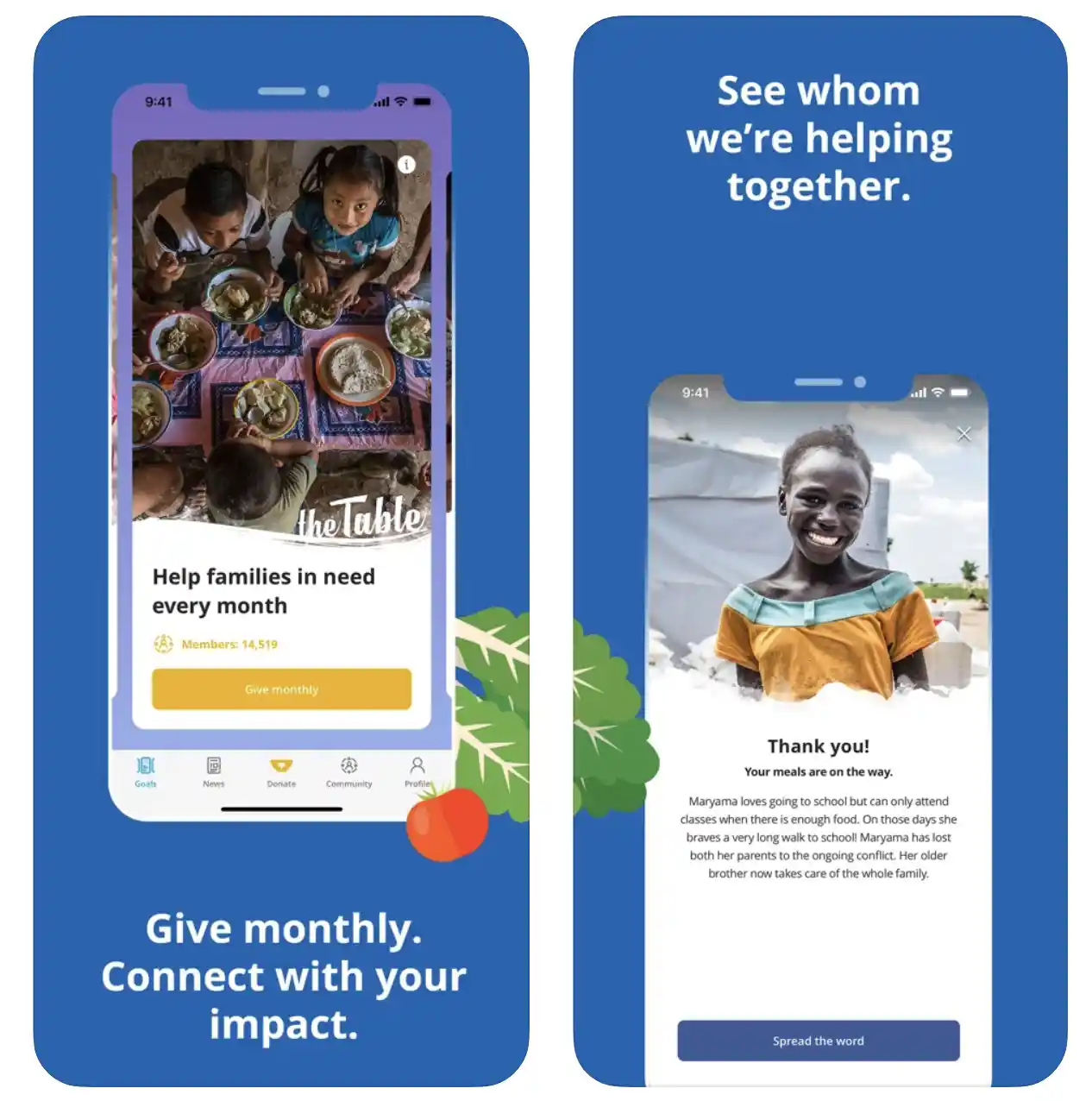 The application maintains high levels of transparency. You can easily see exactly to whom your meal was donated. So, you can be much happier to have brought a smile to a child's face.
Even if you make a very small donation, it is enough to let one child sleep with a full stomach. With that, the application is the perfect initiative to eradicate World's hunger with small, little, baby steps.
Download the App from Google Play Store
Download the App from Apple App Store
2. Charity Miles
This application will not only make you happy about contributing towards a good cause, but it will also benefit you by helping you keep in better health and fitness.
Charity Miles is an application that helps you raise funds for the charity based on the physical fitness activities you perform. Many corporate sponsors are associated with the application, and the application has details of many charitable organizations too.
You score points as you walk, run, cycle, or do other fitness activities. Based on these points, the corporate sponsors contribute money to the charitable organization of your choice.
It may seem a small contribution on your end, considering that you've got to work a lot to earn a few points and every mile of your workout converts to some cents. However, the more you work out, the more you contribute.
So, you remain fit and healthy, and others get the charity and donations they need. Considering how it operates, this is the perfect application for those who wish to work for the greater good by giving back to society but lack the resources to do the same.
It's also a good way to reach your fitness goals and objectives. If you're a fitness enthusiast, this application is something you must download right away.
After all, it's never bad to fill two gaps with one bush. You work for one cause and automatically achieve a second one as a bonus. Win-win!
Download the App from Google Play Store
Download the App from Apple App Store
3. Coin Up
It has become common for brands to mark their products with odd sale prices, for instance, $1, $10, $15, $25, and so on.
But how many times do we take notice of that 1rupee change? Well, hardly ever!
Most of the time, when the shopkeepers need to pay you back some loose change, they oblige it with toffee, and we happily take it.
Moreover, many products are marked for odd amounts in paisa and cents too, and we never even realize that.
Coin Up App is an initiative to help account for these small amounts of changes to contribute towards the greater good in the long run.
With this application, every odd amount transaction you make shall be rounded off to the nearest rupee, and the change shall be donated to a charitable organization.
The application has a list of charitable organizations to which it contributes to the change, and you can choose from them. The app will also maintain complete transparency, and you'll know exactly what amount you contributed to what organization.
If you're having difficulty finding the right organization that best meets the philanthropist causes you want to work for, you can reach out to the help center of the app, and the experts shall be happy to help you make the right choice.
Moreover, you have to contribute only as much as you like. This means you can set monthly limits on the change that the application will contribute towards charity.
So, none of your money will ever go unaccounted for, and what you never took notice of will go towards a good cause if you use this application.
With that, it's again a perfect application for those who seem unable to give back to society because they lack resources.
The Coin Up App gives a simple medium to wake the philanthropist within you and contribute to charity by just doing your daily transactions.
Download the App from Google Play Store
Download the App from Apple App Store
4. Donate A Photo
Another application designed for those who don't have the resources to contribute money directly, Donate a Photo (Visit Here), is something that can be used even by children over and above the age of 13years.
All you need to do in this application is click a photo, and you get money for the same to donate to charity. Not that you'll directly get the money, but the application works so that for every picture you take in this application, an amount equal to $1 goes to charity.
It's an application created by Johnson and Johnson to help raise funds for multiple causes. So, all you need to do is go to the application, select your cause, click a photo, and contribute towards the goal of raising money.
You can even share the pictures and the cause you're raising charity funds for on your social media handles and with your other friends. You can inspire, encourage, and motivate more people to contribute.
If your donation doesn't reach the desired amount at the end of the period for which you clicked the photo and shared the cause, you get a donation from Johnson and Johnson.
Moreover, the application maintains perfect transparency by letting you know where your money is going and how it's being used.
The best part is that it's built for use by even teenagers. This way, it's easier to inculcate that giving and sharing value and nature in children and help them understand the importance of giving back to their society.
With all that, Donate a Photo Application is a perfect initiative to do the greater good for society while also helping inculcate good values in children.
You may like to read our guide on the 11
Best Islamic Apps
For Islamic Videos and Prayer Times.
5. Charity Monk: Donate to Charity for free
Are you a fan of online shopping? If yes, then Charity Monk is an application you must have on your phone.
As you spend hours scrolling to find the perfect products to buy online, you can also keep contributing towards charity.
You'd have to do nothing extra except direct all your online shopping from the Charity Monk application.
It has many online stores integrated into it, and as you make online transactions in these stores, whatever discounts and offers you avail of during your shopping go towards charity.
CharityMonk: "Giving made easy" | Shop Online | Donate to charity for free
Don't worry; you won't have to let go of the discounts or offers either. The application is designed to credit the donations based on the transactions you make and other discounts and coupons.
If you want to ensure that the money is credited to a charitable organization, you can check it within the application settings.
Another benefit of using Charity Monk is the tax benefits. The taxation laws in our country have provisions to provide exemptions and deductions for the amounts you contribute towards charity.
When you do that using the Charity Monk application, you can avail of these tax deductions, exemptions, and other benefits against the amount you contributed.
So, the application not only makes you feel good about contributing towards the greater good, but you even save the money you might have paid as taxes.
The best part is it doesn't take anything from you except the money you spend shopping. So, everything is simple, and you give back to society without needing to do much.
Download the App from Google Play Store
6. GiveTide: Donate Spare Change
GiveTide is another one of the best Charity Donation apps, just like Coin Up App. It gives you a platform to cash in your spare change and donates it to a good cause.
Now, the application will not cash in the spare change and give to you. Instead, you just have to do your transactions normally.
Whatever the rounded-off amount of change that you generally ignore to collect is transferred to a charitable organization of your choice.
You can even donate the spare per transaction to different organizations. Moreover, you can set monthly limits on the spares that will be donated.
Once the monthly limit is reached, your spare changes will stop going to charity. This also helps keep a tab on your purchases and transactions.
The best part about this application is that you don't have to go through the hustle of adding your card or setting up a UPI ID in this application.
Instead, the application automatically connects and integrates with the banking applications you're using on your phones, and the amount towards the charity goes right from there.
So, you need not do anything additional on your part. You can just keep engaging in your daily transactions and be happy that a part of it is going towards doing good for the society you live in.
Download the App from Apple App Store
7. Cheerful – Give Spare Change
Donating to a good cause always makes you feel happy and joyous. Considering that this application is rightly named Cheerful.
Like many other charity donation apps that help even those with limited and lacking resources contribute towards a good cause.
The application doesn't ask you to contribute the money out of pocket. It just takes the money you seem to forget and ignore and donates it to charity. Yes, we're talking about the spare changes here.
We never seem to get the change back unless it amounts to a lot. So, when the spare change amount is low, rather than letting it stay with the bigger organizations already playing in money and profits, how about you let it go to a charitable organization working for a good cause?
All you'd need to do is tie up your payments and transactions to the Cheerful app, and whatever the spare change amounts to in your transactions will directly go to a charitable organization of your choice.
Not only could you choose the charitable organization here, but you can also choose the cause you want to contribute towards. It could be eradicating hunger, contributing to better healthcare, environmental contribution, or any other social cause.
Also, you need not worry about the security of your bank accounts and transactions here because the application never stores your data.
Also, the payments are made separately by the application itself. All it takes from your transactions is the change.
Additionally, you can ensure that the amounts collected as change are donated, as the application has a transparent system of showcasing all its activities and donations.
Considering all this, it's a great app for those who're looking forward to working for good and social causes with limited resources in their hands.
Download the App from Apple App Store
8. RoundUp App
Last on the list is another one of the best Charity Donation Apps that helps you manage and donate your spare changes. You can just link your card with the application and make payments for your transactions using this application.
The application will round off the transaction value to the nearest rupee, dollar, or other currency based on your location.
The spare amount will be collected in your RoundUp App account as a donation amount.
At the end of the month, you can see the total donation collected and contribute it from within the application to a charitable organization of your choice.
Also, even though you put in your card details here, you can be sure of the safety and security of your transactions, considering that the application is backed up with encryption and other security protocols.
With that, it's another application that'll help you contribute to good causes for society by doing your regular transactions and activities.
Download the App from Google Play Store
Download the App from Apple App Store
9. Zakatify: Donate to charity
We have yet another one of the best charity donation apps available for iOS users. You can tap on the mentioned link and download it directly on your smartphone.
It is easier for anyone in any part of the world to get associated with the platform. Once you have downloaded the app, you can sign up or log in using your email, Facebook, and Twitter accounts.
Since this is a US-Based platform, you can find over 1500 more charities listed on the app. Some of the major features of Zakatify include setting a Goal aligning with the income you earn.
Suppose you are unaware of the term Zakat. In that case, it refers to an Islamic Financial term where an individual is obligated to donate a small portion of their income to charitable causes.
With this calculator, you can easily calculate how much Zakat you need to donate.
Moreover, every charitable cause has a meaning that might align with your value and something you follow. Pick them out and create your portfolio.
You can choose an auto donation drive through the app or do it manually. You can earn points and track your progress on the leaderboard to make things more interesting.
Download the App from Google Play Store
Download the App from Apple App Store
✅FAQ
Is there a charity app? 
Yes, there are some great charity apps like Charity Miles, Donate A Photo, Coin Up, Share the Meal, Zakatify, etc., you can trust to make charities of all types and ensure they reach the most deserving people around the world. 
Does PayPal charge a fee for donations? 
Donors frequently select PayPal since it is a reputable global brand. Although it is not a free option, accepting PayPal donations is a simple method to increase contributions.
Like most payment processors, PayPal takes money from donations before depositing it into your organization's PayPal account. 
The transaction fees that PayPal charges for business accounts have recently changed. The current transaction fee for PayPal is 2.89% + $0.49. However, PayPal gives registered charities a discounted rate of 1.99% + $0.49. 
Does GoFundMe take a cut? 
You never have to worry about paying a bill because a transaction fee of 2.9% + $0.30 is immediately subtracted from each gift. 
Each donation carries a minimal processing fee for all your fundraising requirements. Everything else goes to your cause, which is important. 
What's better than GoFundMe? 
Givebutter, Fundly, Snowball, GiveCampus, Bonfire etc., are some of the most eligible GoFundMe alternatives and are suitable for donor management, educational fundraising, auctions, fundraising events and much more.  
What happens to GoFundMe money if the goal is not reached? 
No issue. Your aim does not have to be accomplished. You keep every single donation you receive through GoFundMe. Even after your goal has been attained, your fundraiser will continue to receive contributions.
The progress bar on your fundraising will indicate that you have received more money than your goal amount after the goal has been reached.
You are free to extend your fundraiser duration if you want to continue collecting funds. 
What is the best site to raise money? 
GoFundMe, Facebook Fundraising, Kickstarter, Donorbox, Patreon, etc., are among the best sites to raise money and are more than just perfect for raising money for multiple noble causes.  
What is the easiest fundraiser? 
Dog walking, penny drive, matching gifts, coffee bean sales, holiday candygrams, etc., are some of the easiest fundraising options and make it super easy for you to raise funds for various purposes.  
Final Words
Charities and donations are the perfect way to give back to society. They make the world a better place and even put a smile on your face. You always feel proud to be able to donate, no matter how big or small it may be.
All the best Charity Donation Apps mentioned in this list have made contributing to charity easier. They don't even require you to put in your money. Just do some activities, and you can contribute towards the greater good. Now, what could be more convenient than this?
Besides these applications, there are always applications like Google Pay, Paytm, etc., where you can find ways to donate money to charity.
But what makes the applications on our list some of the best charity donation apps is that they provide a medium for every person to make donations, irrespective of whether they have the money or resources.
With that, these are applications every person must use so that the world can grow to become a better place to live for every person out there.