Do you have a curiosity to know about the best ways to Check Air Quality? 🤔 We got you covered in this post.
Let's get started. 😎
Today in the 21st century, we have witnessed the explosion of industrialism and capitalism. Apart from all its other drawbacks such as increasing class differences and the robotic lifestyle, there is one biggest demerit which affects the masses, that's pollution.
The air quality is getting from bad to worse. This can make you suffer by giving you allergies, asthma, and many such diseases.
According to the World Health Organization(WHO), 90% of people in the world suffer from some kind of breathing problem. Not only that, 93% of children(below 18) are living at the risk of developing breathing problems as they are air around them surpasses the healthy air quality limit as per WHO.
Air Quality Index(AQI):-
Air Quality Index(AQI) is a number used by government agencies to confabulate with the public on the topic of air pollution and tell them how polluted the air around them is. 
If the Air Quality Index increases the chances of one having a severe lung disease increase. Computation of AQI requires an air pollution specified concentration over a specific average period which is observed by an air monitor. 
AQI is a tool used by different organizations and agencies to daily tell the public how good or bad the around them will be.
The polluted air contains carbon monoxide, Ground-level Ozone, particulate pollutions, sulfur dioxide, and nitrogen dioxide.
In order to make judging pollution easier for you, the AQI has divided the Air Quality Level into six categories or six levels of health concerns. 
AQI=100 corresponds to the national air quality for the pollutants. The higher the AQI value the greater the level of air pollution in the city. Each of the six AQI levels caters to a different level of health concerns. The six-levels of air pollution are as follows:-
Good: The AQI value for this category is between 0 and50. Therefore, air quality is satisfactory and possesses little to no health risk.
Moderate: The AQI value for this category is between 51 and 100. Therefore, the air quality is acceptable, however, this can still cause health issues for a small group of individuals.
Unhealthy for sensitive groups: The AQI value of this category is between 101 and 150. If the AQI value of your city falls under this category then you know then you should be a little afraid, as in this category, the air is harmful to a group of individuals having a sensitive respiratory system.
Unhealthy: The AQI value of this category is between 101 and 200. This is when the bad air will start affecting the normal group of people or the healthy crowd of the city and the situation will get from bad to worse for the group of individuals having a sensitive respiratory system.
Very Unhealthy: The AQI value of this category is between 201 and 300. The AQI value in this category triggers health alerts. Now, everyone irrespective of their health condition will feel the wrath of bad air.
Hazardous: The AQI value of this category is between 301 and 400. The AQI value in this category triggers a health warning of an emergency condition. More often the government orders everyone to stay at home as it causes serious health issues.
This is how you can easily check the AQI level of your region and the health issues corresponding to it.
Air Quality Index (AQI) - What It Means For You
Use PurpleAir to Check Air Quality in realtime
Modern problems require modern solutions. If you are a science freak or geek then you might have heard of this term before. 
PurpleAir is a tool used to measure the air quality of a region. It is a technological platform for a low-cost Wifi enabled air quality monitor that can be placed anywhere in the city.
This technology because of its easy-to-use nature has conquered the whole world, they are in the US, many parts of British Columbia, and else parts of the world.
The best thing about them is that they provide people the real-time air quality measurements and therefore, they can help you to determine how much should they be concerned for their respiratory organs.
To see the air quality with the help of PurpleAir, visit the PurpleAir Map website, reach your country or state, and check the air quality there. There you can see the AQI number and then compare it to the AQI scale.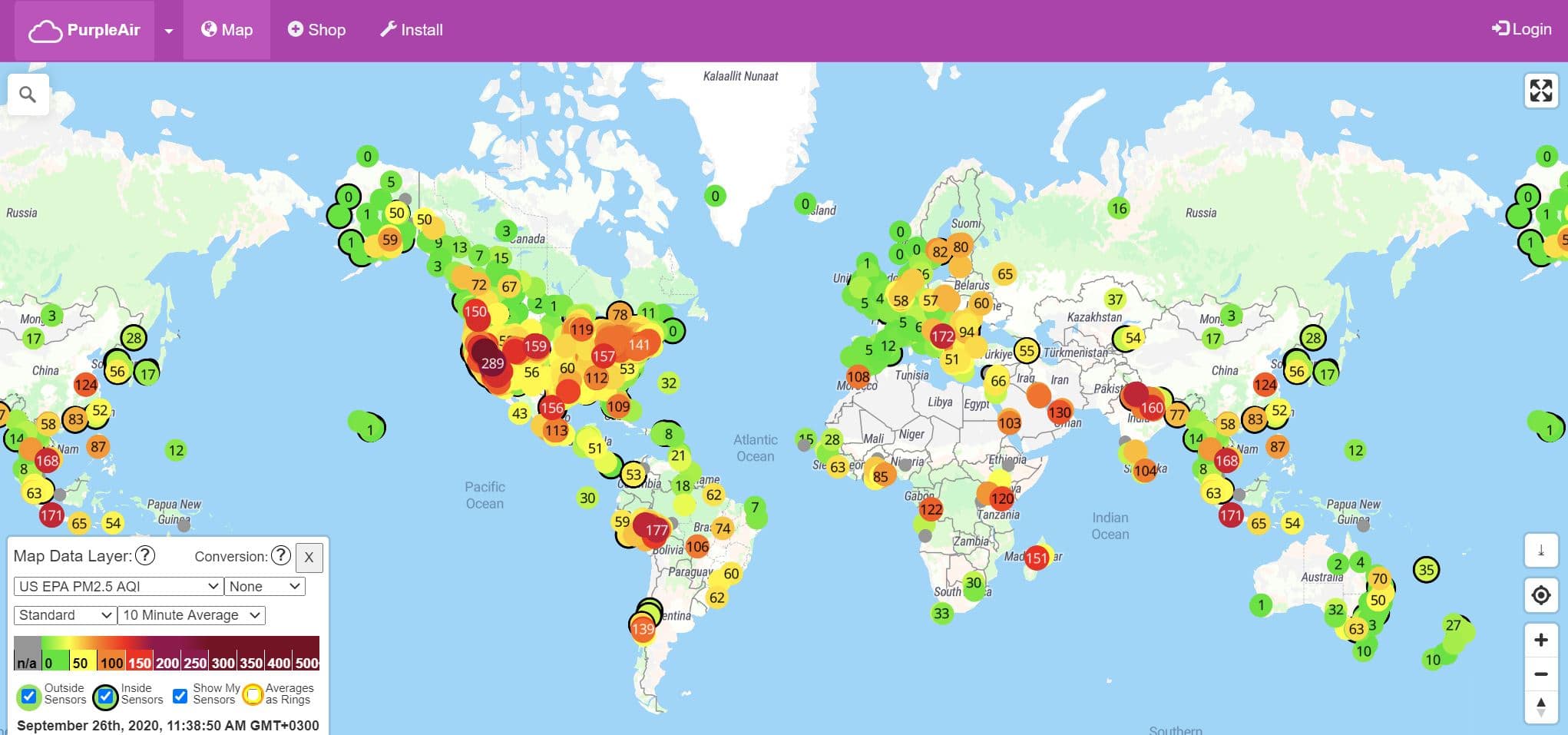 Check Air Quality by Official Number:-
If your region doesn't support PurpleAir then you have to rely on government data. Every country has some kind of official air quality detecting organization. For example, EPA is the air quality measuring organization in the US.
Even though they are all over the globe but the only problem is that they are a little slow. Therefore, if the rate of change of air quality is high then you would not be able to get the correct measure.
AirNow is there for countries such as the USA and Canada. You can just switch your GPS on and then go to the site to check the air quality in your area.
AirNow also offers a map that shows air quality across North America.
Check Air Quality on your device:-
All the above-mentioned sources are websites but in this section, we are going to discuss the application of your phone by which you can easily check the quality of air around you.
1. Check Air Quality Index on your iPhone or iPad
One of the most common and quickest ways to check the Air Quality Index on your iPhone or iPad is with the help of an in-build application, the Apple Maps. 
To check the Air Quality Index on iPhone or iPad with the help of Apple Maps use the following steps:-
Step 1: Launch the Apple Maps and then press the Navigation Arrow, placed at the top-right corner of the screen. This with the help of your GPS will center the map to your location.
Step 2: Now, after the completion of the placement process, you will see a box above the search bar depicting the weather around you and the AQI.
You can even zoom in or reposition in order to see AQI reading of different locations other than yours. 
In case you are not able to see the AQI rating then this means that either your device's AQI feature is disabled or your region doesn't support this feature. You can do nothing of the latter other than hope that Apple introduce this feature in your region as well but you can fix the former with the help of the prescribed steps:-
Step 1: Launch the Settings application, then head to MAPS.
Step 2: In the MAPS settings you need to go to the Air Quality Index and then use the toggle to enable it.
There is one more way with which you can check AQI reading, that is with the help of the Weather application.
Just open the application, scroll down and check your places' AQI reading as simple as it gets
If you want to check the AQI reading of a location other than yours, then just change the location and you are good to go.
This way you can not only have the knowledge of your area's pollution level but can also seek knowledge of the places where your loved ones live.
2. Check Air Quality Index on your Android device
Google is not too far behind Apple as it has its own methods of finding the Air Quality Index. 
The first method requires you to use Google Assistant.
Just utter either "Hey Google" or "Ok, Google" to launch the Google Assistant. Now ask "What is the air quality today". It will search online and then will give you the result.
Another thing that you can do is install an Air Quality measuring application. 
AirVisual:-
Air Visual is an air quality measuring application that will detect and tell your area's air quality. In order to use the application, you need to first download it and then just switch the GPS on and let the application do its work.
You will get health recommendations according to your places' AQI level and relevant information for breathing diseases such as asthma or pulmonary
This application can also be used to measure weather information such as temperature, humidity, and future forecasts as well.
How to create a healthier Indoor Environment?
You can't do much about the Air Quality outdoors other than using a proper face mask, planting more trees, reducing the use of CFC gasses. But if there is a place where you control the Air Quality and make it better is your home. 
What causes poor indoor air quality and pollution | Philips
Here are a few tips that you can use to ensure a healthier and cleaner breathing space for you and your loved ones.
Install an Indoor AQI monitor:-
Even though there are applications and official websites to determine the AQI level of your area. But if you want to increase the measurement up a notch then you should try and install an AQI monitor in your place as it will be more accurate and precise than the mentioned apps or websites.
Then with the help of that measurement, you can take needed steps such as wearing a mask inside or the other steps we are going to talk about later in this article.
If you are in the market for AQI monitors then apart from AQI level it should be showing the following details as well:-
Your deception must be telling the

Humidity

around you.

It must be depicting the

temperature.

It must be telling the

Volatile Organic Compounds.

The United States Environmental Protection Agency has declared few chemicals as the primary indoor pollutants. They come from carpeting or building materials such as POP.

It must be showing the

PM level(2.5)

. The PM level or the

Particulate matter level

defines the level of dust and other pollutants conquering your air and making it unhealthy.
iClever Air Quality Monitor:-
We have a recommendation for you. The iClever Air Quality Monitor is one of the best in the market. It is perfect for a household setting as it monitors the Particulate matter level or PM level(2.5) created by the dust caused by cooking, burning, etc.
It is a very compact and portable device that you can buy for yourself and place in your house, car, or office to measure the AQI level easily due to its simplistic user interface.
You can even connect it to your smartphone by installing the smart life app on your device. It can be brought at $84.99 from Amazon.com.
Monitor the CO and Randon Levels:-
There are many pollutants in the market of air such as nitrogen dioxide, sulfur dioxide but if we are to talk about two of the most dangerous then you should look no further than Carbon Monoxide and the Randoms.
The worst part about them is that most of the time they remain unnoticed as they have no aroma or color, that's why they are also called "Silent Killers". Therefore, they are very dangerous and it is better to take note of them.
We have gadgets that will do this for you.
Airthings Wave Plus Indoor Air Quality Monitor:-
This is one of the best devices if not the best that you should add to your AQI detecting mix.
They have an application, on which you can easily check the data and/or control its settings.

They are a little expensive but the value is good.

They are the winners of the Smart Home 2018, CES Innovation Award.

It can be brought at

$299

from the

Amazon.com
Is Your House Killing You? Airthings Wave Plus Says Mine Is!
Check for symptoms:-
As mentioned before, bad air quality can cause some serious health problems, therefore, it is better to keep track of your health and note if your problem is showing some symptoms. 
If you have not installed an air quality monitor at your place then you can predict air quality by just looking at the symptoms. As if you are feeling a bit dizzy at your home and not at your office then you know that the air quality at your office is better than that at your home.
You can even predict the disease that you are suffering from or likely to suffer by looking at the symptoms. For example, if your place has carbon monoxide as the pollutant then you may suffer feel a bit claustrophobic and will experience headaches. Or, a dominating potential pollutant may lead to a scratchy throat and moist eyes.
Install an air purifier:-
If you want one takeaway from the list then it would be to install an air purifier. If you are in a state with an AQI value exceeding 150 then you must install an air purifier in either your home or office or both. 
The air purifier is there to remove all the dirt and harmful gasses from your surrounding making it clean and healthy for inhaling. They do this through two techniques:-
Since some of the pollutants are positively charged, therefore, your purifier will emit negative charges to neutralize the mix.

The air purifier has a HEPA filter installed with the help of which they filter out the remaining pollutants.
If you are in the market looking for air purifiers then you should definitely consider the given purifiers. 
Alen BreatheSmart FLEX Air Purifier:-
The Alen BreatheSmart FLEX is one of the best purifiers for dusty, windy, dander areas. 

They have a HEPA filter installed making them perfect for protection against carbon monoxide and other pollutants.

They clean air faster than any of its competitors by cleaning 700Sqfeet every 30 minutes.

It backs a very sleek design and has a "

night mode"

which will allow you to turn its light off every time you are planning to take a nap.

It can be brought at

$379

from

amazon.com

.
Filtrete FAP-C03BA-G2:-
Filterate FAP-C03BA-G2 backs an excellent HEPA filter having a tendency to filter particles as small as 0.3 microns.

Their 

Particulate matter level

is

2.5

allowing it to capture viruses, bacteria, dust, lines, pollen, etc.

It has a built-in soft control touch which allows it to control the light, fan, and indicators.

It can be brought at

$157.06

from the

amazon.com
Contact an Expert:-
This should be your last shop as most of the time, the quality of air can be controlled by the above-mentioned steps. But if you are observing the symptoms then it is very vital to consult Air Quality Professionals.
The problem might look minor to you but it can have a major impact on your lifestyle and wellbeing. This causes serious diseases such as Asthma, Hypertension, fever, etc. Therefore, if you think that you need it then you do.
Wrap-up:-
In today's world, one can not live without some sort of protection from human-made natural problems such as applying sun-screen while going out under the sun or installing an Air Purifier at your place to ensure your safety from harmful pollutants such as Carbon Monoxide, Sulpher Dioxide, etc. 
In this article, we have tried to cover everything you need to protect you and your family from air pollution such as how to find real-time AQI levels or using your device to check the AQI level.