Online shopping, or e-commerce platforms, is in rapid and fast-growing numbers worldwide. It makes individual consumers' specifications satisfied with broad categories.
People buy almost everything over the internet, be it dresses, groceries, home appliances, health and hygiene, and many more. 
Among the many shopping sites that are well known to many and provide worldwide shipping are Chinese shopping sites. Many shopping sites in China ship to the US and many other countries around the globe.
Products from China are generally of lower cost due to the high resistance of manufacturing hubs, so consumers feel even more comfortable buying Chinese products with a lower cost of good quality and taking advantage of the domestic deals they offer.
Many of the following Chinese shopping sites would shock you to know that they are Chinese-owned shopping sites.
The sales and shopping that take place on these are uncountable, with the known fact that they are all highly profitable shopping sites.
In this article, let us look at some of the most popular Chinese shopping sites that are doing exceptionally well around the globe. 
Best Chinese Shopping Sites – Our Top Pick👌
AliExpress

Gear best

Yesstyle

Dhgate

Shein

Banggood

DealExtreme

GeekBuying

Light In Box

China Brands
1. AliExpress – Top Chinese shopping sites
AliExpress is one of the well-recognized shopping sites known to many people who frequently shop online.
It is one of the largest shopping sites, earning $55 billion, five times more than eBay. The business model of AliExpress is designed exclusively for international online buyers.
In the beginning, AliExpress started as a business-to-business model and a couple of years later revised its business model into the business-to-consumer, consumer-to-consumer model, and cloud computing with facilities of advanced payment services. 
This well-known shopping site acts as an eCommerce platform. It provides an extraordinary concept of drop-shipping to places where the consumers' categorized goods are not sold in stocks but are said to be manufactured and then handed over to the customers with care while ensuring good quality. 
It bridges a connection between the Chinese business and the buyers to reform China into a world-class e-commerce platform.
AliExpress sellers might be individuals or businesses that wish to advertise their goods as independent brands. Its delivery time for other borders is longer, and individuals can also employ international couriers.
Customers making their first purchase from AliExpress may take advantage of additional discounts on their first transaction.
The website also features a 35-Day Buyer Protection program, which aims to provide a money-back guarantee on certain items.
It also provides free shipping to India with the option of receiving speedy delivery by EMS and DHL. You can also select US dollars, Chinese yuan, or Indian rupees as the currency for the items mentioned.
AliExpress provides a curated language selection option that operates the website in various languages, including English, Spanish, French, German, Turkish, Indonesian, Dutch, Polish, Italian, and Russian.
It caters to worldwide clientele in English. Unlike Amazon, AliExpress does not offer its items. It is, instead, an e-commerce platform that connects you with third-party vendors.
Most of the merchants are from China, although there are also dealers from other South-East Asian nations.
Chinese consumers who do not utilize this website may want to use its sibling firm Taboo, which is more convenient for their payment procedure and product delivery.
2. Gearbest
Gearbest is another respectable and relatively new firm that allows you to buy things straight from China.
This is one of the best Chinese shopping sites with a warehouse in the United States, which significantly shortens the processing time and increases security for unregistered users.
The quickest choice is expedited, which is calculated by weight and only takes two to seven days to ship. Shipping is free for unregistered items, although it might take up to 40-45 days.
This website has partnered with the well-known Chinese smartphone manufacturer Xiaomi and offers more discounts and prices than we would find at a local store.
Its product categories include multiple Appliances, Cell Phones and Accessories, and a lot more that you will not find on the market on other Chinese Websites.
The site also showcases numerous brands to persuade clients at first look and organizes promotions and pre-order deals.
Customers can also select the Indian rupee as the default currency to view the stated pricing without engaging in separate currency dialogues.
GearBest is also ideal for non-residents of the United States. Palestine and South Sudan are the only nations where gear best doesn't ship its products.
It is most recognized for its wholesale rates on goods such as cellphones, laptops, smartwatches, and headphones. It also sells other stuff, such as clothing and pet supplies.
Gearbest charges a delivery cost for most of the listed goods and estimates a shipment period of seven to seven days on average.
3. YesStyle
YesStyle is another well-known and popular Chinese shopping website. YesStyle gives shoppers worldwide access to Japanese and Korean fashion, beauty, and lifestyle products.
It is a Korean, Japanese, and Taiwanese beauty and fashion shop that sells apparel, accessories, and lifestyle items.
YesStyle, a famous worldwide e-commerce firm, was started in 1998. YesStyle.com is an online retailer website that sells a variety of fashion and cosmetic items from that region.
It is also touted to be Asia's first online store to be responsible for distribution internationally.
Since its inception, the company has gained a widespread reputation, mainly due to its clothes items.
YesStyle has won several accolades, including being named one of the top 500 webshops and receiving two Yahoo awards, including the most famous merchant and the Top service award.
YesStyle provides a comprehensive salary package to the appropriate applicants at the right time, which includes a performance bonus and long service recognition program, medical insurance, a purchase discount for personnel, and a training and development program.
YesStyle offers a wide range of contemporary lifestyle goods that can be delivered to your door no matter where you are.
This platform has received excellent feedback from customers. They believe that the quality of the garments is excellent for the money spent.
The organization is well-known for its commitment to day-to-day openness with all its consumers worldwide.
It includes sections on the YesStyle website for news and announcements to keep clients updated on shipment tracking, shipping delays, and any temporary changes to customer support hours.
It demonstrates the firm's importance on its clients' wants and demands. YesStyle fulfills those objectives by communicating swiftly and effectively with clients, which customers need and anticipate, especially when acquiring items online from an overseas manufacturer.
4. Dhgate – Chinese shopping sites For Fast & Free Shipping
DHgate.com is China's oldest and largest B2B online marketplace for Chinese-made goods. The website primarily links small and medium-sized suppliers with consumers worldwide; users may order Chinese-made items straight through the site.
Dhgate is one of China's largest and most reliable B2B-cross-border e-commerce trade platforms, founded in 2004 by Diane Bang, a Chinese businesswoman.
Unlike many other online merchants who prefer or are only focused on selling to consumers; instead, Dhgate is designed to sell business-to-business and wholesale to retailers worldwide.
If you're looking for low-cost shoes, wedding gowns, watches, hair and grooming goods, or luggage, DHgate should be your first stop.
Dhgate was founded to enhance commerce between Chinese manufacturers and small and medium-sized enterprises worldwide.
Later, Dhgate collaborates with manufacturers from other nations and operates real locations called Digital Trade Centers (DTCs) to assist and enable retailers to check items before purchase. 
DHgate.com is a cross-border business-to-business (B2B) e-commerce website that connects Chinese SMEs with enterprises and individuals worldwide.
The site includes around 31 million global registered customers, 2.2 million vendors and other nations from over 220 countries and regions, and 32 million accessible items.
Dhgate offers a wide range of things at shockingly affordable costs.
Dhgate sells items in the following categories:-
Accessories for Cell Phones

Camcorders and other electronic devices

Outdoor and sporting goods

Products for health and beauty

Various designs of shoes

Products for the home and garden

Toys and presents for babies and children

Jewelry for Clothes

Men's and women's watches

Styling and hair products

Computer and video game accessories

Children's, men's, and women's bags

Accessory for fashion

Automobile and motorcycle accessories
Dhgate has methods and policies to relieve consumers' concerns about buying from unknown vendors by giving information and clean facts about each of its sellers, which highly vetted purchasers give.
Dhgate positions itself as a reputable and trustworthy online buying platform by implementing a comprehensive buyer protection system to prevent and minimize fraudulent activities.
Dhgate also has a buyer protection system that serves and assists the buyer in situations such as return and refund safeguards, buyer and seller mediation, and Dhgate symbols to help record the seller's qualities.
As DHgate ships products worldwide, they have also set up payment methods feasible for users to make payments easily. The payment options and plans include;
Visa

MasterCard

American Express

Skrill Moneybookers

Bank Transfer

Diners Club

Discover

UnionPay

Visa Checkout

Masterpass

Maestro Card

POLI online bank transfer

They also accept Apple Pay in some countries like the United States.
5. Shein
Shein's widespread popularity, particularly on TikTok, has elevated the shop to cult status among young women worldwide.
Shein was the most talked about brand on TikTok and Youtube recently and the fourth most talked about brand on Instagram.
Shein is established in China, although it exports to over 220 countries, with the United States being its primary customer market.
Shein even surpassed Amazon on the iOS App Store for the first time to become the most popular shopping app in the United States, a position it now owns in more than 50 nations.
This comes on the heels of a record-breaking year for sales: Shein allegedly made about $10 billion in 2020, marking the company's seventh year of sales growth of more than 100%. Shein was one of the world's most famous fashion and clothing websites.
Shein established its brand in 2014 when it purchased its supply chain system and transitioned into a fully integrated store. It opted to abbreviate its name to Shein for the second year.
They chose to modify the name to make it more accessible and memorable to customers. Shein began to market its products on Facebook, Instagram, and Pinterest, partnering with fashion bloggers for prizes.
Between 500 and 2000 goods are listed and updated daily on Shein's website. It ships to over 200 countries, concentrating on Europe, America, Australia, and the Middle East.
While everyone was affected by the Covid 19 epidemic, the value of Shein skyrocketed to over $15 billion, with $2.8 billion in revenue in 2019.
The retailer's website has thousands of styles, with roughly 1,000 new ones posted daily.
To put this in perspective, this manufacturing rate is even faster than the "ultra-quick" sites that have dominated fast fashion's Instagram age; Missguided and Fashion Nova, for example, are said to produce 1,000 new designs every week.
Shein's business strategy, like its fast forefathers, is based on the belief that more is better, that excess can be made affordable through inexplicably low prices, with no regard for environmental costs or labor transparency.
Shein concentrates primarily on women's wear and has proven to earn more profit by selling the following items.
Tops

Bottoms

Bodysuits

Dresses

Two-piece sets

Swimwear 

Lingerie

Activewear

Loungewear

Sleepwear

Denim
These are the styles offered by Shein, but all these styles have a uniqueness, attracting the customer with the available products.
Shein has spent years establishing ties with Chinese clothing factories and manufacturers since business in China moves much more quickly than it does in the United States. Most Western companies outsource this labor.
Shein works with small to mid-sized workshops that take orders regularly, rather than significant manufacturers. It's similar to an Uber system, where fresh orders are delivered to factory owners via phone.
6. Banggood
Banggood is one of the greatest sites for finding low-cost electrical stuff. It is another well-known e-commerce platform that ships items straight from China to countries such as India.
Some products are Mobile Phones, Appliances, and multiple other products.
Banggood, one of the first Chinese online retailers aimed at international customers, is a competitor to AliExpress.
It has been in business since 2004 and sells various products, from electronics to face masks. Blitzwolf, Huawei, Foxeer, Ulefone, and Xiaomi are among the brands represented.
Furthermore, Banggood has a specific Chinese New Year homepage with additional discounts on 3D printers, projectors, smartphones, and discount codes. 
Their primary focus and preference are electronics, but they also have other alternatives, such as sports equipment, health items, jewelry, and fashion accessories. It accepts various payment options, including credit cards, PayPal, and wire transfers. 
Banggood is a global leader in direct-to-consumer internet retail. It was founded in 2006. It has a user base of approximately 66 million people.
It covers North America, Europe, Asia Pacific, and the Middle East. According to App Annie, an authoritative app analytics company, it is one of the most downloaded apps in Europe.
Banggood accepts a variety of payment methods. Banggood customers have the option of picking the shipping area for their purchases as well as the desired shipment route.
It charges a shipping cost on the listed items and estimates delivery times of 10-20 business days for most items.  
7. DealExtreme
DealExtreme is on par with AliExpress in terms of popularity. It has been in business since 2006 and ships directly from its Hong Kong warehouse.
All of DealExtreme's merchandise come with free international delivery. For an additional cost, you may send expedited couriers.
Almost the majority of the items are electrical. The range of items is astounding; anything from glucose monitors to tattoo guns is available. The website also sells a large number of branded items. Devices from SanDisk, Lenovo, Sony, Asus, and others are available.
DealExtreme is an online marketplace with various product categories, including Phones and Accessories, Consumer Electronics, etc.
You may buy branded goods from businesses like Xiaomi, Ulefone, and Umi, among others, just like on AliExpress. A specific Chinese New Year Celebration area has also been added, with new deals on various items, dedicated New Year coupons, and other savings.
On most goods, DealExtreme offers free shipping to India via standard delivery. Customers are also provided a complete description of the item they wish to purchase.
Customer ratings are also provided for each product mentioned on the website. Select goods also have an expedited shipping option and the opportunity to track your shipments online.
While exploring our 11 Best Chinese Shopping Sites To Buy Products From China, I found an awesome video on "15+ Marketing Tricks Each Store Uses," which is worth watching.😎 😍
15+ Marketing Tricks Each Store Uses
8. GeekBuying
GeekBuying is an online retailer of technological goods. Similar to GearBest, it provides incredible Xiaomi smartphone prices.
There are also some "fun" gadgets on the site. There's a section dedicated to remote control automobiles and another to electric scooters, for example.
GeekBuying, located in Hong Kong, was founded in 2012 to provide top-tier items at premium costs. If you choose standard delivery, shipping is free. TNT and DHL are additional options.
Geekbuying is all about making our clients' lives easier and more intelligent. We have an enormous product assortment and great rates.
Geekbuying is the place to go if you're seeking the latest and greatest in smart homes and outdoor gear.
It is the best shopping site where new releases like innovative home products such as vacuum cleaners, fitness equipment such as treadmills, high-end home and office furniture, outdoor items such as e-bikes and scooters, and other consumer goods such as TV boxes, RC toys, and much more.
9. Light In Box
LightInTheBox is one of the famous Chinese shopping sites which often runs discounts and flash sales.
This website was created in 2007 and is well known for selling products in the categories of Fashion, electrical devices, and home and garden being the three main product areas.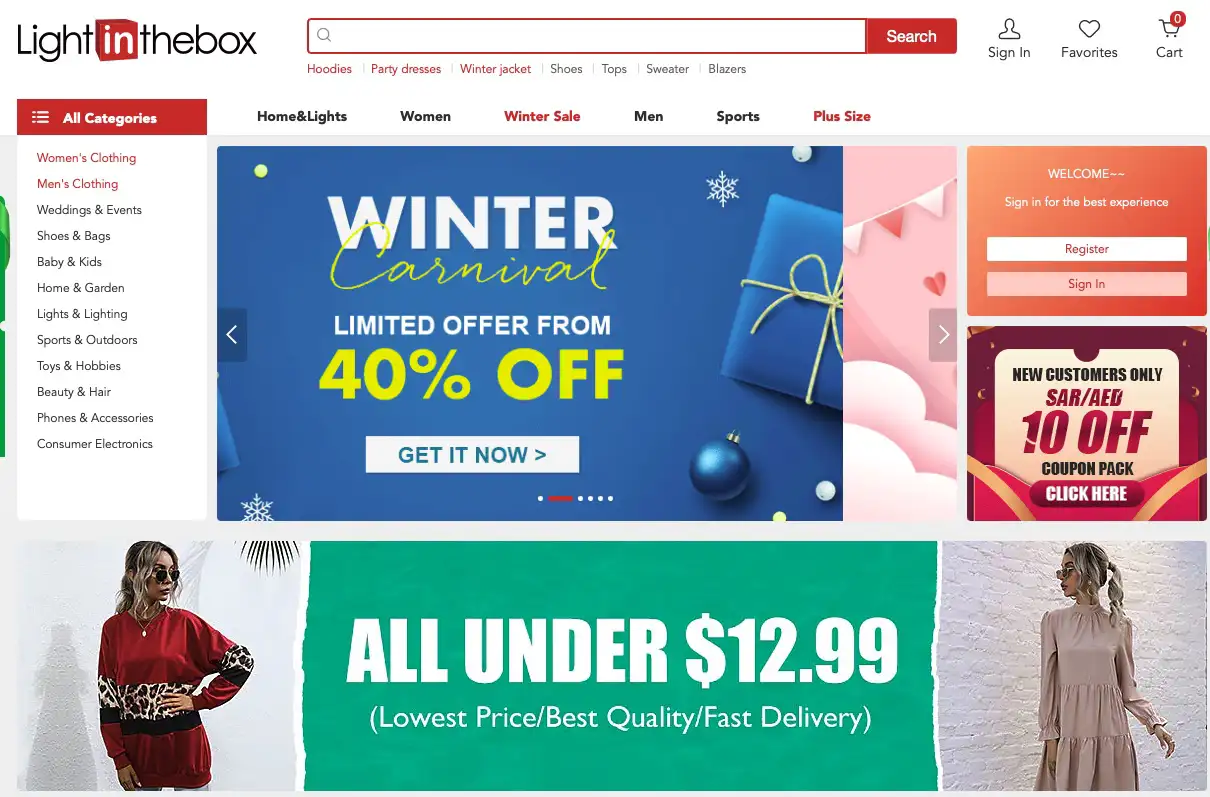 LightInTheBox is a discount and flash sale website that was created in 2007. Fashion, electrical devices, and home and garden are the three main product areas. It went public on the New York Stock Exchange in 2013.
Customers may pick from various delivery methods, all of which are priced according to weight—LightInTheBox, and its sibling site MiniInTheBox, ship to over 200 countries worldwide.
The three main product categories are clothing, small electronics, and home and garden. Credit cards and PayPal are among the payment options available on the website.
10. ChinaBrands
Another notable Chinese buying website is China Brands. Chinabrands is a significant drop shipping firm that provides consumers worldwide with one-stop e-shopping.
It sells products in various categories, including electronics, fashion, home, and outdoor.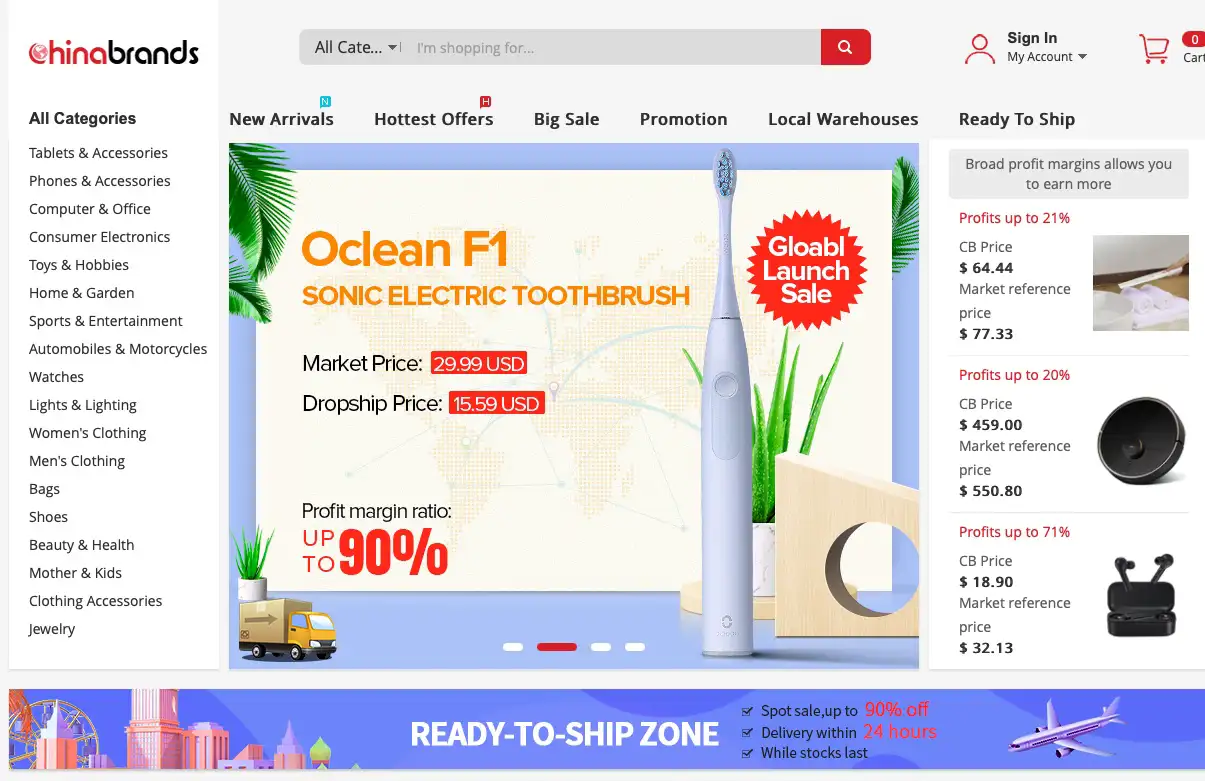 It has worldwide warehouses in several countries, including the United States, France, and Poland, and is known for its quick shipping and excellent after-sales support. From time to time, they also provide discounts and flash deals.
Chinabrands is the most significant worldwide distribution platform in the world. Their services will assist you in obtaining wholesale items from vendors promptly. It contains over a million goods in over a hundred different categories.
✅FAQ
What is the biggest online store in China? 
With more than 130 million daily active users and about 600 million registered users, Taobao.com is the most well-liked online retailer in China.
It offers a platform for sole proprietors and micro businesses. In addition, it provides a wide range of products at reasonable costs.
The other well-liked online purchasing websites are Gear Best, AliExpress, Shein, Banggood, etc. 
How can I shop online from China? 
There are several ways you can shop directly from China:-
Visit Chinese e-commerce websites:- Alibaba, Taobao, and JD.com are well-known Chinese online stores. These websites let you browse and buy various goods straight from Chinese vendors.
Use a shopping agent:– An individual or business that aids in your purchase of Chinese goods is known as a shopping agent. They are capable of managing the ordering, paying for, and shipping processes.
Use a package forwarding service:- Using a package forwarding service, you can have packages delivered to a US address and then have them forwarded to your home nation. If you don't have a Chinese shipping address, using this method to shop from China may be convenient.
What is the best app for shopping in China? 
You may purchase things from China using several apps. Popular examples include the following:-
AliExpress:– One of the biggest e-commerce corporations in China, Alibaba Group, owns this platform. You may explore and buy various goods from Chinese vendors using it.
Taobao:- This is another well-known Chinese e-commerce website that belongs to the Alibaba Group. It provides a large selection of things at affordable costs.
DHgate:- On this wholesale market, you can get large quantities of goods directly from Chinese suppliers and manufacturers.
Made-in-China:– Buyers and Chinese suppliers can connect through this B2B (business-to-business) portal. Businesses trying to source goods in bulk will find it very helpful.
What is the name of the Chinese online store? 
The most well-known Chinese online retailer outside China is probably AliExpress, run by Alibaba. AliExpress doesn't engage in any direct sales as Amazon does.
Instead, it serves as a platform to link customers with independent vendors. Everything is available there, including pet supplies, children's apparel, and technology.
Although many retailers offer free delivery, it often takes weeks or even months for packages to arrive.
To have an unrivaled online shopping experience from the comfort of your home, you can also try out additional options like JoyBuy, DealExtreme, Banggood, Dhgate, etc. 
What is China's version of Amazon? 
One of the world's biggest B2B wholesale marketplaces, Alibaba, is frequently referred to as the "Amazon of China."
Businesses can connect with sales representatives to negotiate and tailor their orders to their needs since every significant category has multiple suppliers. 
Is JOOM Chinese? 
JOOM is a well-known international online marketplace that sells cheap, Chinese-made goods. It primarily focuses on Europe, has offices in Moscow, California, Shenzhen, Hong Kong, and Luxembourg, and its headquarters in Riga, Latvia.
The business was established in 2016 by Ilya Shirokov, Ilya Rubin, and Yuri Ivanov. Since its inception, it has provided high-quality goods to Russia and 100 other nations. 
It has been sending all the goods through Joom Logistics, its logistics provider. The core of the entire marketing system, Joom Logistics, is registered in China regarding the registration process. 
Which one is better, Alibaba or 1688?
There are a few distinctions between the two platforms, though:-
Audience:– While 1688 is largely targeted at the domestic Chinese market, Alibaba is designed for buyers and sellers worldwide. Alibaba may therefore be more practical for customers outside of China, given that it supports various languages and currencies.
Product selection:- While 1688 tends to concentrate more on wholesale items and raw materials, Alibaba offers a greater selection of products, including finished goods and raw materials.
Payment options:- Alibaba accepts a larger range of payment methods, such as PayPal and credit cards, whereas 1688 primarily takes payments through Chinese payment gateways like Alipay and WeChat Pay.
What is the safest way to pay for goods from China?
The best way to protect your financial information when purchasing from China is to select a safe and secure payment option.
Safe ways to pay for merchandise coming from China include:-
Credit card:– Credit cards are a secure and practical way to purchase items from China because they provide fraud protection and the option to challenge charges if necessary. Major credit cards are accepted on many Chinese e-commerce sites, including Alibaba and Taobao.
PayPal:- You can make payments using the safe online payment platform PayPal without giving the merchant access to your credit card information. PayPal is widely accepted in China and provides buyer protection in the event of fraud or disagreements.
Escrow service:– Up until the items are received and approved as satisfactory, an escrow service functions as a neutral third party to hold onto the payment.
As the payment is not released to the seller until the goods have been delivered, this might give an extra layer of protection when purchasing products from China.
Conclusion on the Chinese shopping sites list
To summarize, Chinese shopping sites have been high in e-commerce marketing. Like in every business, these Chinese shopping sites have also had their highs and lows, but they've dealt with it much better than all other e-commerce sites.
We hope this article gives you a better picture of the sites that have been doing well while selling quality products at fair prices and shipping worldwide.