Have you ever heard of link tracking? Well, if you haven't, then you must know that it is definitely one of the best methods of growing a business, especially if it is primarily run online. In the time of a global pandemic, the importance of a method like that of link tracking takes up utmost importance. 
Everywhere we look, we see social media marketers, influencers, digital marketers, online sales marketing techniques, and the like.
What about the businessmen and businesswomen that are running their companies online, who are looking to grow their businesses online, especially because the online platform is now becoming the leading platform for all things marketing? 
Once we understand what link tracking is, we will also discuss one of the leading digital marketing online companies best known for its practices in the marketing world – we are talking about ClickMagick.
Now, let us understand what link tracking is so that we can go ahead with understanding ClickMagick alternatives that any business can use to help surge their sales by turning to the appropriate audience. 
What is Link Tracking in Marketing? 🤷‍♂️
If you are an online business owner, you must be running the online social media profiles for your company. All platforms have a feature, especially so when you sign up as a legitimate business, wherein, if you have attached a link to any of your posts, you can see how many people have actually clicked on that link.
This means that you get to see the success of your post in the way it has attracted consumers and possible future customers to a link that you have provided for them to see. 
The same concept goes on domain websites, wherein you can easily track the number of clicks that your link has received. The term is called 'link tracking' because it allows you to track the sources of your clicks, and once you find out the kinds of sources that your link clicks are coming from, you can cater your content to deliver to that audience in particular.
This also particularly helps you out as a business owner because it shows you that the work you are doing is being seen and recognized by legitimate sources, and if it is not, you can see that, too, because link tracking also provides you with the ability to check if the clicks you are getting on your content is legitimate or robotic spam. 
Features of ClickMagick:-
ClickMagick is a leading firm for web-based link management which offers several great features to digital marketing companies that put themselves in their safe hands.
What's great about ClickMagick is not only that it and its business model is attractive to digital marketers only, but also to those individuals and organizations that buy and sell web traffic.
This is an incredibly important set of people in today's emerging world of e-commerce, where online shopping apps require knowing you inside and out by tracking your actions on every digital device. 
Now that we know what link tracking is, it's important to note what ClickMagick does and how it relates to link tracking.
In its essence, ClickMagick is the kind of application software that helps organizations and enterprises under its purview manage the clicks that the organization receives on any of its online activities.
This includes the following services:-
Geotargeting:– This refers to targeting an audience in a particular location. For example, tropical areas would be the perfect geological destination to sell summer clothes, air conditioners, coolers, etc. 
Link cloaking:- This refers to hyperlinks in order to make links more trustworthy to customers. Most people would rather not click a very long link thinking it's spam; shortened links count as link cloaking. 
Tracking sources and quality of traffic:- Traffic refers to the number of clicks that a link receives. ClickMagick allows its customers to check out the sources of these clicks and also the quality of these sources to check out its legitimacy and tailor campaigns to specified audiences. 
A/B split testing:- Testing the same link on different audiences to see how each responds so that campaigns and links can be better catered to each of these audiences. 
Having explained the ease of digital marketing with ClickMagick, a few features may be slightly complex for those newly entering digital marketing.
If you are one of these newbies, we have some alternatives listed for you below, with similar features but differing interfaces. Let's quickly dive into this list of companies that can help you make or break your business! 
Best ClickMagick Alternatives: Our Top Pick 👌
There are several ClickMagick alternatives that you may check out if you find ClickMagick itself to be exhaustive because of its huge amount of features. 5 of these alternatives alongside their best features have been listed below for your reference. 
1. Voluum 
As a company, Voluum is globally recognized and it also comes highly recommended by several digital marketing firms across the world.
This website understands what its prospective customers need without them having to explicitly explain it, and it is evident upon simply opening its website. 
Instantly upon opening, there is the option of checking out a product demo, which is always helpful for us. Getting to know any product before we invest our hard-earned money into it is a must because it ensures that what we are buying is of top-notch quality and is worth our money.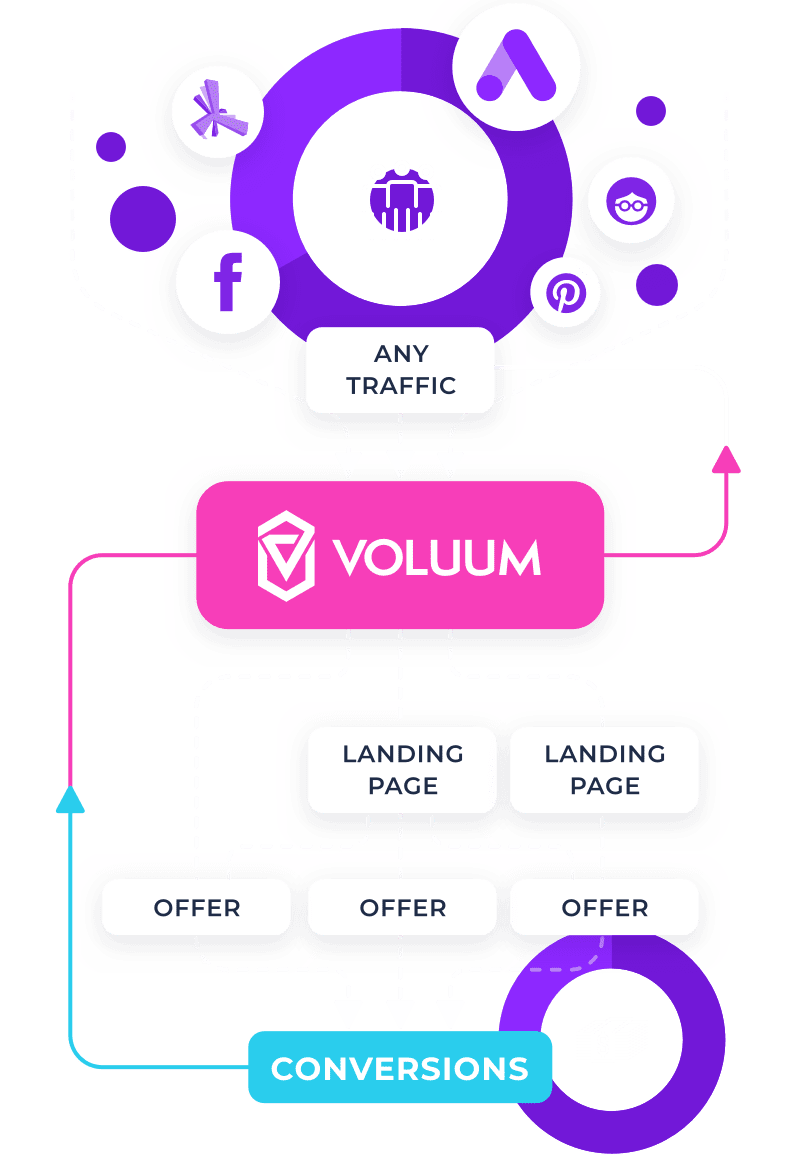 The best part is that the demo platform for Voluum is for an entire duration of 14 days, i.e., 2 weeks, which is the same as ClickMagick. Additionally, Voluum does not ask for any payment details while signing up for the demo, such as credit card details. 
Voluum uses a system for tracking clicks and site traffic that avoids cookies and instead takes a server-to-server approach to avoid unnecessary in-betweens.
Additionally, you can choose the exact path that your company would like to take to track your traffic and clicks. What's more special about Voluum is that it takes a triple-pronged approach to manage your affiliate business: 
Tracking:- This refers to affiliate marketing tracking wherein everything you put out on the web as part of your advertising and marketing campaigns are visible in one place with superfast reporting for various metrics, in real-time, as traffic remains incoming. 
Optimizing:- This refers to advertising tracking optimization using their Traffic Distribution AI (Artificial Intelligence) and their Anti-Fraud Kit, both of which ensure you the most profitable audiences while keeping away the unnecessary. 
Automating:- This refers to affiliate automation tools to integrate all traffic into an ad tracker and a built-in Automizer to create a set of guidelines and rules for your marketing management efforts. 
Voluum Automated Affiliate Tracking Software : Traffic Distribution AI [ Tutorial ]
There are tons of pricing plans available on Voluum that can be subscribed to monthly as well as annually. The starting offer is $69 per month annually.
Pricing plans can also be altered to specified company needs, and upon any change in plan, such as an upgrade or a downgrade, the campaigns created by you will be migrated accordingly. 
Voluum is also affiliated with several fantastic brand names that majorly add to their success and they reciprocatively add to their success. Some of these famous brands include Google Ads, Facebook, propeller Ads, Taboola, ExoClick, Affmore, and Outbrain.
Download the App on Google Play Store
Download the App on Apple App Store 
2. ThriveTracker 
ThriveTracker as a brand is one that would bring corporate joy to the people looking to further their ad campaigns and marketing strategies to higher levels.
As a brand, ThriveTracker's tagline is not to merely succeed but to thrive, and it helps performance marketers gain the feeling of thriving. 
ThriveTracker in 90 Seconds
Once again, this is another website that has a fantastic demo structure for 14 days, and their guarantee is that in these 14 days of demo trial, you will be able to track up to a million clicks. What's a slight bit of a downside is that ThriveTracker requires your billing details in order to process your demo trial. 
This website has several fantastic features of which the first and foremost is the confidence eluded by them as a brand itself.
Amidst a fantastic team of developers that are constantly coming up with new releases for the brand, the following are some of its features that make it absolutely fantastic: 
AI Optimization:- What ThriveTracker does for you is offer you services in real-time wherein you can improve how efficient your campaign is.
The service takes the information it needs from you and fits it into its AI algorithm, and voila! That's how you get the perfectly optimized performance tracking system. 
Bot Filter:- Aside from redirecting information to where you want it to be, ThriveTracker has the feature that all affiliate and performance companies need – a feature to filter out bots and fraud traffic, thus keeping your marketing analytics clean and precise. 
Fast Redirects:- The problem faced by a lot of companies is losing clicks that are already paid for because the tracker is slow – ThriveTracker has incredibly rapid tracking backed by its globally distributed infrastructure. 
Auto-Scaling:- Trackers are optimized once you select a plan with fabulous sources and a steal of a deal (both offered by ThriveTracker), thus, the auto-scaling feature leaves you almost wholly free of worry. 
Domain Control:- ThriveTracker provides you with the service of routing your traffic through the server of YOUR domain rather than using a group domain. This allows you more traffic and also betters your brand reputation. 
LP Pixel:- The tracking pixel provided by this company tracks everything you need to track without having to redirect it for fresh traffic. 
Funnel Support:- Think of an actual funnel where the narrower bottom leads to tracking in one place and the top wider part is several pages to track. ThriveTracker has a wide range that can be tracked. 
Multi-User Access:- One of the best features of ThriveTracker, it allows different people from an organization to have their very own login IDs rather than having a cumulative ID for the entire brand. 
The pricing at ThriveTracker begins at a monthly $35 for 100,000 clicks (Cloud Lite), $79 for 1M clicks (Cloud Classic), $249 for 5M clicks (Cloud Pro), $375 for 10M clicks (Cloud Entrepreneur), and $799 for 30M clicks (Cloud Enterprise).
The next and the highest level is Cloud Elite where the prices remain to be discussed with clients specifically. Higher levels also require overage charges depending on the plan. 
3. AdsBridge 
AdsBridge is another one of the best ClickMagick alternatives and it's one that radiates exuberance when you check out its brand image.
It provides solutions to every type of business that there is by providing a wide variety of tools with the aim of increasing the company's profitability and also making the process of affiliate product marketing simpler for all customers.
Affiliate Marketing Software & TDS. AdsBridge - more than just an ad tracker
At AdsBridge, it is well understood how important a traffic tracker is and it is not taken for granted that they have a good product – they are always looking to better it while upping the industry standards at the same time.
This is the reason why AdsBridge is a really great ClickMagick alternative that would work wonders for your company. 
This website has tons of fabulous features that would interest customers who may not even have been looking for such a brand in particular.
It has the power to sort of draw you in and, if nothing else, at least try out their free 14-day demo.
AdsBridge believes in 5 main ideas to help you grow your business using their affiliate software:-
Tracking:– This pertains to launching ad and marketing campaigns in the most rapid fashion and monetizing on them in the fastest way possible. 
Management:- Managing all your ad campaigns and marketing strategies on one platform, provided to you by AdsBridge. 
Analysis:- In the simplest of words, analysis pertains to what comes after your track your traffic – checking out which audiences are most profitable and which are the least profitable. 
Optimization:- Customizing your ad traffic to the audience that was found to be most profitable while analyzing. 
Monetization:- Of course, this refers to the processes of filtering out the fraud and reeling in the legitimate traffic to make money! 
 Here are some of the features that AdsBridge offers its customers:-
Flawless TDS (Tracking Distribution System):- This takes place using up to 20 filters to weed out unnecessary traffic. 
Flows:– Creating several campaigns, working to optimize them all simultaneously. 
Automatic Conversion Caps:- These restrict the loss of any traffic when the limit for conversions has been achieved. 
URL and Custom Domain Protection:– SSL or Secure Sockets Layers are provided to customers to protect their data while bringing in traffic. There is also a hide-referrer and hide funnel feature that prevents unwanted eyes from setting foot on your pages.
Using the added feature of bot tracking and bot filtering, AdsBridge provides you with marketing strategies as well as complete protection of your sites and pages. 
PPC and Conversion Tracking:- You can track the number of pays-per-click, i.e. PPC, that have come to your ad campaign, and you can also track the conversions that your ads have gone through using AdsBridge to get the most efficient and optimal results. 
Pixel and Link Tracking:- The software provided by AdsBridge for tracking is ready-to-use and incredibly user-friendly, so you should not have any problems getting the hang of it. 
Ad Tracking:- Ad tracking via AdsBridge is one of its main purposes which is why it is one of the best services provided by the website. 
There are tons of other features on AdsBridge which can either be overwhelming for users that are not used to it, for which the simple solution is to check out the free demo – it's why they have it.
Alternatively, what this website offers could be exactly what you are searching for as an entrepreneur looking to expand your business in the best and most efficient way possible. This duality of AdsBridge is what makes it one of the best ClickMagick alternatives in the business. 
The annual pricing for AdsBridge starts at $299 per year for 100,000 visits a month, $899 per year for 3M visits a month, $2029 per year for 7M visits a month, $3669 per year for 14M visits a month, and so on.
The monthly plans start at $29 per month for 100,000 visits, $89 per month for 3M visits, and so on and so forth. They have great deals and it would be a waste if, as a business, you didn't make the best use of them that you could. 
4. LinkTrackr 
LinkTrackr is one of the best ClickMagick alternatives in the market because it has several fantastic features to make your life with affiliate marketing much easier.
This website and software are browser/web-based so that you don't even need to install any software.
You can simply access everything – every feature of LinkTrackr – from your browser itself. This is also incredibly helpful for when you may not always have a computer with the software you need available. Your LinkTrackr account provides easy access from the world over. 
What's more to know about LinkTrackr is that it is flexible with its billing system and ensures complete security, safety, and privacy to its users.
In affiliate marketing, a minute lost can feel like an insanely large amount of time because of the number of clicks you lose in that time.
With incredibly reliable servers and disaster-proof, state-of-the-art cloud hosting technology, rest assured, your money, as well as your clicks, are in safe hands with LinkTrackr.
Besides, you can trust that this website will never take your data and sell it as their own – they prefer to stay out of your business and focus on bettering their own for the best customer experiences. 
Additionally, LinkTrackr provides you with a free copy of a report called 'Death of an Affiliate' wherein the 7 biggest mistakes made by beginner affiliate marketers is enlisted.
So that other people can learn from these mistakes and prevent making these mistakes themselves. This is just a small additional offer provided to LinkTrackr customers as a loyalty bonus. 
The following are some of the fantastic features offered by LinkTrackr:-
Link Cloaking and Shortening:- When setting your links out to the world, the website will help you cloak and shorten them to attract more clicks. 
Network:- Whichever popular affiliate network that you're thinking of, be assured that ClickMagick supports it. 
Link Redirection:- LinkTrackr redirects your links based on geo-tech, click limits, and conversion limits. 
Tracking:- LinkTrackr is, first and foremost, a tracker, for all things related to affiliate marketing. This includes PPC tracking, conversion tracking, ad tracking, pixel tracking, postback tracking, and sub ID tracking. 
URL Rotation:– LinkTrackr uses different URLs, landing pages, etc. to split traffic to various sites. 
Split testing:- Simple A/B split tests to figure out the best conversion rates. 
Let's quickly dive into the pricing structure of LinkTrackr. The first and biggest advantage of LinkTrackr as compared to other ClickMagick alternatives is that it has a trial period of 30 days! That's right, you read it correctly, it's 30 days, which is double the number of days that other ClickMagick alternatives provide trials for.
After the trial, prices start as low as $7 a month for 10,000 clicks, $17 a month for 50,000 clicks, $27 a month for 100,000 clicks, and $47 a month for 500,000 clicks.
If these aren't fantastic prices, especially some of the best out of all the other ClickMagick alternatives we've seen today, then we don't know what is! 
5. QualityClickControl 
As the name suggests, QualityClickControl is a brand that speaks exactly to what its name suggests: it makes sure that the quality of your clicks is controlled fruitfully and optimally.
Whatever website you have, or whichever form of business, QualityClickControl works to provide to you the best features for controlling your traffic, improving its efficiency, and also keeping your security and privacy in mind. 
On the website, you can choose the business you own out of Affiliates Marketing, CPA (Cost-Per-Action) Marketing, Solo Ad Provider, and Other (engulfing all remaining business types). Once you select the option most appropriate for you, QualityClickControl will provide you with a structure that works best for your business model. 
QualityClickControl provides its customers with impeccable timing and speed to get the most efficiency out of their services. They also provide top-notch user support in case something goes wrong and the human resources on the other side of the phone are also incredibly helpful.
Here is a list of some of QualityClickControl's other fantastic features that it offers its customers:-
Instant Downloading:- Here, we're referring to the software which can be downloaded instantly after registering. 
Conversion Tracking:- making the best of the links for clicking to get the greatest ROIs. 
Link Cloaking:- shortening or changing the visual of the link to make it look more appealing. 
Retargeting:- Pixel tracking is also called retargeting and is very useful for literally retargeting pixels from one webpage to another. 
Link Rotator:- Rotating through multiple links to increase traffic equally to all these links. 
Bot protection:- Filtering out robotic traffic which would only waste the clicks you invested in instead of leading to fruitful results. 
Link Locking:– QualityClickControl provides its customers with the option to password-protect their links and also use that password-protected page to carry out normal functions. The screen wherein to type the password usually has a message on it. 
Geotargeting:- Helps to target an audience in one geographical space. 
Link Monitoring:- This refers to Link Tracking. 
Mobile Redirecting:– This site allows you to create sites that are tailored to mobile phones using a mobile-ready URL. 
Traffic Blocking:- Customers can easily block unwanted traffic, such as certain IP addresses, certain countries, etc. 
Click Stream Logs:- This refers to tracking clicks on your sites and links. 
Stat Sharing:- This feature helps you share your tracking data easily with people who would like to see it or that you'd like to show it to. 
Easy Duplication:– While running multiple campaigns, you can simply duplicate one to another. 
QualityClickControl has a $497 one-time fee and $297 per year for the future; this plan is for beginners. Their lifetime plan is for a one-time $997, which includes unlimited upgrades for life. Additionally, with the code RELAUNCH200, you can avail of $200 off on either plan. 
📗FAQ
How much does ClickMagick cost?
ClickMagick has several plans that you can make use of depending on your requirement. The starter plan will cost you around $37 per month. You can make use of the standard plan which will cost around $77 per month. For the pro plan, you need to pay around $197 per month.
What is ClickMagick used for?
ClickMagick is a tracking service that helps you understand & learn more about your tracking capabilities. It is most advisable for you to use it when you are into business and want to know where the maximum clicks are generated from.
What is a click meter?
ClickMeter is similar to ClickMagick. It helps you to know how many clicks you have had on your website. This is ideal for those related to business and allows marketing agencies and even professionals to design an effective marketing campaign.
How much does Voluum cost?
Voluum comes with 3 pricing options for you. The price range varies from $89 to $299. You can take a look at the pricing and then choose the features accordingly. Each of the plans comes with its own features infused in them.
Is ClickMeters free?
ClickMeters are not free when you sign up for a 1-year subscription plan for yourself. When you do that, you get a few months of free service. However, when you prepay for 2 years, then you stand to get 6 months free.
How does a click tracker work?
It works pretty simply. The link of the body is overwritten by a message that is then sent through the website. The message is redirected to the user of the final destination. When you make use of a website, it becomes into another unique link.
How can I track link clicks for free?
Yes, you can track link clicks for free with the help of certain apps. Some of them include Bit.ly, Snapt.io, ClickMagick, and Voluum. These apps are free, but you can also make use of the paid versions if you want.
How do I know who clicked my link?
You can make use of Google Analytics. However, there are apps that can provide you with accurate information on who clicked your links. You can also find the vital measurements to check the marketing channels that bring traffic to your website.
Conclusion 
All in all, there are some really great ClickMagick alternatives out in the market for all those interested in marketing and the like.
There are some really great options depending on the kind of business as well as the level of business that you own and would like to expand.
Different plans are available accordingly, and on different websites, there are hundreds of great features. In our opinion, any one of these highly professional brands will be wondrous for your business, and that's a guarantee.
If you are willing to spend money to grow your business, rest assured, ClickMagick and ClickMagick alternatives, i.e. Voluum, ThriveTracker, AdsBridge, LinkTrackr, or QualityClickControl will make it happen for you.