This is a complete guide to Best Copyscape Alternatives [ Both Paid and Free] that will help to write plagiarism-free content and increase the quality of your blog.
Let's get started. 🐱‍🐉
Plagiarised content is a worry that almost any type of writer has in their mind while creating content. Most writers go to extreme levels to ensure there is no plagiarized content in their writeups that can jeopardize their careers. 
Having a plagiarized content in your post cause low rank in search engine so there is always a need to check whether the content has authenticity or not. To maintain authenticity, they spend a hefty amount on a plagiarism checker.
Copyscape? Its uses!
Copyscape is one such plagiarism checker that maintains the originality of your content. If you want to run a plagiarism check on your posted content then you have to copy the URL of your post and paste it on their site and then click the Go button.
The site will then show you the matched websites. So if you want to gain explicit knowledge and know exactly what the copied portion is, just go to the matched URL and can see the copied portion highlighted there. 
The most distinctive feature of Copyscape is Copysnetry. As soon as it sees the copied content it warns you about it. It can scan your content daily or weekly. The daily scan costs $19.95 a month whereas you can get a weekly scan at the minimum cost of $4.95.
You can scan up to 10 pages in both weekly and daily scans. Copyscape is a great tool but many are looking for its alternative because of high-cost plans.
It has both versions: free and paid. Although the free version doesn't allow running plagiarism checks on the offline writeups. If you want to find similarities between two different posts then Copyscape as a plagiarism checker allows you to paste both the posts' URL and then click the GO button to find out.
In this article, we are going to find out some of the best Copyscape alternatives.
Copyscape Alternatives: Both Paid and Free
Let's start with our first Copyscape alternative.
1. Grammarly
Grammarly feeds two birds with one scone. It not only has a plagiarism checker but also serves as a proofreading tool. It is an AI-based software that effectively made its name in the market with the ability to work against 400 grammatical rules.
However, unlike Copyscape, the plagiarism checking feature is only available for the premium version of Grammarly. By paying monthly, quarterly, annually, you can unfold many robust features such as spelling and grammar checks, style guide, formality level indication, fluency, tone adjustment, etc.
Bring Ideas to Life | Find the Words | Grammarly
The free version may not have a plagiarism checker but it is sufficient as a proofreading tool as you can correct all your grammatical mistakes as well as spelling mistakes.
The premium and business plans starting with $30 a month, & in a quarterly plan, $20 a month while annually, $12 a month, and $12.50  per member a month respectively.
If copying and pasting of Copyscape wasn't your cup of te then Grammarly is the best deal as you can use this Copyscape alternative. It has a desktop app, web version, browser extension, also as a plug-in tool in Word, Google Docs, and Outlook. An iOS user and an Android user can also access it.
2. Plagiarism Checker X
If you are looking just for a plagiarism checker then Plagiarism Check X is the option to go for. It is one of the most affordable Copyscape alternatives. You can download the software to have full experience of plagiarism checkers.
It is one of the fastest, and accurate plagiarism checkers that has both paid and free versions to offer to their customers. There is only one step to run the plagiarism check and that is copy and paste by clicking Analyzing button. The scan in no time will be done and the plagiarized content will be highlighted.
It also informs its users about the percent of plagiarised content. Contrary to Copyscape, Plagiarism checker X allows free plagiarism check as well as using URL. It is not necessary to run a plagiarism check using URL as it was in Copyscape.
This Copyscape alternative has a unique feature, Bulk search. It is a great tool to measure similarities between the bulk of writeups and the umpteenth number of URLs.
The level of plagiarised content is shown using a set of colors such as blue color that represents the low level, green for medium-level whereas red indicates a high level of plagiarised content.
The free version lets you scan 30 times a day with up to 150 words at a time and the paid version opens unlimited scans with infinite numbers of words along with the ability to convert the docs in a PDF format.
The paid version is a lifetime investment as you have to remove $39.95 once to unleash it and if you like you can also go for its business plan that unlocks all PR plans and give you 5 licenses. All in all, it is a good Copyscape alternative that maintains the authenticity of your content.
3. Plagiarism Checker
An online tool that does not ask you to do much work to check plagiarised content, then go for plagiarism checker. It is a simple tool that asks you to copy the content you want to run a plagiarism check on and then paste it on their site and click the 'Check Plagiarism button. 
Plagiarism checker is one of the Copyscape alternatives that impose a limitation on word count, 100 words at a time can be checked for plagiarism. It highlights the plagiarized content and also tells the plagiarised percentage and also provides you with the link to the post where you copied from.
4. ProWritingAid
ProWritingAid can be one of your best defensive soldiers against duplication as well as one of the perfect Copyscape alternatives. It helps you in removing plagiarised content as well as protect your text from copying.
In ProWritingAid, you do not have to buy credits and then use them to get word limitations like Copyscape. You can directly go to their site and then choose from their premium and premium plus plans.
The online version of ProWritingAid can not only run plagiarism checks but can also look for overused words, cliches, readability, incorrect tenses, passive voice, punctuation errors, long sentences, etc.
ProWritingAid comes under the kind of Copyscape alternatives that are available as a plug-in tool for web browsers such as Firefox and Google Chrome but you can also look for its mobile app as an iOS or Android user.
This Copyscape alternative provides integration with Google Docs, Microsoft Word, Scrivener, Open Office, and such apps.
How to Manage Your Team on ProWritingAid
It has both the free web version and desktop version starting at $20 a month but if you want a plagiarism checker then you have to pay extra such as $10 for 10 checks, $40 for 100, and so on.
ProWritingAid is one of the Copyscape alternatives that also offer a Premium plus plan allowing its users 60 plagiarism checks for a year. It has a pretty unique feature called Thesaurus so if you are looking for Copyscape alternatives that can increase your word knowledge then go for ProWitingAid.
5. White Smoke
White smoke is a great plagiarism antidote that not only let its users run plagiarism check but also to improve punctuation, grammar, and spelling mistakes, You can see a wide range of template formats such as letters, cover letters, condolences, notices, and many more.
It resembles Google docs as both are based on machine translation. It provides suggestions while you are typing and it supports more than 50 languages so you can choose from the language you love.
Its machine translation thrives to make the translation and text quality faster and to make your words sound proper in the context and grammatically correct. Although it is not as fast or intuitive as Copyscape you can almost have similar features at less rate.
Everything has its downfall, WhiteSmoke's mobile and desktop version's interface is its downfall. Its chrome extension plan starts at $8.33 a month and you can also check out its premium and business plans.
It is a great tool but it can also be one of the Copyscape alternatives.
6. Unicheck
A pretty good alternative to Copyscape, Unicheck is a fast and accurate plagiarism checker. It is the best solution for a person with a load of work as they support multiple file formats. It is fairly easy to use the software.
If you are using it for the first time then they have a guide for you to tell how to buy pages and upload files. They have a list of plans that has different numbers of pages. Unicheck is one of the few Copyscape alternatives that you can use as a plug-in tool in Google Docs and can also have as a Chrome extension.
Stop academic mimicry | Unicheck Plagiarism Checker
After running a Plagiarism check, Unicheck informs its users about the overall percent of plagiarised content along with the links so you can change it. It has both free and paid services but the free version has some restrictions and that is 200 words at a time only.
The paid version starts at $5 that offers 20 pages along with bulk checking and a Google Docs add-on. It is an excellent Copyscape alternative as its one-page include 270 words so if you have a $5 plan then 5500 words can be checked for duplicated data.
7. CopyGator
If you want the same Copyscape Premium feature of Copysentry then CopyGatore is the ideal one. It is at your service to check plagiarised content and to ensure there is no content theft at absolutely no cost.
It also offers free badges that you can use on your site, it will change colors to indicate whether someone copied from you or not. It offers an overview page where that has all the information on when, how, where your content is being duplicated, plagiarized, or quoted.
Overall it is one of the best Copyscape alternatives that you can have at 0 rates.
8. Plagiarism Detector
If you don't want to install the application and just want an alternative to Copyscape then a Plagiarism detector can be your best solution. It is a great tool to protect the data from being copied.
It is easy to access Plagiarism Detector as you can go to their site and type your content or just copy and paste and can even copy the URL. The free version packs you many features and you can run a plagiarism check on 1000 words.
If the free version is not of your choice then there is premium access that unveils unlimited words with Deep Search Future.
It also provides you a PDF format plagiarism report. Plagiarism Detector comes under the type of Copyscape alternatives that anyone can afford. It has three different plans along with customized plans. 
As low as $1 is required for you to run plagiarised check on 3600 words and max $5 to open up all the premium features of this Copyscape Alternative. If you are not native to English then it supports many languages such as Russian, Spanish, French, Portuguese, and Italian.
9. Plagium
If you are looking for a simple Copyscape alternative then Plagium can be your companion. It offers both free and paid plans. It presents you with a dashboard that all its tools after signing in. It has you choose between Quick and Deep search.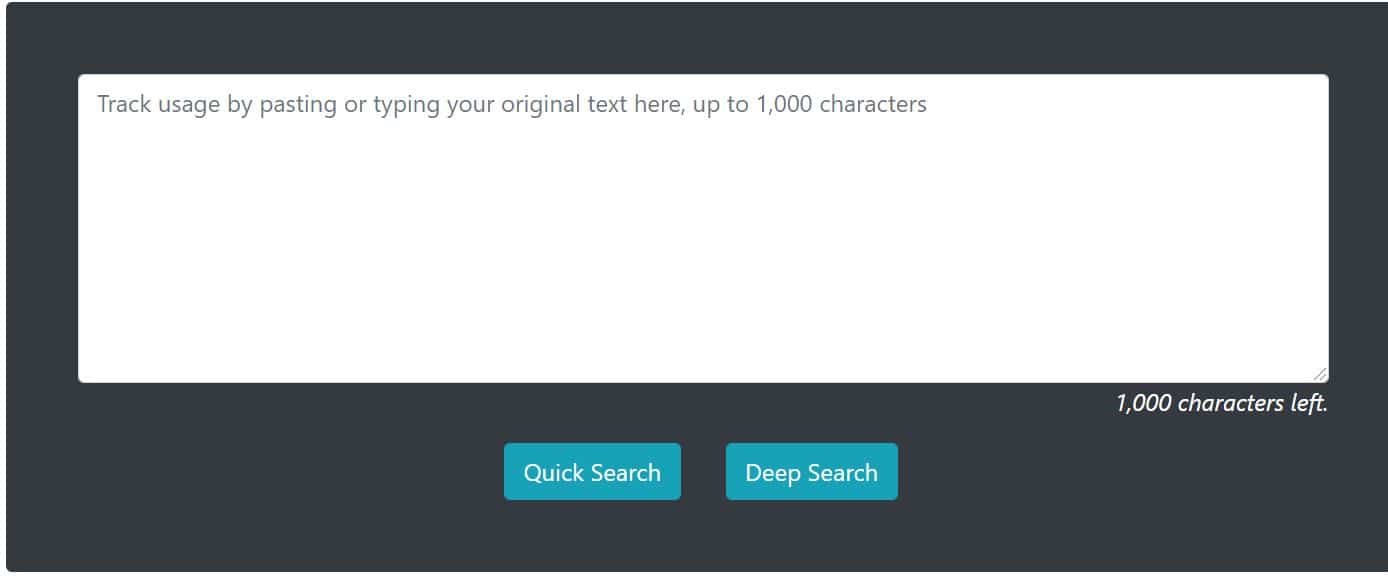 The quick search at a fast speed represents a visual report whereas the Deep search takes its time in analyzing through the content to present you with reliable information. The free service enables you to run a plagiarism check on 1000 words and can only run a Quick search. 
It has a wide range of plans such as a quick search for 0.04 per 1000 words, deep search for $0.08 per 1000 words. It also lets you compare two documents so if you want to do so you can pay $0.05 for a 1000 word check.
You can either type the content or copy-paste the text or just use the URL to find out duplication at an affordable rate.
10. Dustball
Dustball is an easy-to-use free Copyscape Alternative. It offers a plagiarism report. It has both free and plans. The premium plan only costs $8 a month and unveils 3 times better and accurate results. It allows 50 times plagiarism run and then you have to pay 25 cents additional peruses.
You can either text your content or copy-paste it and then click 'check the paper' to run the test. If you want to save your time then go for the Premium plan as you can directly upload MS word files.
11. PlagTracker
If you are looking for a Plagiarism checker with a large database then check out PLagTracker. It let you choose from the free and paid version.
The free version has a 5000-word limitation which is far more than most Copyscape alternatives and presents source links of the copied content. Although the free version is more than enough, it does give accurate results.
The premium plan offers you their services at only $7.45 that open up fast result. It can be uploaded in PDF, Docs, or text files. Even though PlagTracker is a great tool it has its own problems. 
The major one being is declaring non-plagiarised content sometimes as plagiarized content. If you to foolproof your content authenticity then it is recommended to use it as a secondary tool.
12. Plagiarisma
Plagiarisma suits well for Copyscape alternatives. It is a good tool for Android, Windows, Blackberry, and Moodle users who wants to avoid any plagiarized content. 
It offers both paid and non-paid services. The free service, unlike Copyscape, let you chose the way you want to start, by copy-paste, by texting the content, or just using URL. The format of your file won't be a problem as it supports almost any type such as txt, PDF, word files, and many more.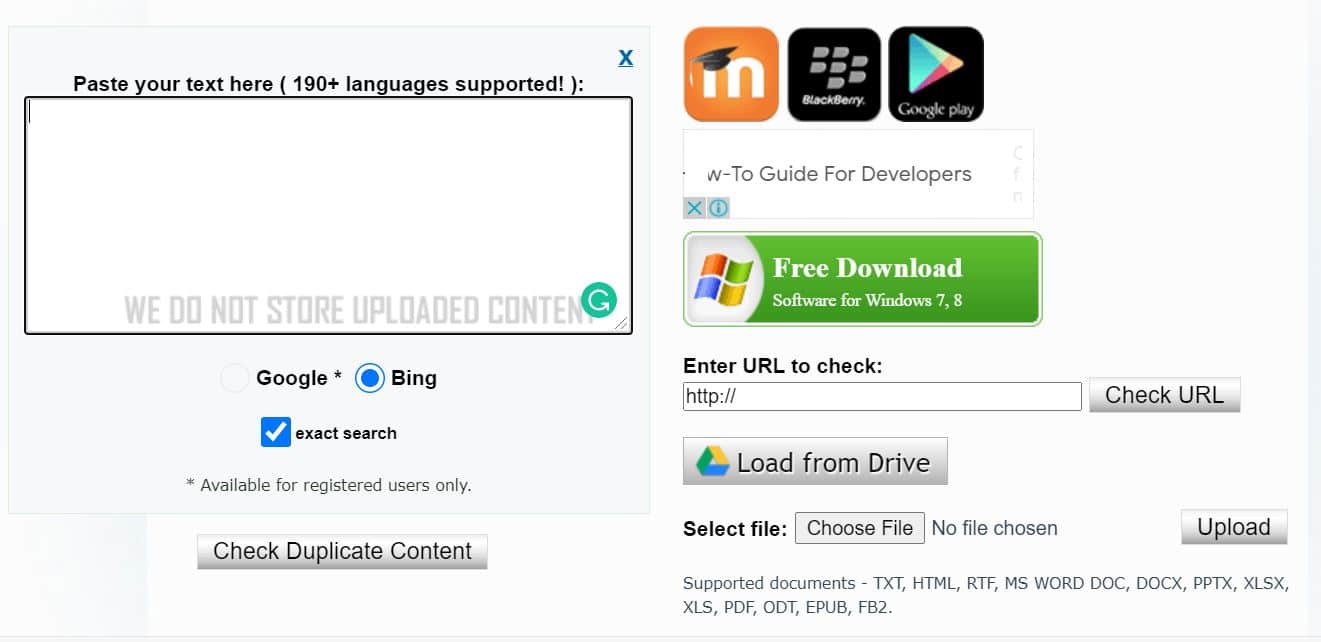 It can be a two-in-one tool as the premium version enables you to not only have a plagiarism checker but also a grammar checker. It is among affordable Copyscape alternatives as there are various plans that you can select. 
If you want to try their premium plan for a day then $8 is all you require to have 100 searches. But if you are in it for a long time like 3 months or so then also you'll have a cheaper package such as $25 for unlimited searches.
13. Quetext
If you want the best out of Copyscape alternatives then Quetext is a must. It is a great tool that uses Deep search to get rid of content duplication.
It not only helps users to maintain their content uniqueness but also in preventing content theft. It has the corresponding colors for exact matches, near-exact, or fuzzy matches.
Quetext offers both paid and free versions. The free version has some restrictio0n such as limited scans, 500 words, and basic scans. If you like you can opt paid version as it allows you unlimited scans, 50,000 words, and the file format type you prefer.
More than 5 million students, teachers, and professionals use Quetezxt for checking plagiarism in their content. It has been a great tool for us so you can also try it yourself.
14. CopyLeaks
CopyLeaks let users easily find out plagiarised content in their content, therefore, is considers as one of the advanced Copyscape alternatives. It has AI that easily finds copied data in your content.
It is widely used among students and large enterprises to ensure content authenticity and to maintain intellectual property rights. You can select from their paid version as well as premium version and if you want a trial before going for the premium version, then they have trials for you.
It has a duplicate finder tool that allows you to find similarities in your documents. You can have your preferred language as they support multi-language. It is easy to use the tool and also supports Google Docs and MS Office.
If you are an Android or iOS user then there is a compatible app for you to look at. It let you use any type of file format you like such as PDF, doc, or RTF.
You can either type your content or use the URL to run the plagiarism check. The free version lets you scan 10 pages and 2500 words in more than 10 languages. But it lacks the support of MS Word and Google Docs 
The premium version starts at $10.99 a month. It unwraps running search on 25K words with more than 100 languages and the capability to compare data. It also lets you have API access, supports Google Docs and MS Word.
If you opt for a high pricing premium plan then they open up advanced features such as comparing internal docs, the ability to scan 100 files at a time, and integration with a learning management system along with prioritized customer support.
15. ScanMyEssay
ScanMyEssay is a plagiarism tool that is known by the name Viper also. It is one of the Copyscape alternatives that provides its customers with accurate and fast reports.
To start running the plagiarism test, it is necessary to make an account ad then you can select the file to run a plagiarism check on. The best feature of ScanMyEssay is that it tries to find copied data from both local and web services.
How to Avoid Plagiarism - Easy!
It offers both free and paid services. Viper asks its users to at least send their writeups and they store them in their database for others students to learn from. Your writeups will only be used after three months as viper scans them for plagiarism extensively.
16. Plagscan
Plagscan is one of the simples Copyscape alternatives on our list. It has a simple and intuitive UI and you will enjoy your time using this tool.
It is backed with dozens of features that you can alter according to your needs. One thing you need to keep in mind before using this tool is that it gives you a free trial. So, before buying the complete version use the trial version and see if it is what you need.
17. Duplichecker
Duplichecker is not as feature-rich or accurate as some other tools on our list. But is free of cost. You just need to go to their website, copy and paste your article and its algorithm will search out the copied content for you.
It has some missing features such as it doesn't have a good grammar checker. However, if you are a new blogger you can use Duplichecker as it is free of cost.
Conclusion
These are some of the best Copyscape alternatives and plagiarism checkers that you can use to write plagiarism-free content and increase the quality of your blog.