While assembling their PC, most people prioritize graphic cards and RAM. They spend a lot of money on these items without any hesitation.
They have the conception that PSUs are not necessary, so they spend a lot lesser amount on buying these items as compared to other PC items of the PC. But they are unaware that a computer's performance depends on the PSU's efficiency.
PSU is responsible for determining the performance of a computer. Therefore a person should always choose a PSU appropriately. They should spend more and buy efficient computer PSUs if they expect a good performance.
Poor quality PSUs gets burnt easily, and sometimes they take along the computer's motherboard. So buying a $40 PSU for a computer is not a sensible choice. A person must spend a lot of money to buy PSU to secure the computer's future.
In the PSU segment, there are two leading companies: Corsair and Evga PSU. They are the right choice in the case of PSU. People get confused here about which one to buy.
This article will help you to understand which company is better. We will discuss different features and values in terms of Corsair vs Evga PSU:
Corsair vs Evga PSU: Which PSU Brand is Better?
Efficiency
All devices which run on electricity tend to lose a certain amount of their power input while functioning. For example, if a PSU is 80% efficient, then the energy extracted from the PSU is 80% useful, whereas the other 20% is wasted. This inadequate power supply affects the PC's functioning and might harm its internal parts.
The loss of power due to inefficiency is given off as heat. More heat in your PC causes the fan speed to increase to expel the hot air.
If the heat increases further, you might face stability issues in your computer. Also, much electricity is required if you use the PC for long hours or 24/7, and an inefficient PSU can increase your power bill.
Thankfully, the PSUs are becoming more efficient at lesser prices. All good PSUs are given a rating based on their performance based on 80+ standards.
As the name suggests, a PSU has to be more than 80% efficient to get evaluated through this rating system. The different levels of rating are as follows:
80+ White: 80% efficient

80+ Bronze: 85% efficient

80+ Silver: 88% efficient

80+ Gold: 90 % efficient

80+ Platinum: 92% efficient

80+ Titanium: 94% efficient
If you are a person who is starting to use a computer and can be considered as a beginner, then the best option for you is 80+ bronze and not less than that.
These are enough to handle the functioning of your computer. The price difference between white and bronze is minimal, which can get squared off with the electricity savings through the bronze.
Corsair and Evga offer 80+ gold efficiency PSUs to their customers. The 80+ gold units manufactured by these two companies are so competent that they don't need a fan when normal web browsing is done.
If we consider both in the context of Corsair vs Evga PSU, then both companies are good in inefficiency.
Using platinum or titanium PSU can be a little costlier, but their performance makes the devices value for money. So if you are a heavy user, you can consider buying these PSUs with 80+ platinum or titanium efficiency.
Non-Modular, Semi-Modular, and Fully Modular
Modular is termed as the number of cables that are used to connect the PSU to the computer. Your cabling depends on your budget or how much you can spend. There are three types of modular from which a person can choose:
Non-Modular
The power supplies get transferred through a bundle of hard-wired cables to the device, which generates power. This cabling saves a lot of money; thus, most PSUs use non-modular cabling. But some disadvantages come with this type of cabling:
Cables not getting used remain inside your PC and use a lot of space.

Extra cables can affect the airflow by coming in their way.

The cables that are in the bundle have a fixed length.

It is necessary to disconnect every component to remove the PSU. This is a time taking job.
These issues can get ignored if the user is ok with spending a little more on the cables.
Semi-Modular
They are $10-$20 costlier than non-modular cabling, but with this small difference in price, they bring a massive difference in a PC's cable management.
Only the main 24-pin ATX power connector is hard-wired because the motherboard requires this for adequate functioning. Besides that, every cable in Corsair and Evga semi-modular PSUs is optional.
Persons using M.2 SSD only and no other drives can skip the usage of SATA cables. Computers with a single GPU system can opt for leaving out the PCIe cable, which was meant for SLI and Crossfire setups.
By reducing the use of cables in your PC, you can create more space for proper airflow inside the PC, and a computer with fewer cables looks attractive and good. In Corsair vs Evga PSU context, both companies produce quite similar semi-modular PSUs.
Fully Modular
The high-end and costly PSUs are fully modular, meaning every PC cable is removable, including the 24-pin ATX.
This type of PSU is very expensive, so upgrading from semi-modular to fully modular to remove the cable of the 24-pin ATX is not advisable in certain cases.
But lastly, it depends upon each individual's choices and needs. There are some benefits that you will get if you choose to use fully modular PSUs:
The PSU can easily get removed from the PC for cleaning and maintenance without rerouting the cables.

A person can substitute a longer or shorter 24-pin ATX cable.

It is easy to make custom-sleeved cables, and it is easier to purchase them.
It wholly depends upon the user's choice on whether he/she wants a semi-modular or fully modular PSU in the PC.
Side-by-Side Comparisons:-
Now that we have understood different aspects of a PSU let's compare the PSU of Corsair and Evga to give you an idea on which company manufactures better products than the other.
This will help to provide you with an overview of the context of Corsair vs Evga PSU.
Corsair CX550M VS EVGA 550 B3
PSU with a power supply of 550w can be a good option for an average PC used for regular use. Such PSU is compatible with PCs that have the following features:
The graphic cards used are low-range or mid-range. These are incapable of performing advanced operations.

Air cooling feature to keep the temperature of the PC balanced.

A minimal amount of overclocking.

It runs a few times a day, so this PC is rarely used.
Let's discuss more Corsair vs Evga PSU on the 550w segment:
Power and Efficiency:-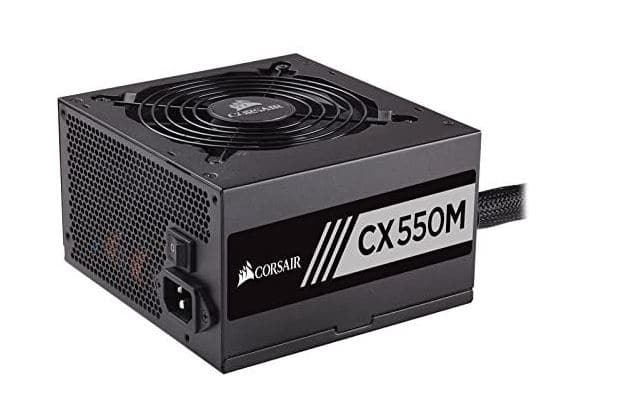 Both models can generate an output of 550w. The generation of power is continuous in both products. Both companies provided a single rail 12v power output in both products at 45.8 A. Both the PSU have acquired an 80+ Bronze rating. 
So, according to the above explanation, it is clear that both the products are quite similar to each other in terms of power and efficiency.
Features:-
The CX550M has semi-modular cabling, which means that the 12v ATX cable is hardwired to the PC. Whereas in the case of 550B3, the cabling is fully modular, which means that there is no hard-wired cable connected, not even an ATX cable. 
As the 550B3 PSU has fully modular cabling, it is possible to change the  ATX cable with a short, long, or custom-sleeved cable.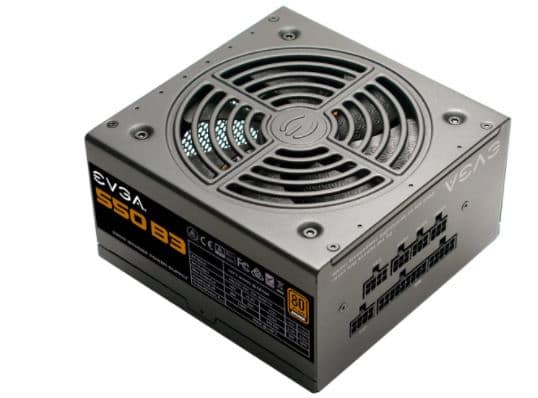 In 550B3, the connections that are still not connected can be divided into five modular cables. Whereas in CX550M, these connections are divided into four modular cables. This division into four modular cables can help in routing to SATA drives.
Another feature that gives the 550B3 an edge over CX550M is Evga's eco mode. To enable this feature, a person can switch the button in the back of the device. This allows and helps the PSU to perform silently.
You can read these points and select which 550w PSU is better for you and your computer.
Value:-
The CX550 can cost you a little less than 550B3. So if you don't want the eco mode, then CX550 is a good choice. But the features in 550B3 are no less. So the user must decide this considering his/her requirements.
Check the Price of CX550M on Amazon
Check the Price of 550B3 on Amazon 
Corsair CX650M VS EVGA 650 BQ
PSUs that generate a power supply of approximately 650w are good for gaming PCs. They are capable of supporting high-end graphics, which is a must-required component for a gaming PC. They also allow for some overclocking.
Before purchasing a 650w PSU, the user needs to know the features of a PC to handle and function a 650w PSU. Therefore the features of the PC are as follows:
The PC must have a high-end graphics card. Mid-end graphics cards are also manageable.

An air cooling system is mandatory, or an All-in-one liquid cooler can be enough.

The overclocking should be done mildly.

PC with a 650w PSU compatibility must run a few hours a day and take some rest the other times.
Let's discuss more points in the context of Corsair vs Evga PSU in the 650 segments:-
Power and Efficiency:-
Both the company's products can generate power up to the limit of 650w. Both the products generate power without any peak, which is considered good and efficient.
Both the products generate 12v rail output at 54A. The efficiency is quite the same in both brands, which is why they got a rating of 80+ bronze.
In the case of power and efficiency, both the company's products are quite similar and are not different.
Features:-
In the 650w segment, both companies have produced products with similar features. Both the PSUs have semi-modular cabling systems, and neither have an eco mode for zero RPM fan operation.
The EVGA 650 BQ is longer than the Corsair CX650M. The difference between their lengths is 25mm. The 650BQ has a larger 140mm than the CX650M's 120mm.
Despite having such features, the EVGA 650BQ doesn't produce slow sounds while operating. Once both the products have crossed the 350w power supply level, their sounds grow louder and louder.
Values:-
Both the products are sold at similar prices, so it's wholly up to you in terms of selection. Choose according to your requirements.
Check the Price of CX650m on Amazon
Check the Price of 650BQ on Amazon
Corsair RM750X VS EVGA SuperNOVA 750 G3
A PSU with a 750w power supply is considered the best choice for those keen on playing high-end graphic games.
Advanced gaming PCs can use these PSUs for better and more efficient performance for a more extended period. These PSUs are also an excellent choice for many workstations where the software is high-end.
The features which are required in a computer to become compatible with getting connected to a 750w PSU are as follows:-
A high-end GPU graphics card is a must on the PC. Otherwise, two mid-range graphics cards are also acceptable.

The air cooling system must get installed on the computer.

The CPU/GPU/RAM must get overclocked.

These PSUs are used in computers that are running 24hrs/day.
Now let's see whether Corsair RM750X is a better PSU or the EVGA SuperNOVA 750 G3 PSU by discussing different aspects of these two devices in the context of Corsair vs Evga PSU:
Power and Efficiency:-
Both the PSUs manufactured by different companies can generate a continuous output of 750w without any peak. Corsair RM750X has a single 12v ATX rails at 62.5A, whereas EVGA 750 G3 has a single 12v ATX rails at 62.4A.
These two PSUs have great efficiency and have acquired a 90+ rating inefficiency, which is why they come under 80+ Gold. The EVGA is considered more efficient than the Corsair but seen as a whole; they are both similar.
Both the devices are quite similar to each other when it comes to power and efficiency, and it is the other aspects where they differ from each other and so distinct features.
Features:-
The features of these PSUs suit a gaming PC with a high-end graphics card and are used 24 hours a day without any rest.
The most significant difference between these two PSUs is the noise generated by them. The Corsair RM750X fan profile system controls the fan speed till the power generation is up to 350w.
when the power generation increases over 350w, the fan starts speeding up but with a minimal sound that is not irritating and will not disturb you and your work. Other fans in the PC make a louder sound than RM750X while it generates a power supply of 750w.
The SuperNOVA, even having the zero RPM fan mode feature, makes a much louder sound when compared to RM750X. The fan of this PSU starts running at the point when the power supply generation reaches 150w.
It starts increasing the speed as the power supply increases and generates a lot of noise. It becomes noisy after 350w power generation, which is not a good sign for a PSU.
The Corsair PSU produces much less sound than EVGA PSU because the fan used in the Corsair PSU is larger than the fan used in EVGA. The Corsair fan is about 135mm long, whereas the EVGA fan is about 130mm long.
Both PSUs have a fully modular cabling system. EVGA has six PCIe power connections for 3 GPU's whereas the Corsair PSUs have connections for 4 GPUs. The length of the SuperNOVA is shorter to RM750X at 150mm, whereas the Corsair one is 160mm long.
Value:-
Both companies offer a good 10 years of warranty on both products. The price difference is approximately $10 between the two products, and mostly the Corsair one is cheaper. To evaluate your needs and purchase accordingly.
Check the Price of RM750X on Amazon
Check the Price of 750 G3 on Amazon
Corsair RM850X VS EVGA SuperNOVA 850 G3
An 850w power-supplying PSU is more efficient than a 750w one for a high-end computer with high-performance software and hardware.
Power and Efficiency
Both PSUs are manufactured to generate a continuous output of 850w without any peak. Thus it is clear that the user will get the full 850w from both PSU models without difficulty.
Both these PSUs have acquired an efficiency rating of 80+ Gold. Which means they give a 90+ efficiency in the power supply. Because of this feature in both PSUs, they are best for high-end computers.
Both the PSUs have a 12v single rail output at 70.8A.
The power and efficiency offered by the 850w PSUs are quite the same, and they can't be discriminated against in this aspect.
Let's discuss some other aspects of these two devices to overview some points which will support the context of Corsair vs Evga PSU:
Features:-
Both the PSUs Corsair and Evga have used a fully modular cabling system, which is the most efficient and costliest. These two PSUs offer all the features that a heavy user expects from a PSU when he/she buys it. The length of RM850X is 160mm, whereas the length of SuperNOVA 850 is 150mm.
The only difference or the most important difference between these two devices is the noise caused by them.
RM850X produces no sound even at high load. They even produce minimal sound when they are generating 850w power. At the same time, SuperNOVA PSU produces a lot more sound than the Corsair one. They start producing sound when the power supply hits 350w. At 850w, their sound reaches higher levels.
Value:-
Both models have a 10-year warranty, which is great for the users.
The price of SuperNOVA has increased in the last years, whereas the price of Corsair RM850X is constant, and a user can purchase it at $10-$20 less than the EVGA one.
After analyzing all the features, it's up to you to decide which PSU you want or which PSU can fulfill your needs.
Check the Price of Corsair RM850X on Amazon
Check the Price of EVGA SuperNOVA 850 G3 on Amazon
📚FAQ
Is EVGA or Corsair better for PSU?
Both EVGA and Corsair offer quality power supplies. However, the ones provided by EVGA are more efficient and compact. On the other hand, Corsairs' PSU ( RM series ) is among the quietest in the market.
Is Corsair PSU any good?
Corsair RM1000x is among the best. Despite the high-quality parts, it is available at a reasonable price.
Does EVGA have good PSUs?
You will get tons of power supplies by EVGA in the 600-800W range. SuperNOVA 750 P2 is among the best option because of its performance and price.
Which power supply is most reliable?
EVGA Supernova 850 T2 is among the most reliable power supply. It has an 80 Plus Titanium Certification making it 94% more efficient under typical loads.
Does Seasonic make Corsair PSU?
Corsair is a reseller, while Seasonic is the manufacturer. It means that Seasonic can make Corsair's PSU.
Are Corsair CX power supplies good?
CX power supply units are terrific for basic system builds and desktop PC upgrades. You will receive low noise, high reliability, and modular cabling flexibility.
How long does a Corsair PSU last?
Corsair PSUs can last anything between five to eight years.
Which PSU is best for gaming?
Corsair RM750x, Corsair CX450, Seasonic Prime Titanium TX-1000, Corsair AX1600i, XPG Core Reactor 650W, Fractal Design Ion SFX 650 Gold, etc., are some of the best gaming PSUs.
Conclusion on the corsair vs evga psu comparision
PSUs are an important component for every PC because the PC's power supply wholly depends on this device. So it is essential to choose the right PSU for your device to see an efficient performance.
Before purchasing a PSU, you must evaluate your needs and purchase according to your requirements. As per the above article, Corsair and EVGA are the two best companies in these segments.
We gave a detailed overview of the different products of these companies to make your choice process more comfortable.
We discussed every product in the context of Corsair vs Evga PSU to give a detailed overview of the differences between the two company's products. So purchase the product after analyzing the features and other aspects of the PSUs.