E-learning has quickly become a popular alternative for students and professionals alike across the world as a way to boost certification, learn new skills, and also obtain more information.
Coursera is one of the most prominent platforms when it comes to e-learning and has many free and paid courses. These are from institutions and universities across the world that are well-renowned. 
MOOC or Massive Open Online Courses are gaining popularity very fast as this is a free course of study that is accessible to many across the internet. One of the leading learning platforms that have MOOCs on many topics is Coursera. Its mission is to make available to all high-quality education.
While this is a great platform, you may want some alternatives, so you have more choices. This is why in this article, we will be looking at ten of the best Coursera alternatives in the market today. 
Best Coursera Alternatives: Our Top Pick 👌👌
As mentioned, Coursera aims to have high-quality education accessible to all and has collaborated with more than 150 institutions across the globe.
It has more than 2,500 classes, four academic degrees to almost 40 million users, and hundreds of specializations. All of the classes offered here are completely online. 
There is an app available for your phone as well, so once you enroll, you get complete access to all the resources and study materials at all times and from anywhere.
If the coursework is career-related, Coursera is especially great for those that want to improve their abilities or learn something new. 
But this is not a platform that is for everyone. It is based on university learning, so if you don't like conventional school-styled learning, this is not the platform that will work best for you.
It is not always beginner-friendly either, and some courses need a prior understanding of the subject you are studying. 
So, if you're someone that has tried using Coursera, and didn't like it too much, you will be able to find an alternative platform that can suit you best from our list of ten excellent alternatives to Coursera. 
1. Udemy – Coursera alternatives To Choose from many topics
When you think of Coursera alternatives, Udemy is bound to be an e-learning site you would think of. It has the most variety of courses possible, with about 100,000 alternatives that users can pick from.
There are many themes and talents that one can master from learning through Udemy. This can range from business to personal development, music, creative writing, etc. While most of its courses are paid, it is quite like Coursera is how it has free as well as paid courses. 
But it is true to say that there are downsides to this as well. The issue is that if there is so much diversity on the platform, users can end up spending a long time browsing through courses to get what they need. You can aid the process by options for filtering and classification, though.
Another issue is that practically anyone can become a teacher on Udemy. This is why it is important to look at all the reviews and the qualifications of the instructor before you enroll in a course.
Even if you happen to have a limited budget, you can still et a course that fits your requirements as courses vary in cost and length. What's more, is that you will get a certificate once you've finished a course. 
Another great thing about Udemy is that you get a custom list of suggested courses once you sign up that is based on your personal information.
Udemy has many great cheap courses available; you can keep a lookout for these once you sign up and will definitely find something you want. 
Udemy operates on a model that is pay-per-course, and the course prices on here can range from anywhere $19.99 to $199.99.
Individual courses on Coursera, on the other hand, have price ranges of  $29 to $99. There is actually also a possibility that you can get an online degree on Coursera for about $25,000.
The advantage Udemy has over Coursera is the humongous number of courses that it has to offer. Coursera has about 4000 courses, but it is affiliated with 200 different colleges. 
Udemy does not make course content, gives non-accredited certificates, and has no checks in place for quality control of the courses.
But it is extremely affordable, they have free courses, a refund policy of 30-days and give lifetime access. Udemy also gives a certificate at the completion of courses and has a wide variety of courses to offer. 
Download the App on Google Play Store
Download the App on Apple App Store
2. Udacity
Another one of the Coursera alternatives is Udacity and an outstanding e-learning platform in itself. It has courses in digital marketing sectors, artificial intelligence, data science, and programming. This is a platform to go to if you want to learn technological skills. 
They have a few hundred courses which means that the course selection is smaller and significantly so. But this means that each one is of superb quality as it has been selected deliberately.
They have carefully picked out the courses, so the quality of the courses is a guarantee on Udacity, no matter which course you choose. 
It is actually a well-known platform for giving what is known as 'nano-degrees.' These are courses that give information on very specific fields that can help professionals to brush up their skills.
But this does not mean that the courses on this site are brief. A commitment of many months is needed as the courses here are very extensive. This is precisely why they are worthwhile. 
One of the biggest advantages here is that there is great value for money with Udacity courses. The overall quality of the learning material and the content is superior as compared to Coursera. But when talking about the number of courses that are offered on these two platforms, it is clear that Coursera has many more courses.
But Udacity has a larger language count when it comes to how many languages are accessible in comparison to Coursera. There are 25 languages that Udacity offers its users. 
Udacity has limited topics, is only browser-based. It is pricey and may not fit all budgets. But on the other hand, it has free courses, is easy to use, gives certificates, and has content only of the highest quality. It is a great platform to help improve your resume. 
3. Pluralsight Skills
Another one of the excellent Coursera alternatives is Pluralsight Skills. It is much like Udacity, and it focuses on tech-related topics instead of giving courses on various sectors.
It is especially great for IT professionals and developers. This is because it can help them enhance the certifications they already have while helping beginners to get new skills from the basics.
The best part about this platform is that it gives courses on some of the most popular and prominent technologies that are out there right now, like cybersecurity, cloud computing, artificial intelligence, and a lot more.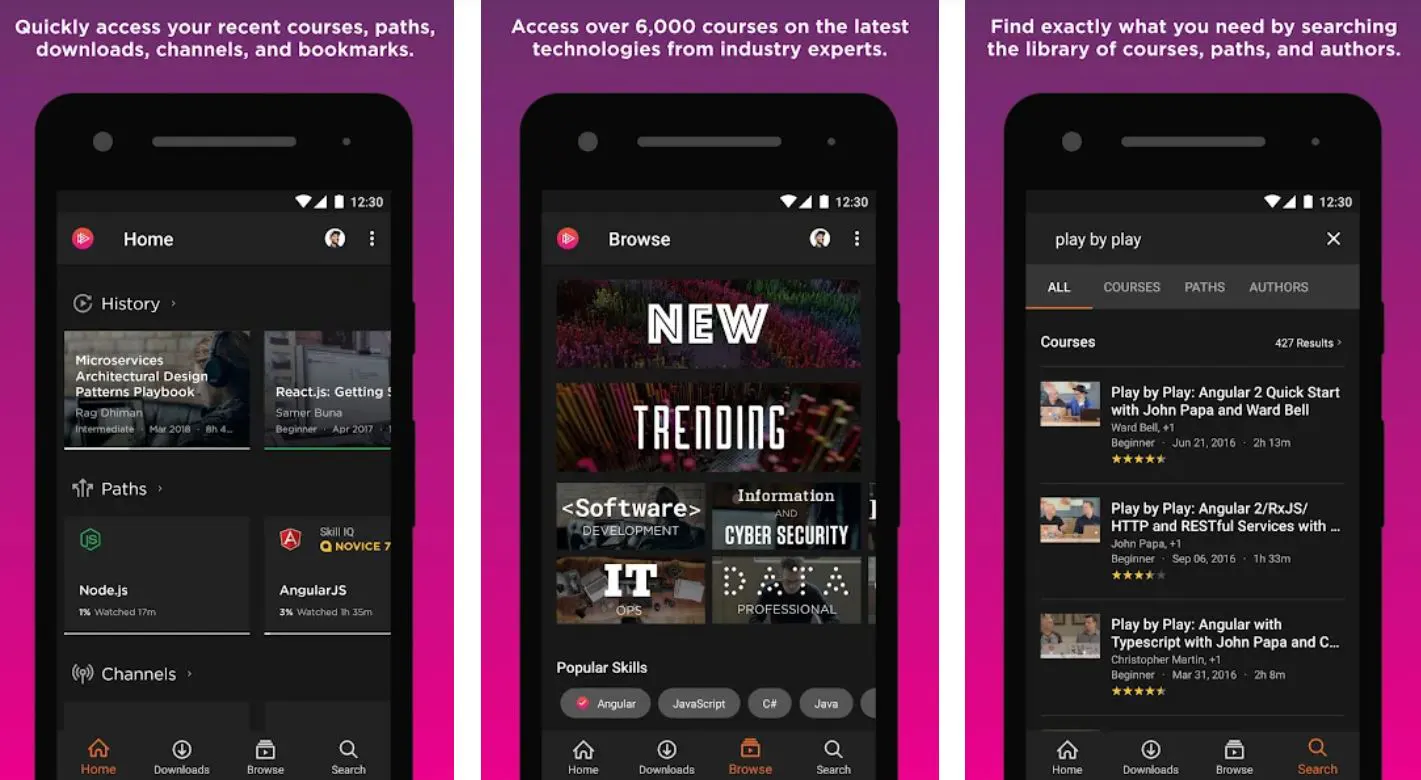 You can select from a variety of memberships: a regular or premium, or a monthly or yearly, and even an individual or team subscription. 
Before we compare Pluralsight Skills with Coursera, it is important to understand what each platform has to offer. Both have technical information that is great for people in this field. Both the sites give certificates after the courses are complete, but Coursera does this a little differently. 
Pluralsight established itself as one of the premier platforms when it comes to a programmer and developer that wants to expand the skillset. They found a winning instructional formula for their courses that have proven to have helped thousands of developers. 
Coursera was founded by professors and is taught by them, making it fundamentally intellectual. Pluralsight has risen to prominence as the most popular place for online resources for professional certification preparation, developer-focused courses, and cutting-edge IT research. 
You cannot filter or sort on rating on Plural sights, and the options to search and browse could be improved. But they have up-to-date courses, offline and mobile downloads, and are also translated into many different languages. 
Download the App on Google Play Store
Download the App on Apple App Store
4. edX: Online Courses by Harvard, MIT, Berkeley, IBM
edX is another great of the Coursera alternatives and is one of the top three e-learning platforms with Udemy and Coursera. This is a platform where the finest institutions from around the globe offer a variety of free courses on.
This includes colleges and institutions like the University of Queensland, Boston University, the University of Texas, UC Berkely, MIT, Harvard, and a lot more. 
Download the edX Mobile App on Google Play!
All of the courses on edX are free, but you can get a certificate of completion at the end of with by paying the nominal cost. This platform has a course for practically everyone, and this includes computer science, business, history, literature, and a lot more. 
There are many language courses available on edX as well, and there are specifically some that can prepare you for examinations like IELTS and TOEFL. Both Coursera and edX are two of the most prominent when it comes to MOOC providers. 
The courses are designed by some of the most prestigious institutions in the world and are in-depth. This is why it is very difficult to say which of the two is a better platform for e-learning.
You can decide based on the course and the specific learning objectives that you have. You can try the free courses on both and then decide which one works best for you.
You can also look at the reviews and evaluations of users on both these platforms to help make a decision. One issue that users from both platforms have said is that they mostly leave you alone when it comes to learning. 
edX has limited topics on the platform and does not have a course structure. However, it has accredited certificates, offers a refund policy of 14 days, and also gives an opportunity for partnerships. 
Download the App on Google Play Store
Download the App on Apple App Store
5. FutureLearn
FutureLearn is one of the other Coursera alternatives that offers many classes from prestigious institutions and colleges like the British Council, the Open University, John Hopkins University, King's College London, the University of Michigan, and others of the same caliber. 
This is a platform that gives many courses like the history and business ones alongside many language courses. The courses on the site are free, but if you want certification or want to access assessments, you will need to pay for them.
You don't have to worry about paying for the certificate and degree programs all at once as you can pay-as-you-go. 
Both Coursera and FutureLearn are platforms that are incredibly similar. Both are some of the top MOOCs available today, and they offer accreditation.
This makes it difficult to compare the two. Even though Coursera has more courses on the platform as compared to FutureLearn, both are excellent e-learning platforms. 
FutureLearn is a platform that is very adaptable, so it can teach you many courses but still be comprehensive enough so that you get a full college education.
Coursera gives college-level classes that are taught by professors in universities, so you get the benefits of a university with the ease of a MOOC.
FutureLearn has no mobile app and is weak when it comes to online marketing and software courses. There aren't many courses from US colleges either.
But the platform is fuss-free and clean, and you have a chance to get credits that can go to formal qualifications. The courses are from reputable institutions, and you can check the courses for free without having to pay for them. 
6. Treehouse – Coursera alternatives For Coding
Treehouse is a more tech-focused Coursera alternative and has classes for web design, coding, programming, and a lot more. It offers its users a free trial but after that users need to pay to get a membership. This way they can have access to the library of more than 300 courses.
It has features like a forum for conversations with students and teachers, a guided curriculum, projects, and quizzes.
These features are what make learning on Treehouse a lot more fun. You will thus be studying web programming, UI/UX, or Python in a setting that is friendly and relaxed. 
100 Days of Code with Treehouse!
When comparing this platform with Coursera, the one that is recommended in Coursera. Let's take, for example, the ranking of these sites when it comes to learning code. Coursera is ranked higher, thank Treehouse, not a lot higher, but higher nonetheless.
But Treehouse is great for people that want a platform solution that gives at-home learning for coding classes. Coursera, on the other hand, is excellent for people that want to learn through online courses. 
No credit card is needed on Treehouse. It has limited courses, and they are not accredited. However, you get real project experience on this platform, and it offers a free trial. You get courses that are career-focused and high-quality, and you can learn at your own pace. 
7. MasterClass
MasterClass is another platform that is one of the Coursera alternatives, but it is a little different from Coursera and the other platforms we will be discussing here.
This is a website that gives individual lessons by the specialists in the industry themselves. It has 11 different fields and more than 100 programs across them. 
However, it is not the most affordable platform as it charges $180 a year, but it is well worth it if you'd like to learn from the specialists and experts themselves.
Some examples of the classes they offer on the platform are:-
Business strategies are taught by Bob Iger

Runway-worthy fashion design is taught by Marc Jacobs

Billboard's standard ways of songwriting are taught by Alicia Keys

The intricacies of skateboarding are taught by Tony Hawk

The beautiful art of cooking is taught by Gordon Ramsey

The art of storytelling is taught by Neil Gaiman

Filmmaking is taught by Martin Scorsese  
MasterClass has courses that have an average of twenty 10-minute sessions per class over 75 classes. The teachers are the ones that design the course themselves, and this includes community activities, interactive assignments, a PDF of the class workbook, and pre-recorded video content. 
So Much New To Know | MasterClass
The way students are attracted to MasterClass is through celebrities that teach their courses. Coursera, on the other hand, does this through courses taught by qualified teachers from educational organizations and colleges that are world-renowned. 
This is a website that offers these classes but also offers online degree programs that are recognized while collaborating with Stanford, Duke, Columbia, and Carnegie Mellon. This includes degree programs in data science, computer science, and business. 
This is not a great platform as a replacement for traditional education; it has a community feature and has pre-taped classes.
But they also have a platform that is approachable, a mobile app, a variety of classes, and Quick Lists of content. The videos are also of top-notch quality, and it has a lot of legendary teachers. 
Download the App on Google Play Store
Download the App on Apple App Store
Skillshare is one of the reputed Coursera alternatives that has recently grown in popularity because of the lessons on a wide range of topics and the inviting community.
There are a lot of choices on this platform, like DIY approaches to business, programming, cinematography, and a lot more. 
Instead of depending on just colleges, this is a platform that allows specialists and experts from those sectors to design the courses. Signing up on this platform is completely free, and users get access to thousands of free lessons immediately.
There is a modest fee (monthly or yearly) that you need to pay to get access to their premium classes. You don't need to pay for each premium class individually but can get access to all. 
They have a great approach to learning by doing, which means that there are projects that need to be completed as part of the courses.
Skillshare, however, does not give out certificates on completing the courses. This means that the information you get and the tasks you finish are the only proof that you have finished the courses on Skillshare. 
One of the essential characteristics when it comes to online learning platforms is the value for money. Coursera actually gives better value for money when compared to the learning material and the overall quality of content.
Even when it comes to the number of courses, Coursera has a far more extensive collection. Coursera also has a larger language count when compared to Skillshare. 
Lack of quality control, no certification, and availability only in English are some of the downsides to this platform. But Skillshare is affordable, gives free trials, has free classes, and has a big pool of classes. They also have a very engaged community of learners. 
Download the App on Google Play Store
Download the App on Apple App Store
9. Khan Academy – Coursera alternatives To Learn Anything
Khan Academy is not exactly an online course platform but is still one of the Coursera alternatives as it has free e-learning resources in physics, economics, history, and many more fields. 
This is an alternative that is made primarily to teach children and teenagers, but anyone can sign up for it and start learning. It also has tools to help students with standardized examinations like the SATs. 
Khan Academy is loved by people for many reasons, one of them being that it is a non-profit institution. It is funded by contributors, and it was made to let individuals have free access to education from anywhere. This is why it is so popular and used so much. 
Coursera has multimedia options to it, but Khan Academy has searchable video lessons making it more laidback in comparison. Coursera collaborated with university partners that are more traditional, but Khan Academy gives more unique teachings. 
It also focuses on learning alone, whereas Coursera gives more certificates and job training. Coursera covers the entire learning spectrum, but Khan Academy has a primary focus on STEM-specific courses. 
Khan Academy is not a platform that encourages spontaneous creativity and has only one teaching style. It is less interactive than being taught face-to-face and does not offer the collaborative aspect that one would want in the field of education. 
However, it has many math problems as compared to any of its alternatives. You can learn and work at your own pace and has many subjects available. The best part is that all classes are free and accessible to all. 
Download the App on Google Play Store
Download the App on Apple App Store
10. Skillsoft
Another one of the leading Coursera alternatives is Skillsoft. It has more than 180,000 courses in compliance training, leadership, business, IT, and other fields.
Just like Treehouse, Skillsoft gives its users a free trial period. Once that is over, they can choose the membership package that they want.
The primary emphasis of Skillsoft is their course, but you will also get access to various books and videos on the topics that you want to learn about. The platform is great even for people that are from non-English-speaking nations as it is available in 29 languages in 160 countries. 
Skillsoft Percipio helps learners unleash their edge
Coursera is a very well-organized platform, and they collaborate with some of the most prestigious educational institutions across the world.
This is something that makes them current and relevant in terms of new courses and interests. Skillsoft too covers many topics like leadership developments, communication skills, and office/desktop skills. 
It also has knowledge portals that are centered on particular topics like Sales, Professional Foundations, Six Sigma, Management Development, and a lot more like that.
These portals collect knowledge from the resources that are on Skillsoft so that it can be delivered to the learners as relevant and valuable information. The editors also have a featured topic every month. 
The platform does not have the greatest response time for support. Since the library can be modified, it is not very easy to update or edit particular components on the platform.
Additionally, they had 'knowledge centers' that were collections of assets like articles, practice exams, tests, courses, and books, based on particular subjects that got deleted. 
However, the scope and depth of reporting that are provided here are impressive, and there is a wealth of educational resources to be found here.
The platform is available on tablet formats, laptops, as well as desktops. It is very easy to assign things from the platform when it comes to an administrative standpoint, and no expertise is needed. 
Download the App on Google Play Store
Download the App on Apple App Store
📗FAQ on Best Coursera alternatives
Is there anything better than Coursera?
Coursera is pretty good at the moment. But when you are looking at something that offers you more value, then you can go with Udemy. Udemy.com is the best Coursera alternative in 2022, having more than 7 million students and offering you 30,000 courses.
Is Coursera or edX better?
Both are pretty good because the quality of the online courses provided is exceptional on them. Besides, industry experts delve into their examination patterns during interviews or counseling sessions. edX offers you more courses and has more value.
Is Udemy better than Coursera?
Udemy provides you with several courses that are extremely useful for students and even scholars. The courses have variety and are taken seriously in the market as well. However, when you are looking for top-notch courses, then Coursera might be ideal for you.
Do employers recognize Coursera certificates?
They are recognized because they are accredited by some of the top universities in the world. That makes their course worthwhile your time & time. The certifications from Coursera hold immense value among top-tier companies and institutions in the world.
Is LinkedIn learning better than Coursera?
LinkedIn Learning comes with some specific courses. You cannot find variety in them, unlike what is offered on Coursera. But they can impact your career in a good way. But when you want more courses that provide more value, then Coursera wins the game.
Are Coursera certificates worth anything?
They are worth your time & money because many working professionals have immensely benefitted from the courses. They have been able to get decent promotions and proper appraisals. A Coursera certification is worth doing.
Should I put Coursera on my resume?
Yes, you should put Coursera certification on your resume because it holds weightage. As we read, a certification helps you perform well at work, and you stand to get promoted. Moreover, it enables you to make a change in your career as well, if you want to.
Is Coursera recognized by companies?
Several companies recognize Coursera because it is partnered with Google & Meta. Some of them also include IBM and others. The course is entirely online, and you can attend the program according to your flexible schedule, offering jobs like a project manager or data analyst.
Is Coursera taken seriously?
When they have high-profile partners like Google and Meta and are led by the top universities, then you know that Coursera is the real deal. You stand to benefit immensely from the course because they are helpful for enhancing your career.
Why is Coursera no longer free?
No, they do not offer you any free course or certification. However, some of the courses are free if you want to audit them. But when you want to make use of the graded assignments or want the course certificate, then you have to pay to attend them.
Conclusion on Coursera alternatives
In this article, we looked at ten of the very best Coursera alternatives that you can find in the market. While Coursera is a great platform, it cannot hurt to have more options that can suit your budget, specifications, and even language requirements.
Some platforms listed here have more language options as compared to Coursera and are excellent alternatives for non-English-speaking countries. 
For each platform, we have mentioned whether or not they are free and if membership is required. There is also information on if there are collaborations with universities, degrees and certifications, and more. Some of them are more niche as compared to Coursera, but this does not mean the quality of courses is low. 
The comparison of features on these platforms with Coursera will help you decide which platform is one that suits you, so you get a platform that falls within your budget and your requirements.