These days, you can find an app for everything related to cooking, music, gaming, or exercising. The same can be said about CrossFit. It is mainly involved with workouts and high-performance exercising. 
CrossFit associates itself with fitness programs that are ideally meant for athletes. But, the general population can also consider using it for their well-being.
When society is healthy and fit, the surge of illnesses and health complications drastically decreases. 
The need to hit the gym regularly is not there when you have apps like these to help you watch your weight and programs. The main reason why many athletes and people, in general, fail to accomplish fitness goals is that they lack a form of support. 
That void is filled in beautifully by CrossFit. The best CrossFit apps are the ones that can help you incorporate different kinds of exercise programs into your regime. 
Being involved in a short but high-end workout regimen helps you build and develop your muscles and strength. The need to work out for several hours at a stretch like a professional athlete is not required. 
Why are CrossFit workout apps popular?
Anybody can use and adapt to the CrossFit program as it is simple and flexible. You could be anybody, an athlete, a working professional, or a student.
You often find yourself so involved in your studies and work that it leaves you with little or no time for exercise. 
Going to the gym can be slightly intimidating for some of you, as watching all powerlifters quickly mock the weights. 
If that is a problem, then you might want to try these best CrossFit apps. They can help you exercise anytime you want. Secondly, you can find a barrage of apps claiming to be the best fitness apps. 
But is it true? 
Famous sports athletes and players also endorse some of them. Are they worth that much money?
The best part about the CrossFit apps is that they are cheap but effective. You need a workout program to help you achieve your weight loss program or fitness regime. You would be delighted to know that a few are also free of cost. 
Before you delve into these amazing apps, we want you to have some accessories that can improve your workout and make it worthwhile.
Consider a smartwatch, fitness tracker, and chest rate monitor if possible. 
The data does not lie. Whether you are a 20-year-old who has recently joined university or a 40-year-old working professional, these apps and accessories offer accurate data. 
Best CrossFit Apps – Our Top Pick 👌
Let us dive into the best CrossFit apps and determine which is ideal for your requirements.
1. Beyond the Whiteboard (btwb) – Crossfit wod apps
Beyond the Whiteboard is one of the most reliable CrossFit apps in the market. The product has been around for two decades and is improving yearly. You can analyze your workout routine. 
This helps you to ensure that you follow them to the dot. Not to mention, once you are done with your regime, you can analyze your results.
This helps you find out if you are doing well or lagging somewhere. 
You can consider doing your workouts. Depending on your convenience, you do so as it helps motivate you to achieve your fitness regime. Apart from that, you can also watch out for body fat based on the food you consume. 
When ready, you can compare your results with others on CrossFit. This helps you find out where you stand. Ideally speaking, this feature is mainly meant for professional athletes.
But it never hurts to know where you stand in the real world regarding your fitness goals. 
You can learn a thing or two using Beyond the Whiteboard, like you can analyze your repetitions in weight lifts. Do you want to try 1,3, 5, or more? It also helps you find out movements on your power movements and the ones that need some work. 
We felt that the app could motivate us. If you are somebody who is easily let down, then you can gain motivation through this app. You know your direction using this app because it provides accountability. 
Your accomplishments are highlighted through the app. When you go through the results, you push harder to do better. Unfortunately, numbers are not everything. They do not tell you whether you are moving ahead or back. 
You can sometimes feel disheartened when you cannot achieve your fitness goal. Some people can have emotional breakdowns. These factors have to be considered before stepping into the world of fitness. 
The best way to beat those flaws is to put in positive energy and motivate yourself to do better in the next workout. 
You can access this app on your android, Apple, and online devices. So, the question of accessibility is out of the question. It is priced well, too, at just $5/month and $50/year. Both sound good for usage.
2. CrossFit WOD Log
CrossFit WOD Log is another of the best CrossFit apps we will discuss here. The app comes with some notable features that make it prominent among users.
You can track your regular WODs by editing the details on the calendar. 
You can find out your skill levels and weights. Not to mention, you can post your pictures on the app. It comes with more than 130 preloaded WODs that give you the best update to date list.
You can enter the results on your app that help you keep an eye on the data. Users can also share details of their workouts on social media like Facebook. You can decide on your regime through the exercise present on the app. 
The best part about this app is that it keeps a backup of your data in case you have lost it. You do not want to run here and there to find them. Users are overall happy using the app. 
You can use additional features, like generating a profile for you, if you are an athlete or want to have one. It comes with complete data analysis. Not to mention, you receive the scales of your records. 
You can view your progress and have your workout program. The specialty of the WOD Log app is that it comes with StopWatch, Amrap, and Tabata. Backups of records can be saved on the cloud. Yes, this app can be used both on Windows and macOS devices. 
The app is affordable as it costs just $5. You can also use the money-back policy if unsatisfied with the product. Does it come with any drawbacks? 
There is no smartphone access to this app. You have to use it on other devices, which we felt might be its undoing. It is such a great app, and we have no idea why that is so. 
According to one user, the app offers ample features for any kind of workout. However, one user said it tracks only a single PR per movement.
Yes, it does take some time to get used to the app. If you are unfamiliar with Excel, be patient or seek the help of somebody.
You can get used to it once you practice. The more you keep using the app, the more comfortable and familiar it becomes for you. 
You can use the CrossFit WOD Log because it is easy to navigate and simple to use.  Some users have felt it is difficult to use, but that is not the case. The layout is clean, and you can edit your scores with ease. 
3. myWOD
myWOD is another exciting app we found just for you. This list of the best CrossFit apps is here because it has a barrage of exciting features that we will discuss briefly.
We felt that this app is simple and easy to use. 
We cannot say that about most of the CrossFit apps mentioned here. But this one takes the cake. 
You can keep track of your routines and body movements. That is crucial for ensuring that you are moving in the right direction. If at you notice any lag, you can work on it the next workout. 
This also helps you understand the kind of weights that you should consider using. Depending on your body weight and condition, you can make use of the right type of weights.
You can follow and save any number of feeds that you want in your box. That should not be difficult to do. You can review, sort, and search for your ideal workouts using your calendar. 
You can save and create your regular workouts. We were stunned at the number of workouts present on the app. You have more than 150 exercises. So, you can find your apt choice. Not to mention, you can add your training's RSS feeds. 
You can find the gym closest to your region using the app. This helps you find the best place to do your workouts because you get to meet like-minded people. In workouts, you must have the right people to motivate and push you to achieve your goals. 
It has a wide range of videos, which can help you better understand the app. Not to mention, you can also navigate better through it. You can sync records with devices. Your information can be shared on social media. 
The app is priced at $5 on Google and $4 on iTunes. So, you can choose based on your preference and choice. This app is available on both iPhone and Android devices. Some users have felt that there are a few bugs that need rectification. 
Do you want to use myWOD? You should consider yourself lucky to have found an app like this with so many features and customizations.
It can motivate you to push harder, achieving your fitness goals. 
4. WODBook – Workouts Tracker
WODBook is next on our list of the best CrossFit apps with exciting features that we will read about. 
You can see your activities using the box and then compare the results. This enables you to have an idea of your actual performance. Using this data, you know where you stand among your peers. 
Like other apps on the list, you can use the WOD feeds. You can create your list or join your box. Once you have loaded your activities into the calendar, you can keep track of them and work out likewise. 
You can take pictures of yourself working out and share them on social media. Perhaps, some of your friends, colleagues, or family members might become motivated. You can also base your physical regime using the search activity. 
You can manage your records using the app. With the help of the user profile, you can find several vital information for your exercise regime. There are also calculations for your exercises. 
There is a wide range of videos that provide you with instructions on how you must go about things on the app. 
The data stored on the app can be synced on any device you want for further analysis. You can use the timers for your workout sessions, including Tabata, Stations, StopWatch, Amrap, and EMOM.
The app has a few issues we hope the developers will rectify to make it efficient. Some users have claimed that it cannot be used without an internet connection. The best part about this app is that it is free to use. 
When you are on the lookout for a feature-rich app that is free, then WODBook is your choice. Apart from that, the app comes with a wide range of features. You can use the features as a guide for achieving your fitness regime. 
It works on several android and iOS devices. So, you can access it anywhere you want and how you want. There are plenty of videos to guide you on how you can develop your muscles and body fitness. 
At the time of our research on Best CrossFit Apps To Track Your Fitness, we found a video about "I Did Murph Workout for 30 Days, Here's How My Body Changed," which is worth watching. 🤴
I Did Murph Workout for 30 Days, Here's How My Body Changed
5. WODster – Functional workouts!
WODster is an interesting app that can help you achieve your fitness goals. The app comes with a few features that we will see. The best way to motivate oneself is by seeing yourself in good condition.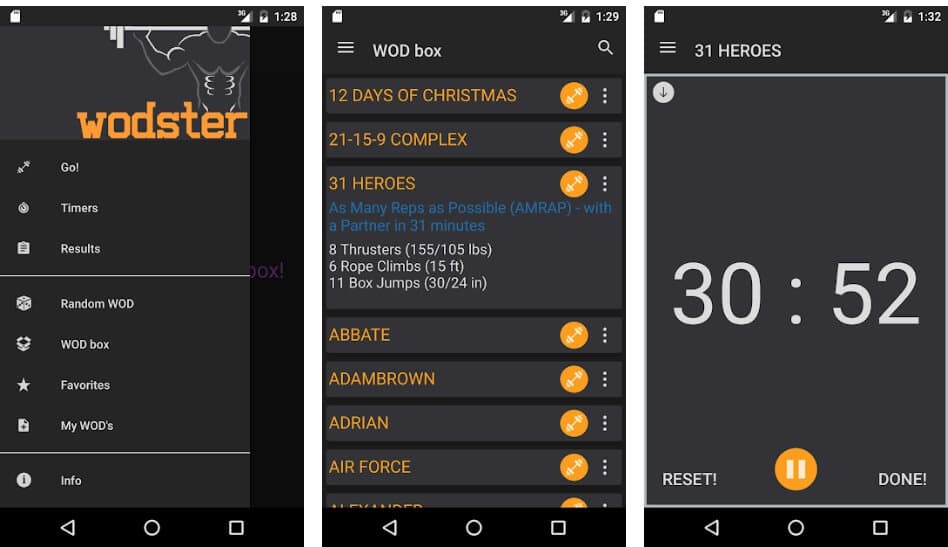 That is precisely what you can do with the photo feature in the app. You can attach pictures of your workout or after sessions.
You can also use timers during your workouts. There is an option for selecting from the WOD benchmarks.
It is not surprising to note that users have rated it highly. However, the EMOM timers do not come with seconds. Hence, your exercise timings have to be based on minutes. 
6. Wodzilla
Wodzilla is another exciting app that we are pleased to introduce to you. The app is just priced at $5. 
It does not have any purchase required once you log on to it. That is a good thing. Another aspect of this app is that there is no advertisement.
It is a clean app. You can make use of the tutorials that are available on it to find your way through it. 
Setting goals in Wodzilla
For example, you can learn how to save WOD, using the RM, and so on. 
Not to mention, you can also view your records once you feed them. Users have claimed that this app is user-friendly and comes with excellent customer service.
7. SugarWOD
Lastly, we have SugarWOD on our discussion of the best CrossFit apps. This is an app that is solely dedicated to athletes. However, those planning to hit the gym might also want to consider this one. 
It comes with a wide range of features like tracking your activities, helping you to plan up, and analyzing your fitness programs.
You will be impressed that it has more than 800 workout tools that can aid your workouts. 
SugarWOD - Raise Your Workout Experience
You can also connect with members of CrossFit and record your WODs. It is not necessary that you have to be a pro athlete. You can be anybody who wants to implement a healthy lifestyle and motivate others in your family, friends, or neighborhood. 
The app helps you achieve your fitness goals in many ways. As you know, participating together enables you to push each other and motivate others.
Maintaining your physical workout consistently is more crucial than merely exercising. 
The app was designed to develop your interaction with others. This helps you to learn and understand your fitness goals and, more importantly, achieve them. You can also get to know some high-profile athletes and find out how they keep fit. 
You can prepare your workout, enter the details, and motivate other participants in this app. When top athletes open the app six times a day, and it comes with an excellent 4.9 rating on top-notch stores on Google and Apple, you know that this app is exceptional. 
Not to mention, data has shown that more than 20 million workouts have been logged by pro athletes' the world over. It is safe to say that SugarWOD is an ideal fitness app for athletes but suitable for those who want to keep an eye on their weight. 
Currently, the SugarWOD app has more than 3, 50, 000 athletes on its platform. It comes as no surprise that SugarWOD is gaining prominence in the United States of America and is giving top CrossFit apps like Beyond the Whiteboard a wild run for their money.
8. CrossFit Games
CrossFit, Inc has designed CrossFit Games, and you see the best there is as far as CrossFit is concerned. You get a clear idea of what workouts are and how they should be done, submit your scores once done, and track your rankings. 
This provides you with an enhanced version of the fitness regimes. As a user, you can customize the leaderboards and rankings. When you have decided on your exercise workout, the app reminds you of the scores and offers you alerts of events. 
The event is viewed on the app. You would be delighted to know that the website is quicker than other devices. So, you might consider using the website. You can use the app on your iPhone, iPod touch, or iPad. 
The main features are:-
You can discover several workout routines that are already preloaded. Scores can be submitted, and you can keep track of them. The leaderboards can be customized depending on your requirements. 

For those of you who like to share your results, you can do so using social media. Reminders and alters can also be created. Finally, you can watch live events using the app. 

The app is quite simple to use. Users have felt that this app helps them keep their bodies in shape and fit. It offers you excellent context and robust leaderboards.

You can enjoy the videos provided to you. This is a free app and does not cost you a thing. However, you need to download it and then use it.
Sadly, you must use a gym near your home to compete with others. This way, you are pushed to your limit to achieve your exercise goals. 
CrossFit Games is the best app when you want to make it huge in your fitness goals, as it does not cost you a dime.
The only thing is that you need to have the latest iOS 8.0 version on your device and start downloading it.
📗FAQ
What app do Crossfitters use? 
For athletes, coaches, and affiliates involved in functional fitness, SugarWOD is the best exercise app. 
SugarWOD helps over 500,000 athletes monitor their workouts and personal records! In addition, you may communicate with friends and coaches inside and outside the gym through comments, photo sharing, and community scoreboards.
Even among themselves, athletes have given almost 95 million fist bumps! With performance monitoring, movement instruction videos, and a method for your friends to encourage you when you set a back squat PR, the app also improves the WOD experience. 
Other well-liked programs include Beyond the Whiteboard, Wodzilla, WODBook, CrossFit WOD Log, and more. 
Is there an official CrossFit app? 
The CrossFit Games app, the official software for fitness enthusiasts and competitors, lets you customize your experience while participating in the CrossFit Open, the biggest fitness competition in the world.
You may quickly locate your position on the global leaderboard using the app, or you can filter to discover where you stand within your continent, nation, or CrossFit affiliate.
You may access any unique leaderboards you create on the app as well. 
Is three days a week of CrossFit enough? 
Given the degree of difficulty in CrossFit, and as with any exercise or training, the body requires enough rest to repair and rebuild.
Therefore, to ensure an athlete gets enough recovery, the suggested timetable for a CrossFit athlete is three days ON and one day OFF. 
What is the best CrossFit programming? 
Ben Bergeron, OPEX Fitness by James FitzGerald, Rich Froning: What is Rich doing? Competitors training by Ben Bergeron, Competitors training by Ben Bergeron, OPEX Fitness by James FitzGerald, etc., are considered the top CrossFit programs worldwide for beginners and experts. 
How many days a week should you do CrossFit? 
The best recommendation for novices who haven't trained in a while is to start by incorporating regular training into their weekly plan and routine.
Choose the same days each week and schedule your training sessions the same way you would your job or family time. 
In frequency, attempt to increase fast to three times each week. A smart place to start is by working out one day and relaxing the next.
One example is taking the weekends off on Tuesday and Thursday and exercising on Monday, Wednesday, and Friday. 
Where can I get free CrossFit workouts? 
Built by Bergeron, CrossFit.com, CrossFit Invictus, Misfit Athletics, Rowing WOD, etc., are among the best free CrossFit workouts you can try to learn all about CrossFit without spending a penny.  
Is CrossFit good for weight loss? 
CrossFit may be useful for improving cardiovascular fitness, decreasing weight, and gaining strength, agility, and flexibility. However, it might not be suitable for everyone. 
Consult your doctor before beginning a CrossFit program if you have a medical condition or an injury.
Also, think about beginning with an instructor rather than depending solely on internet workouts or videos.
You can acquire a good form from them, which might lower your risk of injury. 
The goal of CrossFit courses is often to build a community. Because of this, you might favor CrossFit courses over performing the exercises alone. 
Why is CrossFit so difficult? 
The CrossFit workout is challenging. It exerts the body quickly and vigorously. Since the activity is so strenuous, muscle injuries may result from improper warming up. 
The exercises could cause inflammation inside the body. Injury risk could increase as a result of the inflammation.
Therefore, eating foods with anti-inflammatory qualities is advisable when engaging in CrossFit. This will not only assist in lowering the chance of injuries but also encourage healing of existing injuries. 
How fast will CrossFit get me in shape? 
Your fitness level can increase by ten on average during 5–6 months. You can progress quite quickly when you are quite new to CrossFit®.
Keep up your commitment and consistency if your fitness level is now between 1 and 60 since you have a chance to advance by 20 levels each year.
The average time required to advance from level 50 to level 80 is 19 months. Eat healthily and visit your local CrossFit affiliate a couple of times per week, in other words. 
Can you get ripped from CrossFit? 
In actuality, CrossFit can help you get ripped. If your nutrition and training progressions sound, you could theoretically get ripped using any training approach.
However, there's more to having 5% body fat than the eye can see. 
How should I eat while doing CrossFit? 
The Zone Diet, which promotes a balance of lean proteins, non-starchy vegetables, nuts, seeds, and low-glycemic fruit while restricting carbohydrates and refined sugar, is advised by CrossFit specialists.
The diet is generally beneficial; it may aid in controlling appetite, lowering blood sugar, and reducing inflammation. 
Do you gain weight with CrossFit? 
CrossFit is a reliable source for weight gain. It's because most CrossFit modules include strength training at least twice a week, a proven method for promoting weight gain.
However, CrossFit muscle development is only feasible if you continue consuming more calories than your body needs. 
In conclusion
I hope you enjoyed our discussion on some CrossFit apps for android and iOS. You can make use of them to keep a weight check. As you know, health ailments can cost you a small fortune. 
Hence, you must keep yourself in the best of health. These apps can enable you to do so with their simple and easy-to-use features. Most of them come with the community, allowing more interaction and motivation. 
These are some of the best CrossFit apps. They can help you make your decisions and download them. 
A quick search online can provide you with a wide range of apps for download. We would like to mention that some of the apps mentioned are not affiliated with CrossFit. 
The simplicity and usage of the app are crucial, and you would want to think about that before purchasing and downloading them. 
There is no harm in trying out a few apps that are free of cost until you find something that aids your physical workout. These CrossFit apps provide discipline and the structure you need for your physical workouts. 
We can guarantee you that you can achieve your fitness goals and keep your weight in check faster using these exciting apps.