Delete Yourself From The Internet with a Few Clicks
When you sign up for new web services, you're often given the option to log in using your Google account credentials. This saves you having to enter your personal details and come up with a new password, and because it's Google, you can be relatively confident that it's safe.
However, there's a good chance you've forgotten about some of the sites you've logged into, which means your online footprint is larger than you realize.
Deseat.me is a new service that lets you see any sites you've logged into using your Google credentials and add them to a delete queue for removal.
Delete Yourself From The Internet with a Few Clicks
Go to www.deseat.me and click the button on the homepage to sign in with your Google credentials.
If you have more than one Google account, you will need to repeat the process to clear out each one in turn. Click Allow to give Deseat.me permission to view your details.
Deseat.me will check for any sites you have ever signed up with using your Google credentials.
The figure at the top tells you just how many there are. You may well be surprised by the number. Work through the list, choosing either to add a site to the delete queue or keep it.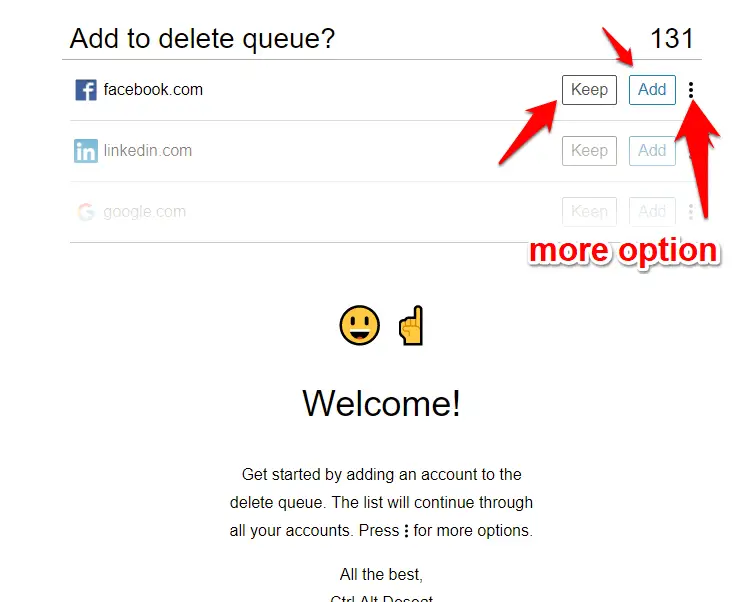 3.Some items in the list are email addresses rather than accounts. To remove them, click the yellow triangle. If an item in the Delete Queue has a dark red button, clicking it takes you to the site's removal page. A pale red button indicates that there's no link yet. Sites not marked for deletion appear under My Accounts.
You may also like to read these articles
Killer Google Chrome Tips and Tricks You Should Know in 2018
Check How your Facebook profile appears to the public
Hope this article "Delete Yourself From The Internet with a Few Clicks" helps you to Remove several accounts at once. if you have any query, feel free to comment.