Are you curious about the Best Digital Planner Apps that Helps You to Organize Your Day to day Life? You can easily Find out in this definitive list with our detailed review.
Without any further delay, let's find out.
Everyone wants to stay organized in everything they do because being organized can be directly linked to being productive. Every business-minded person is always thinking of the things they need to do.
From visiting the gym to business meetings, lunch dates, dinner dates, etc. All these activities must be well arranged so one can always remember them.
Whether you love a paper calendar or need to get all your tasks, events, and meeting deadlines in one place, you must step up your game.
It's of the essence that you grow with the world. As the world goes digital, start planning on a digital note.
Writing down your daily plan might be something you are used to doing. And most people so love writing that they can't do without it. But as you know, writing down your daily activities is becoming old-fashioned because things change. 
The world is becoming increasingly digitally inclined, and millions of people are beginning to do more with their smartphones and other devices.
With the multiple digital planning apps available, you no longer need to draw your plans on paper.
Try out the digital planning apps, and you will be overwhelmed by the various options you have to explore, especially if you are a paper planner.
Now that you have decided to go digital, finding the right planning app might be very daunting because there are many planning apps online.
These may make you consider returning to your old paper planning methods.
But don't be too fast; in other for you not to feel overwhelmed, below are a few lists of digital planning apps for you to choose from and start making your plans digitally.
Best Digital Planner Apps To Stay Productive and Focused
1. Dreamie planner

            
The dreamie planner is a simple planner that you can use to plan your day, week, month, or even year. It is easy to use; you can take notes and plan on it.
It's not just a calendar; you can turn it into your diary. The app has many icons for any event, and you can use the icons to mark your calendar. 
The dreamie app makes planning your activities fun with its light and dark themes and other lovely themes that make your planning activities more exciting.
If you have an existing calendar with another app, like Google calendar, your dreamie app allows you to connect with it, back up your data, and use it on multiple devices.
Features:-
You can use the planning app for your daily, weekly, monthly, and yearly apps.

It defines various event icons and colors for your use

When an event has happened, it marks your event as being complete

It allows you to connect with your email calendar

It notifies you of your upcoming events

It has light and dark themes and some added lovely themes to make your writing fun.

It allows you to put a security pin on the app so it can be private.
The dreamie planning app relies on your device calendar to function properly, so you must turn on your device calendar's sync option.
The app is free but has some in-app purchases that aren't exactly expensive.
2. Any.do
Any.do planning app is one of the Best Digital Planner Apps with an easy-to-use interface.
It enables you to manage your task simply; it is straightforward and allows you to integrate with other reminder apps.
It allows you to manage multiple tasks simultaneously, like your grocery list, reminders, events, etc. It's an app that is a must-have; you will stick with it when you have it.
Features:-
It manages your shared projects and also adds tasks 

Some color labels enable you to differentiate your priorities by category.

You can use the widget on your home screen to add a task and monitor your to-do lists.

You can set exclusive reminders for those special events

It enables you to include reoccurring reminders for your event that is already ongoing.

When you have a missed call, it reminds you of it so you can return it.

It keeps reminding you about follow-up meetings so you don't miss an important meeting or event.
Why do you need to download the Any.do a planning app?
It is very effective when it comes to managing all of your combined tasks together.

It allows you to plan your day swiftly and quickly

It allows you to arrange your to-do list by priority of importance

You can automatically reschedule your task 

You can create your grocery shopping list to enable you to shop properly.
With the Any.do a planning app; you can never go wrong with your daily plans. It helps you neatly organize your plans and supports Android and ios devices.
The app is free, but you need to upgrade to the premium version if you want access to unlimited reoccurring tasks, color tags and labels, and other features. 
3. Google Task
The Google task digital planning app is as simple as any.do app. It does whatever you want because it is a minimal app.
You only need to create your task, describe it, and then add your subtask.
Top 5 Google Tasks Tips You Should Use Right Now!
The Google task is faster, and you can easily manage your task, edit, or capture it from anywhere because it syncs across all your devices using your Gmail and Google calendar. This way, it gets your task done faster than you think. 
Below are some of the features of the Google task that earned it a spot in our digital planner apps for android list.
Features:-
It captures tasks from anywhere as quickly as possible

it allows you to edit, view, and manage your task from any device

it allows you to add every tiny detail about the work you have at hand on your list

it notifies you of events ahead and helps you stay on track

its drag and drop feature allows you to organize your task by order of priority

you can view your task through the side panel of your Gmail

since it works together with your Gmail, you can easily create a task using an Email from your Gmail
Decide to take control of all your tasks, download the Google task planning app, and start managing your daily plan on the go. The app is free to download and compatible with Android and ios devices.
4. Todoist
The Todoist app is dedicated and is used by over 20 million people worldwide. It's existed for years, one app you can trust with your daily task.
Once you have installed the app, you can easily sign up using your Facebook or Gmail accounts. 
How to use it:-
download and install on your phone first, then you sign-up

get started by typing your first task and submitting it

you can use the same method to set up a new task

You can set a deadline by which your work will be concluded, and the app will notify you.
Features:-
it reminds you of deadlines and due dates using reminders

it

 enables you to build lasting habits with recurring dates,

it uses priority levels to prioritize your task

it has some personalized productivity trends you can use to track your progress.

Using the plus button, you can drag it anywhere to set a new task
The todoist app is something you will love because it enables you to stay organized and access your task using your tablets, smartphone, and watch.
All you need do is type a command that will remind you. The app is free, but it has a premium version that you can upgrade to and enjoy other unique features.
5. Evernote
Evernote is another Digital Planner App that comes with other features. It's not just a planner and an organizer app; it can also take down important notes.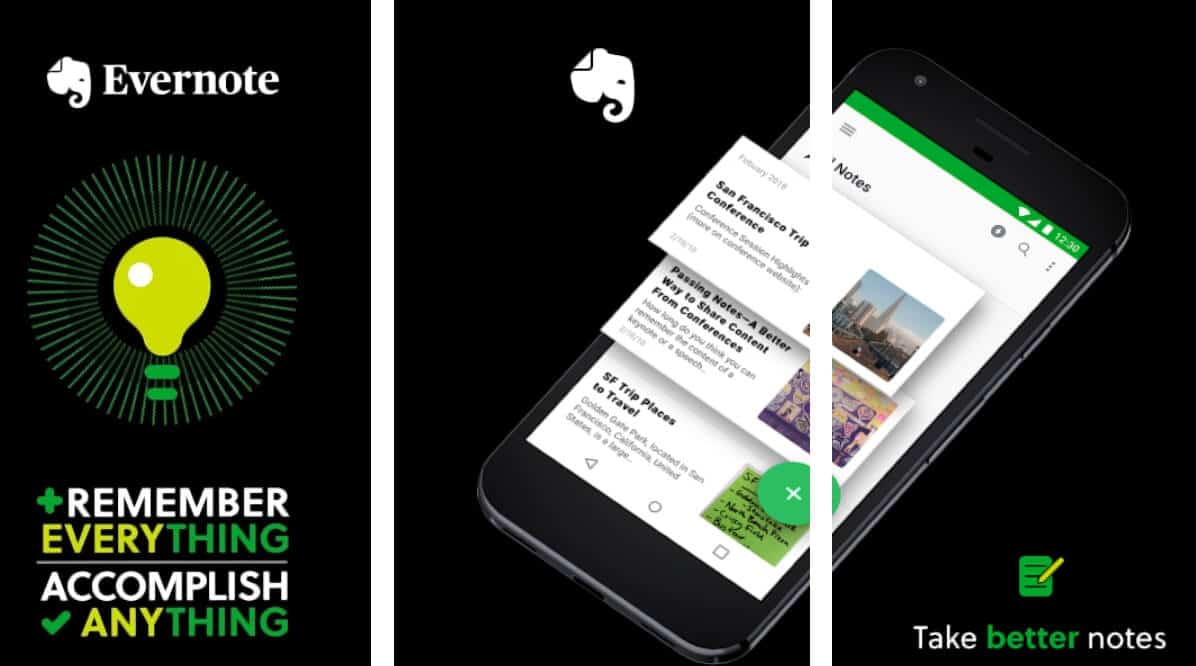 The app has many methods to take notes and set reminders, such as voice memos and photos.
Why choose Evernote?
It helps you focus on what matters most and grants you access to your information whenever necessary.

It has a feature that allows you to input scanned handwritten notes, photos, images, web pages, and even audio to your reminder.

It allows you to create organizers, notebooks, and planners, arrange them whichever way you want, and share them with anyone you want to share them with.

You can sync your notebooks and notes.
When it comes to Evernote, you can conveniently use it as a place to store your daily plans and every other useful information. 
Below are some of the features of the Evernote app that earned it a spot on our Best Digital Planner Apps list.
Features:-
It keeps all journals and documents every event in your daily activities

Using the app, has a feature that allows you to take notes and create different formats like sketches, text, video, audio, etc.

It has a camera capture feature that you can easily scan and comment on pieces of paper. 

You can attach pdf files, photos, and documents using the app

It has a home screen widget that allows you to access the app easily
The Evernote app is not just a Digital Planner App, it can also be used as a digital notepad, and it has an easy-to-format word processor that can be used to process all your thoughts and memos.
The app has lots of other uses:-
You can automatically sync your notes and notebooks on any of your devices.

You not only create ideas with the app, but you can also share your ideas and discuss your notes and memos with others involved in your work. 

It can be used daily to set reminders, stay on top of all your activities, plan holiday events, keep every thought you need to remain productive, and use the notepad to create notebooks and write memos.
The Evernote app is a lovely app that you will enjoy as it is useful in every area of your life. Even in your business, you can use it to create your presentation; in your education, it can be used to take vital notes during lectures. 
Evernote is a free app, but its premium version has many unique features like saving your emails to Evernote, showing notes as your presentation, and accessing your notes and notebooks even while offline.
You can upgrade to the premium version to enjoy these added features.
At the time of our research on "Digital Planner Apps," we found a video about the "5-Hour Rule Most Successful People Started Following," which is worth watching. 🤴🏆
5-Hour Rule Most Successful People Started Following
6. Wunderlist
Wunderlist is another favorite planning app for people. It has been downloaded by many, and it helps millions of people put their lives on track.
The wunderlist helps people plan their day, capture ideas, and share their work projects, vacation plans, or grocery lists with their friends and loved ones. 
The wunderlist is similar to the todoist planning app, but it is better because it is completely free, and its free version has no such restrictions.
If you like to collaborate with friends while planning, then wunderlist allows you to collaborate with your loved ones and share your list with them.
Another wonderful thing about the app is that it syncs all your devices so you can access your list from anywhere.
Below are some of the features of the wunderlist app that earned it a spot in our Best Digital Planner Apps list.
Features:-
The wunderlist helps you create every list you need and allows you to access them from all your devices.

It allows you to easily share your list and collaborate with your friends and loved ones.

It has a feature that lets you start a conversation about our list.

You can attach pdf files and photos to the app and many more that you want to attach.

If you work with a team, you can delegate to-dos with them and share the work.

You can set reminders on the app about important dates like birthdays or events and will never forget.

It allows you to arrange your projects in different folders.
The wunderlist app has been installed by millions of people already, and it doesn't have a premium version.
This means all its features are free; even when an upgrade is available, whatever feature comes with it will still be free. It is a must-have digital planning app.
Note:-
I have written a post for people looking for the 
Best Dancing Apps
?, do read it If you are interested.
7. Microsoft to-do
You might be excited to learn that Microsoft can do much more for you than the usual office work you are used to. The Microsoft to-do list app was created by wunderlist team.
The Microsoft to-do list app helps you manage your daily plans and all your tasks; it is a very effective task management app.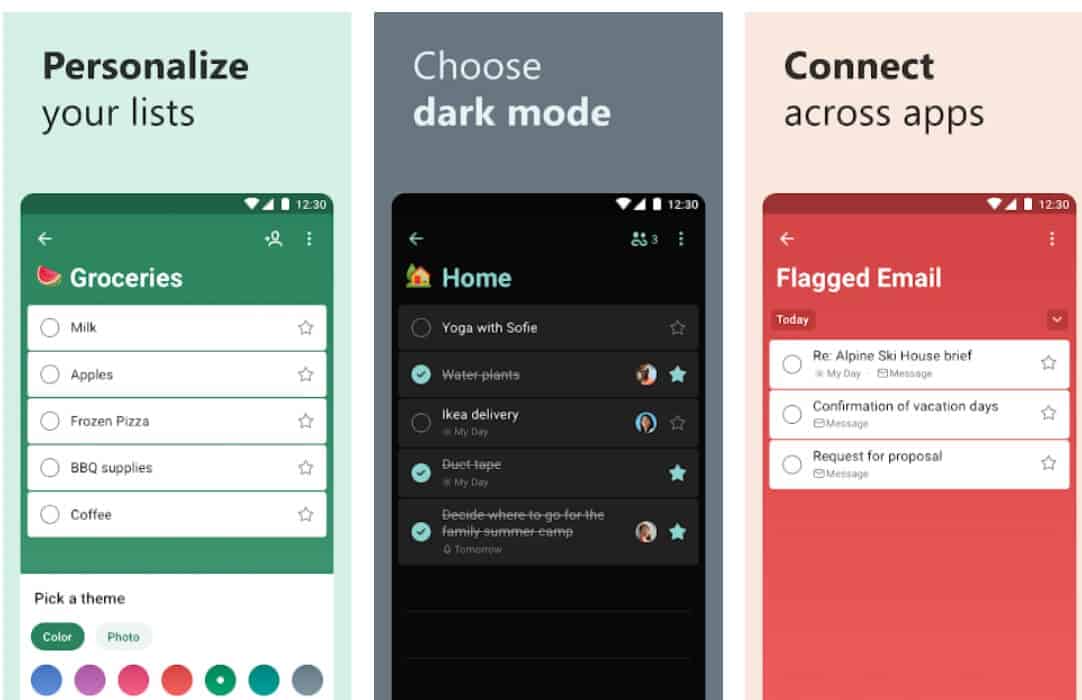 The app can do many things, like taking notes, making a shopping list, planning events, setting reminders, and recording collections. It makes managing your life easy and organized.
Below are some of the features of the Microsoft to-do list that earned it a spot in our Best Digital Planner Apps list.
Features:-
You can easily plan your day and get suggestions about a task using the My Day feature.

You can access your to-do list from anywhere and on any device

It allows you also to share your list and assign a task to your colleagues, friends, or family member.

It notes any added task and organizes your task in groups by their topics or project.

It has a to-do widget allows you to set reminders with a one-time or recurring date, make your task list, and switch between tasks.

Its daily organizer is filled with colorful and bold backgrounds that can be personalized.

It can accommodate up to 25MB of files added to any task

Its to-do list can be used for any purpose.

Your list and task are well secured with the Microsoft 365 security

You can add multiple Microsoft accounts to it.
The features of the Microsoft to-do app are endless. It helps you stay on top of your game and remain organized daily. It is free with no premium version, and for any upgrade, it brings lovely features for your use.
8. The happiness planner
The happiness planner app is not as common as all other planning apps but is also very effective in your daily life. The app assists you in cultivating happiness.
And it does this by helping you to embrace the power of self-development, mindfulness, gratitude, and thinking positively.
The Happiness Planner: Mastering Happiness & Success One Day At A Time
The happiness planner has a different idea from your usual planning app. This app helps you see the positive side of life, build your life together, bring you into the world of self-awareness, and inspire you more every day, making you feel fulfilled.
Why use a happiness planner?
It encourages you to set goals that will make you happy and fulfilled

With the app, you can practice self-reflection in other to know yourself even better

It encourages you to plan your life around the things and people that matter most to you

It encourages you to change things that make you unhappy

It allows you to set achievable and reasonable goals

It teaches you to train your mind and think positively

With this app, you can always reflect on your life at the end of each month to know how happy your achievements made you.

You can evaluate your productivity level, health, happiness, and energy and weigh them in order of preference.

The art of resilience is what most people can't master, but with the help of this app, mastering it will become easier.

You get the chance to set goals for your improvement.

Finally, you can always end each day with lots of gratitude.
Below are some of the features of the happiness planner that earned it a spot in our Best Digital Planner Apps list.
Features:-
It has a roadmap to your happiness

It enables you to set your monthly goals

It also has a setting that allows you to reflect on your monthly activities.

The app has some daily inspirational quotes and articles for you

It has a setting for you to make your daily to-do list and task.

It has a setting that reminds you of daily exercise and a healthy meal plan.

It allows for daily reflection, gratitude, and positive thinking 

You can make daily notes on the app concerning your achievements daily.
The happiness planner app opens your eyes to the realisarealizationt's not only work and events that need to be planned.
It would be best if you also worked towards getting inspired and being happy, which is what the app does. The app is free but not without a premium version.
The app allows you to enjoy all features, including the premium features, for the first thirty days after you install the app.
But after that, if you want to keep enjoying the premium feature, you must upgrade and enjoy endless quotes and motivational articles.
📗FAQ on Digital planner apps
What app does Digital Planner use? 
Dreamie Planner, Any.do, Google Task, Todoist, Evernote, etc., are some of the best digital planner apps to effectively and effortlessly plan your day digitally.  
Does Apple have a Planner app? 
Apple doesn't design any planner app. However, you can try amazing apps like Any.do, Planner Pro, Evernote, Todoist, etc., on your Apple devices to streamline your daily planning.
Does Google have a digital Planner? 
Google Calendar and Google Task are two popular apps designed by Google to manage all the important aspects of your daily planning.  
Can you use Canva to make a digital planner? 
Yes, Canva offers a free online planner maker to set the agenda for a personalized and customizable digital planner without much effort. 
What is the best digital planner? 
Todoist, Google Task, Wunderlist, Microsoft To-Do, Any.do etc., are among the best digital planners you can explore to improve your planning of important tasks.  
Are digital planners worth it? 
Yes, they do worth it! Using a digital planner, you may be more productive by copying tasks and appointments, dragging and dropping items, creating duplicate pages, and erasing items with a click.
You can also write freely and return later to change the information's color and placement on the planning page.  
Are digital planners profitable?  
Yes, digital planners can be very profitable but only when you are determined enough to complete your important daily tasks.
Digital planners like Microsoft To-Do, Google Tasks, Any.do, Evernote, etc. are masterly designed to streamline all your planning and, more importantly, manage all the planning lists, schedules, and appointments across multiple devices.
What is the best app to create a schedule? 
Google Calendar, Calendly Mobile, Any.Do, Microsoft To-Do, Dreamie Planner, etc., are among the best apps to create and manage a schedule properly and smartly.  
Is the Timetree app free? 
TimeTree provides both a free and a paid plan (TimeTree Premium). Basic features are offered without charge. Make use of and develop public calendars, etc. 
What apps can I use to schedule my day? 
You can use apps like Google Calendar, Todoist, Any.do, Microsoft To-Do, ClickUp, etc., to schedule your day without hassle.
These apps make schedule-making, reminder-creating, and planner designing super easy and highly effective.  
How can I make a digital Planner for free?

 
Canva is an excellent application for making a digital planner free of cost.  
Launch Canva. Start your design by opening Canva and looking for a "Personal Planner." 
Choosing a template Look through the expertly created templates on Canva and select the one that most closely matches your preferences. 
Examine the features.

 

Make it even more distinctive.

 

Save and share.

 
How to Make a PLANNER using Canva | Easy tutorial
Conclusion on digital planner apps
Gone are the days when you pen down your plans for the day and end up unable to achieve most of them because there is nothing to remind you about the task.
But with the help of the Digital Planner Apps, you can achieve all your daily tasks and much more. It is accessible from anywhere, and once you set a reminder, it never fails to remind you.
We have combined a shortlist of the best digital planning apps for you; decide today and choose anyone on the list to install and start using. It will be the beginning of you staying organized and putting your life back on track.
Digital planning apps are not new, but most are complex, and that's why people run away from them. But the list above will help you choose the app that suits your lifestyle.