Like Windows, Ubuntu and Linux Mint comes with Guest account to allow guest users to access basic resources on the OS without even entering the password. However, it,s always good practices to browse the internet with limit user right's to prevent any malicious link or software to affect your system.
If you go to the User Accounts setting in the Setting menu. You will not find any disable option here.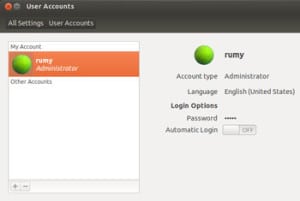 Nothing to worry about it.
Open the terminal with Ctrl Alt T and enter the following command.
Rumy:~# sudo gedit /etc/lightdm/lightdm.conf
Now you need to add the allow-guest=false line here and save it.
Now restart your Ubuntu machine. Now your Guest account login option will vanish.
if you want to again enable. just remove the added line.
Hope you like my post.How to disable guest account in Ubuntu. Please Share with others.
Also Check:- How to Enable Root User in Ubuntu