Are You Looking For a Best Drinking Game Apps To Enjoy Your Drink Time With Friends?
We got you covered in this guide.
Without Any Further Delay, Let's Explore this guide
Nearly every country around the world boasts of thousands of drinking spots where you can relax and have a good time. Drinking with your friends comes with its unique kind of fun. Why not turn up the fun today by adding a few games to the mix.
There are several games today that can go along with drinking. Apart from the enjoyment that these games present, you will also get to learn new things about each person in your clique. 
Thanks to the invention of smartphones, tons of innovative drinking games are now available at your fingertips. You will be overwhelmed by the number of drinking game apps available in the Android and iOS app stores.
Most of these games are designed with beautiful interfaces, as well as exciting challenges to help tune up the fun during drinking times. 
10 Surprising Things That Happened When I Quit Drinking Alcohol
The presence of so many drinking game apps can make picking the right choice to serve your needs pretty difficult. To help make the process of selection easier, we have reviews 9 of the best drinking game apps available for both Android and iOS users.
Each of these games come with their own different rules, but they are all meant to help you enjoy your drink time with friends. Before using any of the apps, however, ensure that you are up to the legal drinking age in your country.
Best Drinking Game Apps: Our Top Pick 👌👌
1. Drink and Tell
This is one of the most outstanding drinking game apps you will find. If you've had a chance to play it or even view its interface before, then you will understand the reasons why it has gained the level of popularity that it enjoys.
The game is a clear definition of fun, and it brings the spice you will desire in any party. Although relatively new in the drinking game family, the owners of the Drink and Tell app have done enough to set it out for the top place.
It is not surprising that the game has gained so many fans in a short time. Once again, the rules are pretty easy to grasp. 
The game app is designed in a question-and-answer format. The questions fall under several different categories, of which six are free. Seven other categories come as in-app purchases, so you still have varieties to pick from, even without subscribing for premium.
The free categories include; love, personality, sex, ethics, life & death, and user-generated. Each group among these six offers a unique level of fun, and we can recommend that the six are enough to bring pleasure to your party.
However, if you intend to host several different parties with the same people in attendance, then you will surely need new questions, and that's where the premium categories might be required. 
The game is pretty easy to play. After a category has been selected, players take a turn to read questions and options available under it aloud. The player secretly taps one of the options and listens to the guesses of the other players on his choice.
After hearing everyone's guess, the player then reveals the answer by a tap on the screen. What follows? Everyone who guessed wrongly will have to drink. 
Below are some of the features of The Drink and Tell apps that earned it a spot in our list of the Best Drinking Game Apps.
Features:-
Easy to use interface 

Offers free and premium gaming mode

Several different categories in both free and premium mode 

Easy to grasp rules of playing 
Drink and Tell is an adorable gaming app. It is definitely one of the best you can get out there in terms of the content of questions. The app is in-depth and straightforward.
The app also features a friendly interface and is pretty easy to use. Considering all these makes the gaming app 100% worth your attention.
Note:-
I have written a post for people looking for the
Best Couple Games App
?, do read it If you are interested.
2. Picolo
Forget all the complications that other drinking games' rules and interface; Picolo is easy to start and use. All you need to do is type in your name, and you are ready to be wasted.
There is also a possibility of playing without entering your name, we will, however, recommend that you start by inserting your name, to get an unlimited version of fun.
With such ease of starting and its excellent gaming interface, you can expect so much fun during your night out. It is, therefore, not a surprise that it has gained so much popularity in just a few years of its lunch. 
This gaming app is the perfect choice for minimalists, and with zero complications in details and sounds, they can expect total fun juggling through the challenges.
The game features five different playing modes. The "Getting Started" mode is absolutely free and can be played by everybody. This mode is the most recommended for beginners because it features tasks that are pretty easy to accomplish.
The other modes like "Getting Crazy", " Hot Mode", "Bar Mode", and "Caliente", however, require a charge before users can access them. 
Below are some of the features of The Picolo apps that earned it a spot in our list of the Best Drinking Game Apps.
Features:-
Simple graphics that allows both beginners and intermediate users to understand the game quickly 

It has a multiplayer option for two or more players.

Several game modes

Ease of control. 
All in all, this game is super cool. It offers all the fun you will need for a night out with friends. Get it now, and try it with a few friends to unlock a night of total fun and laughter.
3. Drink or Doom 
Drink or Doom is a fascinating comic drinking game app that is available for both iOS and Android users. Drink or Doom is another popular drinking game in our list that is fetching tons of positive reviews from users already.
If you are looking for a drinking game that offers you and your friends enough fun to keep you deep into the night, then this is the perfect option for you. The comic book setting of the game brings a level of uniqueness that you will hardly see in any other drinking game.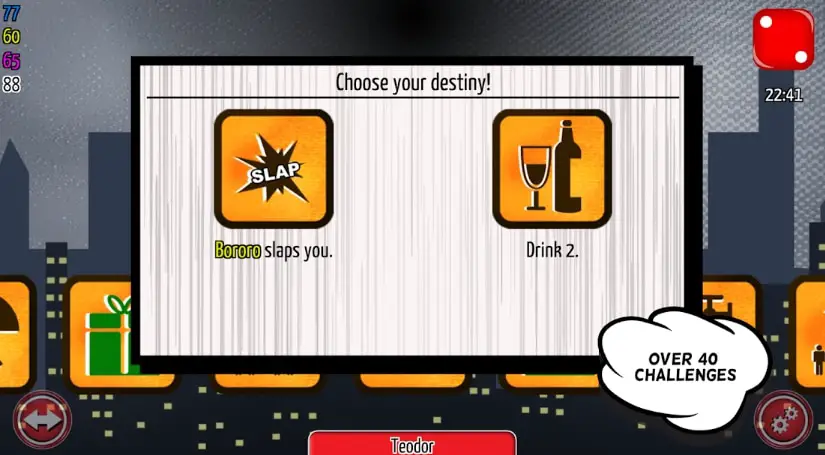 All you need to do to get your night started is to gather your friends (maximum of 12 players), grab some whiskey, beer, shots, or whatever you intend to drink and your night out is set to be a blast. A fascinating feature of this game is that you do not need cards or props to enjoy the game. 
Drink or Doom offers about 50 different challenges, each falling into various categories ranging from mild violence, stupidity, nudity, destroying of reputation, public shame, and it et fun categories.
The game offers you an opportunity to customize the game in any fashion you want it. With a little bit of creativity, you will be able to get up to 500 custom challenges. 
Remember that your choice affects your night in this game, as the developers do not make anything compulsory.
How To Play:-
Playing the Drink or Doom game is pretty easy, but as the game name suggests, you may get doomed drinking while playing this game. 
Just press the game icon on your app selections to open. After successfully opening, you will be prompted to enter your name and to choose your character. Next, you and your friends will be introduced to super awesome fun times. Drink – get knocked out – wake up – sober up. 
Below are some of the features of The Drink or Doom apps that earned it a spot in our list of the Best Drinking Game Apps.
Features:-
Easy to understand 

Easy to lunch 

Does not require any payment 

Easily customizable 

Several gaming modes are under different categories. 
This is one of the few drinking games that can be customized to fit your drinking needs. The level of fun offered by the app, coupled with its ease of usage makes it the perfect app to have during any night out with friends.
4. iPuke

 
It will be a surprise not to have this gaming app in our list of best drinking game apps for this year. It is one of the coolest drinking apps on the apps store, and many players recommend it to people that are looking for a way to spice up their party.
Bar crawlers will enjoy this app, so if you are looking to stay out late into the night with friends, then iPuke is an excellent company to bring along.
The developers of this app claim that it is the best game concept on earth and many players believe that their claim is not so far from the truth. 
Well, we can only tell here that the game is everything you need to have your best night ever. All you need to do is get your gang together, open the app, and you will lose your sense of self-respect before you know it. 
How it Works:-
Once you open the app, you will see a bunch of card decks to select from. All the decks are free but one. So you can go ahead to choose one of the open decks unless, of course, you have a few bucks to spend on the extra deck.
Next, you will need to select the number of players that you want to partake in the game. There is no limitation in the number of players that can participate, so you can select as many players as you want. 
Once the game starts, each player will be offered a card with two options on every turn: to fulfill a crazy dare and to drink some shots. At least, one of the options must be completed by the player before the play moves on.
Each of the options is worth some points, and the first player to reach a pre-set point goal becomes the winner of the game. With over 260 cards available, you can expect never to get bored.
Below are some of the features of The iPuke apps that earned it a spot in our list of the Best Drinking Game Apps.
Features:-
Easy to understand app interface 

Offers several playing modes

Unlimited number of players 
Overall, this is a game worth trying, and with the level of fun that it offers, it is obvious the creators took years of hard work to build the app.
Note:-
I have written a post for people looking for the 
Best App To Lock Apps
?, do read it If you are interested.
5. Heads Up 
Although initially built as an educational game and not a drinking game, Heads Up can be used as a drinking game too. In fact, it is in parties and drinking clubs that the game's popularity has soared more.
Heads Up is a simple and entertaining game that can be played with an unlimited number of friends. All that's required is for you to place your phone on your forehead, then try to guess the word on your phone's screen by looking at clues from your friends. 
How To Play:-
The first thing that you will need to do is to choose a category. There is a broad selection to choose from, including actions, animals, celebrity names, accents, and movies. Depending on your area of interest, you can select one or more of the categories. 
Hit play once you are good to go, and you will have to guess as many words as possible within one minute. Of course, your guesses would be based on your friends' actions and clues.
If any of your guesses are correct, then you have scored a point for yourself. Tilting your phone downwards means that you got the answer correctly. Tilting it upwards implies that you are spending too much time and want to pass on the word. 
If you intend to use this game as a drinking game, then this is the place for it. For every word that a player cannot guess correctly before the time elapses; the player takes a few shots of drink. 
At the end of the game, you will get a summary of how the game went. You will get to see how many points each team or individual earned, which cards were guessed correctly and which were passed.
The best part of the game is that it has a live video feature that records the video of friends while they act out each clue. It is undoubtedly a great source of fun. 
Below are some of the features of The Heads Up apps that earned it a spot in our list of the Best Drinking Game Apps.
Features:-
Easy to learn and play 

Free

Offers different game modes

Offers live video option 

An unlimited number of players.
Heads Up is an incredibly simple game with all the fun to interstate into any event. It has the right appeal to bring everyone together and to spice up any party.
6. Kings (Drinking Game)
Kings drinking app is an iconic drinking app worth knowing about. Like most players love to put it – it is a game for kings. If you are looking for the perfect company through a night of fun, then this is the app for you.
This app is designed for only Android users, and it offers so much feature to interest any game lover. Everything about the App from start to finish is designed to bring its fun to the mix.
Like some other drinking apps we've reviewed, drinks also deals with a deck of cards. Each of the cards featured in the game contains a small challenge that players would need to accomplish to get to the next stage. The game offers an attractive interface and is easy to start.
How To Play:-
Gather as many players as you would want to participate, with a good supply of your choice drink. Once everybody is gathered, and the game is opened, the first player begins.
Each player will take their turn to tap a deck and act out whatever is written on it or take some shots of drink. As time passes by, you will discover that everyone is beginning to remember the meanings of the cards, and this is where the game becomes more energetic and fun.
One good thing about this game is that it can be played anywhere with any number of players. Note, however, that depending on the mode selected, you might be asked to act out some incredibly insane roles, so you want to be sure about the gang you are playing with. 
Below are some of the features of The Kings drinking apps that earned it a spot in our list of the Best Drinking Game Apps.
Features:-
Easy to use interface 

Customizable 

An unlimited number of players. 
Overall, this is a game filled with unusual requests. If you want custom requests added, you can do so by changing the meanings of some cards. Hence, we can classify this game under the few with changeable rules that we've reviewed so far.
7. Drink-O-Tron
This is one of the many drinking game apps that features the use of cards. Unlike the previous one, we reviewed, however, this one shows the challenges as well as the meaning of cards right away.
A lot of users have testified to the fact that this app is by far more convenient to use than most other drinking game apps. We find the design of the cards worth talking about.
They are stylish and beautiful, and this unique feature adds to the overall pleasure that you can expect in your playing experience. 
To sum it up, one of the most significant advantages of this game app is the stylish card that it offers. Indeed, these cards are like little pieces of art. Don't get carried away by the design because the game presents its challenge and can easily make you knock yourself out.
Although the challenges are not as exciting as the beauty of to card suggests, it is still good enough to keep you preoccupied during a night out with friends. Sometimes, people prefer something simple; hence, the simplicity of this game.
If you and your team desire tougher challenges, however, you may consider buying extra decks at a premium price.
How to Play:-
Like we stated, playing this game is pretty straightforward. There are several decks that you can select from. Note, however, that you can only get two decks for free.
The contents of the open decks are too simple to grasp, and a lot of people think this is a drawback to the game.
You will find a couple of small games on different cards, but most of the cards just task you to drink some amount of alcohol. For instance, one card may say "the boys drink". 
Below are some of the features of The Drink-O-Tron apps that earned it a spot in our list of the Best Drinking Game Apps.
Features:-
Free and premium decks available 

Easy to comprehend 

Not so adventurous 

An unlimited number of players. 
This game is featured both on the Android and iOS app stores. If you want a "not-so-hard" drinking game to unlock your evening of fun with, then this is the perfect choice for you.
8. King of Booze
Just like Drink or Doom, King of Booze is another top-rated drinking game app. It is also a relatively young app, but it has gained massive popularity among bar crawlers and people that love to hang out for fun. It features the same playing process as Drink or Doom too.
King of Booze: Drinking Game
Hence, you make your move and choose to complete the challenge or drink a particular number of shots. It is important to note, however, that this game is not free, so you will need to have some extra dollars to enjoy the fun that it comes with. Many reviewers believe that the game is worth its price. 
On the advantages of this game, there is so much being offered by the game that you will never have a dull moment. The game offers over 120 different challenges, so you and your team members can expect a very unique and unforgettable experience with no repetition throughout.
If you desire more than the 120 challenges offered, you can add custom ones. The number of players that can play the game at a particular time can range from 1 to 14. To begin, every player chooses an avatar and names it.
The fun in this game is the availability of several different challenges to try. If a player cannot complete any challenge, then the player has to take shots before the game continues. 
Below are some of the features of The King of Booze apps that earned it a spot in our list of the Best Drinking Game Apps.
Features:-
A completely premium game

Android and iOS versions are available

It requires between 1-14 players.
Overall, this game features a straightforward interface and does not need too many instructions. It is also customizable, so you can have a delightful evening, playing and drinking.
9. The King's Cup
This is yet another app with cards and challenges on our list. Although relatively simple to play, this drinking game app is not as popular as most others on our list.
The rules of the game are similar to the others: Players take turns to select cards and act out whatever the card tasks them. The unique thing about this app is that it allows players to choose their cars from a circle of cards.
The way that the cards circle creates a lovely impression. Like most other apps in this lost, playing this game is pretty simple. Just sign up with your name and the name of every player. Start the game, and you are good to go. Players will have to drink when they fail to complete a particular task instructed to them by the card. 
As expected, the rules of the app are customizable, so if you and your team dislike the existing rules, you can easily change them to the rules you prefer.
Every car has its challenges assigned to it. Two other customizable features of this game are the color of the card and the card selection mode. This is an app that comes with a full package of everything needed in a basic drinking game app.
There you have it, 9 of the best drinking game apps available for Android and iOS users if you at ready to have that all exciting moment with your friends, then you can select one or more of these apps to suit your gaming needs.