Are you planning to join a driving school? Perhaps you will be 18 years old and intend to learn to drive.
You are on the right track to becoming an adult. It is good to be independent, and the best way to begin adulthood is by learning how to drive. 
Driving does not have to be a nerve-racking experience. It can be fun and interesting, where you learn many things apart from driving a car.
You need to know how to obey traffic rules, follow the right lane, take left-right turns, and the holy grail of reversing the vehicle. 
For most learners, reversing is the most challenging part of driving. This review will read about a few driving learning apps that can smoothen your experience. Using these apps and driving simulators, you get a real feel of how it will be in real life. 
The only difference is that you do it on your android or iOS smartphone. Isn't it an interesting concept? There seems to be no shortage of apps in every area of life. We did not mean to say that driving schools are of no use, but it is a good idea to use the apps. 
Once you prepare yourself mentally and know what to expect, learning how to drive your car becomes hassle-free.
Of course, we do not recommend downloading high-speed racing games that might give you a lot of fun and excitement but cannot teach you how to drive safely. 
While you are sound and alive when playing these racing games, you do not get a second chance at life when riding down the highway for real. 
Significance of driving learning apps:-
The driving app teaches learners how to drive around traffic and a barrage of things like driving rules, learning controls, using indicators, going on the right lanes, and avoiding accidents. 
Almost everything regarding driving for learners can be found on these apps. These tools are meant for learners and those who want to enhance their driving skills. All you need to do is choose the best app for your liking and learn how to drive safely.
That is easier said than done because you have a cornucopia of driving learning apps. These tools work seamlessly on your iOS as well as your Android devices. 
We found these driving apps extremely helpful in learning how to drive and brushing up your skills. This is especially for those of you who have not driven your car for quite some time due to personal reasons. 
Your prayers have been answered because you can use these driving apps and become aware of all the rules there are to know in America.
Thanks to the apps, you know your chances of passing the driving test are more straightforward. 
Having things at your fingertips is always easier because you can brush up on driving skills anytime you want at home. The need to be seated in a car is not necessary.
Things like tests, road signs, parking techniques, and many more can be quickly learned through the apps. 
Best Driving Learning Apps To Improve Your Driving Skills
The entire procedure of learning through your driving app might seem prosaic for many of you. However, they are beneficial and exciting in their ways. This does not mean you make use of them when you are driving. 
Let's explore some of the best apps that can be used on Android and iOS smartphones without wasting more time. 
1. Learn Driving Offline
Learn Driving Offline is the ideal driving learning apps because it teaches you the technical aspects of the car.
Just like in car racing, drivers are briefed about the vehicle; it is the same here. Having an idea on what are the components of the car enables you to drive safely and, more importantly, take adverse action during an emergency. 
For example, when it is your first time, you need to know what a brake is, when to use it, and so on. Likewise, you should know the basic working of the accelerator, hand brake, steering wheel, and others. 
Having a small idea about these features in your car gives you the confidence to drive it safely. The driving learning app comes in four segments. The user interface is flawless, and beginners can understand everything easily. 
You are told about the simple traffic laws, how to move the car with the gear when you must change the lanes, foot pedals, and the like. Apart from that, you will love to read the tips and tricks when driving down the lane. 
They have given you interesting visuals to get you the feel and looks of it. When you are new to driving and want help, this app is the best source of information.
We also loved that Learn Driving Offline does not need the internet to use. 
2. Learn To Drive
Learn To Drive ranks second on our list of driving learning apps. The work is quite similar to that of Learn Driving Offline. However, you did not have exciting pictures and videos in the previous driving app. 
This one has them and makes it more exciting. Users can find beautifully designed animated videos that enable them to grasp things easier.
You can find real-life driving conditions where you have a pedestrian crossing, junction, drive safely, and roundabout. 
But you benefit from the driving learning app because the instructions are straightforward. We also found the videos in the app helpful. It comes with two payment options: learn the course for $13 or choose the material for $4. 
Overall, Learn To Drive is an exhilarating driving app that teaches you everything you should know about driving. The animated videos, instructions, and pictures are extremely sublime for beginners. 
3. Practice Test USA & Road Signs
Compared to most of the developed countries in the world, the US has a comparatively low rate of accidents.
That is because drivers are well-versed in road signs. The USA is good when looking for an exceptional app for road signs and practice tests. 
Practice Test USA & Road Signs, as the name implies, helps you learn the road signs in America. You have plenty of road signs that drivers should know their meaning. At times, they can become confused, leaving you in a dilemma.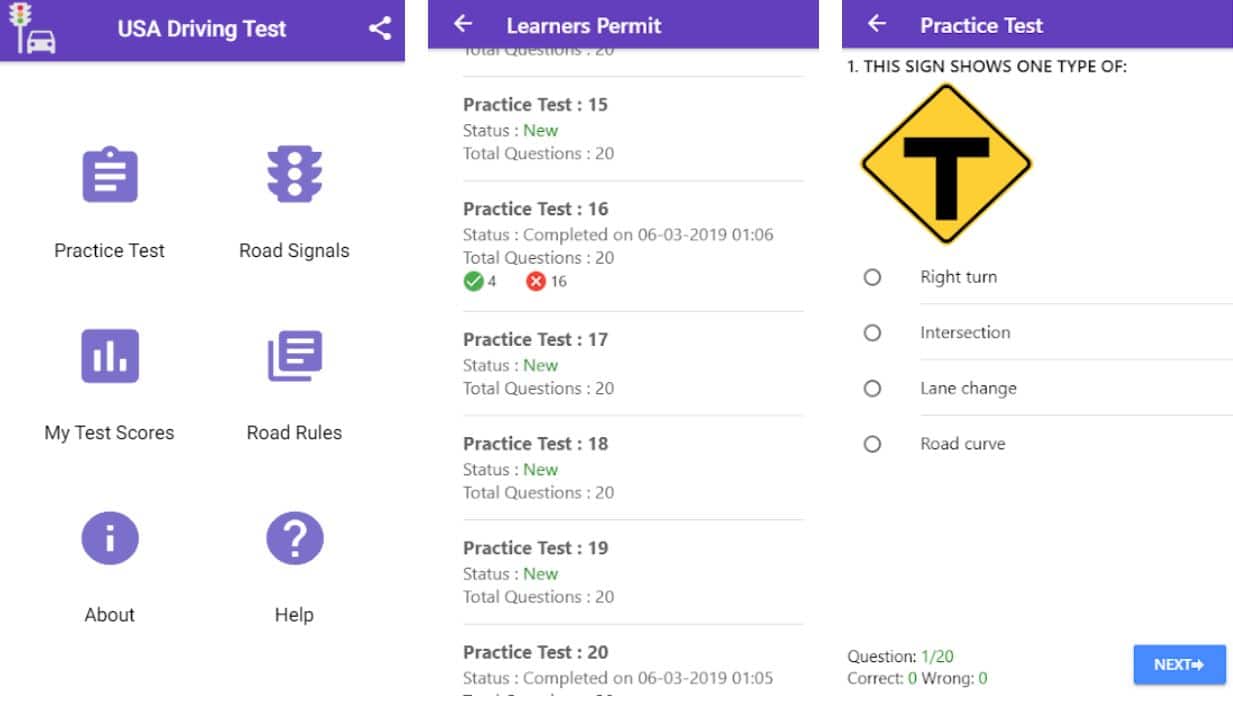 No worries with the apps; you can make out the road signs in your driving test. We prefer this driving app because the road signs are beautifully explained.
This helps you to remember them when you are actually on the road. 
Road signs are crucial on the highway as well as in rural lanes. They come with illustrations and instructions in a simple manner in this app.
The beauty of the app is that it also comes with a test or quiz at the end that helps you know where you stand. 
You can find 20 questions you must know to master the road signs in the US. You will also see advertisements at the bottom of the screen, which cannot be gotten out. However, Practice Test USA & Road Signs works offline too. 
For any new driver in America, knowing the road signs is the foremost thing. Unless you are well-versed in the road signs, you may not pass the driving test. In some states, the tests are based mostly on your knowledge of the road signs' various meanings. 
Knowing how to drive a car is essential to passing your test and driving safely. The same can be said about your knowledge of road signs in different parts of the country. Practice Test USA & Road Signs can help you do that effortlessly. 
4. DMV Permit Practice Test Genie
DMV Permit Practice Test Genie is one of the best driving learning apps in 2020. The best part about this app is that it helps you accurately understand what is expected during your driving test. 
The DMV (Department of Motor Vehicles) tests learners to pass. As you know, the theory part of the test varies from state to state. In some states, the pass criteria can be extremely demanding. 
There have been cases where new drivers have made multiple attempts to pass the driving and written tests. As we read in the previous app, knowing road signs is also important. But not the fundamental part of it.
This app enables you to choose the state where you plan to take your driving test from. It then prepares you accordingly. You can also select the global driving license if you want. 
Apart from that, you can choose the kind of vehicle that you plan to drive. If you want, you can select a commercial, large car, or just a light car. You can also choose to ride a bike. Now you are set to understand what the test is based on. 
The app consists of a massive set of practice test questions and answers. These immense aid your knowledge for your driving exam. Depending on the state you choose, the questions are provided to you. 
If this is your first time, we recommend the paid mode for just $12. You stand to get a barrage of papers, cheat sheets, and no advertisements on your screen.
Isn't that wonderful? DMV Permit Practice Test Genie helps familiarize you with the country's driving laws. 
The tests are based on different states. You are immediately rectified when you choose the wrong answer, which helps improve your knowledge.
The app comes free to use. However, the paid version is excellent to learn from. 
5. Parking Mania 2
Parking Mania 2 is another excellent driving learning app that helps you park your car. The most challenging task of driving is putting your car in reverse. Parking your car or vehicle takes immense concentration and skill. 
It would be best if you made drastic decisions when parking your car or truck. One wrong move and you could hit the wall or cause an accident.
Hence, reversing or parking your car is vital for any driver to learn and master. 
It may seem difficult initially, but with this fantastic app, you can master parking skills. The app provides a game where you accelerate, park, and reverse using a massive trailer. 
You also get to do roundabouts and try and dodge other vehicles. Users can also drive their vehicles in the challenge. The main thing to ensure in the challenge is that you should be able to maintain the lane. 
Driving learning apps teach you how to park, parallel, and drive in one lane. Though it may sound pretty simple to do, we can assure you; that it may not be for new drivers.
When reversing, it is crucial to judge the distance from other vehicles, check the surroundings, and then slowly take the vehicle. 
We like some of the game's challenges, like parking your car in the garage, navigating through the traffic, and parallel parking on the side parking space. You can also make use of the map that is the location. 
We found the visuals clean and neat. It comes free and does not have any advertisements. Parking Mania 2 offers you several live traffic, hurdles, and missions, and you may find it challenging at times. 
You may like to read our guide on 11
Best Trucker Apps
To Ensure That You Arrive Safely.
6. Car Driving School 2022 – learn car driving online
Car Driving School 2022 offers you simulations of real life. The moment you download the app and use it, you are instantly amazed by the perfection of the details. We liked the seat belt indicator, the wipers, and the headlights. 
Everything about the app is realistic and gives you the feeling that you are on the road. Mistakes are avoided using this app because you are reminded of them before you start driving. 
Depending on the kind of vehicle you prefer to learn, you can choose them likewise. For example, you can select a car when you plan to drive a car. You can do so if you are particular about learning how to drive a truck. 
For some of the adventurous, you can use the city taxi games and perform some stunts. This feature-rich app comes with more than 22 vehicles for you to choose from. This offers you the flexibility that you require. 
The vehicles come with an intensely detailed interior. There are also AI traffic and AI traffic lights. The damage caused is also realistic, giving you an idea of what can happen if you hit something. The driving mode is practical and has 3D surroundings. 
We felt that the user interface is sound and easy to operate. Car Driving School 2022 is free, but it comes with advertisements.
If you want to use some exceptional app features, we strongly suggest you use the paid option. You can upgrade for other challenging missions. 
7. Driving Academy – Driver Simulator
Driving Academy – Driver Simulator is similar to the Learn Driving Offline app. The only difference is the flexibility.
Users can select cars, driving modes, and other kinds of options. To use most of the features on the app, you will need to complete levels. 
You have to learn more than 90 road signs and pass the test. We felt that the tests are a great learning curve for new drivers. Drivers can also select between the right and left-hand driving options based on the country they plan to learn. 
In this case, it is America, so it is left-hand riding on the road. Users felt that the night driving mode comes with the trial version.
But it does not because you can unlock it for $.5 and use other in-app purchases to learn how to drive safely. 
Driving Academy – Driver Simulator is one of the best driving learning apps in 2023. You can learn how to drive your vehicle safely without worrying about accidents. A good app must give the user boldness and confidence to drive. 
At the time of our research on Best Driving Apps, we found a video about "5 Driving Tips for New Drivers from Pros," which is worth watching.
5 Driving Tips for New Drivers from Pros
✅FAQ
Best driving learning apps
DriversEd, Driver License Practice Test, Drive Safe & Save, Smart Drive, and Driving Academy are apps that can be helpful for new drivers or those looking to brush up on their skills.
Which app can I use to learn to drive?
Behind the Wheel, Driversprep, DMV Genie, and DriversEd are popular apps that can help you learn to drive.
How can I learn to drive by myself?
If you want to learn to drive on your own, here are some steps you can follow:-
1. Verify the requirements in your state for getting a driver's license. Before beginning to practice driving, you might need to reach a specific age and pass a written test.
2. Think about enrolling in a driving school. These programs can instruct you on traffic laws and assist you in forming safe driving practices.
3. Find a secure, vacant parking lot or neighborhood where you may practice driving without being distracted by other cars.
4. Get accustomed to using the car's controls first. Learn how to operate the steering wheel, gear shift, and pedals.
5. Move on to increasingly challenging driving situations gradually, such as turning, parallel parking, and highway driving.
6. Try driving in various weather conditions and at various times of the day as you gain more experience and confidence.
7. When you're ready to obtain your official driver's license, take a driving test.
How can I memorize driving?
Memorizing how to drive a car can be challenging, especially if you are a beginner.
The laws of the road can be learned and remembered with the aid of a few different techniques. Here are some suggestions that could be useful:
Practice, practice, practice: You'll feel more at ease behind the wheel the more you practice driving. You can begin training in a calm, low-traffic area, like a residential neighborhood, and then progressively advance to busier roadways.
Review the traffic laws, signals, and road signs: It's necessary to be aware of traffic laws and other driving regulations. To help you remember them, go through them frequently.
Consider enrolling in a driving course. This will give you significant training and experience. Many courses also involve written exams, which can aid in your understanding and retention of traffic laws.
Use mnemonic tools to help you remember facts better. Mnemonic tools are memory aids. To recall the sequence of traffic lights, for instance, you could use an expression or acronym (e.g., "Green means go, red means stop, yellow means caution").
Get lots of sleep: Resting while learning to drive is crucial. A good night's sleep is essential the night before a driving lesson or test.
How can I train my driving skills?
Practice regularly, Take a driving course, Use a driving simulator, Practice driving in different weather conditions, and Take a defensive driving course are a few ways to train and improve your driving skills.
How many months will it take to learn to drive?
It generally takes about two to six months to learn how to drive, depending on how often you practice and how quickly you learn.
Some people might be able to pick things up faster than others, depending on their learning styles. It's crucial to allow adequate time for practice and as many driving lessons as you believe are necessary.
Can we learn to drive in 20 days?
It is theoretically possible to learn how to drive in 20 days, but it would likely be very challenging and require significant practice and dedication.
The majority of people require more time to learn how to drive safely and comfortably, so it is typically advised to take driving lessons over a longer period to make sure you have enough practice and are comfortable behind the wheel.
Before taking the test, it's crucial to make sure you feel prepared for the driving portion of the exam and at ease and confident while operating a vehicle on your own.
Why do I struggle to learn to drive?
There could be various reasons why you might struggle to learn to drive.
Among the most frequent ones are feeling frightened or nervous while driving, having trouble coordinating the many activities necessary for driving (including steering, stopping, and accelerating), or just lacking enough practice.
Having a patient and encouraging instructor by your side can also be beneficial because they can offer advice and make you feel more at ease while driving.
Put in the effort and receive instruction, but you still have trouble learning to drive. It may be good to speak with a licensed driving instructor or a licensed therapist who can help you identify and treat any underlying issues that may be causing your problems.
Can you learn to drive in 3 months?
Learning to drive in three months is possible with regular practice and instruction.
However, the time it takes to learn to drive can differ greatly from person to person and ultimately depends on your unique learning style, your level of comfort behind the wheel, and how much time you have available for practice.
With extensive training, some people may be able to learn to drive more quickly; others may need more time because of issues like nervousness or trouble juggling the many activities necessary for driving.
How do I overcome my fear of driving?
It is completely normal to feel afraid when learning to drive or when facing a new driving situation.
However, there are certain strategies you can use to get over your fear, including:-
1. Practice, practice, practice! The more you drive, the more comfortable and confident you will become.
2. Enroll in a driving school or look into getting more instruction. You may feel more prepared and assured when driving as a result.
3. Expose oneself to the fears-inducing circumstances gradually. If you're terrified of driving on the highway, start by driving on minor roads before moving up to the motorway.
4. Try deep breathing or other relaxation methods to help you relax before you drive.
5. Think about contacting a counselor or therapist for assistance. They can aid you in overcoming any underlying worry or anxiety that might be causing your dread of driving.
What is the hardest driving skill to learn?
Parallel parking, Backing up, Merging onto the highway, Turning at intersections, and Responding to emergencies are common challenges people face when learning to drive.
driving app for learners
Driver Ed, DMV Genie Permit Practice Test, Road Rules, and Drivemode apps can be helpful for new drivers or those learning to drive
the best app to learn car driving on iPhone
Driving Academy – Car School Driver Simulator 3D, My Car – Smart Driving School,DriveSafe.ly and CarDriving are several good apps that can help you learn how to drive a car on your iPhone.
Conclusion on Driving learning apps
Those mentioned above were some of the best driving learning apps for android and iOS devices. We recommend them as you can learn and understand the basic concepts. Besides, you can choose the vehicle you want to learn to drive, understand road signs, and reverse your car. 
We do not have to remind our readers of the significance of driving carefully. You are responsible for the lives of others as well, including yours. Knowing how to enhance or learn driving is paramount for succeeding in your driving skills. 
Following the road rules, using the right lane, switching on your indicators at the right time, and maintaining the right speed limit is crucial for driving.
The best car driving learning app for android and ios immensely aids in reducing accidents or ultimately reduces the chances of having one. 
Avoid driving recklessly because you want to go home earlier. Remember, others want to get to their homes too. Learning how to drive safely ensures that you are driving carefully and managing road mishaps with other vehicles or pedestrians. 
Happy learning to drive on the road.