When it comes to building your website, there are two main systems: WordPress and Drupal. While WordPress is the go-to platform for beginners, Drupal is the system of choice for more complicated projects.
When it comes to website design, security isn't an option, it's a requirement. When choosing a content management system (CMS), you should always look for what's going to work best with your content.
In addition to being very versatile and customizable, Drupal is also incredibly secure and reliable — making it one of the most popular CMS platforms in the world.
Drupal boasts an active community that collaborates on thousands of high-quality modules to create a framework that allows businesses to build and maintain complex websites.
By using Drupal, organizations can focus on providing content, and users can easily find what they need. As a user, you shouldn't have to worry about your website not working properly or running slow on your mobile device.
Whether you're making a blog, an e-commerce site, or just doing some online publishing, Drupal has everything you need to get the job done. Read on for some great drupal website examples and learn how to make your own.
What is Drupal? 🤷‍♂️
Drupal is a powerful publishing platform that's been used to create some of the most important online media outlets. With its versatility and ease of use, Drupal makes building websites easier and more efficient than ever.
It's been used by businesses and organizations of all sizes — from small, independent stores to international corporations. 
Drupal's open-source base means that it can evolve and improve at a rapid pace, meaning that it's never too late to become a digital pioneer.
It gives you the tools to build a website that aligns with your business's aesthetic and user experience. It's a versatile content management system that lets you build websites of all kinds. 
It offers extensive features for managing products, customers, orders, and more. It's used by some of the highest-profile companies in the world. News organizations like CNN and The Washington Post, and businesses around the globe, from HBO to Coca-Cola to BMW, trust Drupal to deliver their content. 
Why Drupal? 🤔
Drupal is so flexible and can adapt to meet the needs of your diverse user base. By creating a mobile-friendly e-commerce site, you're making your business accessible to everyone from students to senior citizens — Drupal helps you accomplish this with excellent content editing features, a responsive design, and multilingual capabilities.
As your brand grows and your products have new options and combinations, Drupal can easily integrate new applications or functionalities for you through its wide community support network.
A few other reasons to choose Drupal for your business:-
It scales well, allowing you to quickly and easily add features or applications as your business grows. 

It's highly secure, with built-in security features that ensure data protection.

It's easy to use, with an intuitive interface that is simple to navigate for anyone who wants to create content.

Drupal has been localized in over a hundred languages — more than any other CMS. 
Three elements make a great Drupal website:-
A responsive layout that works well on any screen size 

A website secured against attacks and built to last, with an eye for long-term support 

An engaging design that lets users navigate the site with ease
Best Drupal Website Examples: Our Top Pick👌
Now that you know Drupal's benefits, be sure to check out some of the best Drupal website examples to see just what's possible with this content management system.
These popular sites demonstrate Drupal's flexibility, functionality, and ease of use — regardless of your industry.
1. Virgin
Virgin wanted to represent everything they're about on their brand new website, but with an incredible amount of content in every aspect, making the site home for their users and fans, which was impossible at first.
But all thanks to Drupal, with its easy-to-use interface, impressive array of features, and technical specifications, it helped Virgin to add multimedia and daily content to its site.
The Virgin website is an excellent example of a site that feels free with its layout but also never sacrifices readability or usability.
Built with Drupal, the site features an interactive homepage, a content area for blog posts, and an e-commerce store. This site is also a perfect drupal website example that will help you to get an idea about the platform. 
2. Tesla
Tesla created its website to look and feel like their cars: sleek, minimalistic, and efficient. This website is a perfect example of Drupal website examples.
The site uses a large format hero image to capture the user's attention immediately — similar to the way that Tesla's cars stand out with their sleek minimalistic design. Tesla's website has a simple, clean design and a strong focus on the products themselves.
The unique product pages highlight the features of each vehicle, all without distracting from the image of the car itself.
Thanks to the magic of Drupal, the site can dynamically display products based on the user's location and suggest new and exciting offers. The powerful CMS also provides an easy path for third-party integrations.
3. Warner Bros. Records
A creative website is more than just a pretty design — it needs to be informative and engaging, as well. Warner Bros. Records have created a stunning online presence with their new Drupal website.
Not only is it visually appealing, but it also features a lot of custom clickable objects and makes ample use of large images. The site's main goal is to showcase the entertainment industry giant's offerings through the lens of elegance and style.
Warner Bros. Records' website places emphasis on the user experience, which is why it has been recognized for its design, structure, and navigability. The website is built on Drupal, allowing visitors to quickly and easily browse through the different artists and albums on display.
It also adds itineraries in the upcoming events calendar. The content on this site is curated by a group of travel experts, which also ensures its immense accuracy.
By looking at the site, we can see how Drupal has made it possible to create highly structured modular content types, and hence we can say Warner Bros. Records is one of the best Drupal website examples.
4. The National Forest
National Forest is a charity that aims to create the largest nature reserve in England by promoting wildlife and environmental conservation while working with local communities.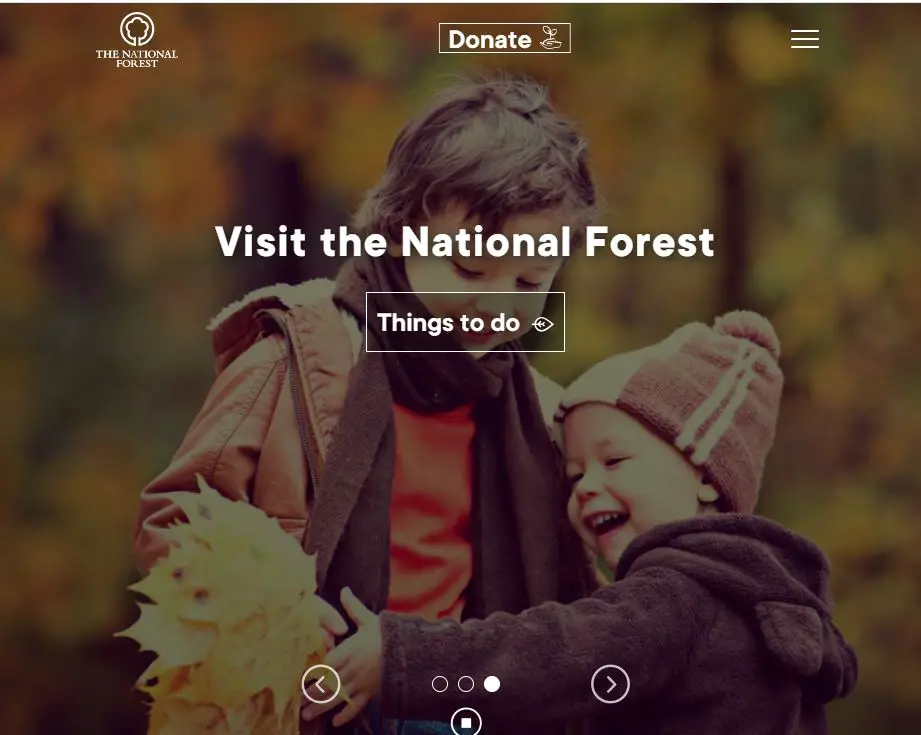 It uses Drupal to include all of its cultural and educational elements with its business side, thanks to responsive design and a number of excellent features.
The National Forest wants people to learn about forests, nature, trees, and wildlife and donate or make purchases on the site. With a responsive design that adjusts to fit any screen, this website is incredibly easy to navigate, even on mobile phone screens.
Fluid layouts use minimal horizontal scrolling and ensure that the most important information is always visible — perfect for those who want to shop and move on quickly.
5. Arsenal
Arsenal partnered with Drupal to create a website and is one of the best Drupal website examples that allows fans to learn about any aspect of the club, from its history to ticket sales.
Content hubs allow them to set up different channels for fans to get information about their favorite players as well as receive updates on matchday.
The Premier League team has been using Drupal's web content management system for several years already, and they plan to continue using it in the future. 
6. Worldpay Help Centre
Worldpay is one of the most innovative companies in payment processing, and they've built their Help Center with Drupal.
From credit card processing to international payments, Worldpay helps countries process billions of dollars every year. And amazingly, much of their work is done by Drupal.
Worldpay uses Drupal Commerce to streamline the customer support experience on its website, giving users the ability to quickly find answers to their questions while simultaneously providing an intuitive interface.
The Worldpay Help Centre is one of the best drupal website examples, and it has been created with a simple interface. 
7. Gurney's Resorts
Gurney's Resorts, an online travel company, takes Drupal's flexibility to the next level. With the help of the Drupal community and its focus on excellent customer support, Gurney's created a fully commercial platform that shares its luxury offerings and creates a streamlined user experience.
Gurney's Resorts relies on Drupal for its website and booking software. A custom search engine lets guests find exactly what they're looking for, whether it be the perfect vacation home or a romantic night turned into an experience.
With both a CMS and booking system in one, Gurney's is no stranger to Drupal development, and you can check out this website as it is one of the best Drupal website examples.
8. Instabar
Instabar uses the Drupal platform to create an attractive website that highlights its products. It is a tempting site with an excellent layout and design that is flawless for users.
With their key features displayed in an organized manner, along with elegant call-to-action buttons and a well-structured layout, the brand also keeps improving its product awareness.
We saw a few examples of stores built by Drupal developers, but Instabar is one of the very well-put-together Drupal website examples. Instabar's website is highly visual, with lots of graphics and photos.
This company offers healthy snacks, and we can see their products and galleries on the site. The site is very interesting and highly professional, as it was built using Drupal. 
You may like to read our guide on the 79 Amazing
Cool Websites
You Didn't Know Existed.
9. The Children's Society
The Children's Society was in desperate need of a website redesign. The Drupal Content Management System (CMS) empowered them to easily manage content and give their growing organization a much-needed facelift. 
Having a Drupal website with a built-in donation system allows the organization to share stories, provide information, and even collect donations all in one place. Using the power of Drupal has given the Children's Society a website that goes above and beyond its goals. 
The Children's Society has a wonderfully designed site built on Drupal, with great use of imagery and color. Children's Society is able to communicate its mission in an approachable manner without sacrificing professionalism or engagement.
Drupal is the clear choice for any business that wants a powerful platform that makes content management easy.
This website is a perfect example of Drupal website examples that are notable for sharp photography, integrated donations, as well as great headlines and text. This website uses big pictures and fonts, which makes it possible for users to navigate the site and read content on whichever device they prefer.
10. Princeton University Press
One of the most notable colleges in the USA, Princeton University, turned to Drupal for its website. With a vast content library and a clear need for scalability, Princeton needed a high-quality solution that's easy to use and simple to navigate.
In just one year, they were able to build an online community where students and professionals worldwide can share their experiences and connect with each other.
Even the best native e-commerce software can't match the benefits that Drupal brings to the table. With this open-source platform, you get a website that is built on a highly flexible, scalable framework.
The site's clean layout keeps viewers focused on the products, while social media integration allows an ongoing connection between your business and its followers. 
11. TraffickWatch Nonprofit
TraffickWatch Nonprofit is serious about fighting human trafficking and bringing an end to the worldwide epidemic. Their Drupal-based websites see over 2 million visitors every year, with site owners taking a preventative approach towards their anti-trafficking mission.
The good website you're looking at has it all. It has a strong business focus and can engage both readers and donors in a variety of ways: through quick facts and helpful content, inspirational stories, or simply the ability to make an impact by helping those in need.
With the help of Drupal, the website is made as a responsive layout that works well on any screen size, and its engaging design lets the users navigate the site with ease. 
12. Catch of the Day
Another famous drupal website example with great features and easily accessible is the Catch of the Day page. Catch of the Day allows people to listen to the most popular radio song of the day.
The website is built on Drupal and requires minimal effort to navigate with an elegant, responsive interface. As you click through its colorful, horizontal layout, you'll find that each day's featured song is easy to navigate and gives you an opportunity to explore other songs by the same artist with just a click.
Catch of the Day is a simple app that features a "previous and next" button for navigating between items.
13. World Baking Day
World Baking Day has a simple goal: to get people to try a new food or flavor. It accomplishes this by providing a platform for users to ask and answer questions about baking, whether it's where to find the perfect recipe for cherry pie or how best to make caramel popcorn.
Whether you're an expert baker or just getting started, World Baking Day is a great place to learn tips and tricks that will help you in your kitchen endeavors.
This website is powered by Drupal, a CMS that runs this site seamlessly and integrates with Lean Mean Fighting Machine, the agency behind its creative design.
World Baking Day is one of the best drupal website examples that demonstrate the site's functionality and ease-of-use interface. 
14. The National Forest
National Forest is another organization that chose Drupal to create a website that would spread the awareness of creating the world's largest forests in England. This website is a perfect example of Drupal websites examples.
With the help of Drupal, the website offers big background images and color schemes to make the site very easy to use.
Drupal also makes the site easy for businesses to develop a website that matches their brand and provides all of the tools they need to run a successful e-commerce store with their own inventory, from creation to fulfillment.
Before moving to the next website, I want to guide you on how you can find out the website platform.
Open the website in chrome browser and press the (Ctrl+Shift+I) to open the Developer tool.
Click on the "Network" option and select the "Preserve Log" option and click on the main page in the left pane side like the below screenshot and go for the "Response Headers" option.
Go down you will see X-Drupal-Cache and X-drupal-dynamic-cache options that are the main indications to know the is this platform is running on drupal or not.
15. K2 Digital Agency
K2 Digital Agency offers a wealth of experience with content management systems. The agency was specialized by Drupal, an open-source platform that has been around since 2001 and is used by hundreds of thousands of businesses.
With a team of developers and graphic designers ready to provide services that span from strategy consulting to implementations, the company is able to offer customers an all-inclusive solution.
K2 Digital Agency is a Polish marketing agency that uses Drupal to tell the stories of its clients. With Drupal, they are able to create interactive and visually stunning websites that drive higher engagement on social media and in search engine rankings.
16. World Wildlife Fund
The World Wildlife Fund has a clear mission: protecting endangered animals. That makes sense, but they needed a way to make the implications of their mission more tangible.
They found the answer in a Drupal website that is full of impactful information and makes a strong call to action for visitors. The World Wildlife Fund is powered by the Drupal content management system, which powers over 1.1 million websites.
This cutting-edge platform allows WWF to offer its users complex functionality — including a detailed donation form and a social media feed for followers — while retaining an easy-to-use interface with stunning design.
Thanks to Drupal, The World Wildlife Fund's website is both incredibly user-friendly and visually appealing. Quick, responsive, and customizable, this platform has allowed the charity to create a truly optimized experience for users of all types, including mobile users.
in some websites, You will see the X-generator option in the developer tool like wwf.org.uk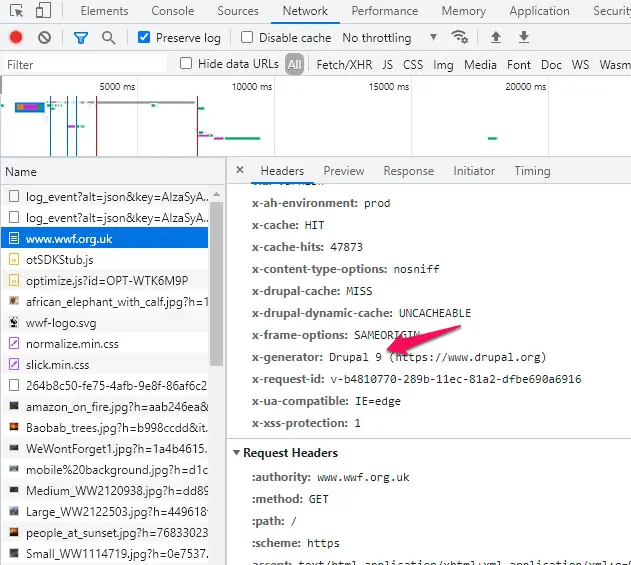 17. University of Oxford
Oxford University has relied on the advanced capabilities of Drupal to provide an informative website that's quick and easy for visitors to use. But it's not just a powerful framework that makes Oxford's site work perfectly.
It's also filled with loads of great information about the University, its people, and its programs. The Oxford University website is maximally functional and aesthetically pleasing — exactly what you get from Drupal.
The site has extensive functionality, which allows visitors to easily navigate the site and find what they need in a few clicks, and you can definitely take it as one of the best Drupal websites examples.
It also impressively blends beauty and function together within the design, so you never feel like you are being pulled away from your goal of gathering information.
18. Davidoff
Davidoff's promotional perfume website is one of the perfect Drupal websites examples, as it offers a beautiful interface of what a customer engagement platform looks like.
At the center of this customer engagement platform, there are mini-games that allow shoppers to get away for a while and learn more about the different fragrances they can get from Davidoff.
Thanks to Drupal, Davidoff has a site that features a clean design with stunning color choices, letting users engage with videos to learn more about the brand's story.
With its high responsiveness and ability to display content clearly on all devices, it's a pure joy for users to explore and check out the brand's latest products.
19. Bycyklen
With a brand mission to spread awareness of green, healthy, and eco-friendly lifestyles through bike-sharing, Bycyklen needed an interactive platform that would help spread its message while also engaging with users in an easier way.
They found that Drupal could bring all of these needs into one simple platform — but they had to carefully plan out which modules to use in order to create the best experience.
This is one of the perfect Drupal website examples that show how small websites can have a huge impact. This Drupal-made website has an easy-to-use interface and lots of features that help the customer get the information they need.
20. Jysk
If you doubt that Drupal can provide a great shopping experience, be sure to check out Jysk's website. It's one of the world's biggest leaders in the retail industry for homes and goods.
If you're looking for a development partner who understands your needs and can provide a fast and secure solution, we can help.  Drupal has helped Jysk demonstrate the benefits of inclusivity and flexibility on their e-commerce website, which will serve as the heart of their business.
This platform will allow them to educate and entertain their customers, offering them more opportunities for engagement. Jysk creates one of the most in-depth and complex websites out there, but its user-friendly nature keeps customers coming back to learn more.
With a highly configurable design and the ability to feature products from all around the world, the Jysk website is undoubtedly one of the most comprehensive e-commerce sites out there. 
21. Sevilla FC
Sevilla, among the best football clubs in the world, continually extends its support to all of its fans. Sevilla is involved with all of its fans through its website and social media platforms and uses Drupal to create a perfect sports entertainment platform that fills fans' needs in one place.
Drupal created a website for soccer fans to keep up with everything about their favorite sport. Thanks to its interactive stadium tour, real-time information about players, matches, and merchandise, the site is easy to use and engaging. Users can check out the latest news in just a few touches of the screen. 
22. Princeton University Press
Princeton University Press chose to use Drupal to create a website that would showcase their books, journals, and other media. By using Drupal, they were able to customize a website with a simple design and easily add content from anywhere.
The University's press now gets more traffic than ever before and has built alliances the world over. When Princeton University Press decided to focus on vertical content (instead of horizontal), they needed a way to power a new area of their site: books.
Drupal was able to provide the flexible, scalable engine that powered all of their content-heavy pages — and it even gave them the ability to create a whole new site.
Conclusion
Drupal is known across the industry for being one of the most stable and secure CMS options out there, with a track record spanning more than 15 years. However, we think these 23 Drupal website examples are among the best out there.
From the simplest informational brochure site to an e-commerce platform, Drupal has the flexibility you need to craft the perfect website — and turn your ideas into reality. With a wide variety of pre-built content modules at your disposal, your website will be up and running in no time.