Are you curious about the best ear muffs for sleeping? To Buy? 🤔 We reviewed around 35 earmuffs and developed the best 9 for our readers.
Without any further delay, let's explore this definitive buyer's guide. 📗
You have been working all day and are exhausted; all you need is good relaxation for some minutes to get yourself fired up again, but you can't find the right place to relax, and even when you sleep, you wake up tired.
The truth is, it is hard to sleep when surrounded by noise, to relax and be replenished completely, and that is why we need something to cancel out the noise so that we can get the relaxation we deserve.
Earmuffs help you block out the noise around you and give you that quiet time even when you are in a place that is anything from quiet.
Especially when you live in a city that never sleeps or has to scrape up a few minutes of sleep amidst a busy day because you deserve to be very well-rested.
If you want to take your relaxation time to a new level, you should think about noise cancellation with the help of earmuffs for sleeping. And below is a list of some of the best ones you can find out there.
Best Ear Muffs For Sleeping – Our Top Pick👌
1. Gen 6 Hibermate Sleep Mask
Hibermate is a well-respected brand for delivering the best sleeping gear that enhances your sleep experience, from eye masks to earmuffs; the generation 6 hibernate sleep mask and ear muffs combined is one to give you a good sleep time.
This generation 6 earmuffs from hibermate are made for everyone, big or small, irrespective of the size of your head; this inclusiveness and more features give us reasons to love the hibermate ear muffs, which bring this into our ear muffs for sleeping list.
Features:-
Materials for the sleep mask – silk
Material for the doughnut-shaped ear muffs – non-stick silicon
Noise cancelation – 20 decibels
Sleep position – suitable for all sleep positions
Color – black
Adjustable straps
Earpad
Pros:-
High-quality materials used
Comfortable for different sleeping positions
Made from a reputable sleep mask brand
Noise cancelation quality can block out average noise around
The material is breathable and friendly on the skin
The adjustable straps make it comfortable for different head sizes
It includes an eye mask as well
Compact enough for traveling
It is affordable at $50
Soft feel for the cushion
Cons:-
It does not block out very loud noise
Note:- Sad to say that if you plan to be sleeping close to a speaker or a source of very loud noise, the generation 6 earmuffs may not do much for you except you pair them with an extra aid, however for domestic noise like snoring; it has you covered.
Check Price on Amazon
2. 3M Peltor H6A/V – Best noise cancelling ear muffs for sleeping
There is a different variation of Peltor ear muffs you will see when you go searching, each amazing in its different ways.
Over time these ear muffs have been improved for customer satisfaction, and the H6A/V is also a great and improved earmuff that can help you get a very good sleep with reduced noise.
This earmuff is perfect for carrying around because of its ability to be folded into a compact size and to block even loud noises, so you can feel free to carry it around regardless of the noise because you are covered.
Features:-
It is foldable
Doughnut-shaped cushion
Steel headband
Blocks out a noise of 96 decibels
It can block out low-frequency noise as well
The steel band is cushioned
Pros:-
The headband can block out loud noise
It is good to carry along when traveling
It can be used in domestic and non-domestic places
The cushions make it comfortable to wear
Replaceable cushion
Easy to clean
Earcups can be rotated
The 3M brand is well-versed in making earmuffs
The steel headband is covered with a cushion that feels comfortable to wear
Cons:-
It May is uncomfortable for all positions of sleepers, especially side sleepers.
Some head sizes may have difficulty using this headband.
Note:- this headband is perfect, especially if you are traveling or in a place where you are trying to steal some minutes of sleep; the fact that it can block out high-frequency noise shows that you should not be afraid to use it outside of the home perhaps that is what they had in mind) and if you are using it in bed, don't sleep on your side.
Check Price on Amazon
Note:-
I have written a post for people looking for the best
earbuds for small ears
?, do read it If you are interested.
3. 3M Peltor X5A Earmuff
Yet another 3M Peltor earmuffs, and as mentioned earlier, this brand has a lot of experience; this X5A earmuff is not just built to give you a great relaxation experience, the earmuff I built for easy maintenance and adaptability.
If you plan to keep your earmuff for a fairly long time and want an easy cleaning earmuff, this one is the right one for you, along with specs that will have you smiling every time you use it.
Features:-
Electric insulation on the headbands
Can reduce noise by up to 31 decibels
Tiltable ear point
Removable and replaceable doughnut-shaped ear cushions
Rating of NRRb 31
Electrically insulated (up to 440 Volts of electricity)
Pros:-
This earmuff is perfect to be used outside the home
Can block out loud noises
It is suitable for handling high-frequency noise
Easy maintenance
You can tilt the ear point according to what feels comfortable
Can replace the doughnut-shaped cushions that can be cleaned and changed
It is affordable
A 3M brand is reliable and has a good reputation
It can be used to travel
It does not trigger a metal detector
Cons:-
It may not be comfortable for all sleeping positions
Note:- this earmuff is improved and very functional in blocked-out high-frequency noise.
It is more suited for out-of-the-home uses like traveling. As long as you use it that way, you will not have to bother sleeping on your side, which is perfect for bringing in our The Best ear muffs for sleeping list.
Check Price on Amazon
At the time of our research on "Best Ear Muffs For Sleeping," we found a video about "7 Tips to Get a Better Sleep According to Psychologists," which is worth watching. 🤴
7 Tips to Get a Better Sleep According to Psychologists
4. TenTen TI All-Purpose Earmuffs
Even though you need an earmuff to block out noise when you sleep, who is to say that is the only time you may want to use it? Sometimes you want to block out the noise in a semi-public space and be alone in the midst of people.
This TenTen TI all-purpose earmuff offers you that luxury; an earmuff built to be used while you are outside so that you can get a level of silence anywhere.
Features:-
Padding over the metal headband
Travel fit
It comes with a case for storage
Certified 27 NRR
can block 34 decibels of noise
soft ear muff padding
Pros:-
Suitable to be used outside the home
Can block out loud noises
It is travel-fit
It can be used in loud public zones like in a gun range
Supportive customer service in case of questions
It comes with a storage case
The adjustable band length makes it able to fit different head sizes
Lightweight and slim
The color is black for unisex uses
It is not necessarily for sleeping; it can be used for any activity that requires silence.
Cons:-
It is made for outdoor usage and not home use
Note:- to enjoy these earmuffs, put them on when you are trying to be productive and seeking quiet time, and put them on for activities like meditation, reading, writing, and on. This earmuff is a good career companion.
Check Price on Amazon
5. Howard Leight 1010924-H5 Lightning L3
This Howard earmuff is designed with three things in mind; comfort, noise cancellation, and durability.
From the materials and the build of the headband, it is easy to see how these three aims can easily be achieved with attention to shape and material as well as noise cancellation technology; there is no doubt anyone will get a good sleep with this on.
Features:-
It costs $27 on Amazon
Steel wire for durability
The foam pad on the headband
NRR 30 decibels
It weighs 12 ounces
Pros:-
Suitable for use by adults
The NRR rating makes it suitable for low noise
It is built to be durable with the steel wire used for the headband
The foam padding makes it comfortable on the skin
It can be folded into a more compact size when it needs to be in stores
Airflow technology reduces the need for pressure on the skin in an attempt to cancel noise
It is suitable to be used for long hours at a time.
It is easy to clean the ear muffs because they are easily removed.
Cons:-
Adults only may be uncomfortable with some sleeping positions
Not suitable for use where there is a loud noise
Note:- this earmuff is for adults who seek to have a quiet time in public spaces, whether to sleep or to read or write; it is more suitable when the noise is not very loud. However, if you want to use this for a kid or in very noisy places, you may be disappointed with what you get.
Check Price on Amazon
6. 3M Peltor Optime 105
Another headband from 3M is the Optime 105 is beautiful with a thin strip of color on the edge of the ear point.
Besides being aesthetically pleasing, this earmuff matches the high-quality noise cancellation that 3M is commonly known for because it can keep up a good range of noise frequencies from low to high. So you do not have to worry about surround noise.
The double-shell technology of the Optime 105, as well as the high-frequency noise cancellation, makes this headband a headband to be used in places prone to very loud noise from equipment, for instance, a gun range.
Not that you will be sleeping at a gun range, but you will want to protect your hearing, and you can rest assured that when you need to sleep any place else, this earmuff got your noise cancellation needs covered.
Below are some of the features of the 3M Peltor Optime 105 that earned it a spot in our list of noise canceling ear muffs for sleeping.
Features:-
The earmuff weighs 3.2 ounces
Pressure distribution is low
Presence of color for aesthetics
the ear points can tilt
The inner band frame is made from stainless steel
NRR rating is 30 decibels
Foam padding in the doughnut-shaped ear cushion
Below are some of the Pros and Cons of the 3M Peltor Optime 105 that earned it a spot in our Best Ear Muffs For Sleeping list.
Pros:-
The user can improve comfort by adjusting the ear points
The presence of color makes it attractive
It can be used in noisy public places to block out low-frequency noise.
Durable materials used
Twin ear muffs improve noise cancellation
The 3M brand has a good reputation for high-quality ear muffs
Evenly distributed pressure by the headband
It can be used for long hours
Cons:-
Sleeping in bed may be a problem, especially if you sleep on your side
Note:- this headband weighs a bit more than some on this list, but you may barely notice this because the extra weight is balanced by the ability to spread the pressure evenly to use it for a long time.
Check Price on Amazon
7. Wrap –a-nap sleep mask & earmuff
The wrap-a-nap earmuffs are easily compared to the Hibernate earmuff, and eye mask discussed above because of their similarity in operation. However, besides being from different brands, there are obvious differences between them.
The first sight of this product might leave you shocked at how bulky it looks but do not dismiss it just yet because of what this earmuff packs in bulk for support as a travel pillow.
Thanks to this consideration, you shouldn't have to carry an extra pillow when you travel because your earmuff has a triple purpose.
Below are some of the features of the Wrap–a–nap sleep mask & earmuff that earned it a spot in our list of the Best Ear Muffs For Sleeping.
Features:-
Suitable to be washed with a washing machine
Adjustable
It includes an eye mask
Made like a pillow
NRR 25 to 30 decibels
Travel-suitable
Pros:-
This is not just an earmuff; it can be used as a travel pillow as well
It can be bent easily without losing form
It can be adjusted to different head sizes
It protects from light as well
It is lightweight
It feels soft, like a towel
Cleaning it is easy with a washing machine
It is specially made for traveling purposes
Perfect noise-canceling ear muffs for sleeping
Cons:-
It may not be comfortable for use in bed because it elevates the head
It may cause heat
Note:- with this earmuff, you get a triple threat to make long travels very comfortable and relaxing.
Check Price on Amazon
8. Generation 5 hibermate sleep mask with ear muffs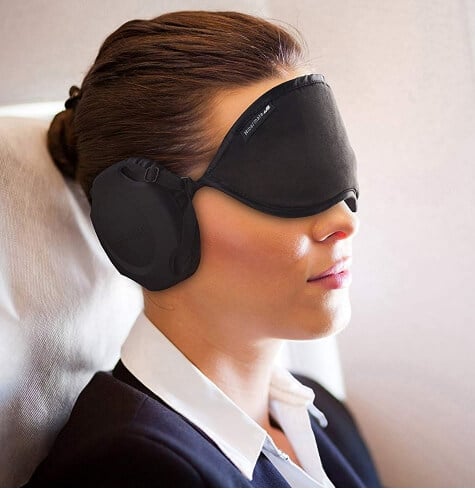 Generation 5 of hibermate earmuffs is just as impressive as generation 6, with slight differences.
If you are already in love with the hibermate brand, you will love the hibermate five earmuffs; this one has some improvement on the traps, the cushioning, the material, and the ability to block out noise.
Below are some features of the Generation 5 hibermate sleep mask with earmuffs that earned it a spot in our list of hibermate ear muffs for sleeping.
Features:-
Black color
The material for the ear cups is silicone
Improved e-hook on the band for easy adjustment
It can be used in a dryer
It folds
Below are some of the Pros and Cons of Generation 5 hibernate that earned it a spot in our list of the Best Ear Muffs For Sleeping in 2022.
Pros:-
It can be stored easily
Compact enough to travel with
Soft feeling against the skin
You can adjust the straps
Suitable for use at home
Perfect noise-canceling ear muffs for sleeping
Cons:-
It does not block out loud noises
Not as flexible as the generation 6
Note:- even though generation 5 is less efficient than the 6, it still helps block out light and sound, and you can get a good night's sleep. However, you will be at a disadvantage with this earmuff in the area of very loud noises.
Check Price on Amazon
Best Ear Muffs For Sleeping:- What To Consider
There are different things to look out for when you buy earmuffs for sleep, but the key to getting the right one is remembering what you need it for and, of course, your budget.
To explain these further, the following points should be taken seriously when buying earmuffs for sleeping.
🧩Comfort:-
an earmuff has to be comfortable if you are blocking out the noise to allow you to sleep better. When considering comfort, you can do it differently; one question is how the materials feel against your skin, especially at the ear points.
This is because when you sleep, you may roll to apply pressure at that point, and you want it to be soft and comfortable.
Another thing to look out for is if it is adjustable; how you wear your earmuffs when awake may differ from when you are asleep; if you can adjust your earmuffs, you won't have to worry about this.
📯Ability to block out the noise:-
The earmuff is supposed to block out noise, so you better check for that. This is measured in how many decibels it can block out, and with this, more isn't necessarily better because it depends on what and where you will be using it.
If you want to relax in very noisy places, you should look for a high NRR rating; otherwise, if it is just for domestic use, you would not need the high ratings.
🎭Safety:-
when it comes to safety, it goes to the shape of the earmuffs and the materials used as well; the reason you don't use earplugs is that they cause a strain on the ear after prolonged use; your earmuffs need to be safe for prolonged use especially if you use them at home.
👕Headband length:-
Some days you want it a bit loose, or maybe you are unsure if it will fit perfectly on your head; earmuffs with adjustable bands eliminate all these worries because you know that if the band does not fit, you can adjust it to your size.
🎎Maintenance:-
maintenance involves cleaning and storage. Since you will be using them on your body, you have to keep them clean to avoid any risk of infection, and while there is no single way to clean all earmuffs, at least make sure that the one you get can be cleaned easily.
Additional aid may be to get one used in the washing machine or one whose material does not attract dirt. With storage, a properly stored earmuff lasts longer; although it is not a couch that will take up a lot of space if you are traveling, your earmuff can feel like a couch.
Some come with a storage case, and some can be easily folded to make storing easy.
🕵️‍♀️The extras:-
some ear muffs include extras like eye masks and even be used as travel pillows. These extras make your sleeping experience even more comfortable because they do more than block out noise when you sleep.
If you think you need these extra features, then it5 is a good idea to invest in an earmuff that includes them; however, remember that they may lead to extra costs or come with their requirements.
🤴The material:-
Is it breathable? Just because you want to block out the noise does not mean you don't need a little air; depending on the material, you may be able to get a little air in or at least get a material that is gentle on the skin and watch out for allergens if you have sensitive skin.
🎏Your budget:-
we know good sleep is important, but it shouldn't drill a hole in your pocket to try to get one. When buying earmuffs, it's good to start with a budget, $100 is good enough to buy you a good earmuff that will provide you with better sleep. Get a budget and stick to it.
Reasons Why You Need Ear Muffs
Earmuffs are handy for different reasons, and the major reason is that they block out unwanted noise.
1. You cannot ask everyone to keep it down just because you need some quiet (except if you want to be seen as an obnoxious person), but at the same time, you do not have to listen to all their gibbering. All you need is to wear a good earmuff, and everybody wins.
2. When you are in very noisy places like a construction site, working with very loud equipment, or on public transit, you either need to protect your ear or give your ear a break and relax. These places demand some form of technology to handle the noise, one of which is earmuffs.
3. Trying to get a quick nap during work breaks: if you have very busy jobs with long active hours and finally get an hour of rest (jobs like health professions), you will want that rest to count. If you are going to be sleeping, you may want to get the most out of it and wake up feeling well-rested and ready to go.
4. If you are a light sleeper: whether you are a light sleeper or have a partner who snores, there is no reason not to get a good night's sleep and risk it affecting your mood in the morning. Earmuffs are very helpful in such a scenario.
5. When you need to meditate: create your own Zen if you cannot find a quiet place to meditate. Meditation is all about the ability to shut out the noise and focus within, this process is easily done in quiet places, but if you cannot get that, you can just as easily get earmuffs.
6. Working on your way to a destination: some people carry workaround, perhaps mails you must go through, perhaps a book to read or even write. Some of these activities demand some level of quiet. Using earmuffs can help you effectively work while seated on a park bench.
Keep in mind that ear muffs cause noise cancellation. As such, you should only use them in places where you do not need to listen to the people in the environment, in places that pose a danger, like a factory where a lot of movement and sharp tools are used, you may want to rethink shutting out noise for your safety.
📗 FAQs on Best Ear Muffs For Sleeping
Below are a few queries on Best Ear Muffs For Sleeping that everyone is expecting to answer, and I did include the same for my readers.
Can you wear ear muffs to bed?
Yes, ear muffs can be worn while sleeping to block external noise and create a peaceful environment. Sleep ear muffs are designed for comfort and can be comfortably worn while lying down without causing discomfort or pressure on the ears.
However, it's important to choose ear muffs specifically designed for sleeping, as they are softer and lightweight. Additionally, ear muffs should not be too tight or restrictive to avoid discomfort during the night.
What to use to avoid noise while sleeping?
To reduce noise while sleeping, there are different options available:-
Earplugs:- Small foam or silicone inserts that block out noise in the ear canal.
White noise machines:- Producing consistent sounds to help drown out other noises.
Sleep headphones:- Headphones designed specifically for sleeping that can play white noise or soothing sounds.
Ear muffs:– Headphones that block external noise.
Heavy curtains:– Thick, heavy curtains to block out noise from outside.
Soundproofing:– Insulation or acoustic panels can be added to walls and ceiling to soundproof your bedroom.
Do earmuffs block out sound?
Earmuffs reduce sound by creating a barrier between ears and sound. They block sound to a certain extent, depending on design and frequency.
Sound-absorbing materials like foam or fiberfill are used in earmuffs to reduce sound waves. Earmuffs fit tightly around ears, creating a seal that further decreases sound. However, low-frequency sounds can penetrate earmuffs, and gaps can let sound in.
Can you sleep with ear defenders on?
Wearing ear defenders while sleeping is possible and can help protect your hearing and reduce noise levels, leading to better sleep by minimizing disruptive sounds.
Comfortable ear defenders are important for sleeping since some can be uncomfortable lying down. It's also essential to ensure a proper fit that doesn't cause discomfort or pressure on the ears, which can disrupt sleep.
Although earplugs may be more comfortable, they may not provide as much hearing protection as ear defenders and may not be suitable for loud or intense noises.
What are the disadvantages of earmuffs?
Earmuffs have some drawbacks, including discomfort, heat, reduced situational awareness, communication interference, and limited noise reduction.
Earmuffs can be bulky and cause pressure on the ears leading to headaches. They can trap heat around ears, causing discomfort, especially in warm environments. Earmuffs can reduce the wearer's ability to hear crucial sounds like warning signals, posing a danger in some situations.
They can also make it difficult to communicate with others in noisy environments. Additionally, earmuffs may not reduce enough noise in high-intensity noise environments like shooting ranges or airports.
How long can you wear ear muffs for?
The time ear muffs can be worn on the design, noise environment, and personal comfort. Generally, comfortable and well-designed earmuffs can be worn for hours without causing any issues.
However, some people may experience discomfort or ear pressure after a short period. Regular breaks are important when wearing ear muffs in noisy environments, allowing ears to rest and critical sounds to be heard.
It's important to follow the safety guidelines the manufacturer or employer provides when using ear muffs. Consulting a healthcare professional is advisable if discomfort persists or hearing problems arise.
Are earplugs more effective than earmuffs?
Earplugs and earmuffs can be equally effective depending on the noise environment and individual needs. When used correctly, both can provide adequate hearing protection.
Earplugs are small and convenient, making them a popular option for blocking out noise quickly. They are also often less expensive than earmuffs. Earmuffs create a physical barrier between the ear and the noise source, providing better noise reduction in some situations.
They are often more comfortable to wear for extended periods and more suitable for sensitive ears or ear canal issues. The choice between earplugs and earmuffs ultimately depends on specific needs and the noise environment. A combination of both may be the best option for some people.
Conclusion
In conclusion, earmuffs are very helpful to help you get a good night's sleep or rest when you want to, and they are also generally affordable. If you are considering getting one, you can browse the above collection to get one of the best out there.