Everyone wants perfection in their work. The same is the case with scanners and printers. Perfection with HD quality scanning is the topmost priority of the buyers.
From the thousands of choices available in the market, the best one is none other than the Epson scanner. So, you must be thinking what makes it very unique.
It is the performance and its adaptability. These scanners deliver high-quality scanning for scanning different documents, including slides, photos, films, and other everyday documents you need.
However, there are many other variations available in the market within Epson itself. The best-known models include Epson V550 and Epson V600.
Have you ever tried to find a complete difference between the two? The sharp features of both these are very concerned, and nothing comes as a surprise while considering buying.
Still, people have never-ending debates with them. So for their preference, here is the best comparison between the two major preferred choices.
Readout below to know a complete difference between the specifications of Epson V600 vs V550. Find which one is the best option for you as you need.
A Review For Epson V600 vs V550
These flatbed scanners have been in the market for many years. However, both of them have put people in confusion to choose one out of them against the other by making a good comparison.
This is to ensure your job is done on time with the best results. These two have high-quality extras in scanning the images, films, negatives, and slides. For any photographer, he will simply love to have these scanners since the release of Epson models.
The fact behind using these scanners is that none of them have been outdated, and there is no future.
Overview To A Complete Comparison- Epson V600 vs V550
 

Epson V550
Epson V600
Origin

Indonesia

Indonesia

Scanner Type

Flatbed

Flatbed

Duplex Scan Function

No

No

Color

Black

Black and Grey

Maximum Scan Image Size

8.5" x 11."

8.5" x 11."

Power Consumption

16.5 W

16.5 W

Digital ICE for

Film Only

Prints & Films

Color Bit Depth

48 bit

48 bit

Weight

9.6 pounds

9 pounds

Height

4.6 inches

4.6 inches

Width

11.2 inches

11 inches

Depth

19.2 inches

19 inches

Scanner connectivity

Hi-Speed USB 2.0

Hi-Speed USB 2.0

Included Software

Epson Easy photo Scan Software

Epson Easy Photo Fix Technology

Optical Resolution

6400 dpi

6400 dpi

Max. Reproduction Size

17" x 22."

17" x 22."

Estimated Life

30,000 cycles

30,000 cycles

Cloud Upload

Yes

Yes

Connectivity Interface

High-Speed USB

High-Speed USB

Maximum Document Width

8.5 inches

8.5 inches

Extras

Multi-marking with best UI,

Digital Ice Technology to remove dust and scratches from an image

ReadyScan LED Technology
Specification of Epson V600:-
Epson has always targeted advanced amateur photographers. Here are the basic specifications for Epson V600:
In-built transparency unit having 35 mm slides, the medium-format panoramic film of 6 x 22 cm

Digital ICE technology to remove the dust and scratches from the films and prints. Also, it removes all creases from the photos and prints.

For fast scanning, this scanner has a ReadyScan LED Light source, which does not take up much warm-up time.

This scanner takes up low energy, which is mercury-free and hence better for the environment.

There are customizing buttons that easily copy, scan, and create different PDFs.

Considering the software, this scanner has Epson Scan Driver and Epson Photo Fix Technology that helps in one-touch color restoration.

For the light source, it has White Light Emitting Diode and Infrared LED.

This scanner has Adobe Photoshop Elements for making edits and enhancing the images.

It has a flat black design with black highlights present on the control panel. On the base, it has black plastic.

It is an impressive and impressive flatbed scanner with its four-inch blue light bar.
Specifications of Epson V550:-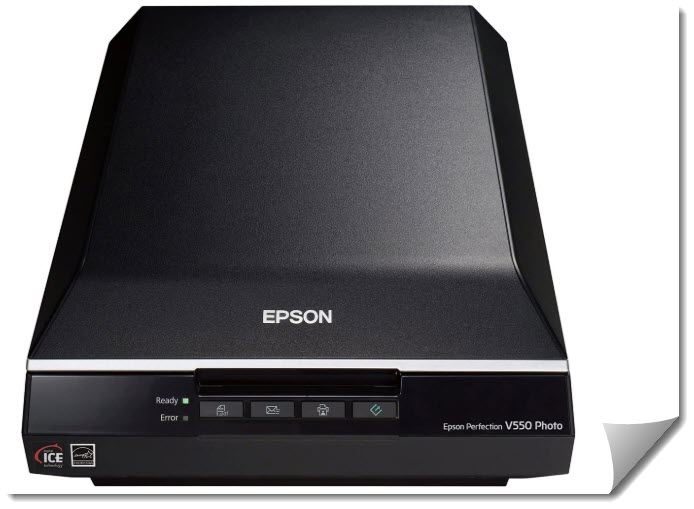 Epson V550 is best for Photo Film and as a document scanner. Read the complete specifications for Epson V550.
Optical resolution of 6400 dpi to offer the detailed and enlarged printing of 17 x 22."

Best built-in transparency unit scans for providing 35 mm negatives and slides. Also, it offers a medium format film.

It uses Easy Photo Fix that enables one-touch photo restoration.

Scans multiple pictures at a single time using its auto edge detection crops

Digital ICE technology that removes the appearance of the scratched and dust particles while scanning

Quickly converts the scanned files into the editable text with the help of ABBYY FineReader Sprint Plus OCR.

Supports Color depth of up to 48 bits

Quickly scans all old photos, auto edge detection, and thus save them in a separate file

Has LED light that consumes less energy than any other fluorescent lamp

Environment friendly because of recyclable construction
A Detailed Comparison With Specifications- Epson V600 vs V550
Both Epson V550 and V600 are flatbed scanners of Indonesia. These give HD quality results and are heavy and bulky that need a good placement. Until now, people have not been clear which one to purchase, and hence they keep making comparisons such as Epson V600 vs V550.
So here at the right place, you will get the complete specifications for both. You must know what similarities and differences these both have from each other.
Here we will be comparing specifications for both the scanners, and you should understand why they both have been listed as the best Flatbed scanners to date.
However, the most important thing is when people make comparisons while choosing the best one for them; they could not get all points to keep in point. For them, we will be listing in the best way possible we can.
Comparing both the scanners based on specifications, it will count the weight, height, width, and resolution quality. For V550, the dimensions are 11.2" x 19.1" x 4.6" with the net weight of 9.6 lbs.
However, for V600, the net specifications for dimensions include 11 x 19 x 4.6 inches with a total weight of 9 lbs. It still also counts the resolution quality, which provides for 6400 dpi for both V550 and V600.
The Major Differences Between Epson V600 and Epson V550
So, are you confused while deciding Epson V600 vs. V550? Many people have been in the same situation as you are now to be very honest. With the research on the differences between the two, you will be able to identify the right one.
If you want to find the major difference between the two in detail, read below.
Model
Epson V550
Epson V600
Software Included

The software package in the scanner kit is Epson Scan with Easy Photo Fix, Epson Easy Photo Scan, and ABBY FineReader OCR for better resolution

Software Package in Epson V600 is the same as in Epson V500, but V600 also has ArcSoft PhotoStudio. This is a fantastic option for photo editing, and hence it is important to have even if you spend some extra bucks on it.

Digital ICE Technology

Digital ICE describes all the hardware specifications for detecting dust particles, the hair on the material, and the scratches. This is an amazing technology present in V550. V550 focuses on enhancing films but not prints.

V600 is the major choice for its Digital ICE technology. The other best part for choosing this as the right scanner is that it can easily enhance films and prints. Digital ICE works more efficiently on V600 than V550.  

The Models

V550 brings up an amazing performance, along with the versatile results in the usage. People are fond of its great resolution of 6400 dpi that brings vivid results for scanning films, slides, and negatives. You can also scan different everyday documents by making the enlargements of up to 17" x 22."

Epson 600 is the first choice for scanning photos, films, slides, and other everyday documents. It has a great resolution of 6400 x 9600 dpi and brings high-end performance by scanning sharp and vivid reproductions. It can bring the result enlargements of up to 17" x 22."

The Key Specifications

You can easily adjust the resolution for old documents and files in a few minutes. The best DPI for such scans is 300 to bring efficient results for you.

 

This is the best scanner for those who want to have a low resolution for their pictures. You can easily scan photos at 300 dpi or 600 dpi with 24-bit shade.

 

 

 

 

 

If you want to scan different films and slides, you must choose between 1200 dpi or 2400 dpi. Also, go for a 48-bit color choice in it.

Being flatbed, it can easily scan the paper photographs very quickly.

 

 

 

 

 Epson V600 is the best film scanner to have better results than buying any other expensive scanner. Nothing can beat the specifications of Epson V600, and hence it is highly recommended.  Nothing can beat Epson V600 for its software specifications.

 

V600 is beneficial for scanning films and photo prints. You can easily scan with 4800 dpi, but the best, and the standard resolution is 3600 dpi.  

Accessories Included

Hi-Speed USB 2.0 Cable with an AC adapter, and a power cord

It also includes a Scanner software CD-ROM, Film Holders of about 35 mm film, and some mounted slides with a 6 x 22 cm medium format film.

Hi-Speed USB 2.0 Cable with an AC Adapter and a power cord 

It has one transparency unit with an in-built lid attached, Scanner Software CD-ROM, Film Holders of about 35 mm film with the mounted slides, and Arcsoft Photostudio. Another accessory common with V550 is a 1 x 22 cm medium format film.

Scan Quality

V550 has an outstanding scanning quality feature to deliver a high HD scanning resolution of 6400 dpi. This is enough for quick and effortless results for scanning films, documents, negatives, and other photographs along with other daily documents.

V600 also has the same scan quality. However, it also scans prints for photographs. It works very effortlessly for scanning images, negatives, films, and documents. Hence it can easily remove the damage done to pictures due to passing time.

Extras Included

Multi-marking with a multi-purpose user interface and an automatic de-skew 

It has efficient Digital ICE Technology to remove unwanted dust particles and scratches from the images. Other extras include a free LED light Sources.

It has everything as V550, and one more extra includes ReadyScan LED Technology.
Epson V600 vs V550 for Connectivity
Epson has been in the market for a long time with these two famous models for high-quality scanning. Both scanners have the same options for connectivity. However, both of them do not have wireless connectivity.
If you want to connect to this scanner, you need the proper organization of wires with your device or computer system. The manufacturers have induced connectivity through Hi-Speed.
The best part is that the scanners have shortcut buttons on them, which allow them to go with high-quality scans offering the best cloud services.
Above all, These both can quickly convert a pdf or an email. Both the scanner models can easily pose a challenge for Mac OS users as they will have to download the program for scanning.
Epson V600 vs V550:-  Advantages And Disadvantages 
Advantages Of Epson V550
The outstanding quality for scanning with Epson's best model has made it easy for the users to scan the old films and the negatives into a new form.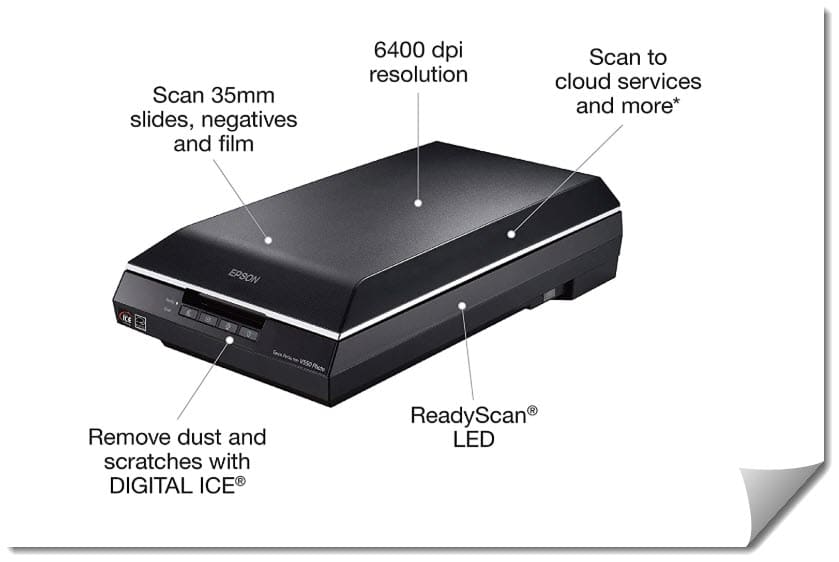 However, the users can further store these scanned pictures and restored old photos using its Digital ICE featured technology. There could be no other best alternative than using Epson for your help in restoration.
Further, this scanner can easily convert the documents into a text file that can be further edited with a new form. The scanner is eco-friendly made from recyclable material.
For the best quality scan, the best part is the conversion of old photos with Easy Photo Fix, which allows you to scan multiple photos. This scanner has done an outstanding job for the best scanning with quality colors and brightness.
Advantages Of Epson V600:-
There could be no other best option than using Epson V600 for scanning your images, prints, films, negatives, and much more. If you are planning to purchase this scanner, it is the best deal for you to have quality results.
It has done the best job of scanning the files of 35 mm. Also, it can scan more than 120 films at once. Scans done with this scanner are very excellent. The best part for this scanner is the resolution of 6400 x 9600 dpi.
It is a perfect choice for showing the capability of quality scanning with bright colors that can work on different pictures simultaneously.
You can quickly convert your pdf and emails into editable texts in a few minutes with the working of Epson V600. The quality of the scan remains the same always, no matter what it scans at a time. It can be old films, negatives, and prints.
Disadvantages Of Epson V550
You need a lot of space to assemble Epson V550. A lot of pictures put at once for scanning might turn upside down. So you need to be very careful in this matter.
It is not easy to assemble the scanner. You need to put it in a dust-free environment. If you need the best quality scan for prints, then it is not a good option to purchase Epson V550. You cannot scan photos and negatives to a good resolution. Dust particles under the glass are not easy to clean.
The scanned results might be dull and not of good resolution. These sometimes result in fuzziness. It can only work for the small-prints but not more.
Disadvantages Of Epson V600
Epson V600 will result in blurry images if you are scanning negatives. Even the previous models can do a good job for that case. There is a big rise in the problem with the software. This software cannot even work on Linux systems.
The USB hub is not there in the middle if you want a direct connection of this scanner to the computer.
Warranty and Certifications
There is a complete warranty for both the scanners of Epson. The customer will have a complete warranty for one year. Talking about certification, Epson V550 is certified from Energy Star, and Epson V600 is qualified from Energy Star and CE.
Other Basic Information
Epson V600 is around 20% more expensive than the V550. The quality of scanning is similar for both scanners. The information similarity between both of them could be regarding software.
The major difference while counting Epson V600 vs V550 is its Digital ICE for the prints and films. Digital ICE Light for Epson V550 is only good for films, but for Epson V600, it is good for both films and prints.
If the important key aspect is to get high-quality for old photos and films, then the only difference is its price. If you want only good quality from the photos, then nothing is extra than paying more money.
What Is Inside The Box of Epson V550 And Epson V600?
Epson V550
In the purchase box of Epson V550, you will find CD-ROM that has suitable software for Windows. However, the Mac version will need an additional download for the software.
Additionally, it has Start Here Poster with a transparency unit with an in-built slide – 35 mm mounted slides. Also, it has 35 mm of film holders and 6 x 22 cm medium film holders. It has a Hi-Speed USB 2.0 cable with a cord and C Power Adapter.
Epson V600
In the purchase box of Epson V600, you will find a Transparency Unit with an in-built lid. You will also get 35 mm mounted slides with 6 x 22 cm of Medium-format Film Holders.
There is one scanner Installation CD ROM with ArcSoft Photo Studio and Hi-Speed USB 2.0 Cable. There is one AC Power Adapter and a cord included in the box of purchase.
Epson V600 vs Epson VE550- Which One Wins?
Considering the entire specifications from both scanners, both have pros and cons. However, the price of the V600 is more than V550. However, the design for both the scanners is very uninspiring. These both have smooth edges with black shade.
The corners are present at the front of the top panel. Both of them are multi-functional, but the primary difference is the quality result.
But the resolution for both of them is the same. Also, the Digital ICE technology functions differently for both of them. Hence, the result shows Epson V600 is better in the matter of quality if you ignore pricing.
Final Verdict
The price range has a small difference, and even the specifications do not have much variation, these two devices are both the same. But still, if you have to choose only one, then the best option in Epson V600.
As we consider the entire detail for Epson V600 vs V550, V600 has a better ranking in three categories out of five. However, if you are onto V600, then that does not mean you will discard considering V550 ever again.
Epson V550 is a capable scanner to provide the best possible results. When you are taking everything into your mind, you need to dictate every specification and even your budget to purchase one. Hence both are a great option to have good quality results for scanning photos and films.