If you have been looking for better options for taking notes other than Evernote, we can help you. Hundreds of Evernote Alternatives are free and a lot better.
Evernote is known to be one of the best tools for taking notes, managing tasks, and a lot more using just a single application.
Everything had been working well collectively, but the company made some changes, and now this tool is no longer available for free. There are multiple plans for individuals and the team, and you must pay a small amount to use them.
Also, the company lost some important team members in 2018, which caused a huge blow to the market. No one knows what the future holds for this application, so before the stakes are high, you need to get something that can be a good replacement for this as early as possible.
So, we gathered a list of all the tools similar to Evernote and listed them here so that you can enjoy taking notes for free.
All of them serve as the best Evernote Alternative, and you can switch and continue to manage tasks hassle-free.
Best Evernote Alternatives – Our Top Pick 👌
1. Microsoft One Note – Best Free Evernote Alternative
Microsoft OneNote is our pick for the best Evernote Alternative, not because of the brand name but also the incredible features available for every user.
If you have been looking for a good tool to help you manage your tasks and multimedia pinboard, this is the one you can go for. 
Another excellent part about this application is that it is platform-independent; you can download it on your Android, iOS, Windows smartphone, or any other OS.
Microsoft One note allows you to easily organize using the Work Notebook, where all your notes can be entered easily.
With multiple sections and pages, you can keep track of everything. Using the exclusive tools, you can type, highlight, or even draw on your device to revise your notes.
Adding online video, images, URLs, and audio files are among the attachments you can make. some noticeable extension you can also use is the One Note Web Clipper, where you can easily save all your content with just a single click.
Unlike Evernote, you can use stylus pens and draw notes for better accessibility.
Pros:-
Free application

Sync and share notes easily

Use Stylus to annotate notes

Perfect for organizing lesson plans

Compatible with almost every device
Cons:-
No private encryption
A Beginners Guide to Microsoft OneNote for Windows 10
2. Simple Note
SimplyNote is yet another powerful tool and the perfect alternative available for free. It can be downloaded easily on any platform, such as Android, Windows, iOS, Mac, iPad, etc.
While on One Note, users only get storage of 5GB; here, you need not worry about anything. The storage capacity here is unlimited and does not charge a penny.
The site is very clean and easy to use. If you are familiar with WordPress, you can figure out that it is built on the same platform.
On the other hand, it is only available to take notes in the form of text. Here you may be unable to attach images, web pages, or other URLs.
Simplenote: Note-taking Web/Mobile App | Review
Some of the significant features that make it worthwhile are all your notes and data automatically sync to all the devices your profile is connected with.
You need not press any save button or anything for that. Also, searching for notes is easy using simple tags. It also has the option of sharing work online or with other people.
Pros:-
Free backups, syncing, and sharing

Desktop and Mobile apps for easier access

Publish a post in Markdown format

Sharing and syncing work easily
Cons:-
No drawing tools

Media attachments are not possible
3. Notion
The notion is the one to go for when we speak of the best alternatives that have everything and more.
It is known to be an all-in-one workspace that provides users with the process of taking notes, managing projects and documents, third-party integration, and much more. 
This tool is free for everyone with all the above features, but some of the distinguishing features are available for those who pay.
The best part of this tool is that it is very easy to use. No complications and lags, just simple navigation and features.
It has tons of templates to choose from, making your pages look unique each time over 30+ media options that you can integrate into your notes, replacing Google Docs and Evernote.
Like Evernote, the web clipper tool can easily help you save offline web pages. It supports Windows, macOS, iOS, Android, and the Web.
These are only some of the highlights of these tools, while it has much more to offer.
Pros:-
Easy to import data from other applications

Multiple templates available

For team and individuals

Flexible content storage and management

Easy to use
Cons:-
The Markdown format is missing

No browser extension
4. Google Keep
Google Keep is a rather simple and clean tool for every user not looking for something too complicated. A simple note-taking tool to organize your grocery list or To-do tasks daily.
This tool is fast and super easy to use, with functions similar to Evernote applications for taking notes. Since it is a Google product, you need to sync your data with your Gmail account.
All your data will be stored on Google Drive, which is much easier to access. On the other hand, you can share your notes with only one person at a time.
It is a great tool for individuals but not for teams. Also, it has some features that make it worthy enough to be a part of this list.
You can easily set up reminders on your device, attach images, and even speak to Google Assistant to make notes.
Moreover, you can also set up a location-based reminder if you have made a list of groceries you need to buy. Furthermore, it is available for Android, iOS, Chrome Browser Plug-in, and a Web app.
Pros:-
Simple and easy to use

Locations based reminder

Free of cost

Add hand-written notes and images
Cons:-
Not the best tool for teams
6 Powerful Google Keep Add-ons (And Two Hidden Features)
5. Cinta Note
CintaNotes is an alternative only for Windows users. Currently, no other platform can get access to this. This could be a great tool for all Windows users to consider in your list.
It is a note-taking app available in both installer and portable versions. You can save your files on the cloud and use this tool offline and online.
Some of the features worth noticing are the Text clipping, where you can easily capture any text on any webpage, highlight it and paste it on the Cinta Note.
There are also multiple options to search in the notes; It can either be directly from the search section or filter out the data as needed.
All your notes and data are always synced to your device, which you can access or backup as needed. You can also create multiple notebooks to organize the pages and attach files such as images, URLs, audio, etc.
Pros:-
Lightweight and clean

Text clipper and Hotkeys are excellent

Available both online and offline

Portable and easy to use
Cons:-
Only for Windows

Limited synchronization
6. NoteJoy
If you are looking for an alternative that is perfect for team collaboration, NoteJoy is the one to go for.
It is an excellent tool for note-taking and sharing with your team members. This could be the best alternative if you have trouble sharing your documents with Evernote.
NoteJoy provides a personal library to save all your notes and files and access them anytime.
At the same time, the app has a sharing library where you can save the notes and give your team members access to read. Also, you can use the clip & share feature to share any webpage with others.
This tool is very safe to use. All the notes are secured using end-to-end encryption along with two-factor authentication to go for. It is free, but you can also try the paid versions for more features.
Pros:-
Third-party integrations with other apps

Customization and themes

Great security

Powerful and easy to use
Cons:-
Difficult to manage multiple notebooks
7. DropBox Paper
Dropbox Paper is not far behind when we speak about the best Alternative. It is a free tool provided by Dropbox, one of the biggest names when storing large amounts of data on the cloud.
It is more of a collaboration app that provides you with every little feature, including note-making, sharing, integrating, editing, and many other features.
This tool is much more organized than Evernote and supports text formatting, where the menu option will be directly available as soon as you highlight the text.
It has 100 templates to help you plan your day or work. You can use this tool professionally for marketing, IT, HR, Sales, etc.
If you have already been using DropBox, you can easily save files on the cloud and open them on Dropbox paper when needed. The UI is pretty straightforward, and there are no signs of difficulty navigating the place.
Pros:-
Integrated with Dropbox storage

Ability to export to docs and pdf 

Available on all platforms

Provides Markdown editor
Cons:-
No merge option

Absence of a spell checker
8. Elephant – secure Evernote alternative
Elephant is a basic and light note-taking platform with a classic interface. Only selected features are added to the site such that the site isn't overloaded and creates unnecessary lags.
This free software is available on Mac, Windows, and Linux platforms. It is an open-source application available on GitHub and has scope for improvement in the future.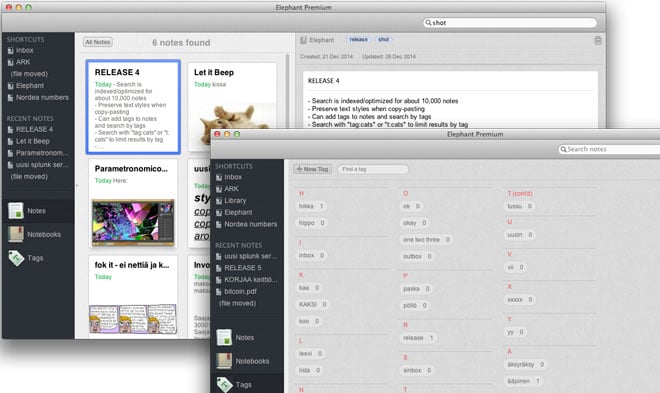 You can easily save all your notes and docs locally to keep the data private and secure. Moreover, if there are options for integrating other applications, you can save the files on the cloud.
Unlike some of the tools we have seen above, this is Markdown supported, which is great for formatting files in HTML. 
This tool is fresh and works perfectly for all who are just starting up: no complications, no lags, or anything, simple understanding and usage.
Some users may have reported issues while using it for the Linux operating system. Otherwise, the website provides all the details needed to get started.
Pros:-
Highly compatible

Open-source tool

Clean and fresh interface

Free platform
Cons:-
No mobile application

Not a lot of features are provided
9. Laverna
We have another open-source platform named Laverna with source code available on GitHub. Currently, the tool is available for macOS, Linux, Windows, and Self-hosted platforms.
The coders have released that the Android version will be available soon for all users, and its beta version can be found on GitHub.
The site is robust and very simple to understand and use. With the Markdown format, writing and editing documents faster than you would generally be working on becomes very simple.
If you have a lot of work that needs attention, you can switch on the distraction mode from the app to focus on note-taking.
There are multiple ways to keep documents safe and private. You can sync the files onto your Dropbox account or remote storage, accessed from any device.
On the other hand, to keep the files secure, encryption can keep them private just for you.
Pros:-
Excellent built-in searching

Cross-Platform supports Linux

Encrypts your data by default

Easy to use and free
Cons:-
Can only sync data to Dropbox

No Mobile App yet
10. Zoho Notebook
You might have heard of Zoho at least once if you are a professional or just anyone. Similarly, Zoho Notebook is a part of the Zoho network and one of the best and most reliable note-taking apps for all platforms, such as Android, iOS, macOS, Windows, and Linux.
You can use it as a Web App as well very easily.
Using Zoho Notebook has never been easier. It provides your smartphone to be the ability to use unique gestures to manage the notebook and the notes. The process of customizing and organizing the notes is both interesting and useful.
You can remove those themes or covers from the list and assign different colors to the notes. Moreover, if you group the cards, they act as a magnet and connect themselves.
It has a unique way of protecting the notes by adding fingerprint or touch ID encryption. Zia is an AI-powered virtual assistant introduced by Zoho to help you add your voice notes or help you save notebooks, search for notes, set reminders, and much more.
Pros:-
Reliable and robust

Supports multiple platforms

Uses AI-powered voice assistant for tasks

Secures notes & notebooks through Touch ID.

Easy to customize the notebooks
Cons:-
Lags sometimes due to server
11. Bear
Bear is a multipurpose and useful writing application for taking notes and prose. This is specially designed for all apple users and is available on the iPad, iPhone, and Mac.
You can directly open your app store, type in the application name, and download it on your device. It has multiple features and options to work on, but you can use the app to mention your to-do list and tick off the task completed to keep track.
To protect your notes, you can activate the Touch ID so that only you can access it. Furthermore, use hashtags to organize the content as per your needs.
Bear has many themes, typography, and Dark Mode, unlike other tools, making the content even more unique and colorful.
Once you are done with the notes, you can convert them to PDF and Word docs and export them easily. Also, you can sync all the data on iCloud to access the content from any Apple device.
The app is free, but only the standard version, while the pro version would ask you for a small amount to be paid monthly. It has many more features to make it the best Evernote Alternative.
Pros:-
Amazing tag system to organize notes

Plenty of attractive themes are available

Clean and Simple to use

Exporting system easy and useful

Markdown capability
Cons:-
Only Apple users

Can only sync with iCloud
12. INKredible
INKredible is a unique and interesting approach to taking notes and creating content for every user.
This is specially designed for every fanatic who loves to write with a stylus or a pen on their device, such as an iPad, which is more than just a note-taking app. 
It is available on both iOS and Android platforms. As of now, there aren't any desktop apps available. Furthermore, it uses vector-graphics texture technology that renders inking using the stylus pen on the screen. 
The app focuses more on handwriting and detects the palm automatically. Minimalistic UI and features focus more on each user's handwriting, making notes appear unique for every user. The site is undoubtedly free and easy to use and understand.
Pros
Supports easy-to-export format

Easily scale the pages

Multiple handwriting tools are available

User-friendly interface
Cons
It does not support Windows or desktop app
13. WriteApp
WriteApp is an exclusive application for Mac users to take notes. It is a clean, beautiful, and distraction-free application. This app has everything you would find on EverNote and even more.
Plus, all the features and specifications are free of cost for a lifetime. You can easily sync all your notes on the cloud, i.e., iCloud, Dropbox, Box.net, and Google Drive; this will help you easily access the content.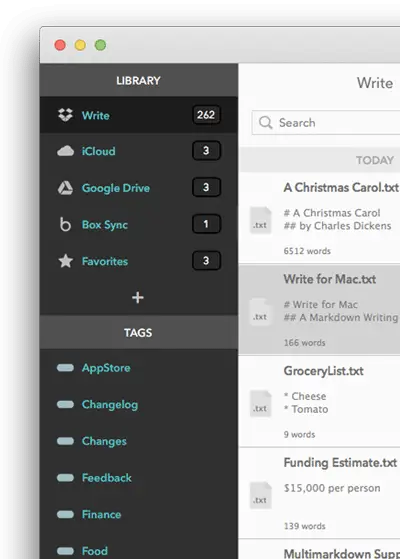 Once you start writing all the options, fade out to keep you focused. Moreover, using the Markdown format, all the words are automatically highlighted according to the syntax.
You can get access to 8 different fonts making your content unique each time. There are three writing modes, i.e., hybrid mode with syntax highlighting and rich MD mode, which will hide all Markdown syntax. 
For the sharing and export options, this app supports Multimarkdown 4 supports customizable CSS, and you can easily share the notes on Facebook, Twitter, iMessage, and AirDrop. It is also available on the iPad and iPhone as well.
Pros:-
User-friendly application for Apple users

Distraction-free writing

Add images and links easily

Easy and fast organization

Multiple writing modes
Cons:-
It cannot be used for Windows, Android, or Linux
14. ClickUp
ClickUp is an all-in-one productivity tool for small to large teams across different industries. It offers hundreds of customizable features to cater to your workflow, improve team collaboration, and boost work efficiency.
Its Free Forever Plan offers an extensive list of features for note-taking and documentation—for free, making it a great Evernote alternative. Keep track of everything with Notepad, Docs, reminders, tasks, checklists, and much more.
Use the Notepad in ClickUp to quickly jot down notes, format with rich editing, and transform entries into trackable tasks that you can access from anywhere, and Docs to create detailed wikis, knowledge bases, and more.
Rich text editing makes it easy to add links, headers, checklists, code, or different fonts to your notes. In contrast, collaborative editing allows teams to work together in real-time without overlap.
Even with all its features, ClickUp is easy to use and has a pleasing appearance.
ClickUp also comes with a mobile app that allows you to access Docs on your phone and take notes wherever you go.
It is flexible, powerful, and easy to use, making it one of the best alternatives on this list.
Pros:-
Fully customizable platform
Share and organize notes easily
Great for real-time collaboration
Free and affordable pricing plans
24/7 customer support
Cons:-
The plugin extension is only available on Chrome
Evernote alternative with OCR:-
Evernote's competitors that support optical character recognition (OCR) range widely. Microsoft OneNote, Bear, and Google Keep are a few of these.
A program for taking notes and organizing your life called Microsoft OneNote is free to use on many different operating systems, including Windows, Mac, iOS, and Android. You can search for text in scanned documents and photographs thanks to its OCR features.
An app for taking notes and organizing your life called Google Keep is free to download for iOS and Android. You may search for text inside photos and scanned documents using its OCR capabilities.
With OCR capabilities for scanned documents and images, Bear is a note-taking app for iOS and Mac. Although certain features cost a subscription, it is free to download.
📗 FAQ
Is there anything better than Evernote?
Yes, there are multiple Evernote alternatives available on the web. The best one you can find is Microsoft OneNote which is a lot more efficient and has many features available for everyone.
Does Google have something similar to Evernote?
Google Note is the best alternative you can find, similar to Evernote. You can take notes and use them to draw, type, add photos, and other incredible features.
Is Evernote still the best?
It isn't the best one on the internet. The free features are very limited, and you will have to spend significant money to access them. Furthermore, the system tends to slow down for prolonged use if you are a Mac user.
Why is Evernote no longer available on the Amazon Appstore?
Evernote announced the discontinuation of its app on the Amazon app store on June 23, 2021.
However, if you already have the app installed on these devices, you can continue to do so until the system is updated next. Furthermore, Evernote is looking to focus on major systems such as Mac, Windows, etc.
Is Evernote free?
Yes, Evernote offers a free, free plan for everyone. It has a limited set of features you can try before buying a paid subscription.
Why is Evernote so popular?
Evernote offers a wide range of extensive features. Not only can you take notes, but it also specializes in offering a Search syntax, making it easier to look for everything on the application.
Furthermore, the best part is the ability to integrate with different third-party applications very easily.
Why should you not use Evernote?
Since the usefulness of Evernote varies on each person's needs and preferences, there is no universally applicable response to this query.
Evernote is a good tool for some people to organize their ideas, notes, and other information, but it may not be as helpful to others.
Final Words
Well, these are the best 13 Evernote Alternatives. Many more apps are available that could be perfect for you but might not work out for the best in the long run.
We have tested the ones given above and have been incredible in using them on our devices. Moreover, other users have loved them, considering that most are free to use.
Some of the tools listed above have a paid version too, which you can opt for after trying the free version. It will help you decide and make a better choice. We have also listed some platform-specific tools that could be much better than the others since it is largely dedicated to that specific device.
For more details, you can always visit the official site to learn more about the tools and applications. Tons of other features may help you choose the one for your device. Or leave a comment below, and we will love to assist you and solve your queries.