Need a laptop for better accessibility but don't want to let go of the high-end gaming feel of a desktop either? That's a difficult choice to make.
After all, high-quality graphics are important for the best user experience. You must stay ahead of your gaming competitors, especially regarding that critical shot that will make or break the game.
But don't worry because we now have external graphics cards for laptops, ensuring you don't miss your gaming experience in this era of ever-changing technology.
An extra graphic processing unit, also known as an eGPU, is a new but popular concept that can turn laptops into gaming machines with the help of external support given by the graphics card.
An eGPU is important for people looking for a top-of-the-line visual experience with their existing hardware. These external cards are not just made for gamers but also for people seeking out high-end graphic experience for any application.
Here are the ten recommended external graphics cards for laptop:
Best External Graphics Cards For Laptop 👌👌
1.

Sonnet eGFX Breakaway Box 650:

Best Overall
Sonnet's eGFX Breakaway Box is perfect for intensive gaming with high bandwidth external graphics cards for laptops.
With its PCIe card expansion solution, a Thunderbolt is designed specifically for bandwidth-intensive graphic video cards.
The model is designed to help those looking to game on their laptop but want a desktop's feel.
Thunderbolt 3 is a big improvement from its older versions. With up to 2750 MB/s available bandwidth, the Breakaway Box exploits its 40Gbps Thunderbolt 3 interface to offer the best-possible eGFX experience.
One of the salient features of this model is that it is compatible with most of the common laptop brands in terms of gaming. With such an option, you can easily enjoy the best gaming experience.
The eGFX Breakaway Box is powered by a dedicated fan that is temperature-controlled, is quiet, and keeps the card cool even during intense sessions. This feature makes it the perfect companion for noise-sensitive work environments.
It is completely silent when not under load. The power supply is user-upgradable if you need more power down the road. Cooling is an essential part while gaming. Thus, this model comes with an impressive fan assembly.
The Box is powered by liquid cooling support, which addresses the heating problem if the fan is insufficient in extreme conditions. This feature is necessary for gamers with high usage.
Pros:-
High data transfer speeds

It comes with impressive cooling options

Faster installation

The most silent system you will ever use

Works well with Mac
Cons:-
Only three ports are available

Stability issues sometimes.
2. ASUS ROG-XG-Station-2 Thunderbolt 3 External Graphics Dock
If you are a heavy gamer, go for the beast Asus ROG-XG-Station-2 if your existing machine supports it. This is one of the best external graphics cards for a laptop with enough ports to plug in a substantial gaming station.
You will surely love this product from ASUS, especially for its aesthetics. All the sides of the ROG XG Station 2 have a funky design, giving it a wild look.
The ASUS ROG XG Station 2 is also very easy to open. You have to slide the top right button, and the box opens. Now you have to insert the card, close the box, and you're all set.
Another thing to note here is that the box is quite airy. The red Tesla coil in front lights up instantly, while the interior red backlighting gives it an intense feeling, which amplifies the overall aesthetics.
When it comes to performance, I would say it is really good, even though the Thunderbolt 3 capacity of this model is somewhat disappointing.
However, the performance is not as affected by it as one would expect. It is supported by three fans for cooling, ensuring your machine is never heated up.
Pros:-
It is very spacious.

It has a very impressive build which gives power to the product

Top aesthetics with pulsating red light. 

It comes packed with a better power supply

 

Five ports for connectivity

external graphics card for laptop gaming
Cons:-
Issue of connectivity with many laptops.

I am having multiple hardware issues.
3. Akitio Node – Thunderbolt3 eGPU for Windows
The Thunderbolt 3 eGFX box is one of the cheaper models of external graphics cards for laptops. True to its reputation, connecting this to a Thunderbolt 3 port will instantly convert your laptop to a gaming zone.
It has a game-changing power supply unit of up to 400 watts. With such high power, you can choose any graphics card according to your needs.
As a Marvel fan, I loved that the logo was embellished on the front. But one problem many users will face with this model is the space it demands, being one of the longest models in the market right now.
Again, this, too, is easily compatible with any USB ports and the Thunderbolt 3.
However, if you compare the performance, it runs quite smoothly. Have the latest graphics cards compatible with this one, and you're good to go. The Node also has a speed range of up to 40 GBPS.
Pros:-
Easy to carry thanks to the handle which is provided.

Removable back panel for wider cards.

400-watt power units.

 

Impressive PSU.

Compatible with a wide variety of graphics cards.
Cons:-
Bulky in size.

Difficulty in the installation part.
4. Alienware Graphics Amplifier
Alienware is known for having a top of line gaming hardware. This model has a dedicated slot for top external graphics cards for laptops.
The slot size is big and can easily take any graphics card. 
The Amplifier has an internal power supply of up to 460 watts that can easily run any latest graphics card. This combination runs Monster Hunter World at 1440p with DLSS on at 80 frames per second which is the best model.
It has a color-changing feature that synchronizes with the game. The graphic card also has a customize-your-lighting theme which can be done under the Alienware command center.
It is said that the Gigabyte 1080ti Gaming OC fans are loud but trust me, the fan is inaudible unless you are sitting in a very silent place, and even then, I would not call it loud at all. The Amplifier is extremely future-ready.
It has an added advantage over competitors by being compatible with PCI-Express x16 graphics cards and having four USB ports for extra ease.
The manufacturer also made breathing easier for the amplifier by providing more vents for proper ventilation, which helps in better performance.
Pros:-
It is affordable

Compatible with many graphics cards

Strong build

Four ports for connectivity

Extra vents provided.

External graphics card for all-in-one pc
Cons:-
Compatible only with Alienware gaming laptops.

Some sound in a silent area.
5. HP Omen Accelerator Shell GA1-1000
The brand of HP is enough to tell you that this will be one of the best models, opening up the option to work with any of the latest external graphics cards for laptops.
The HP Omen Accelerator will take your laptop into a different gaming zone altogether.
The design somewhat mirrors its previous versions. The large door supporting the model allows the user to insert the graphics card easily. The vent in the back of the Accelerator gives you the flexibility of four ports, a secure lock slot, and a power port.
Installing Omen is as easy as it gets. I would also give a thumbs up to the power supply. The best part about this accelerator is that it provides hard drive expansion possibilities, for you to add more storage whenever needed.
The software can adjust the graphics card to your needs, also letting you switch from the laptop GPU to the external one without glitches. Being an accelerator, the lag is handled and boosts the game.
The HP Omen Accelerator is an amazing choice for users looking to enjoy their laptops as gaming beasts.
Pros:-
It is very spacious.

It has a very impressive design.

Installation is very easy.

Comes packed with multiple ports.

Great stand for stability

external graphics card for laptop – hp
Cons:-
Power supply issues

Super heavy
Omen Accelerator Hands-On - $250 Graphics Enclosure
6. Gigabyte AORUS Gaming Box GTX 1070 Graphic Card 
This external Graphic card comes from Gigabyte, a company that has been around long enough to be respected for its awesome user experience.
The manufacturer has now made the gaming box compatible with the GeForce FTX 1070 graphics card and the other external graphics cards for laptops available in the market, which boosts your gaming constantly.
AORUS usually has a very understated design. On the back, you will find the input-output ports, which consist of AC power in 4 USB 3 ports out of which one supports quick charge 3.0, thunderbolt 3, and various display outputs.
The attractive LED lights are placed to interest you in purchasing this card. Another feature of this card is its customization with its LED lights.
Setting up the card and using the Gaming Box is extremely easy. There is no hassle with powering it up as you can plug and play the gaming machine without switching to external graphics in the settings.
This gaming box juices up your laptop when connected. With this device, whenever you run a game, the graphics are automatically switched to an external GTX 1070 and switched back to internal graphics for day-to-day usage.
To get the best experience possible, you can even plug in an external monitor, thus giving you an acute advantage in terms of performance.
Overall, In terms of performance, this card will tear through anything you can throw at it and not break a sweat.
Keep your machine cool enough and your drivers updated; you don't need to worry about lags and throttling issues.
Pros:-
Impressive performance.

Setting up is easy.

The power

 supply is awesome.

 

Comes packed with multiple ports.

No noise and no heating.
Cons:-
Issues while working on Mac.

Warranty issues.
7. Asus XG Station Pro
To improve its previous versions, Asus completely redesigned its newest XG Station Pro model. Unlike its elder sibling, the XG Station Pro is subdued in its design.
Even though it is not very roomy, it can still fit any external graphics cards for laptops on the market.
Unlike its earlier version's unusual design and multiple lighting zones, the ASUS XG Station Pro sports a more clean-cut, purposeful look.
In place of the complex patterns and aggressive angles, we have a sleek aluminum chassis bound to be anodized in space to pair well with the MacBook Pro.
The Station Pro is more usable for professional purposes rather than strict gaming. ASUS in partnership with InWin has developed a decent enclosure and cooling provisions, somewhat reminiscent of InWin products. The fans are not very noisy. You won't even hear them in a normal environment.
The inner cage is made of sheet metal, which gives a solid feel to the touch. You can find the brand information on the right panel, with the logo on the front.
The connectivity options are quite simple, with just one extra USB 3.1 Gen2 port apart from the usual Thunderbolt 3 port.
What impressed me in this model are the design and the incredibly lightweight. It is surely one of the lightest options without even compromising on space.
Pros:-
Sleek design and look.

Impressive cooling fan by InWin.

Great-looking aluminum chassis

Light-weighted.

Portable.
Cons:-
The massive

 external power brick 

Less several ports for connectivity.
8. Razer Core X Chroma External Graphics Card
Every gamer is likely already familiar with Razer, a company known for its great gaming products. The Razer Core X Chroma is the ultimate laptop accessory that considerably boosts your everyday laptop.
Its exterior design is smooth. Its sizable interior can fit in even the biggest of external graphics cards for laptop, which is beneficial if you prefer a bulkier model.
The Chroma gives you an impressive power supply of nearly 700 watts. It also has an Ethernet jack for high download speeds and to reduce lags that may occur while gaming over Wi-Fi.
The Core X Chroma is also fitted with LED lights. Its Synapse software can sync the lighting effects with other devices if needed. I admit to having used it – it does give a cool feel.
The Razer Core X can easily support all the in-house laptops, but it also works well with any Thunderbolt 3-equipped laptop with external graphics cards. The only issue is that it only has a single Thunderbolt 3 port, and there are no extra ports I could find.
The Razer Core X is a very practical external graphics card enclosure, mainly because it is compatible with any number of graphics cards and is not expensive for most products in its range.
Sadly, it has no USB hub, but if you only need a case to hold a full-sized graphics card you do not intend to move from your desk, the Razer Core X would surely be a good purchase.
Pros:-
Impressive performance.

Compatible with a wide variety of GPUs.

A 700W power supply.

Multi-Color LEDs.

 

Spacious interior.

external graphics card for desktop
Cons:-
Lack of Thunderbolt 3.

It has no USB hub.
9. PowerColor Devil Box
When it comes to powerful external graphics cards for laptop gaming, PowerColor Devil Box is the one that should be looked for.
PowerColor Devil Box is compatible with any Windows-based laptop or Mac that can use a Thunderbolt 3 port with external graphics.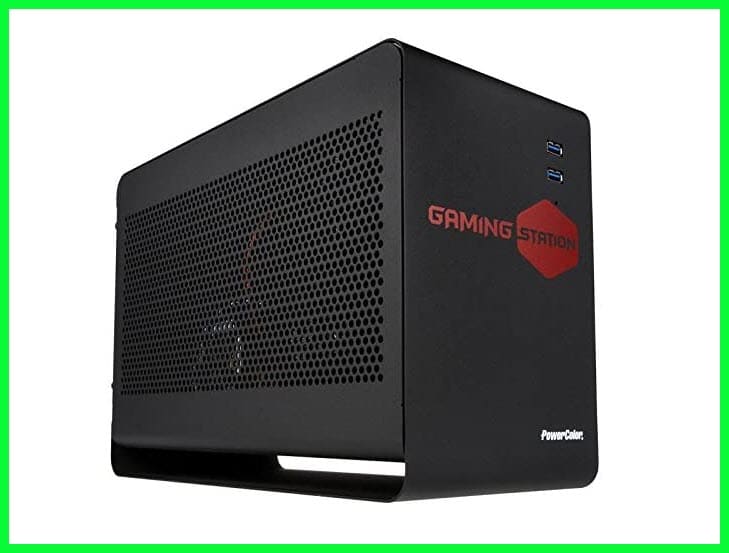 Its stylish design contains much of the aesthetic, which can synchronize with gaming laptops. It also houses a single USB-A port on the front with provisions for a two-slot wide video card and a 2.5-inch drive inside. The case is large in size and heavy in weight.
The left side has an open mesh section for air to flow, while a panel with the white PowerColor logo is on the opposite side.
We have three more USB 3.0 Type-A ports on the back, a Gigabit Ethernet port, a USB 3.1 generation 1 type-C port, and the Thunderbolt 3 input.
The 500-watt power supply is enough to support any mid-range video card. The Thunderbolt interface can also charge laptops with a 60w or lower power brick.
The Devil series is one of the top brands from the PowerColor family, with unique designs and super air cooling. Regarding gaming performance, the product is limitless if you use a discrete card with less than 375W TDP.
This gives gamers lots of flexibility as newer cards in the market fall in this range.
Pros:-
Impressive performance.

USB 3.0 functionality.

Ease of use

Robust build

The designs are great in looks
Cons:-
 

Heavyweight

Large in size
10. Mantiz Venus MZ-02 eGPU
Many people who are looking for a gaming model have the option to go for Mantiz Venus. It is very easy to set up as you can insert the graphics card into a position without a struggle.
The full aluminum anodizing case is one of the salient features of this model. This means that it has a strong build. The Mantiz Venus has an unprecedented 5 USB 3.0 ports, an Ethernet port, and a SATA connection.
It makes Venus feel more pliable compared to regular eGPU with nonexistent ports. To add to the benefits, a Thunderbolt 3-enabled board also features a single 16x PCIe slot inside.
The Mantiz Venus, too, is equipped with an impressive power supply option, which tells me that most products are now seriously considering the power angle. The 550W power supply can run any external graphics card for laptops available.
To keep things cool, Venus has two fans so that heat is never a bother. However, the case fan is somewhat noisy, especially when pushing the graphics card inside.
The setup procedure for a Mac might be somewhat confusing, so check out the process from the website beforehand. It's not as hard as it seems, though.
The performance with the Windows laptops is great, but there are some issues with Mac.
Pros:-
Easy to set up

Numerous ports for hassle-free connectivity

Ease of use

Robust build and Sturdy

Compatible with most graphics cards
Cons:-
Not working fine with MacBook

Fan is noisy
Let us know if this was helpful to you. Here are a few FAQs to clear any other doubts you may have:
Frequently Asked Questions
(Q) What is an external GPU?
An extra graphic processing unit, also known as an eGPU, is a new but popular concept that can turn laptops into gaming machines with the help of external support given by the graphics card.
These external cards are not just made for gamers but also for people seeking out high-end graphic experience for any application.
(Q) What is a graphics card enclosure?
It is a box that houses a separate graphics card, which improves the graphics performance for gaming/CAD applications of laptops when connected to an ultraportable laptop.
The core allows you to use any aftermarket graphics card, which you can always replace with a better one that comes in the market.
(Q) Is my laptop eGPU compatible?
Most eGPU docks require a laptop with a Thunderbolt 3 port to connect to the external graphics dock.
However, If you don't have a Thunderbolt 3 connection, it's probably time for an upgrade as far as the current graphics card market stands.
In the current market, most eGPUs are using Thunderbolt as an industry standard. It is widely considered the best available in the market, with a speed of up to 40 Gbps.
(Q) External vs Internal GPU. Which is better?
Of course, an internal GPU will give you better performance than an external one just because it is made that way. So if you have the option of a desktop with a GPU already mounted, go for it.
For the ones who want the ease and advantages of a laptop yet do not want to let go of the pleasure of high-performance gaming, an eGPU is the ultimate savior.
Considering the high-end graphic features that current graphic cards are coming up with, you can be sure that an eGPU will not be a losing bargain.
(Q) How to set up an eGPU?
It will depend on your specifications, but in general, what you need to set up an eGPU in your laptop are:
 

Display monitor, power supply

Thunderbolt 3 cord and connection

 

Video graphics card
Conclusion
Here we have reviewed the best external graphics cards for laptops. While some other eGPUs available might suit a user's specific needs, these are the ones you should look at if you're new to gaming on laptops, as they cover mostly all needs and are compatible with almost every laptop.
We have comprehensively laid down all the pros and cons of each product from our experience. Look at each product, compare and research what laptop you are using, and then make an informed decision.