Stardock Fences can assist you in managing the mess on your desktop. Stardock Fences is a paid application that enables you to manage and organize your desktop applications and shortcuts in a neat, neat way to make browsing through the different applications easier.
With the increase in computer usage, people tend to add more and more files and folders to their desktops, which requires organization.
Organizing the files, links, folders, and other items on our desktops can facilitate faster data navigation and general life improvement.
Stardock Fences helps you to do this. It cleans out your desktop and transfers all files into containers, where they are arranged properly.
This helps to eliminate the jumble of icons on your desktops and automatically organizes them into set workspaces, or "fences." These can have their themes, colors, sizes, and names changed.
Furthermore, you can add, relocate, remove, and manage the various contents inside the fences.
For those working on time-sensitive projects which don't want to take the time to organize their desktops, the Stardock application is a lifesaver.
Unfortunately, the application is fee-based, which is a huge drawback. It does provide a 30-day free trial period, but only after you input your payment details.
Many Fences alternatives do the same job with a few tweaks. Some of them are given below. 
Best Fences Alternatives – Our Top Pick👌👌
1. Real Desktop – Fences alternatives To Turn your desktop into a real 3D desktop
The final version of Real Desktop (Download Here) was introduced on Jan 15th, 2013, enabling you to play with your desktop icons if necessary.
When the application is launched, your desktop becomes a vast room, and the icons become tiles. Gripping the icon by the edge allows you to send unwanted desktop icons to the Recycle Bin.
Striking the remaining icons with the other icons will cause them to move around. A group of icons can be chosen by mouse dragging them together. 
You can organize the room by seeing it from various angles because it is in 3D. Finally, you have a variety of desk designs to pick from wood, plastic, glass, and many more.
This software offers a one-hour trial period. You must pay a fee of USD 6.58 to access all the services.
2. Nimi Places – Fences alternatives To organize desktop into customizable containers
Nimi Places is another free program that helps you easily navigate your computer's directories.
Additionally, it creates desktop walls to categorize it categorically. Icons can be moved inside and outside these fences, and you can change their designs and placements. 
It also has a fence where all the shortcuts to your key files are kept. This makes it easier for users to navigate across various folders swiftly.
Fast note-taking, Image thumbnails, video thumbnails, Image viewer, PSD thumbnails, image cropping, Internet shortcut thumbnails, and directory thumbnails are some of its many features.
You can also customize the appearance and size of the containers.
You can change the interface language with the help of custom translations, and the application can auto-update.
3. DesktopShelves – Fences alternatives To organizing files on shelves
DesktopShelves (Download Here) is an excellent choice for Fences alternatives. Directly from the Finder context menu, you can open any folder as a shelf.
Your files are stored on shelves in order. A screenshot of the files linked to that specific shelf is also shown. There is a limit on how many files can be organized on a single shelf.
You can also download additional themes if you are tired of the same original one. 
Additionally, you may drag and drop information onto a shelf after choosing it in a browser. On its own, it generates a file.
It works great with text snippets too. You can Right-click and drag a file away from a shelf to paste its text contents.
Mac users can use this app for their needs. After the 14-day trial period, you can upgrade to the full version for USD 14.99.
4. xLaunchpad – Fences alternatives To Create a fantastic desktop
Another free program to help you organize your desktop shortcuts, files, and folders are xLaunchpad. It does not specifically give you containers and fences. Your desktop is taken over and sorted by it.
Additionally, it separates specific file types or items into categories for easy control, such as distinct setting shortcuts. Naturally, everything is adaptable.
The two dots at the bottom indicate switching between the various screens, like on a tablet or a mobile phone. You can also enlarge the groupings to access what's inside them easily.
You can also open its settings window by clicking on the icon in the Notification Tray, which provides you with many customization options and other settings via different tabs.
5. RocketDock – Fences alternatives drag-n-drop dock for Windows
RocketDock (Download Here) is a simple but effective application that offers its clients fast access and system navigation.
By merely hovering the mouse over it, it forms a bar on the side of the screen that is simple to access.
Because it may be concealed and only made visible when necessary, it is always accessible and does not take up any screen space.
It has basic drag-and-drop capabilities and can be configured to align on any screen edge. Only the middle of the sides may be reached, though.
Although there are fences or groups of icons and shortcuts, the utility does offer quick access to its customers.
However, it is the best option for those who want a little screen overlay and accelerated navigation through shortcuts.
6. SideSlide – Portable fences alternatives
Although SideSlide doesn't offer the same fence system as other apps, it does offer shortcuts for rapid navigation and containers.
The feature that sets it apart is its integrated Simple Syndication (RSS), which enables readers to access the most recent blogs and news in one location.
Articles from the news are shown in an IE frame. You can view news items in their proper format, with photographs and other media.
If a folded container isn't completely visible when unfolded, the toolbar buttons will "flip" (move to the bottom), which is the same as seen with shrunken containers.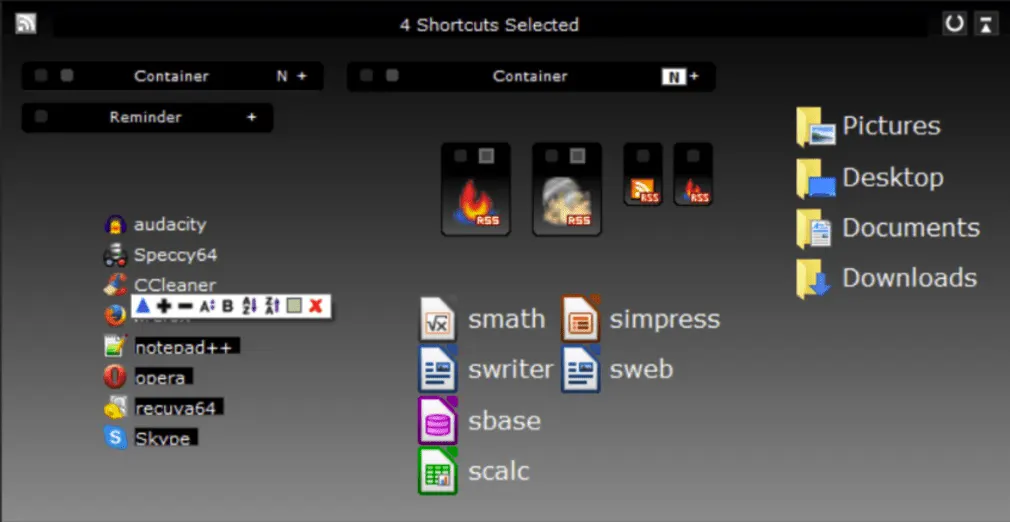 When the mouse is over an object, the item description appears immediately in a new, transparent tooltip box.
You can press the "Click to download headlines" and the Refresh buttons when the RSS items are not configured to load on startup.
In addition to the option of "right-click to shrink back", double-clicking a space inside the RSS container can cause it to shrink back.
This screen's bottom right corner contains a quick navigation pane that may be used from anywhere in Windows. With customized shortcuts and containers, it makes navigating between files and directories a breeze.
7. Tago Fences
Tago Fences is one of the finest free Fences substitutes (Download Here). It offers essentially identical capabilities and features to the Stardock Fences itself. Multiple fences can be built and arranged however you like.
Additionally, it includes a clever function that allows you to switch between the two desktop views using the two dots at the bottom of the screen, simulating a mobile device.
A simplified user interface is provided for you to work with. Several configuration options let you adjust the color of things, show and conceal icons, configure hotkeys, etc. Several shortcuts, such as files, folders, utilities, etc., can be placed inside one of the fences.
Drag and drop of files can also be done. There isn't active support available right now, which is unfortunate. Despite this, it is still quite simple and will be straightforward for any user to understand.
The various barriers may all be modified, and you can add and delete existing ones. By arranging them, this application enables you to easily navigate to the appropriate file while assisting you in the hassle-free desktop organization.
8. ToolBox
Similar to Stardock Fences, ToolBox is a program that facilitates good desktop organization. It takes only a few minutes to install and get running.
Its drag-and-drop user interface can make shortcuts to nearly anything, including programs, discs, folders, and even straightforward files.
Your desktop can be organized and freed up of the countless shortcuts that clog it up and eat up important space with the aid of ToolBox.
Borland Pascal was used to create the first version of ToolBox, a 16-bit Windows 3.1 application, many years ago.
Various features have been added to increase its utility since then.
Since then, numerous modifications have been made, including aesthetic tweaks, shortcuts to files and directories, and numerous application-launching windows.
This tool can be used from any folder to which your unzipped files are extracted without needing to be installed. It is available for free download.
9. Desktop Groups
We have yet another of the best fences alternatives. Your messy files are arranged into transparent frames.
On your desktop, you are limited to 5 frames. You can double-click the group title to change it. Each group may be resized from any corner/edge. 
You can upgrade for USD 9.99 if you require limitless frames. This program can be accessed for a 7-day trial period for Mac OS.
10. DeskSpace
DeskSpace uses a cube to map out virtual workstations. It has wonderful features like transparency, zoom, and rotation.
You can keep folders based on your work and assign different wallpapers to each side of the cube.
Users can employ several desktops for work and enjoyment. A magnificent 3D display of many desktops is available. You can use the mouse and keyboard to transition between desktops quickly.
You may drag the windows between different desktops by positioning them on the edge of the screen. 
You may set the mouse buttons, the hotkeys used to switch between desktops, and how the application manages and displays different desktops.
On up to 9 displays, you can show the DeskSpace desktop cube. English, French, Spanish, Italian, German, and Japanese support has been installed in DeskSpace.
Only Windows 2000, XP, Vista, and 7 are compatible. You can download the full version for USD 24.95 after a 14-day trial.
11. ViPad – Fences alternatives cool desktop app launcher
ViPad is an additional tool for clearing out desktop clutter. Your files are tabbed-organized. If the tab has reached its maximum size, a new tab appears.
You can handle various Windows applications, games, documents, social network contacts, weblinks, and other things by creating several tabs.
Thanks to this feature, you may access your favorite Windows programs with a single click.
Windows touchscreen tablets and Windows computers can use this program. Additionally, any subsequent application skins are likewise free to download and use.
12. Bins
The desktop clutter is arranged into speech bubble-shaped receptacles called "bins" by the program Bins. It arranges the icons with a simple drag and drop and is straightforward.
You can drag the icon back to the taskbar to ungroup it to bring your Windows taskbar back to normalcy. You can use BinsTM to group related icons on your Windows taskbar.
It was included in PCWorld's 2011 Best 100 Products list. Bins are easy to use and understand.
The Bins container for a group will show up when you mouse over its icon. Launch applications or control open windows; it is naturally compatible with AeroPeek.
Bins will tuck back away when you move your mouse away. Bins do not support Windows 10 "Modern" apps. Bins, unfortunately, does not support Windows 11. All of this can be availed for a one-time cost of USD 4.99.
13. SE-DesktopConstructor
Another free alternative to Stardock Fences for Windows is SE-DesktopConstructor (Download Here), created and developed by SE soft.com.
It has a sleek, user-friendly dashboard ideal for all Windows users to customize their PC experience.
Additionally, it enables fast desktop backdrop changes and aids with color coding. The SE-DesktopConstructor makes it simple to add unique things to your desktop screen.
It incorporates components like a clock, calendar, and geometric shapes in the background according to your needs and preferences.
You need a location where your icons won't get lost if you enjoy vibrant backgrounds. To make your desktop icons constantly visible, build colorful or gradient sections underneath them.
The portability feature allows SE-DesktopConstructor to be used anywhere. The application can be used on any PC by copying it to your USB storage. To improve your overall experience, it even provides a large selection of skins.
14. Circle Dock
Circle Dock (Download Here) is the only simple, free Stardock Fences alternatives you should consider using with Windows 10.
The application is a great choice if you want to immediately clear away trash built on your desktop and free up a ton of space.
It is a launcher for non-docked applications with infinite folders, linkages, and management at different levels. Using a drag-and-drop interface, you may change the background and icons.
When not in use, you can cover the dock to save space on the screen. It is compatible with several monitors and virtual desktops.
You can unzip and launch the.exe file without installing anything.
Even a portable organizer for desktops is included. This indicates that you can begin using the program without downloading it.
Furthermore, you may quickly move it with a few clicks to another Windows PC. The greatest software for producing attractive backdrops and editable icons is Circle Dock.
15. VeBest Icon Groups
Another good and simple desktop icon management tool is VeBest Icon Groups (Download Here). It offers a large selection of group icons to let you alter the desktop's appearance to suit your needs and preferences.
VeBest Icon Groups is a free program designed exclusively for creative and active people who value their free time and don't want to waste time looking for the icon to start the required program or open the required document.
The outstanding icon-enhancement program Best Icon Groups enables you to create various amusing effects for your Windows desktop icons.
It enables you to access your preferred application quickly and arrange your desktop icons animatedly.
It is possible to create as many icon groups as you want with the help of VeBest Icon Groups. If the formed groups can be categorized, you will experience a time-saving and enjoyable computer working experience.
The desktop icon locations won't need to be saved and restored. Additionally, each color option can also be changed. You can make a few icon schemes once and never waste time again for your desired icon.
You can arrange icons in a vertical, circular, or inline design using this Stardock Fences substitute. In addition, VeBest assists in creating 3D icons and allows for simple navigation via drag and drop.
16. ICU-Icon Configuration Utility
ICU-Icon Configuration Utility (Download Here) is undoubtedly the most useful tool that functions well as a substitute for Stardock Fences. When saving icon configurations, you can use this software to restore the icon's desktop location.
It does not take up a lot of disc space and is free and quite easy to use.
To save a specific configuration, click "Save," To restore it, click "Restore." This will move the icons to their previously saved positions in your chosen configuration file.
Unwanted configuration files can also be removed from the list with the help of "Delete." A command-line option will allow you to execute the restoration via HotKeys (that is why the script warns that it should be compiled for full functionality).
The default placement of any new icons after the configuration file was last saved is in the top-left corner, but you may also banish them far off-screen or, more sanely, choose a position for them. Desktop Context Menu Integration (DCI) for Win7 is an optional new feature of ICU v3.4.
You can copy files or icons to any drive using this program. For icon configuration, you may even bring it with you wherever.
You can play around with configuration options in its neat and ideal layout. It allows you to save the symbol's location and a specific title on the screen.
17. DragThing
The most effective Mac-compatible shareware Dock program is DragThing. With only one keystroke, it works for programs, open documents, photos, folders, and other configurable tasks. It's free to use and has excellent usability with this particular software.
You can get countless advantages via DragThing, which works well for several docks. It lets you save the most often used clippings, such as images and text, easily editable with a single click.
Its most crucial feature is the app's ability to assist you in building a slide bar for quick access to critical files and folders.
Using the 32-bit Carbon APIs that Apple has since disabled in macOS 10.15 Catalina, DragThing was created.
If you update Catalina, it will no longer function, and a new version with functional functionality is not planned. Regrettably, DragThing has released its final app. 
There is no certainty that they could re-implement all the current functionality or how much of a future it would have if they could; thus, adding 64-bit support would entail starting from scratch and taking at least a year to finish.
📗FAQ on the fences alternatives list
Is there a free version of Fences?
Yes, Stardock offers a free version of Fences. The free version comes with basic features, such as the ability to organize and declutter your desktop icons, create multiple fences pages, and adjust fences' transparency.
However, the paid version offers more advanced features, including the ability to customize the appearance of fences and automatically sort new icons.
What is the alternative to Stardock?
There are several alternatives to Stardock, including DesktopOK, Nimi Places, and Fences alternatives like Nimi Visuals and Desktop Groups.
Each of these alternatives offers unique features, so it's important to research each option before choosing one.
How much does Stardock Fences cost?
Stardock Fences offers several pricing options, including a one-time purchase of $9.99 for the basic version and $29.99 for the advanced version.
Stardock also offers a yearly subscription service for $9.99 per year, including all updates and new software versions.
Does Fences work with Windows 11?
Yes, Fences is compatible with Windows 11. The latest version of Fences is designed to work seamlessly with Windows 10 and Windows 11, so users can continue using the software even after upgrading their operating system.
What is the cheapest fence method?
If you're looking for a cheap fence method, you can use the built-in tools in Windows to organize your desktop icons.
For example, you can create folders on your desktop and move your icons into these folders to declutter your desktop. However, if you're looking for more advanced features like automatic sorting and customization options, you may consider software like Fences.
Is Stardock 11 free?
No, Stardock 11 is not a software product. Stardock Fences is a desktop organization tool offered by Stardock. The latest version of the software is Fences 3, which is available for purchase or as a free trial.
What is a free alternative to Xbench?
One free alternative to Xbench is the Blackmagic Disk Speed Test. This software tests the read and write speeds of your hard drive or solid-state drive. It's a popular choice among Mac users and is free on the Apple App Store.
What is the free alternative to Bitvise?
One free alternative to Bitvise is OpenSSH. OpenSSH is a secure connectivity tool that encrypts all data transmitted over the network. It's free and can be installed on various platforms, including Windows, macOS, and Linux.
Is Stardock fences worth it?
The answer to this question depends on your individual needs and preferences. Fences may be a worthwhile investment if you frequently work on their computer and need to organize a large number of desktop icons.
The software offers a wide range of features and customization options that can help you streamline your workflow and declutter your desktop.
Does Stardock 10 work on Windows 11?
It's unclear whether Stardock 10 is compatible with Windows 11. However, the latest version of Stardock's desktop organization tool, Fences 3, is designed to work seamlessly with both Windows 10 and Windows 11.
Is Control Panel discontinued in Windows 11?
Yes, Control Panel has been largely replaced by the Settings app in Windows 11. However, some Control Panel features are still available in Windows 11 for legacy support purposes. Users can access Control Panel by searching for it in the Start menu or by using the Run command.
Does Stardock Start 11 work on Windows 10?
Yes, Stardock Start 11 is designed to work with both Windows 10 and Windows 11. The software is a customizable Start menu replacement that offers a wide range of features and customization options, including the ability to create custom shortcuts and menus, adjust the appearance of the Start menu, and more.
However, it is important to note that Stardock Start 11 is a separate software product from Stardock Fences, and each product has its own pricing and feature options.
What is better than fences? 
Real Desktop, Nimi Places, DesktopShelves, xLaunchpad, RocketDock etc. are some of the best fences alternatives you can try and get access to a lot of amazing features like Image thumbnails, image viewer, fast note-taking, video thumbnails, image cropping, PSD thumbnails, internet shortcut thumbnails and much more.  
Are Stardock fences free? 
Stardock Fences for Windows has many features, and the trial version is free. However, you must pay for the premium version to access all other features.
Are fences on desktops free? 
The app Fences is not free. After the free trial period of 30 days, you must pay $13 to continue using the app. After that, it will cost you $36 if you purchase the full software, which includes Object Desktop. 
How do I use fences in Windows 10? 
Fences are incredibly simple to use; you must pick the icons you want, group them, and give them a spot on your desktop.
Then, you may view those icons just when you want because you can always hide the area where they are located. Next, make groups for your favorite programs, files, folders, shortcuts, and images. 
You can create fences by drawing a square with the right mouse button, adding the icons you want, resizing the fence, and positioning the fenced area where you want on the desktop. 
Is there a free version of Fences?
A free version of Fences is available, a tool for organizing the desktop by grouping icons. The free version provides basic functionality, such as creating and organizing fenced areas on the desktop.
However, some advanced features, such as automatic organization and virtual desktops, are exclusive to the paid version.
Nevertheless, the free version of Fences is a useful tool for decluttering the desktop and improving organization.
What are the best Stardock Fences alternatives?
There are several alternatives to Stardock Fences for organizing desktop icons. Here are some great options:-
Nimi Places – Nimi Places is a free tool that groups and organizes desktop items into customizable containers.
DesktopShelves – DesktopShelves is a Mac app that lets users create and organize shelves on their desktops, similar to bookshelves.
Bins – Bins is a Windows app that groups multiple icons into one container on the taskbar, similar to the Mac Dock.
XWidget – XWidget is a customizable desktop platform that can display icons, folders, and files in various styles and configurations.
Circle Dock – Circle Dock is a free, customizable circular dock that can organize icons and folders in a circular layout.
Fences Pro – Fences Pro is the paid version of Stardock Fences that offers additional features like automatic desktop organization and virtual desktops.
What is the alternative for Fences in Linux?
Plank is an alternative for Fences in Linux. Plank is a lightweight and easy-to-use application launcher and Linux dock, allowing users to access their favorite apps and organize desktop icons quickly.
It's similar to the macOS dock and can be customized to individual preferences. Plank is available in most Linux distribution repositories and can be installed easily using the package manager or command line.
Other alternatives to Fences in Linux include Docky, Cairo Dock, and Avant Window Navigator.
Conclusion on the fences alternatives list
There you have it. The list of the best fence alternatives with everything you need to know. These 17 tools are among the best we have tried to help you organize your desktop most efficiently. Some of them are free, while some are paid services.
You no longer have to look for a file in the cluster of other files on your desktop. Download it and get started.