Designing slides from scratch is a time-consuming process. Instead of this, you can opt for the free PowerPoint templates that can help you achieve your design goals promptly.
Okay, how much time do you devote to designing a slide? If you easily get inspiration, then you usually do in an hour. If your designing skills are not up to the mark, you may spend too much time on colors, fonts, formate, and other design elements.
However, creating slides from scratch is an excellent way to enhance your design skills. To meet the deadline, you cannot waste your whole day designing a single slide. To have to be smarter.
Opting for the free PowerPoint templates is one of the best ways to accomplish design goals. Many websites offer professional, sophisticated, and modern theme-based templates at zero cost.
While there are many advantages of using templates, but, not all websites offer you the free templates collection that meets your designing standard.
Let us go through the free templates that are fully editable, modern designed-based, resizable graphics, and placeholders included.
Great Websites For Free PowerPoint Templates
There are numerous free PowerPoint templates available on the internet, but we have listed the best ones.
1. Presentation Magazine
Presentation Magazine (Visit Here) boasts nearly 6700 free PowerPoint templates of professional quality. Right from the medical, education, business, nature, architecture, wedding to weather, it offers numerous categories to the users.
It can be very helpful for an inexperienced designer to design a professional presentation by simply downloading the series of templates. This website has gotten satisfactory reviews and ratings on many platforms.
Pros:-
1. It offers you an extensive collection of free PowerPoint templates suitable for both the education and business worlds. Downloading a template is quite easy. You have to choose a template from the vast collection and then click on the download button.
2. This site offers you interactive ally-designed templates that help you to achieve the attention of the audience. You will be glad to know, the templates of this site have come with high-quality vector graphics that help you to deliver the message clearly.
3. The flexibility you will get here is remarkable. You can browse the collection of free PowerPoint templates by category, color, popularity, and tags. This feature not only saves your time but also makes your selecting process hassle-free.
4. Presentation Magazine is a site that allows you to find the appropriate background that perfectly matches the PowerPoint slides. Despite these pros, no technical experience is required to use this site.
Cons:-
1. Advanced customizability is not available in the free PowerPoint templates which makes it impossible for the designers to add a personal touch to the slides.
2. Its free themes are poorly coded open the doors for security vulnerabilities and decrease search engine ranking.
2. SlideUpLift 
Business presentations are difficult to create. This is especially true for presentations that require diagrams, timelines, maps, and other visual information that is relevant to the company's trends and projections. 
SlideUpLift's presentation templates can be used to display accurate graphic components in professional layouts while including corporate branding. 
SlideUpLift is a vast online library of over 30,000 high-quality business presentation templates covering all business needs. Their presentation templates are also compatible with Google Slides, and it offers both premium and free PPT templates and infographics. 
For more than a decade, this 100% editable template provider has served small, medium-sized, and big enterprises, including Fortune 500 corporations. 
What distinguishes SlideUpLift from other presentation template providers is that it doesn't force customers to buy the membership. You can also buy only one template if needed via add to cart.
Also, their templates are designed by business consultants ensuring that they best meet the requirements of business professionals. They have a vast collection of whole decks that can give you a good starting point in making complete presentations. 
Pros:-

 
1. SlideUpLift is the most suitable option if you're short on time and don't want to pay for premium professional designs. 
2. This website makes it much easier to select a free PowerPoint template because it is clutter-free and does not contain any advertisements. 
3. SlideUpLift is one of the few places on the internet that allows you to buy a template, vector image, or deck without having to sign up for a subscription. Add the item to your shopping cart and pay using the method you want. 
4. SlideUpLift is a one-stop solution for creating business presentations with easy-to-edit features based on any business concept you can think of, with a wealth of business diagram templates and infographics. 
5. The membership options are also relatively affordable, with prices starting at $49.99 for access to their premium templates and decks, making it ideal for those on a tight budget or looking for the best and most cost-effective solution to their presentation-making problems.  
Cons:-

 
1. To access the free PowerPoint and Google Slide templates, you must first sign up with your email ID. 
2. This website's free templates can meet the needs of small projects. You would need premium templates to make your presentation more interesting and exciting. 
3. Slides Carnival
Slides Carnival (Visit Here) is one of the most popular PowerPoint templates sites. It offers a neat collection of free PowerPoint templates, which allows you to create engaging and dynamic slides.
It has great templates for education, corporate, and industrial presentation categories. You may find some templates that are not fully professional, but they can perfectly work in the background.
This responsive and user-friendly website is an ideal point for designers who are looking for elegant and modern designed-based free PowerPoint templates.
Many designers consider it one of the best free template websites because here, everything is well-categorized and offers guidance on creating presentations.
Pros:-
1. This website has become the best friend of many designers. Because it makes their designing task much more easy and time-saving. It contains animation templates that allow designers to create engaging presentations.
2. The user-friendly interface of this website helps you to find any category-based template easily. You can boost your presentation by choosing free layouts and backgrounds.
3. To access this site, you don't need a subscription. Simply click on this site, find a free template, and download it.
4. Slides Carnival has become the designer's preferred choice because it is one of those sites that offer high-quality graphics-based free Google slides templates.
5. You can use its theme-based menu to find the templates. And to make a decision better, you can also read the information that explains the uses of the templates.
Cons:-
The free templates of this site can suit the demands of the low projects. To create a presentation more engaging and dynamic, you need to opt for premium templates.
The free templates do not come with high-quality vector graphics.
4. 24 Slides
This website (Visit Here) offers professionally-based, fully-editable, and readable fonts free powerpoints templates. You can easily find your ideal template as it organizes category-wise. One of the best things about this site is the preview feature.
You can narrow down your choices by previewing the screenshot of a template. All in all, 24 slides are an ideal platform for designers looking for eye-appealing, clear, and great artistic work-based templates.
Pros:-
You can have a great bond with this website. It offers you professional-looking free PowerPoint templates in categories like corporate, industrial, education and art.
It allows users to filter their choices by clicking on editorial choices, most popular or top 10 templates.
If what you need is highly engaging and presentable free templates, 24 Slides is an ideal option. Finding a template that suits your needs is very simple because search filters are intuitive.
You don't need to retrieve the downloads from the zip files because all the free templates are downloaded directly in the PPTX format.
This site is ads and clutter-free. This means, there is no one to distract you.
All the templates are clean, well organized, and resizable. It enables you to add your creativity to make it personalized and informative.
Cons:-
You need to sign up to download the free PowerPoint templates.
Unlimited template downloading flexibility is not available.
5. Indezine
Indezine (Visit Here) is one of the most popular PowerPoint template platforms in the online market. Along with templates, it also offers picture editing tools, clip media, and other presentation tools. With the help of the search bar tool, you can easily find the template that suits your needs.
If you are a designer guy, then you may have come across this website. The thing that takes this website out of the crowd is its neat and clean interface.
You don't need to walk long to choose and download the templates. Easy navigation features will make your selection and downloading process hassle-free.
Pros:-
1. Do you want to improve your design skills? If yes, then the Indezine platform is a perfect option for you. This website is not limited to free PowerPoint templates; here, you can access editing tools, learn from tutorials, and, most importantly, download unlimited templates.
2. You can make an engaging and highly professional presentation for your next meeting by downloading an elegant business template from this site. If you want to impress your boss with amazing uniqueness, you can add a media clip to the presentation.
3. If you hate to spend time finding an ideal template, then Indezine can save your time. By accessing its search toolbar, you can get the relevant search results. You can download 25 designs in one go.
4. It's a savior for designers. Many times we need to make a presentation in a hurry to meet the deadline. At that point, Indezine may help you. Here, finding and downloading an ideal template is a matter of a few minutes.
Cons:-
The constant interruption of the ads can make you irritated.
If you are looking for a tri-fold brochure, then this website won't help you.
6. Slid Hunter
Slid Hunter (Download Here) is a one-stop shop for users looking for free PowerPoint templates, background for presentation, and design themes.
If you want to impress your boss with your presentation, and looking for an amazing template website, then Slid Hunter is your destination. Don't know what your business niche is, but this site covers almost every category.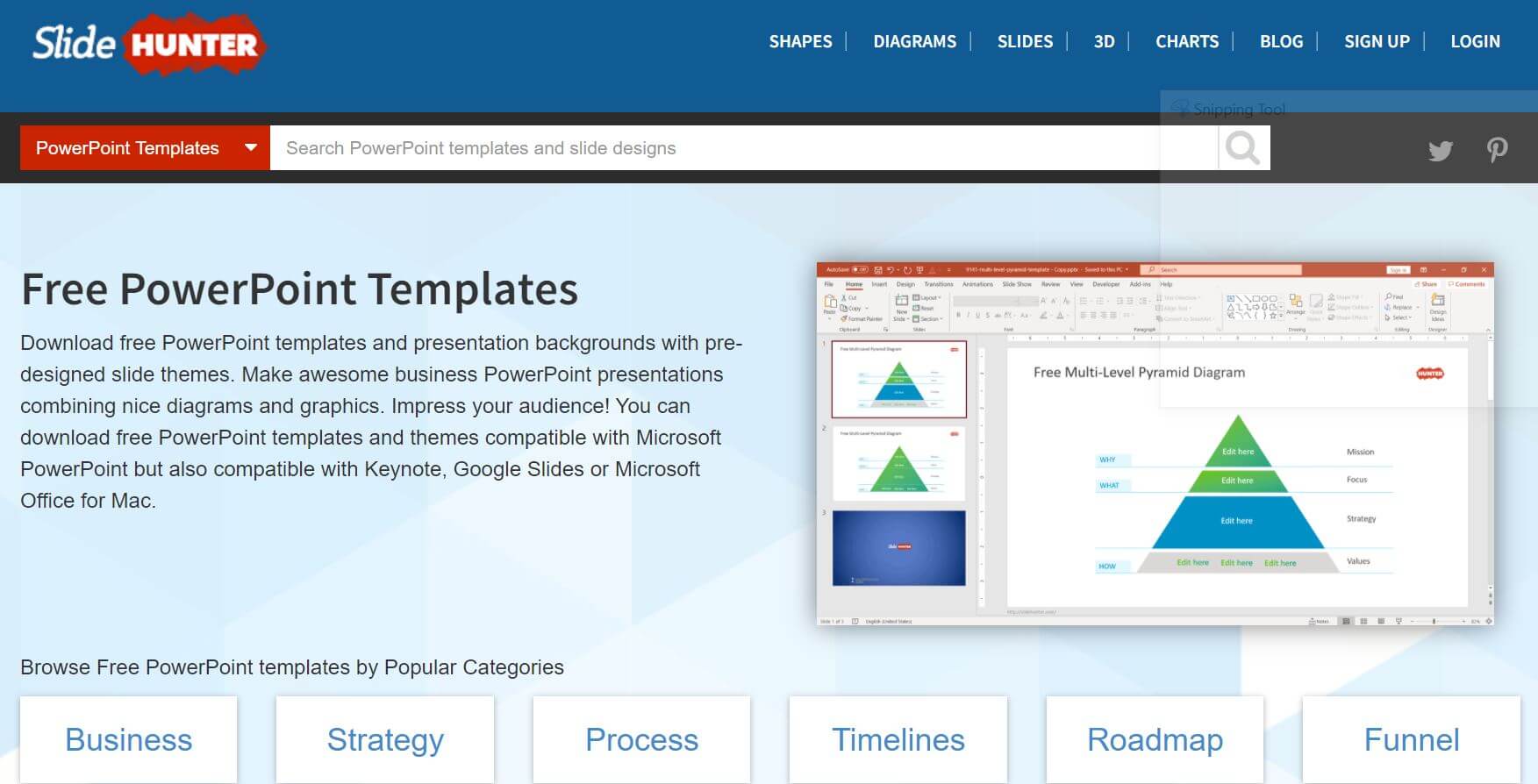 The reviews and ratings of this site say it all. It has received hundreds of good acknowledgments from users. The templates you will download from this site are highly compatible with Microsoft Office, Mac, and Keynotes.
Pros:-
1. If your job is to design highly professional presentations for the business, then don't hunt here and there. The Slide Hunter is your hunting place. You won't believe that choosing and downloading the free PowerPoint templates are a matter of a few seconds.
Moreover, this site gives you the flexibility to hold the placeholders and create your own content and structure.
2. Some sites are prompted to create an account before accessing or downloading the templates. But, here you are free from all downloading mechanisms.
3. Just because they are free templates doesn't mean they only work well in low-budget projects. The graphics, layouts, fonts, and structures are standard and highly recognizable. You can even use it in your high-level business presentation as well.
4. It's good when we know what we are about to download. It offers you multiple screenshots of the templates, along with, relevant templates you can choose.
5. If you want to create a presentation that makes your audience delight, use the free PowerPoint templates of this platform to deliver your message effectively.
Cons:-
The downside of this website is you have to retrieve the template from the ZIP folder before using it on your presentation.
To access the templates, you need to create an account. "Tell us how you plan to use our free template?" is time-consuming.
7. FPPT.Com
Another popular website that can offer you a wide collection of free PowerPoint templates is FPPT.Com (Visit Here). If you are a wedding planner and want to create an amazing presentation, download the free wedding templates. Wait!
This website is not limited to providing wedding themes only; here you can get a massive collection of business, animation, religious, education, and lifestyle themes.
Although there are several sites on the internet that offer you free templates, when it comes to quality and professionalism, FFPT always does its best.
It is an easy and reliable platform for people who never get bored in creating presentations. Because a huge collection of FFPT always inspires them to create a presentation every day.
Pros:-
1. If you are looking for a website that saves your time and enables you to focus on the content, then FFPT is your ideal platform.
Here, you don't need to focus on fonts, background, color, graphics of the template; everything has already been designed for you. All you need to focus on is the content part of the presentation; the rest FFPT will handle it.
2. Whether you use Microsoft office, Mac, Google slides, or keynotes, the free PowerPoint templates ensure compatibility across all platforms.
3. FTTP gives you a chance to impress your audience with engaging slides and PowerPoint themes with wonderful backgrounds. No worries, if you are less experienced in designing a presentation.
The FFPT is always ready to help you. Its free templates and background are very easy to edit and customize. Along with that, you can browse the entire collection of templates using the top menu. Site navigation is something that impresses you the most.
4. When your editor denies to help you in creating a presentation, at that point, you can take the help of the "Editor Picks" option, which is located at the top of the website.
All professionally and the most popular templates come under the editor's picks. If you are not confident enough in creating presentations, you can also learn the tutorial and tips.
Cons:-
A drawback of this site is that when you download the template, it is stored in archives.
You cannot easily access the template, you need to extract it from the ZIP folder, and it is not available in PPTX format.
8. Templatewise
Another easy-to-find and download template and backgrounds place is Templatewise (Visit Here). Here you will see an extensive collection on different topics.
Right from the business, industrial, education to lifestyle, Templatewise has covered every niche to meet the demands of the users. If you are looking for a platform that can offer you ready-made templates slides for the presentation, then Templatewise is an ideal place for you.
Pros:-
Do you have fun with the pre-designed templates? If yes, then preview an elegant collection of templates at Templatewise. Every template is created with great proficiency. You can create a jawdropping presentation in no time with the help of pre-designed free PowerPoint templates.
The website is quite user-friendly. A search bar is always ready to give you relevant results.
To make your presentation highly informative, you also use charts, and graphs, inspiring graphics templates.
Many times you need background music to make your presentation engaging. Template Wise offers you a music loops collection that suits your needs.
Cons:-
You have to fill out the Sign-Up form to access the free PowerPoint templates and backgrounds.
The templates you download are stored in archives.
At the time of our research on Great Websites For Free PowerPoint Templates, we found a video about "Top 15 Microsoft PowerPoint Tips & Tricks" which is worth watching.
9. Showeet
Showeet (Visit Here) is one of those websites that display its free PowerPoint templates along with information. You can directly access the popular template by using tags, business, and category.
If you are a student and want to make a resume that displays your academic performance better, you can use the free resume templates.
This website offers you more than the free PowerPoint templates: charts and diagrams, shapes & discs, misc, resume, and business cards.
One of the best things about its templates is they are all multi-purpose. The doodle template for PowerPoint you will like the most.
Pros:-
You will be glad to know that this website has received a huge response from the audience by offering a modern and amazing collection of power-point templates at zero cost. It's free templates awe-inspiring, engaging, and clean. If you use it in your presentation, it will give a premium touch.
Add charts, shapes, and objects to craft your presentation more engaging and informative.
If you want to convey your message in a clear tone, you can download diagrams and maps from this site.
Each template comes with details that help you in making a better decision.
Cons:-
The major drawback of using this site is that all the free templates are stored in ZIP files.
This site is not ads-free, so it will be difficult for you to retain a focus on the templates.
10. Brainy Betty
If you ask a designer where they spend half of the day, they will say Brainy Betty (Download Here). It's a fun, informative, and useful place for a designer.
Here you will get everything that makes your presentation engaging. When you visit the site, you will get enough confidence after seeing hundreds of free design resources.
Right from the modern designed-based PowerPoint templates, utilities, graphics to free spot colors pics, it's a one-stop shop for the designers. Brainy Betty doesn't let you storm your brain, because everything is pre-designed and well-organized.
Pros:-
1. It's a fantastic place to visit the collection of free PowerPoint templates. Whether you need an abstract background to make your presentation vibrant or an animated background, you can access 800 pages of free resources.
2. A big selection of graphics, backgrounds, PowerPoint utilities, video introduction, and other PowerPoint goods are easily accessible. The latest news section will give you the popular and trendy graphics utilities.
3. Do you want to have fun with 3D graphics without paying any cost? If yes, then Brainy Betty is your ideal place. Here you can download unlimited, 3D graphics, background images, black and white art, and banner designs effortlessly.
4. The life of the students is now centered around the presentation. They need to showcase their abilities via a presentation only. To make their process more manageable, Brainy Betty has come up with free education graphics that can use in presentations, blogs, and videos.
Cons:-
Finding a template is a time-consuming task because there is no search bar option available.
Navigation is not user-friendly.
11. Google Slides Templates
Make amazing and informative presentations with Google slides templates (Visit Here). It's a free online presentation tool that allows users to enjoy the journey of creating presentations.
The simplicity and elegance of the Google slide templates give a professional impact on your presentation.
If you want to make a presentation for a high-profile company and are looking for free PowerPoint resources, then Google slides is your place. These attractive templates are capable of conveying messages to your clients effortlessly.
Pros:-
1. Do you want to create an attractive digital marketing report or proposal? If yes, then for what you are waiting for, Google slides have come with hundreds of business presentation templates and featured 220 unique digital marketing slides.
2. If you are a business solution provider, you often need to use a presentation to prove your business solutions.
Here you will get flexible Google slides themes focused on business solutions. Within a click of a button, you can change the slides' context, color, and background.
3. The multi-purpose Google free PowerPoint templates give you enough confidence to face the audience. The free templates make your job easy and effective by organizing every graphic correctly.
4. Want to make a recent annual report for the next board meeting? If yes, then head over to the Google Slides. Here you can get free stock images, roadmaps, charts, annual reports based templates effortlessly.
Cons:-
It's online software, so you need high-speed internet to create a presentation.
You need to create and verify the account before using this online platform.
12. Slidebazaar.com 
Slidebazaar offers quality PowerPoint templates for all your professional needs. Both free and premium templates are available to download. All the templates are sorted to categories, which helps in easily finding the right template. The slides are ready to go in MS PowerPoint, Google Slides and Keynotes. 
Slidebazaar offers 7000+ unique presentation templates that can fit all your needs. All elements of the templates are editable, this lets you customize the templates to your specific needs. Slidebazaar also offers customization services to create templates according to your personal preference.  
Pros:- 
1. Slidebazaar provides high quality templates for all your professional needs. There are slide decks, business templates, countless infographic templates, various diagrams like timeline, roadmap, flowchart, mind map and so much more. 
2. New and unique templates are uploaded everyday and outdated templates are updated to suit the current needs of the presenters. 
3. There are premium and free slides in Slidebazaar, and the free slides can be downloaded without any hassles or logging in 
4. The premium slides are affordable, and the plans starts from $ 9.99 for a month. 
5. The site does not have annoying ads that divert you from finding the best templates. 
Cons:- 
1. The free slides can be used for basic presentations, but if you need a complete solution to create unique PowerPoint presentations then you will need the premium. 
2. If you are looking for excel or word templates, then Slidebazaar doesn't have any.  
Conclusion
Creating an engaging, informative, and well-organized presentation has become a matter of a few minutes, all thanks to free templates online resources. Now, you don't need to craft a presentation from scratch, download the impressive free PowerPoint templates, and customize it as per your needs.
You can confidently use these free resources to craft the presentation because they are all professionally designed and clutter-free. So, what are you waiting for? Choose the best website, download the template, and impress your audience with your work.