A Way Out is a great adventure/action coop game that puts you and a friend in the shoes of two prison convicts. The gameplay involves you and a buddy working together to help the convicts escape from a high-security prison.
The game had you solve puzzles together, take down enemies and work out how to escape the prison. A Way Out is full of tension and action, making you feel like you are in a life-or-death situation.
Before A Way Out, co-op games were mostly couch coop, such as Lego Star Wars. A Way Out helped reinvent the co-op genre, moving the genre away from couch co-op and towards a more gritty form of cooperative play in games such as A Way Out.
A Way Out also helped prove that narrative storytelling games were not only meant for single-player games and that two players could play a narrative-based video game together, with all the bells and whistles of triple-A video games in terms of graphics and gameplay.
In effect, A Way Out was one of the first co-op games to provide a good narrative storytelling experience that looked and played great.
Since A Way Out, many games have tried replicating the game, opting for a cooperative video game experience with a meaningful story.
Similarly, other games have adopted elements from A Way Out. This article will outline 13 games like A Way Out in 2023.
Best Games Like A Way Out – Our Top Pick👌
It Takes Two

Unravel Two

The Last of Us

The Overcooked Series 

The Lego Star Wars Series

Guacamelee series

The Overcooked Series

Sea Of Thieves 

Don't Starve Together

Halo: The Master Chief Collection 

Among Us

Cuphead 
1. It Takes Two
It Takes Two is a narrative story-driven game that takes players on a magical journey across multiple worlds.
The game's premise is that two individuals in a relationship need relationship counseling due to their failing relationship and ask the help of a mysterious doctor to help them.
They quickly find themselves transported to another world and must help one another to escape it. The game puts you and a friend in the shoes of the two characters, taking you on a co-op adventure of a lifetime.
It Takes Two is a fantastic coop experience involving various levels, gameplay experiences, and secrets to uncover. It Takes Two offers a considerable challenge as well.
It Takes Two is best played with a partner, family member, or significant other. The game will bring you closer together. To the game's credit, the game does this effectively and is one of the best collective narrative experiences in gaming.
Thus from a cooperative narrative storytelling point of view, the game is like A Way Out. When the game was released, it scored well with critics, with a strong critic score of around 89 and a user score near the highs 8's to low 9's.
You are seriously missing out if you haven't played It Takes Two and love co-op games. It is one of the best cooperative experiences on the market today.
2. Unravel Two
The Unravel series of games captured the imaginations of gamers when the first game in the series was announced in 2015.
Unravel is a cooperative puzzle game series that follows the journey of Yarney as he goes on an adventure.
Yarney is made of wool, hence his name, which added interesting gameplay dynamics, such as using Yarney's wool to swing and complete platforming sections.
The game later got a follow-up called Unravel Two, a cooperative multiplayer experience with you and another player controlling two Yarneys as you swing your way through the game's main story.
The first game is not like A Way Out, but the second game in the series is. Unravel Two features excellent co-op mechanics similar to A Way Out.
Both games make players solve a range of puzzles and complete objectives together.
Similarly, although Way Out has a completely different art style and graphical fidelity, both games feature a great story.
Thus, the game is like A Way Out in many ways. Unravel Two is a brilliant game and unbelievably cute.
The game is adorable and one of the cutest games out there. The art style and characters are appealing and suit most players of all ages. Thus, the game itself is a collective experience all should play.
Much like A Way Out, the game reviewed well when it was released in 2018. The game scored in the mid-high '70s on Metacritic.
Unravel Two is a unique and quirky indie game worth playing by any indie game fan or those who like cooperative experiences. 
3. The Last of Us
Although the Last of Us Series is not a cooperative experience, like A Way Out, the game has many similar features. The Last of Us is one of the greatest video game series.
The series follows the adventures of Joel and Ellie as they seek to uncover the truth behind a virus that has wiped out nearly the entire human race.
The Last of Us series features a fantastic story of tension, mystery, and tragedy. The games take you through a rollercoaster of emotions through surprising plot twists and interesting twists and turns.
Both games in the series are critically acclaimed, with the games receiving perfect scores from established critics such as IGN, with perfect tens. The Last of Us series are games like A Way Out in that both games have great narratives and stories.
Similarly, although The Last of Us has better graphical fidelity than a Way Out, both games have a similar art style and feature third-person action.
Likewise, both games focus largely on two characters through their narratives, with an extra focus on how they interact, character development, and the chemistry between them.
As a result, the Last of Us series is very similar to A Way Out in many ways. From a narrative point of view, any gamer should play this series.
It is one of the all-time greats and has the best gaming story.
The Last of Us - GamesCom 2012 Trailer (Official)
4. The Lego Star Wars Series
Yes, I know Lego Star Wars isn't the obvious choice on this list as a game like A Way out, but the games are similar in many ways when you think about it.
Aside from the tongue-in-cheek nature of the Lego Star Wars video games. The games feature similar puzzle-solving gameplay and a  fantastic cooperative experience.
Over the years, the Lego Star Wars games have been at the forefront of collaborative video game experiences, taking players across the Star Wars universe with friends.
From the very first Star Wars, Lego games to the eventual release of Star Wars, the Skywalker saga, the games have always been great games you can play with friends.
The Lego Star Wars series are games like A Way out due to their brilliant cooperative play. The games have always been fun with friends, from teaming up to take on Darth Maul to messing about with friends in the Star Wars cantina.
Although both series have very different premises, both require teamwork and allow you to strengthen your relationships with one another.
The Lego Star Wars games are one of the all-time great cooperative video game experiences.
The series will likely get even better with the release of the future Skywalker saga lego game, which will feature dynamic, open worlds and a better collective player experience.
LEGO Star Wars: The Complete Saga Trailer
5. The Guacamelee Series
The Guacamelee series is a beat 'em up 2D action sidescrolling series first released in 2013 by developers Drink Box Studios. The series follows luchador Juan Aguacate as he seeks to fight and brawl his way through evil and save the Mexiverse.
The game is a third-person Metroidvania-style action game that takes players on quests across the Mexiverse, defeating bosses and enemies and learning luchador-inspired moves.
The game is a lot of fun and is a classic beat-em-up game that has you use everything in your arsenal to take out enemies. The series is also a lot of fun-filled with hilarity throughout.
From silly attacks to funny cutscenes, the series stands out within the platforming genre. The series is damn right silly and has you explore every corner of Mexican folklore and culture.
Although the series is not like A Way Out in a narrative or gameplay sense, both have different gameplay perspectives, art styles, and premises. The games are alike due to both having excellent cooperative experiences.
The Guacamelee series has a four-player co-op and is a great little game to play with your friends. Despite it featuring different types of co-op, both series involve fun, cooperative fun. Thus, the Guacamelee series are games like A Way Out.
Overall, the Guacamelee series of games was reviewed well on Metacritic, with scores in the 80's and a strong user score. Any fan of the Metroid games should play the Guacamelee series. Just be ready to laugh non-stop.
Guacamelee Announce Trailer
6. The Overcooked Series 
The Overcooked series of games is the pure definition of couch co-op. Overcooked is a co-op cooking simulator game where you and your friends work together to complete food orders under time conditions.
The series consists of two main games with DLC content. Overcooked is a high-intensity game that will test your patience with your friends, the heat of the kitchen heat may be your downfall, as the game temperature ramps up as the series stories progress.
The game is a genuine gem of a co-op game and one of the best experiences you can play with friends. The Overcooked series of games is like A Way Out in that both have great cooperative experiences requiring expert precision and skill.
Both games feature wildly different but broad campaigns and will test how well you know each other. Thus, both make for great cooperative experiences.
The Overcooked series scored very well, with critics across both games. The first Overcooked game scored in the high 70's amongst critics, while Overcooked 2 achieved scores in the low 80's.
The Overcooked series is for anyone who likes co-op experiences with buddies, don't expect to be friends for long with them.
This game will make you pull your hair out when someone messes up a crucial order in the kitchen. Things are about to get really heated in the kitchen!!
Overcooked Launch Trailer
7. Sea of Thieves 
Sea of Thieves is one of the best co-op experiences on the market and in general, one of the best pirate games ever.
The game has you and your friends become pirates as you explore the ancient mysteries and dangers of the sea of thieves that lurk below the ocean.
Sea of Thieves is one of the best cooperative video game experiences you can play with friends; full of laughs, fun, and non-stop excitement.
The gameplay experience with Sea of Thieves is always different, with no dull moment. One minute you will be fighting skeletons, and the next, the terrifying Kraken.
The game also features campaign-style missions alongside normal quests called tall tales. Tall tales are campaign missions that take you and your friends on epic journeys to uncover lost treasure.
The missions are a standout component of the game, turning you and your friends into pirate legends. The game is fully co-op, and that's what makes it so great.
You can experience all of these adventures with friends. Sea of Thieves is a game like A Way Out because both are great co-op experiences.
Although they do differ in art style and gameplay, at their core, the two games are very similar in that both rely on co-op as the main element of gameplay.
When Sea of Thieves was released in 2018, critics reviewed the game with mediocre scores in the high 60s, mainly due to a lack of content.
Despite this, the developers have worked on the games with new quests, tall tales such as the latest captain Jack Sparrow expansion, and a season pass in the form of seasonal content.
8. Diablo 3
Diablo 3 is one of the best co-op games and a great game like A Way Out. The game is a top-down dungeon crawler game that has you and your friends defeat evil in the hope of finding loot and treasure.
It is a classic loot-grinding game and very different from A Way Out in many ways. The game involves strategic gameplay alongside hack-and-slash gameplay.
The game takes a top-down isometric viewpoint and takes you on a journey filled with mystery, action, and, most importantly, loot.
The game is different from many games on this list due to its loot-based gameplay and customization options that add considerable variety to the game and make it a very different cooperative video game experience.
As well as working with others, you are working with yourself to gain the best loot and upgrade your characters.
Nevertheless, the game is still an excellent co-op game. Diablo 3 is similar to A Way Out and features great co-op gameplay, even if the core gameplay and mechanics are very different.
Thus, Diablo 3 is a game like A Way Out in many ways. When the game was released, Diablo 3 scored well, with critics scoring around 83. Although the fanbase is still divided over it, it is regarded as one of the better games in the series.
9. Don't Starve Together
Dont's Starve is a survival action-adventure game released in 2016 by developers Klei entertainment. The game is a classic survival game in that you must survive in the wilderness.
Don't Starve features various enemy types and crafting mechanics you would expect from a survival game and an eerie feel that creates a tense atmosphere.
The game has a creepy and often sinister air, making it fun to play, especially at night. The game is unlike more lighthearted survival games such as Minecraft in that it genuinely puts you on edge, especially when it is dark in the game.
Don't Starve is also very tricky and difficult to master, with the game being one of the more challenging survival games. After the game was released, Klei entertainment released a new expansion called Don't Starve Together.
This expansion added the ability to play the game through multiplayer co-op, something not previously available within the game.
The expansion allowed you to play with friends through a private match or random people through online matchmaking. Aside from introducing a co-op element, the game is much the same.
Don't Starve Together is a great game for friends as it is brutally difficult and requires excellent cooperation. Thus, the game is like A Way Out because both feature precise and tactical co-op gameplay.
When released, Don't Starve Together scored well on Metacritic with a critic score of 83 and a user score in the lows 8's.
10. Halo: The Master Chief Collection 
Halo: The Master Chief Collection is a collection of the classic Halo games 1-4 and other Halo games, and follows spartan 117 as he seeks to save the human race from the alien race known as the Covenant.
Halo: The Master Chief Collection is a collection of the first four games alongside side games such as Halo Reach and Halo 3: ODST remastered from the ground up for the Xbox One and later for the Xbox Series S and X.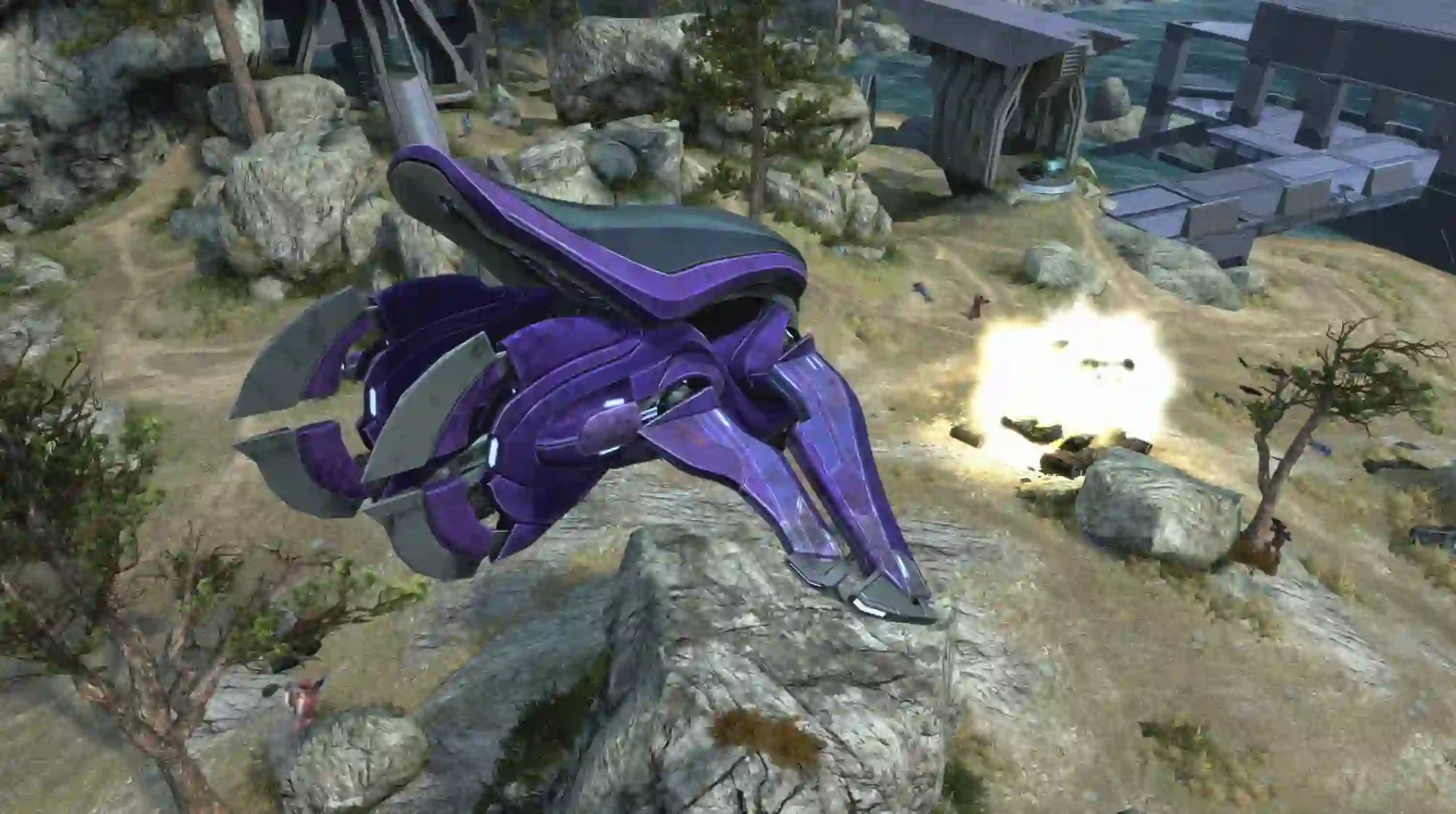 The collection features updated graphics from the original games alongside smooth and faster framerates. The games also add other brand-new features and while keeping old ones.
Furthermore, Halo: The Master Chief Collection also includes the classic multiplayer elements from the first four games, keeping the maps, gameplay, and weapons intact.
The Halo franchise is known for its couch multiplayer co-op, whereby you can join a friend in the battle to save the human race, Halo: The Master Chief Collection is no different.
It keeps the classic co-op fans of the series love—allowing you and a friend to play through the first game until the fourth together.
The classic Halo co-op of the Master Chief Collection is similar to A Way Out's co-op experience, not from a graphical and gameplay point of view but from a traditional co-op standpoint.
Both games have great co-op experiences and fantastic narratives you can play with friends.
Halo: The Master Chief Collection is a must-have for any fan of co-op games or shooter games in general. When Halo: The Master Chief Collection was released in 2014, the collection scored a strong 85 from critics and a user score of 7.9.
When the game was released in 2014, the game had a myriad of glitches and bugs. The game would likely review even better after the developer's 343 industries smoothed out the gameplay and removed glitches that plagued the game.
11. Among Us
Among Us is one of the biggest games of the last decade. Unless you've lived under a rock and have no clue about the game, Among s has captured the gaming and entertainment world.
Among us is a multiplayer co-op experience whereby players work together to complete various in-game tasks. However, amongst your group of workers/friends, some murderous traitors seek to stop you from completing the tasks by taking you out.
In a nutshell, the game involves figuring out who the killers are, stopping them, and finishing your tasks. The game mixes the perfect blend of strategic gameplay with comedic cooperative fun and is the ideal laugh with friends.
It is also very easy to pick up and play, even for those who do not play video games regularly. It is thus no surprise, Among Us gained so much fame.
A fun, easy-to-pick-up party game with a ton of strategy is a winning combination. Even politicians started playing it, such as US Democratic senator Alexandria Ocasio Cortez.
The game is very similar to A Way Out. Both games feature strategic co-op gameplay and tactics. Thus the game is like A Way Out. Among Us reviewed well when it was released in 2018 with a Metacritic in the '80s.
12. Cuphead – 2D Games like a way out
Cuphead is a 2D action platformer that takes inspiration from the cartoons of the 1930s and adds a platforming twist.
The game focuses on boss battles and has you complete several levels before a boss encounter. The game is notoriously tricky to beat and to play, with the game being brutally challenging.
The game is one of the best 2D platformers and unique, with an aesthetic inspired by classic cartoons. As a result, the game is beautiful and one of the most visually appealing games ever created.
Nevertheless, that does not take away from the difficulty of the game. It is unforgiving and sure to make you infuriated as you get killed repeatedly by the same boss.
Cuphead is a special game and very similar to A Way Out. Alongside the single-player component, the game also features a couch co-op experience allowing you to play with your friends across all of the game's levels and compete with your friends to see who can complete levels first.
Thus, Cuphead is a game like A Way Out due to its multiplayer co-op gameplay. Both games are hard and can be enjoyed by up to two players. Thus, anyone who liked A Way Out should play this game.
Overall, when Cuphead was released in 2017, it received critical acclaim. Many reviewers gave the game a near-perfect score. Cuphead scored a high 80's from critics and a higher user score from fans. 
📗FAQ
Are there any more games like A Way Out?
If you liked A Way Out and are looking for more games like it, you could take a look at these:
Brothers: A Tale of Two Sons – This game likewise has two main characters, and it emphasizes cooperative play. Players control both characters at once in this puzzle-adventure game.
Don't Starve Together – It is possible to play this survival game cooperatively. Players must gather resources and make stuff while staying safe to survive in the wilderness.
Lovers in a Dangerous Spacetime – In this cooperative action game, players cooperate to navigate through various settings and defend their spaceship from invading forces.
Overcooked – Players team up to cook and serve meals under time constraints in this cooperative, culinary game. It supports a maximum of four players.
Portal 2 – A cooperative mode is offered in this first-person puzzle-platform game. To overcome obstacles and advance the plot, players must cooperate.
Is A Way Out a horror game?
No, A Way Out is not a horror game. It is an action-adventure game with a cooperative gameplay emphasis.
Leo and Vincent are the game's two primary characters, and the plot revolves around their attempts to elude capture and remain at large.
The game is not intended to be a horror game, even though there are some moments of suspense and peril. Puzzle-solving, exploration and action-based segments are the main gameplay elements.
Is Brothers A Tale of Two Sons co-op?
Yes, Brothers: A Tale of Two Sons is a cooperative game. It is a puzzle-adventure game where players control both main characters simultaneously and collaborate to overcome obstacles and advance the plot.
Starbreeze Studios created the game, which debuted that year. Its distinct gameplay mechanics and the moving plot has won critics' praise.
How many hours is A Way Out?
A Way Out's length can change based on the player's proficiency, time spent exploring the game's surroundings, and whether or not they complete optional goals.
On average, most players require between 8 and 12 hours to finish A Way Out's main story. This estimate is based on the typical playtime that gamers have reported on different gaming platforms.
However, depending on each player, the game's duration may differ.
How many endings are in A Way Out?
All gamers of A Way Out have the same single ending. There is just one possible ending, determined by the player's decisions and actions throughout the game.
Players will come across various branching routes and choices throughout the game that will influence the plot's development and the relationships between the key characters. The outcomes of each of these decisions are the same, though.
Is A Way Out true story?
A Way Out is a fictional game and is not based on a true story. Leo and Vincent, the game's two main characters, strive to break out of jail and remain on the run throughout the plot created by Hazelight Studios.
The game's developers made the scenario entirely up as fun, and it is all fictitious.
Is the game A Way Out OK for kids?
The Entertainment Software Rating Board's (ESRB) M (Mature) rating for A Way Out indicates that it is appropriate for gamers ages 17 and up.
The game has brutal violence, coarse language, and themes of betrayal and retaliation. For smaller kids, it might not be appropriate.
Is Vincent a cop A Way Out?
The game's narrative states that Leo and Vincent, the other main characters, are trying to escape prison. Vincent is a convicted prisoner. There is no hint in the game that Vincent is a police officer or has any link to the legal system.
Is two brothers a true story?
It is a narrative-driven game that tells the tale of two brothers, Vincent and Leo, who are trying to elude authorities and escape prison. The story told in the game is fictional, despite not being based on a true story.
Are two brothers sad?
It's not just a sad or melancholy story; the game also has action, suspense, and lighthearted moments.
How much swearing is in A Way Out?
The game uses occasional foul language, including profanity, to portray characters and their circumstances realistically and maturely.
However, the player's decisions and activities within the game may impact the language's frequency and intensity.
Reviewing the game's rating and content warnings before playing could be a good idea if you are sensitive to foul language or are concerned about how much cursing is in the game.
Final Thoughts on Games like a way out
This article has highlighted 13 games like A Way Out to play in 2023. This article has outlined many great games like A Way Out.
Such as It Takes two and even the Last of Us and Cuphead. It has highlighted how diverse the co-op genre of games is and its versatility.
From blockbuster titles such as It Takes Two and Diablo 3 to smaller games such as Unravel Two, the genre is full of great co-op games you can pick up and play with a friend.
This article has also highlighted how co-op games have developed and evolved from classic couch co-op games to more narrative-focused ones that use co-op in their stories to tell a refreshing and often fulfilling narrative through games like A Way Out.
Thus, the genre has evolved significantly over time and will continue to grow with the gradual improvement of console hardware and virtual reality.
Virtual reality will likely see the development of new co-op multiplayer experiences, which will revolutionize the genre. Likewise, with the advancement of new consoles, narrative-focused co-op games will also become more prominent.