Wondering what is the Best Games like Fallout Shelter to Keep you Trundling?🤔 No worries because that's exactly what I'm going to show you today.
Let's get started. 🐱‍🐉
During the E3 2015 conference, many heads went sideways when Bethesda removed the cloak of their newfound game, Fallout Shelter. The reason being, nobody expected a smartphone game.
It was a complete surprise indeed for everybody present in the room as well as globally. However, there was more surprise in store for professional experts, who predicted an abysmal reception for this game, when more than 100 million users registered on it.
This community management sim game gave a new meaning to the smartphone game. Bethesda Game Studios designed fallout Shelter in partnership with Behaviour Interactive. However, the game could be played only on iOS devices.
Following its success, the game was released on Windows, Xbox One, and eventually on Playstation 4, and Nintendo Switch in 2018. As of today, the game has more than 10 million downloads from the play store and as a high rating of 4.6.
The same can be said about the game on the iTunes store, where it comes with a rating of 4.8. Steam, too, has nice things to say about this resource management game. The central role of gamers is to ensure that you protect the dwellers in the vaults.
As the game progresses, you learn how to manage and survive. Most of the games which have been listed here come with the same kind of features and are typical resource management. This is a remarkable game to play, not only if you are a massive fan of the Fallout franchise.
The environment of the game and the visuals are stunning. Each minute, you can feel your heart skipping a beat because of the intensity and thrill in there.
Probably, that had a significant reason why many gamers wanted to turn elsewhere for comfort. We do not blame you for doing that. At times, other options might seem just the right thing that we needed.
But, there is no denying the fact that this game provided you with immense fun and excitement. It is just surprising to note that nobody paid attention to Fallout Shelter when it was released.
However, it ended up being on everybody's smartphone. On that note, here are some of the best games like Fallout Shelter for you to play when you want something better.
Best Games like Fallout Shelter: Our Top Pick 👌
1. This War of Mine
This War of Mine comes as no surprise. We wanted to begin this Games like Fallout Shelter list with a bang, and we think we have done, just that.
This War of Mine, like the name implies, is a resource filled game. Probably, you would have played or seen games or movies where soldiers charge inside towns.
The manner in which they swoop down these towns with utmost aggression and firepower gives you the desire to do the same. The soldiers rip through buildings with bombs and kill their enemies with high powered weaponry.
The same can be said about this game, where innocent civilians are living in those buildings. They are unfortunately trapped and exposed to this bombing and warfare. Their only fault being, they are present at the wrong place and time.
As a gamer, it is your responsibility to be part of this group of people. You live in these bombed buildings, hoping to survive to see another day. At night, you roam around for supplies. Not to mention, you need to treat the injured and sick civilians who are part of your building.
Initially, you may find things difficult. Probably at times, you may wonder what your purpose is. But, once you get used to things, everything becomes easy. Politics and war become easy to face and getting used to.
This War of Mine reminds you, how heartbreaking and shocking things can be during the wartime. Sometimes, people just die for no reason. You tend to get close to the survivors and have a chat with them about their stories.
Some of them make medicines or furniture. Your survivors have to take turns to guard at night when you are sleeping from unexpected attacks, while one scavenges around the city looking for leftovers.
At times, you are faced with the soldiers, and while they ignore you most of the time, things can sometimes become corrupt. As if that were not bad enough, other survivors like you can turn on you at a heartbeat.
When you are rummaging through piles of dirt and garbage, you are alerting others of your presence. If you are spotted, then be prepared for death too. The game comes with a huge personal touch with you.
Some gamers have witnessed that and even found changes in their behavior for good. Such is the experience. That is the beauty of this game, that makes it unforgettable and so gripping. This game can be played on your PC, PS4, Xbox One, iOS, Nintendo Switch, and Android.
Probably, this is one of the main factors that it is such a massive hit with the masses. The storyline and flexibility it gives are one of the reasons for it being so popular. As a gamer, you see that the art is evocative.
The gameplay is all about your survival skills, and perhaps you learn a few things. Morality is challenging and complicated, leaving you wanting more from it. The flaws in the game are quite apparent with autosaves only, and the difficulty is increasing tremendously.
Do you want to play This War of Mine? The answer to that is quite apparent. When you set This War of Mine, you find a challenging resource-management game. However, you are not allowed to forget that it is a dangerous game.
The problems that you will have to come across as you play are several. But, when you even make small wins, you are incredibly content with it. It only makes you want to play harder. Some questions arise as you play the game.
Do you want to intervene when a soldier assaults a lady? When you cannot afford to purchase medicine, do you shoot it? However, when you are faced with them, your emotions and feelings get in the way, making you want to do it eventually.
When you are looking for a resource management game that can prick you right inside, then This War of Mine is a thoughtful game.
This War of Mine - Teaser Trailer
2. Sheltered
Sheltered is ranked second in our quest for best games like Fallout Shelter. When you look at the game for a second, you get mistaken for it to be Fallout Shelter. Well, you are not alone. Such is the visuals and story.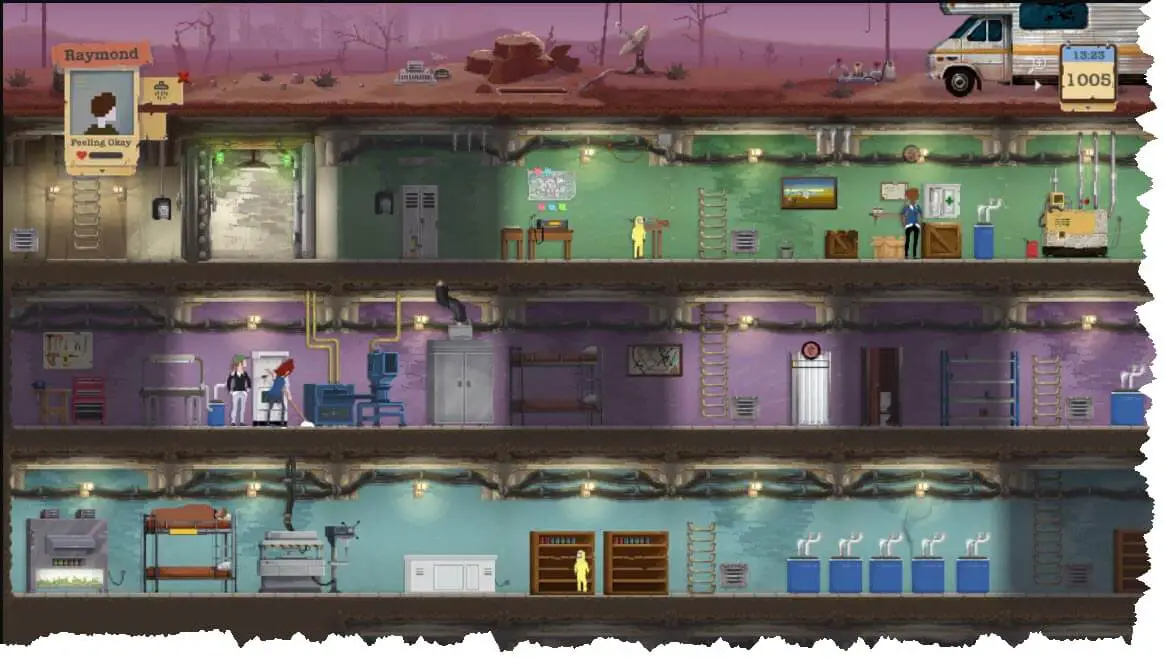 According to some gaming experts, if you are looking for a younger sibling for Fallout Shelter, then it is this game. Probably, it was destined to happen. Of course, it changes as the game moves on, but it eventually goes nowhere.
The beginning of the game is quite similar to Fallout Shelter. Your primary duty is to protect your family after an apocalyptic event. How do you protect them? You need to take them to a shelter and then manage things yourself.
Not to mention, the combat is quite similar too. However, Fallout Shelter gives you the option for downloading for free.
You decide how you want to spend money via microtransactions. The game can be played on your Nintendo Switch, PS4, Xbox One, PC, and both Android and iOS.
To write in one line, the game tries to simulate the life of a family, post-nuclear war but falls short of it. There is one striking difference between Fallout Shelter and Sheltered, which is they ask for a fiver, and you do not see it again.
So, what did we like in the game that we mentioned on the list? You will like the levels of micromanagement present in the game.
That is because you have to do everything in your house. For example, equipment needs fixing, rinsing the plates, cleaning the house, again and again.
It can get monotonous at times. You tend to feel out of the blue doing the same thing day in and night out. Each and everything needs your presence there. At times, you can be a little petrified about it.
Using the twist, you can customize the game likewise. You can decide to have foster kids, Scandinavian families, as long as 4 people are living under one roof. This is where we felt that the UI could have been bettered.
These days, most of the games come with a simple user interface that even grandparents can work with effortlessly. But it is acceptable. The landscapes or the wiring do not seem balanced at times.
You have people with different behavior patterns. While some eat a lot, some don't, and so on. Not everyone is the same. Apart from that, the monologues are slightly bland.
Sheltered is a fantastic game and does sufficient justice for those who call it a rip-off of Fallout Shelter. The game needs some more patchwork to become better. You do not want to play an utterly same game, with a different name.
Unless its developers want to consider coming up with a massive change in the characters of infusing the game with some robust elements, it will fall short of its potential. For those of you, who enjoy playing resource management games, this would be the best option on the list.
Sheltered - #1 - New Home - Let's Play / Gameplay
3. Rimworld
Next on our games like Fallout Shelter list is Rimworld. This game was inspired by Joss Whedon's Firefly and came with an excellent story.
Probably, that is the reason why the game is popular globally. The game is about three survivors who are living at the edge of the universe.
Just like life does not go according to your plan, the same can be experienced here. It is safe to say that Rimworld goes much deeper than Fallout Shelter. This game comes with a 10 rating on Steam; it is apparent that you must play it.
Once you play it, you will agree with the evaluation, because the game is that good. Though Fallout Shelter is free and Rimworld costs you more than $30, it comes with an excellent plot, fantastic characters, and several features that can hold their ground.
It is quite simple because the best games can make their users trapped in the illusion. With their story and script behaviors, you become attracted to it. At times, you feel that you are part of that character, even in real life.
These are exceptional games, and Rimworld is definitely one of them. The game wants to create complex drama, but at times, the illusion does not quite take control over you. Some gamers have felt that the presentation and style are similar to Prison Architect.
That is a good thing. We felt that this game is all drama and less action. As far as resource management is concerned, that is what it is about. You have to expect the unexpected most of the time.
Some of the characters are different in their own way. The game is unpredictable most of the time, which never allows you to get close to comfort. However, the middle part of this game becomes slightly boring and dull.
But, once you are able to form a relationship and communicate with others, things get rosy from then on. The feedback written about Rimworld is fantastic. One gamer has said that he discovered the game randomly, and he has been enjoying it since then.
We can assure you that, if you are looking for games like Fallout Shelter, but do not mind spending money, then this game is an excellent choice. Rimworld is also easy to mod and comes with a few great ones.
4. Project HighRise
We have Project HighRise next on our list in our search for games like Fallout Shelter. Is this game good enough? Let us find out. To sum up Project HighRise in one line, it is like playing a game similar to Fallout Shelter at 80 meters.
Instead of sitting inside a bunker, you are playing the game from a skyscraper. For those of you who are familiar with a game called SimTower, this is basically the same thing. Here, you have to build a highrise building and then populate it.
You are sure to be gratified once you have played the game. However, we suggest you pause and think of your plans for office, restaurants, and stores. Because coming up with those ideas in one shot can be slightly tedious.
The game will set you back by $20, which is not much considering the fact that it comes with several features and characters. You are overall in charge of your skyscraper venture and have to do everything to keep everybody happy and content.
The similarities between Fallout Shelter and Project HighRise are significantly the same. When you play the game, you find out it is more than just building rooms. You have to work toward creating an ecosystem consisting of places, people, and things.
Unless you are able to craft a self-sufficient system smoothly, you might end up losing. This is the most important aspect of an architectural management sim. Designing a highrise takes immense patience and planning.
When you are working on a single project, you begin to realize how gripping it is. You feel that the initial stages of the game are truly welcoming. The reason for that being, it comes with more depth than just choosing the rooms.
One of the main features of this game is the fast-forward button to see everything put up in front of your eyes by the construction workers.
Each of the rooms that you construct brings in something that you want to add to your project—the idea here is increasing the population of your building and bringing in tenants for income.
Small things like ensuring there is sufficient water, power working, and phone lines are all in order can make a massive difference. Each of the rooms come with their own identification and color.
If you make mistakes early on, you ruin the chances of setting a good building. So, gamers must ensure that they have all these minor details at hand. You have the option to design studio size apartments, 2bedroom apartments, 2 story duplexes, and larger homes.
Of course, you can rebuild an apartment if you want to take the risk of a fragile financial balance. The aspect of money is crucial in this game. You should be able to use your resources very carefully; otherwise, your balance sheet will become empty before you know it.
The colors and design of the game are gorgeous. We never felt this happy before constructing an apartment. On the whole, the game puts intense thought into function. However, some minor aspects are left out.
There are occasional fun and excitement. At some time, it disappears though. The middle part of the game could have been made better. Yes, you can play Project Highrise on your smartphone, PC, Switch, Xbox One, and PS4.
Project Highrise Review: A SimTower Successor?
5. Assassin's Creed Rebellion
This game needs no introduction and is perhaps one of the most popular games that we have reviewed. You will be amazed to know that there are so many versions of this game, that you can be forgiven if you have lost count.
Assassin's Creed Rebellion EN App preview 1920x1080 | Google Play
Assassin's Creed Rebellion series is known for shooting and killing, how it is possible, you ask. Well, in this game, there is a bit of everything. As an assassin, your work is never truly over. When you belong to a creed of assassins, then your rate of work got to be high.
You are dedicated to eliminating your enemies. Instead of canteens and generators, you are using training rooms and armories. According to a few gamers, this game is very similar to Westworld.
If you already play the game, then you are rewarded with extra points. You can use several rooms to design and come up with new weaponry. This can strengthen your relationships with your brotherhood.
There are many assassins to keep you at bay the whole time. It comes with a lot of combat as well. The visuals too are stunning. For example, when you are an assassin, you actually feel like one, running on rooftops.
The Assassin's Creed Rebellion can be downloaded on your smartphone for free. The designers have made an excellent version of the characters in this game. They look cute and adorable, to say the least.
At times, you wonder, how these cute little things do the most harm. The sound is good and keeps you on your toes. You can assemble a large number of your creed with the same goal. As a gamer, you would be highly impressed with Ubisoft bringing you this game.
It has excellent music, new functionality, and art, which is immense fun to play and adore. The characters are really cute. As we said, the character makes the game adorable, it is engaging, and there are also characters from all AC titles.
However, as you play, you realize that you are playing the same damn thing, with nothing new at hand. You can find the microtransactions present very annoying in the game. But, there are ample features that give gamers satisfaction when they play.
After all, it is the Assassin's Creed we are talking about. The game can be played on your smartphone, both iOS, and Android.
6. Frostpunk
Frostpunk is sixth on our games like Fallout Shelter list. To give a gist of this game, you are in the midst of a crisis. This game is designed by 11 Bit Studios, who made This War of Mine. So, you know that you have something at hand here.
Perhaps, they have found a way to design games that are super hits on resource management. You need to save your citizens from certain downfalls.
If you fail, which you most likely, if you do not plan well ahead, then you are banished from your kingdom forever.
This is a beautiful mix of Fallout Shelter. Several gaming experts have done the unthinkable when playing this game. For example, they have implemented public executions, hanging propaganda from buildings, and riding on the dark charisma.
When you are in the right frame of mind, you may not think of doing such things. What drove you to do such things? Well, such is the game Frostpunk. The answer to that is quite simple; you do it to survive.
You feel as if you are placed between the devil and the deep blue sea. You do not know where to turn because your life depends on it dearly. The decisions that you make can either make or break you.
Whether it is scripted or something bound to happen due to your decision, there is always something going around you. This makes a very heart-pumping game that gives you the chills as well as the spills.
The visuals of the game are awe-inspiring. You are living on Earth with the temperature at -20 degrees. You then have to find wood to ensure that there is warmth all around you. As we said, this game makes you make decisions for survival.
At times, you need to make children work because the tasks are too many. You need to get them done. Otherwise, your life is at stake. However, when you keep making bad decisions, discontent rises among your citizens.
They keep an eye on that, and when it reaches the limit, you are thrown out. You may want to take bold decisions to save your seat. Frankly speaking, that is what power does to you. This game gives you a new dimension to what leaders are put through.
Hence, great leaders are ones who are able to understand the plight of the common man and take friendly decisions for them. But, that is seldom found. We were astounded with the attention to detail.
The game comes priced at $25 and is worth it all. On the whole, Frostpunk is spellbinding, to say the least. You have a breathless battle against the odds stacked against you. This adds so much drama in your otherwise dull and boring life.
When you are not able to handle the pressure, it all gets over in a hurry. The bleakness of the game is quite palpable and captivating. It is varied and unique, giving you the prospect of using the best survival mode.
You will be impressed with the plot. The visuals too are detailed and outstanding aesthetics make staring at wasteland more appealing.
The above six games were your run-of-the-mill Fallout Shelter games. We have added some games to the list and have discussed them briefly below.
7. State of Decay 2
State of Decay 2 is centered around a zombie game with emergent storytelling. Yes, the plot is nowhere close to Fallout Shelter, but it brings out the best in you when you have put in a catch 22 situation.
What do you do when you are surrounded by enemies and have nowhere to run or hide? The game can quickly move South, when you are comfortably seated on your chair, leaving you teetering on the edge.
You are part of survivors who are in survival mode in a city that is flowing with blood. When you liked the elements in Fallout Shelter, then you for sure will love this game. The game can be played on your PC and Xbox One.
8. Rebuild
What happens after something is destroyed? It gets rebuilt. It is the same here. At least the concept is. This is a post-apocalyptic game. Like State of Decay 2, you are trapped in a zone full of blood mongers.
You do not know what to do apart from saving yourself. This game will have you on your toes because you have to keep yourself alive, rebuild the whole city and do a lot more. Easier said than done because you are trapped from all sides.
You can play Rebuild on your smartphone as well as use the internet.
9. The Sims 4
The Sims 4 is another interesting game. The main concept of the game is to build a huge house and then fill it with things. We were left astounded by the amount of customization in this game.
The Sims 4: Official Launch Trailer
You can do anything you want almost. When you want to play a game that provides you with ample flexibility and freedom of choice, then The Sim 4 is one of them. You would definitely want to enjoy it. You can play this game on your PS4, PC, and Xbox One.
10. Dungeon Inc.
Finally, we come to Dungeon Inc. This is an interesting story of a boy who has to expand the area in a Dungeon. Sounds interesting? Is it your kind of game? Well then, hop on to have some fun and excitement.
Dungeon, Inc. by PikPok now on Google Play
It is an idle clicker, which gives you sufficient time to manage your affairs to generate money and play games.
It is not quite up to Fallout Shelter, in terms of presentation and features. But it comes with compelling management methodologies that you cannot be wrong with.
In conclusion
We have to come to the end of our list. We hope that you enjoyed reading the games. These games come with their own interesting elements for you to play on them.
Based on our time spent during the research, we felt that This War of Mine and Sheltered were the best alternatives to Fallout Shelter.
They were able to come with the right tone and graphics embedded in them. Of course, our thoughts and your liking may not be the same. Other games mentioned on our list are worth your time and experience.
Each of them has its own unique feature and character to keep you occupied. Whether you plan on killing time during the weekends or want to play a game that can keep you hooked forever like, Fallout Shelter, is entirely up to you.
Gamers can keep themself happy by enjoying these games like Fallout Shelter. You can rest assured that you would have found your best game like Fallout Shelter by now. If not, then you can share your favorite game or ideas with us.
Remember to have fun!