Subnautica is an action survival game set on an alien planet underwater. The game was first released in 2018 and developed by Unknown Worlds Entertainment.
Subnautica takes players to the depths of the ocean, exploring the mysteries of an ancient alien world. Subnautica features an expansive open world allowing you to craft items, manoeuvre submarines, and take on monsters of the deep.
The game features many different locals, from underwater forests to huge reefs. Likewise, the game also allows you to build a range of bases, which will enable you to store precious resources and replenish your water supplies ready for your next adventure.
All in all, Subnautica is an excellent survival action game. It features an original, expansive underwater open-world that was the first of its kind within the survival genre of video games.
The game later got a sequel released in 2021 called Subnautica Below Zero. This article will outline 11 great games like Subnautica to play in 2022 that is similar to the game and are original entries into the survival genre.
Games Like Subnautica – Our Top Pick👌
Minecraft

Ark: Survival Evolved 

Fall Out 4

Grounded 

Alien Isolation 

The Forest 

Predator: Hunting Grounds

No Mans Sky

Stranded Deep

Raft 

Abzu 
1. Minecraft
When Minecraft was first released in 2011, the game took the world by storm. The popular blocky open-world survival game captured the imaginations of many gamers, from young children to adults.
The game has you explore a vast open-world filled with mysteries and challenges. But what people loved about Minecraft was its crafting mechanics. The game was one of the first games ever to introduce a non-convoluted crafting system.
Its simple nature, combined with the sheer variety of craftable materials, made the game shine. Minecraft helped put the ability to craft items in games, with countless other titles taking inspiration from the series.
Minecraft also helped redefine the survival genre of games, showing that you do not have to have the latest graphics or look stunning to be a survival game. Thus, the game was incredibly popular due to its simplistic nature.
As a result, the Minecraft base game is one of the most popular video games and one of the most sold, selling over two hundred million copies worldwide.
The developers of the game Mojang haven't rested on their laurels, though. Mojang has continued to release updates to the game, introducing various features from new skins, new animals, and biomes.
Likewise, the series also expanded with Minecraft Dungeons, a new entry on the series that focused on top-down dungeon crawling, in the same vein as the Diablo series of games.
All in all, Minecraft is one of the all-time greats and one of the best survival games, period. Due to its survival nature and unique twist on the genre, it is a game like Subnautica in many ways.
Overall, when Minecraft was first released in 2011, the game instantly became a hit amongst critics, scoring a high score of 93 and a user score of 8.0.
Nether Update: Official Trailer
2. Ark: Survival Evolved 
Ark: Survival Evolved is a massively multiplayer online game that has you survive on an island full of dinosaurs. Ark: Survival Evolved was first released on PC in 2017 by WildCard.
The game featured an expansive open world, an intricate crafting system, and a dynamic combat system. The game also lets you tame dinosaurs and build bases.
Ark: Survival Evolved is split into two sections: player-friendly lobbies and an enemy player lobby, with the latter being for more experienced players.
The game is challenging with you monitoring your health alongside defending against countless threats on the island, from T-Rex to Sabre Tooth Tigers.
The games variety of NPC's is fantastic, with Ark: Survival Evolved featuring numerous different dinosaurs and prehistoric creatures.
Similarly, all of these are tamable, which also presents a challenge. Animals are tamable by giving them different types of berries. For some, it could take hours to tame a creature.
But that's all part of the fun! Ark: Survival Evolved is thus an especially expansive game with many things to do. After release, the game was later released on the PlayStation 4 and PC.
Likewise, Ark: Survival Evolved also got several DLC installments introducing new areas to explore and creatures to fight and tame.
Similarly, in 2020, an Ark sequel got announced named Ark 2, featuring Fast and Furious superstar Vin Diesel. Although there has been no confirmation of when this game will be released, we expect we might know no more about it soon.
Due to Ark: Survival Evolved featuring prehistoric and often alien-like creatures as well as an intuitive survival system, the game is like Subnautica. When the game was released in 2017, the game got a respectable 70 from critics on Metacritic. 
ARK: Survival Evolved - Reveal Trailer (Official)
3. FallOut 4
Fallout 4 is one of the most popular survival open-world action games ever. Fallout 4 is the fourth game in the Fallout series, developed by esteemed video game developers Bethesda.
The game follows a post-apocalyptic survivor as they set out into a world filled with danger and despair. Fallout 4 features the biggest and most impressive open world of any Fallout game and even features base building.
Likewise, as with most Fallout games, it featured extensive customization as well as weapon variety. The game also looked stunning, pushing the PlayStation 4 and the Xbox One to their limits.
Fallout 4 was a groundbreaking game in many ways and is one of the most impressive open-world survival games. Fallout 4features numerous different NPC's enemies and allies, taking players on a rich and fulfilling story that takes players to the very depths of Fallout lore.
Fall Out 4, and in general, the Fallout games are like Subnautica in that both feature alien-like creatures that you must survive from. When Fallout 4 was released in 2015, the game scored an impressive 87 from critics.
Overall, Fallout 4 is an excellent game and should be played by any fan of the survival genre. It is a fundamental game that will stand the test of time as one of the all-time greats.
Fallout 4 Official - Announcement Trailer (Official)
4. Predator: Hunting Grounds
Predator: Hunting Grounds is a game developed by respected survival game developers Illfonic. The game is a survival action game with you and a group of friends either surviving or being hunted by the Predator.
You can either take control of the Predator and its abilities, with multiple different classes to choose from, or a human who has access to a variety of other tech capable of defeating the Predator.
As a Predator, you have access to a range of weapons such as the smart disk and combi stick alongside the option of different classes. Class options include the hunter class and the bezerka class, which feature different abilities and perks.
As an operative/human, you can customize your loadout and equip different class types. In terms of gameplay, the main aim of the operatives is to complete mission-based objectives or defeat the Predator.
As a Predator, your main goal is to defeat the operatives. If the Predator is defeated, it will set off a nuclear explosion that could wipe your team if you are not careful.
Thus the game is full of different gameplay experiences, which is why this game is so enjoyable.
All in all, Predator: Hunting Grounds is a game like Subnautica due to both having Alien-like creatures that hunt you as you are trying to survive.
When Predator: Hunting Grounds was released in 2020, the game scored a 62 from critics. Despite low critic scores, it is a great survival action game and one of the best.
Predator: Hunting Grounds - Reveal Trailer | PS4
5. Grounded 
Grounded is an Xbox exclusive open-world survival game that has you survive in your backyard. The game was first released in 2021 by Obsidian Entertainment on Xbox and is currently featured on Xbox Games Pass as a free-play game.
As mentioned, the game has you survive all of the horrors of your backyard, including pesky insects, creepy crawlies, and terrifying spiders.
Grounded features a multiplayer co-op allowing you and a friend to explore the wildness together. The game also includes base building alongside an extensive crafting system, allowing you to craft items such as tools, weapons, and armor to help you survive in the wild.
The game features an immersive and reactive world, whereby insects and NPC react to your every move. When released in 2021, Grounded helped show off the new fifth generation of consoles, the Xbox Series X and S.
Thus, the game was fully optimized for the consoles, showing off what the game can do with the next-gen. Thus, Grounded is graphically stunning and runs well at high framerates.
It is one of the better playing survival games due to being optimized for next-generation hardware. Grounded is unique in that it features a fresh, original take on the survival genre.
Thus, it is a game like Subnautica in that both try to freshen up the survival genre with original ideas, rather than being another game that makes you survive in a post-apocalyptic world.
Overall, Grounded should be played by any fan of the survival genre; likewise, if you have an Xbox, you have no excuse but to play it. It's free on Xbox games pass. 
Grounded - The Shroom & Doom Update - Xbox & Bethesda Games Showcase 2021
6. Alien Isolation
Although Alien Isolation and Subnautica couldn't be more different from a graphical standpoint, the games are similar in that both feature you surviving from Aliens.
Alien Isolation is a third-person action survival game based in the same universe as the Alien games. The game puts you in the shoes of Ellen Ripleys Daughter Amanda Ripley as she tries to find her mother.
Amanda, quickly realizes that this might not be an easy feat as an Alien stalks her. The game is full of suspense and horror and puts you on the edge of your seat as you wonder when the Alien will strike next.
Alien Isolation blends survival horror with narrative storytelling in a unique way that creates a horrific game and an excellent one at that. Few games have managed to achieve the same kind of narrative horror that this game has.
Alien Isolation makes you gather resources and pits you up against the Alien in unique, cinematic ways. The game is a standout amongst survival games and is one of the best.
When the game was released in 2014, Alien Isolation scored an impressive 81 from critics with a user score of 8.1. The game is loved by critics and fans alike and stands tall as one of the best of the genre. Hopefully, in the future, we will get a sequel to this much-loved game.
Alien: Isolation - Launch Trailer (Official)
7. The Forest 
When you think of survival games, The Forest always comes to mind. The Forest is an action survival horror game that puts you in the shoes of a lost traveler whose plane crashes in a forest.
Although seemingly an average forest at first, the woods turn out to be holding a sinister secret. You quickly find yourself being attacked by cannibals, mutated like creatures that want to kill you.
As you progress through the story of the Forest, you quickly learn how to survive through building and crafting items. The game is genuinely terrifying and resembles classic games such as the Slender games.
Which also involves you running through a forest, escaping horrific creatures. The Forest was first released in 2018 by developers SKS Games and was reviewed well with critics when it was first released.
The Forest scored an 83 from critics on Metacritic and a strong user score. The Forest is a game like Subnautica due to its similar survival mechanics and alien-like creatures that attack you.
Although The Forest is one of the lesser-known survival games, it is also one of the best. It features semi-realistic graphics and a solid framerate that makes this gameplay perfect.
Thus, although it doesn't push the boundaries of graphical fidelity and gameplay, it stays within its comfort zone, propelling its survival and narrative features, making for a great game.
The Forest – PSX 2017: Multiplayer Trailer | PS4
8. No Mans Sky
No Mans Sky is an open-world survival game developed by Hello Games and released in 2016. No Mans Sky is a procedurally generated open-world game set in space.
When the game was first released, it quickly got fame due to its infinite universe. The developers behind the game claimed that no planet present in the No Mans Sky universe would be the same.
Although technically not wrong, the game featured little content with basically nothing to do when first released. No Man Sky featured beautiful worlds, with seemingly infinite worlds to explore but nothing to fill these worlds.
It also had a lacklustre story and awful side missions. As a result, the game was hit by the massive backlash from fans who wanted more.
Nevertheless, Hello Games took all this criticism on board and created the game it is today, featuring an expansive story over 30 hours long, a thirty two-player multiplayer and even VR.
The game now features buildable bases and an expanded crafted system, and many other features. The game has also been streamlined with improved framerates and graphics on next-generation consoles.
Although No Man Sky got off to a shaky start, the game has quickly grown to become one of the best online survival experiences. It is a real treat to play and even better on VR.
The game is like Subnautica due to both games featuring open-world survival on alien worlds. They also have a similar art style, featuring a similar concept and design.
When No Man Sky was released in 2016, the game received mediocre scores of 71 and a poor user score below 5. Despite poor fan scores, the game has grown popular amongst fans over recent years, retaining a large player base and community.
11 Things That Have Changed In No Man's Sky Since Launch [ESRB]
9. Stranded Deep 
Stranded Deep is an action survival game set on a desert island. It puts you in the shoes of a stranded plane crash survivor who finds himself stuck on a desert island.
Without a means to call for help, you must do what you can to survive. The game is a classic survival game that makes you hunt for supplies and materials to craft weapons and gear crucial for survival.
Likewise, the game allows you to build your unique base from a flimsy shack to a full-blown house. However, none of this will be easy as you encounter the dynamic weather of the pacific as well as creatures of the deep blue sea such as sharks and even Kraken's.
Stranded deep is a fantastic survival game that tests your survival skills and pushes you to your limits as you try to survive the pacific's vast oceans. The game lets you not only explore on land but also underwater, similar to Subnautica.
Thus, due to identical survival environments, the game is like Subnautica in many ways. Stranded Deep was released in 2020 and scored a 65 from critics and a poor user score. Despite, poor scores you should pick up this game. It is underrated by many and is a lot of fun.
Stranded Deep - Official Teaser Trailer
10. Raft 
Raft is a survival game developed by Redbeet Interactive and released in 2018. After being stripped of everything and left on a single piece of wood in the middle of the ocean, Raft takes you on an ocean-spanning journey to survive.
The raft has you collect and craft materials to build out your Raft for survival. Along the way, you will encounter the dangers of the ocean alongside the constant fear of survival.
It is similar to Stranded Deep in many ways as it focuses on the classic desert island survival but does not feature an island; rather, you build up your raft to survive.
To do so, you have to collect debris from the sea and farm reefs to gather the resources needed to build up your raft. Likewise, gathering food and making yourself hydrated is also imperative for your journey.
All in all, Raft is an excellent survival game and is similar to Subnautica in many ways. Both games feature water-based survival environments. Raft was reviewed well by critics when it was released in 2018.
Raft - Announcement Trailer
11. Abzu
Abzu is an action game developed by Giant Squid Studios and released in 2016. The game is an action game set beneath the ocean; Abzu as you descend into the sea on an epic journey to explore the ocean.
The game features intuitive swimming mechanics and beautiful graphics and art style that captures the pure beauty of the sea. The game takes direct inspiration from mythologies of old, creating a game full of myths and exploration.
Abzu is stunning, with the artist behind the critically acclaimed game Journey taking the lead on its design. Thus, the game is like artwork.
Although the game is not a survival game like Subnautica, it is similar to Subnautica in that both games feature stunning open-world environments underwater.
Both games have you explore the depths of the ocean, discovering ancient mysteries along the way. Thus, the games are very similar.
When Abzu was released in 2016, the game scored in the high 70's and low 80's; if you are a fan of the Journey or Flower games, you will love Abzu.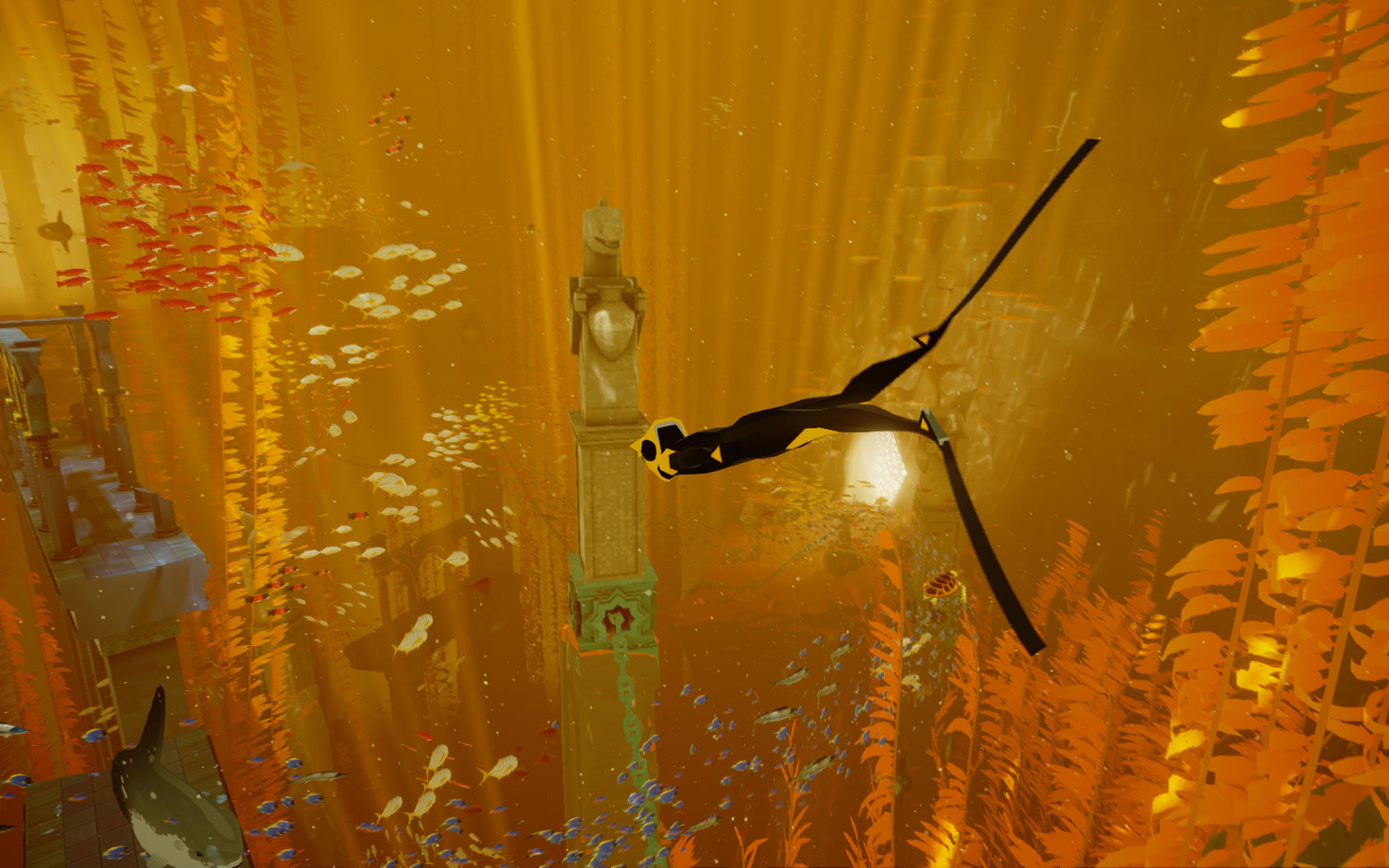 Final Thoughts 
Overall this article has outlined 11 great games like Subnautica to play in 2022. As highlighted by this article, the medium of survival games is incredibly diverse.
From survival horror games such as The Forest to desert island games such as Stranded Deep, the genre is full of great ideas and, most importantly, great games.
Although some survival games have dipped in quality, the survival genre of games has some classics, and many of them have been reviewed well. Thus, being a testament to the great storytellers and video game developers within the survival genre.
Likewise, the originality of games in the genre shows the willingness of developers to step out of their comfort zones to create great games.
With the release of new survival games like Subnautica in the future, powered by consoles such as the PlayStation 5 and the Xbox Series S, we have a lot to look forward to as survival fans.