What are some things you should know before investing in Gaming Desk Accessories? 🤔
You are not the only one who is thinking about this. Our lots of readers have the same query. We got you covered in this buyer's guide.
Let's explore this Best Must-Have Gaming Desk Accessories guide without any further delay. 📗
For many people, gaming is where leisure is; it is where they find repose. For some other sets of people, gaming is where the money is; for some, gaming is how they meet new people.
These groups would agree that they have a certain space in their apartments dedicated to gaming, whether designated or not.
Many gamers take it up a notch and have designated gaming areas designed for gaming. These areas usually have a desk, a PC, a console, controllers, and many other accessories.
This space is usually such that it sets the right atmosphere for gaming, and the arrangement is usually such that it gives the most comfort to the players while they play.
So, you are finally ready to take that big move and create a designated gaming area in your room. But then you realize that choosing the right accessories may not be easy.
You realize that to set up a gaming desk; you need to be prudent because there is a broad range of items to choose from. Not to worry, a guide is in order.
We have compiled a list of some gaming desk accessories you will not regret buying for your gaming desk.
Must-Have Gaming Desk Accessories – Our Pick👌
1. Noise-Cancelling Headset
While playing a game, there will likely be noise and distractions, especially if you have your family living with you. No one wants to be distracted while playing a game, and a noise-canceling headset can help avoid distractions.
With a headset, your ears are as immersed in the game as your eyes are. But headsets are not only for avoiding distractions and shutting out noise.
Some online multiplayer games are better played with you interacting with those you are playing against or those on your team. The headset serves as an interface for communicating in such situations.
It could also just be a way to enjoy the sounds and music from the game you are playing. Sometimes the songs are so catchy they get you in an uplifted mood and can even affect how you play.
Some headsets come with a wire to connect them to the PC or the console, while some are wireless. The wireless headsets connect through either Bluetooth or a wireless adapter.
For obvious reasons, a wireless headset would be preferred to a non-wireless headset. Your movement will not be restricted when you use a wireless headset.
One top wireless headset commonly used by gamers is the HyperX Cloud Stinger Wireless Gaming Headset. This noise-canceling headset has a sleek design and comes with a noise-canceling microphone.
The sound produced by the HyperX Cloud Stinger Wireless Gaming Headset is quite accurate, and the bass and treble balance is just right. It connects using a wireless adapter and has a range of up to 40 feet.
The sleek design and the memory foam ensure you can wear them for long periods without feeling uncomfortable. This is especially important when you are playing games with no time limit.
You can use the headset for up to 17 hours without a charge, and it is compatible with PlayStation 4, Desktop/Laptop, and Nintendo switch. The volume control placed at the right ear cup's rear side allows you to switch the volume during gameplay easily.
HyperX Cloud Stinger Wireless Gaming Headset is must have Gaming Desk Accessories for every gamer.
Check Price on Amazon
The TRUTH About The HyperX Cloud Stinger Wireless Gaming Headset
2. Gaming Keyboard
Talking about interfaces, the keyboard is one device very important for controlling the game. It would be best if you had it to enter commands and play some games you cannot play with other game controllers.
While playing a game, it can all get intense. Thus, getting a keyboard that can withstand so much is advisable.
Advanced keyboards are preferable because you will want something responsive and high-performing. Some keyboards come with a color profile – the keys are grouped and colored according to these groups. The color profiles not only add to the aesthetics of the keyboard but also ease navigation.
Also, a keyboard that will put little or no strain on your wrists and has ports for connecting other devices like microphones and headsets will improve your gaming experience.
If you want a gaming keyboard that will deliver on all fronts, you should consider the Razer Ornata Chroma Gaming Keyboard. This might be a bit pricey, but it is worth it.
It comes with a detachable wrist rest, and the keys are color-profiled. If you want the color profile of the keys to be in a different pattern, you can change it to whatever you use in the Razer Synapse application.
The key caps of the Razer Ornata Chroma are made to be short of ensuring that your strokes are initiated faster. This feature is particularly useful in games where every second counts, and if you are not responding fast enough, you may likely lose.
The drawback of the Razer Ornata Chroma is that it does not have extra ports for microphones, headphones, and other extra devices.
Razer Ornata Chroma combines mechanical keyboard features with membrane keyboard features to form a "Mecha-Membrane Keyboard".
The outcome of this combination is that you still get the feedback feeling you will normally get while using a mechanical keyboard. However, your typing experience is not as noisy because of the membrane features.
Razer Ornata Chroma Gaming Keyboard is must have Gaming Desk Accessory for every gamer.
Check Price on Amazon
3. Gaming Mouse
So we are still on input and control devices; the mouse offers a degree of freedom you may not get with a gamepad or keyboard.
There are many brands of gaming mouse available, but you should go for one that is highly sensitive.
Gaming requires accuracy and sensitivity to react to the game's dynamics in real-time. The DPI rating (Dots per inch) tells you about the sensitivity of a mouse.
The higher the rating, the more sensitive the mouse. Usually, these mice come with a switch that allows you to toggle between different DPI levels. So whatever you can, set the DPI to the best level.
Ease of handling is another important factor to consider when choosing your mouse. It would be best if you had something that you can hold comfortably and move easily in the heat of the game.
Also, having a mouse with a beautiful design is a plus to the aesthetics of your gaming desk. Some mice even come with RGB lights that add to their overall beauty. You should also look for a light mouse that is easy to move over a mouse pad.
The PICTEK Gaming Mouse is one gaming mouse you can add to your gaming desk accessories list.
This mouse has a maximum DPI of 7200 with 4 DPI levels before this maximum (1200, 2400, 3500, and 5500), and the RGB backlight changes as you switch between DPI levels.
It also has 4 adjustable polling rates (125, 250, 500, and 1000 Hz), the higher the polling rate, the faster the mouse is.
The mouse weighs just about 0.14 kilograms, so weight is not a problem. It has an ergonomic design for easy handling and comfort.
The mouse has 7 buttons with different functions; the left button, the right button, the middle button for scrolling, the forward button & back button by the sides, and the DPI +/- buttons below the middle button. PICTEK Gaming Mouse is must have Gaming Desk Accessories for every gamer.
4. Gaming Speakers
Your gaming experience is incomplete if all that happens is input; the feedback/output is part of the whole experience. The best speakers give you a 3-dimensional sound output, so it feels like the sound engulfs you, and you are immersed in it.
You may also desire a loudspeaker, but that is up to you; a sufficiently audible speaker will do. But what is most important is the quality of the sound from the speaker, you should look out for a speaker with a well-detailed output and good bass-treble balance.
Getting a wireless speaker may be preferable as it precludes the complexity of wires. The wireless feature also means that you can use the speaker with not just a television or a monitor but also any other Bluetooth-enabled device. But a wired speaker with the right specs will serve you just as well.
You should be aware that you are not just stocking your gaming desk with accessories but designing it. Your gaming desk should look beautiful.
There are speakers uniquely shaped, and you could choose one that you find attractive. Also, some of them come with LED lights that add more beauty to the structure of the speakers.
The Logitech Speaker System Z323 is one gaming speaker that offers top-notch audio output. The speaker system has a total output power of 60 watts, and the sound produced is clear and circulates in such a way as to engulf you in the sound.
It makes the sound more realistic. The output is also very detailed; you can almost hear the tiniest sounds. This speaker may be a bit pricey, but with the quality, you will not be bothered by the price.
Logitech Speaker System Z323 is not wireless, it uses RCA jacks and an auxiliary cord to connect to your PC, PlayStation, Xbox, and any other device that supports these cords.
The speaker system comes with a subwoofer and 2 stylishly designed speakers that add an extra dimension to your gaming desk. Logitech Speaker System Z323 is must have Gaming Desk Accessories for every gamer.
Check Price on Amazon
Logitech Z323 Speakers UNBOXING AND REVIEW
5. Ergonomic Chair
While playing a game, you will probably spend most of your time seated. But your mojo could be off throughout the game if you are not seated comfortably.
Of course, if your mojo is off, you will likely not win any game or perform as well as you normally would. 
You cannot put a price on comfort; it is either your health or the cost of an ergonomic chair. Sitting for long periods puts a strain on your body, especially your back and neck.
For this reason, you have to opt for a chair that will give you all the comfort you need for long periods.
The Hbada Gaming Chair offers so many features for your comfort. It comes with a 155° recline which you can adjust to whatever angle suits you.
You can recline to 155° when you want to relax, you can reduce the angle of reclining when you want to read, and when you want to sit up and work, you can reduce the angle even more (down to 90°).
The chair also features a full swivel—the swivel and the recline work towards supporting your lumbar and easing strain in those areas.
This chair has a headrest like a mini-pillow to support the neck and a backrest to support the back. The backrest also makes sure your alignment while seating is optimal to reduce strain on the back.
The stand has a cushion that compresses under your weight, which helps ease the stress on your thighs after sitting for long periods.
Aside from the support for your body, the chair's height is also adjustable so that you can use it with desks of different heights.
The caster allows easy movement – you do not have to carry it because you can move it with the casters. The sitting space of the chair is well-padded with soft, breathable foam, which adds to the chair's comfort. Hbada Gaming Chair is must have Gaming Desk Accessories for every gamer.
6. Gaming Webcam
A webcam may come in handy as part of your gaming desk accessories. Sometimes, you may desire that your video calls with your fellow gamers appear in very high quality.
It is unlikely that the built-in webcam on your laptop or perhaps desktop will offer anything high. This is where a gaming webcam comes into play. Some webcams deliver high-quality videos and images as high as 1920 x 1080p.
The webcam suitable for you will have a wide-capture field that captures many angles with sustained quality.
The output from the webcam should be detailed, not pixelated. You should also be able to use the device on laptops and desktops with the same quality on either platform. 
Also, a webcam that can reduce light, effectively adjust hue balance, has great autofocus, and has picture editing tools will surely have high-quality output.
The Logitech C922x Pro Stream Webcam may be a bit expensive, but for a full HD with all specs it has, the price seems justified. This webcam can record 720p and 1080p videos, although 1080p is recorded at a lower frame per second (fps) than 720o videos.
The 1080p videos are recorded at 30 fps; this fps value is about the same quality as videos shown on TV. On the Other hand, 720p videos are recorded at 60 fps which is at the same level as sports recordings.
It also has premium autofocus that ensures that your videos come out crisp and sharp. It also has two built-in microphones for rich audio input, and it uses a full HD glass lens, so you can be sure the output is top-notch.
It does not end there with the Logitech C922x Pro Stream Webcam; it has a 78° field of view which means it would pretty much cover close to a right angle at a go. The hue correction is okay but not great; it could be better and works fine in dimly lit conditions.
If you wonder whether this webcam would be compatible with your device, it will most likely be. It is compatible with macOS X 10.9 and higher, Chrome OS, Android 5.0 and higher, Xbox One, Windows 7, Windows 8, and Windows 10. Logitech C922x Pro Stream Webcam is must have Gaming Desk Accessories for every gamer.
Check Price on Amazon
Logitech C920 vs C922 Pro Stream Webcam Shootout
7. Gaming Monitor
What is more important to your gaming experience than seeing what you are doing? Can you even play your games without seeing what you are doing?
The monitor is one of the most important gaming desk accessories, and without it, it is hard to imagine that you even have a gaming desk.
You should look for a monitor that will give you the best display output – full HD monitors and monitors with high pixel ratings are sure to give you this type of output.
A monitor with a high refresh rate (50 Hz or higher) would give you some of the best experiences with a monitor. You also need a monitor with just the perfect height and width for your desktop space. Something too big or too small will look off.
Also, a desktop with a small screen will severely limit your experience, so you should opt for something in-between if your desk is large enough for a big-screen monitor. A flexible monitor will also come in handy so you can adjust it to the right angle to suit your viewing preferences.
Then there is the part where you need to connect the monitor with your other gaming accessories. You should opt for a monitor with all the necessary ports.
The VGA port used to be the most common means of connecting to a video output device, and many devices still connect through a VGA port, so your monitor should have one of those.
The HDMI port is now the more favored means of connecting other devices to a display. The HDMI produces high-definition output compared to the VGA so this new preference is understandable.
If you are getting a full-HD monitor or any HD monitor, it will come with an HDMI port. You should check that your other accessories can be used with an HDMI device to ensure that you enjoy the high-definition experience fully.
Some monitors come with additional features like built-in speakers, and some of these speakers may even give crisp and clear audio output so that is something to look out for.
The Sceptre 24" Curved LED Monitor comes at a very fair price for a monitor with its performance. It is a 1920 x 1080 p device (Full HD) with a refresh rate of 75 Hz so you can expect a unique viewing experience with accurate colors and the right hue balance.
You can choose to let this monitor stand on your desk or you can choose to mount it on the wall. No matter the option you opt for, the experience is still great. 
This monitor weighs just about 3 kg making it easy to move about so that on days or weekends when you want to clean your desk, weight is no problem.
The curved design adds style to the structure of the monitor, and it also gives you a broad field of vision – almost like the images surrounding you. The screen can be adjusted by tilting the screen forward or backward.
The forward tilt is possible up to 5° while the backward tilt is up to 15°. The Sceptre 24" Curved LED Monitor has a port for both HDMI and VGA and a 3.5 mm audio jack. Sceptre 24" Curved LED Monitor is must have Gaming Desk Accessory for every gamer.
8. Mouse Pad
Earlier, we stated how a mouse could be useful to your gaming experience and what you should look out for in a mouse. We referred to the sensitivity of the mouse and the ease of handling them and highlighted their influence on your total gameplay.
While the mouse itself should be made to be highly sensitive and easy to handle, its performance is also dependent on the surface it is used.
If you use your mouse on just any surface, the chances of you not experiencing its quality fully is almost a hundred percent. This is why you need a mouse pad.
The best mouse pads for gaming will have a smooth non-resistant surface for the fluid movement of the mouse. As mentioned earlier, timing is essential in certain games, and a non-resistant mouse pad will ensure that you can move the mouse uninhibited.
Mousepads with these types of surfaces will also enhance your reaction time so you cannot overlook the surface of the mousepads while making your choice.
Another property of a mouse pad essential to your gaming experience is its surface area. You should opt for a mouse pad measuring at least 10 inches by 10 inches.
A mouse pad with a large surface area would be nice as it gives your mouse more freedom and it gives you a broader area to work your mouse on. Also, we cannot overemphasize the need for aesthetics on your gaming desk.
Your gaming desk should look great, so look for a mouse pad with an attractive design and color combination.
The VicTsing Extended Gaming Mouse Pad is one mouse pad you will enjoy gaming with. The fiber used in making the VicTsing Extended Gaming Mouse Pad is carefully and finely braided, resulting in a super-smooth, sensitive, non-resistant surface.
This material is water-resistant, and the underside of the mouse pad is built to grip the desk to preclude slipping.
It measures 31.5 inches by 15.8 inches with a thickness of 0.1 inches and is even big enough to contain your keyboard.
The VicTsing Extended Gaming Mouse Pad is stylishly designed, having curved edges and a pattern painted to look like outer space.VicTsing Extended Gaming Mouse Pad is must have Gaming Desk Accessory for every gamer.
Check Price on Amazon
9. Dust Manager
With your monitor, keyboard, speakers, and other accessories all placed in one place for so long, it is almost inevitable that your gaming area will become dusty.
Dust will settle on the surface and in the tiny spaces of your accessories, and you will not enjoy that. A dusty gaming area is unaesthetic and unhygienic, and if you have allergies, you should not allow dust to amass in your gaming area.
A dust manager will go a long way to help ensure that your gaming area has as little dust as possible. Your choice of dust manager should be highly efficient in cleaning dust on surfaces and in tiny spaces.
It should be efficient enough to give your accessories a fresh look after each cleaning. It should also be energy-efficient because the less energy used, the less you pay for electricity.
The dust manager should be able to operate at different speeds – you would not want to use it at a speed that blows away all you have on your desk. At the same time, higher speeds will be useful when you use the dust manager to clean over areas of your home.
One dust manager you should consider getting is the XPOWER A-2 Airrow Computer Duster Dryer. This duster comes with 9 nozzle types for reaching into not-easily-accessible spaces, and some of these nozzles come with tiny brushes for reaching deep into these spaces.
Even though we have emphasized aesthetics throughout this article, you may not bother about that with your duster because it usually will not be displayed on the desk.
The fan's rotation is powerful (up to 90 CFM), and you can operate the duster with just 120 volts at 60 Hz. It usually consumes about 500 watts at maximum speed, marking its energy efficiency.
The duster is light, weighing about 1 kg allowing you to carry it for long periods while cleaning easily. It has a switch to toggle between 2 speeds, so you can choose the speed suitable for the items you want to clean and not bother about blowing away the item you are cleaning. XPOWER A-2 Airrow Computer Duster Dryer is must have Gaming Desk Accessory for every gamer.
Check Price on Amazon
10. Wire Organizer
If you have so many devices in one place, there will surely be a lot of wires. Where there are many wires, there is sure to be entanglement. An entanglement of wires is unpleasant and could even be mentally unnerving.
The wires of your device need to be arranged for your safety also, an entanglement leaves you at risk of electric shock. An electric shock will certainly be unpleasant, and it could cause permanent damage to you or anyone else so you best avoid it.
If you opt for wired devices, it is almost impossible for your accessories not to be entangled, except if you use a wire organizer.
A wire organizer that blends with wires would be perfect. You do not want something that stands out and adds noise to the color palette of your gaming area.
You should also opt for a wire organizer with quality material. Your wire organizer should be resistant to water, dustproof, durable, strong, and easy to clean.
It should also be resistant to scratches and support the weight of the attached wires. Of course, no one wants something they cannot use easily, so you should use a wire organizer designed for ease.
OHill Cable Clips are a brand of wire organizers made by OHill and are affordable. A pack of OHill Cable Clips contains 16 pieces of cable holders of different sizes.
In the pack, there are 6 single-slot clips, 2 double-slot clips for larger cables, 4- double-slot clips for smaller cables, 2 five-slot clips, and 2 triple-slot clips.
The clips are easy to use; you peel off the protective film at the back of the clip, you stick the clip to the desk or the wall, and you wait for at least 24 hours for strong adhesion.
After 24 hours, you can start using the clips by simply slotting the wires through the divide. You can also use these clips for other items in your house like pens, toothbrushes, and other items that would fit through the divide.
Check Price on Amazon
11. USB Hub
At your gaming desk, chances are most of the devices will have a USB cable that needs to be connected to your computer or console. Computers usually come with a few USB slots, so you cannot rely on them to fulfill all your USB slot needs.
Also, after arranging your gaming area, the USB slots will usually be in spots that are uneasily accessible, and this can be discouraging.
These difficulties spell the reason you need a USB Hub. A USB hub will offer extra slots for connecting USB devices, which can be extended away from spots that are not easily accessible.
When choosing which USB hub to get, make sure you consider the number of USB slots available against the number of USB devices you have.
Also, always opt for a USB hub with the latest technology as this affects the data exchange rate, especially during file transfer.
At this point, USB hubs using USB 3.0 technology offer some of the best transfer speeds, so you would not have to wait forever before your file transfer is complete.
For extra aesthetics, you should go for a USB hub with a sleek design. You may even check out USB hubs that come with LED lights. You could choose one with lights that are compatible with other accessories on your desk.
Check out the Atolla 7-point USB hub, a mid-price USB hub that runs on USB 3.0 technology. The USB 3.0 allows you to exchange data at speeds up to 5 gigabytes per second (this can be achieved with other USB 3.0 devices).
This USB hub has 7 USB slots and 1 smart-charging port. Each USB slot has a switch that allows you to disconnect a device without disconnecting it from the hub and without disconnecting the hub from the computer.
Each USB slot is lit with LED light while active, and the cable of the USB hub is about 120 cm long so it can extend from USB slots that you cannot reach easily on the computer.
Check Price on Amazon
12. Desk Air Purifier
A desk air purifier will contribute to keeping the air in your gaming area as hygienic as possible. With dust and airborne microbes inevitably collecting in the air around your gaming area, you could fall ill quickly, especially if you have allergies.
The air purifier not only cleans the air of dust and bacteria but it also removes odor, mold, pollen, and other pollutants in the air.
An air purifier will reduce the chances of an asthmatic having an asthma attack and having red eyes, runny nose, and skin irritation.
As part of your gaming desk accessories, you need an air purifier that is sleek, portable, easy to use and works silently.
You would not want the air purifier to take up too much space on the desk, and having a device with a complicated operation is not the best way to go. Also, no one wants an air purifier that operates noisily because that would be distracting.
Asides from being sleek and portable, your air purifier should have an attractive design and go for an air purifier with a color that is compatible with the color palette of your gaming desk is just right.
PARTU HEPA Air Purifier is one desk air purifier to look out for. There are 7 available colors for this device so you have many options to choose from and can choose a color that works for your gaming area.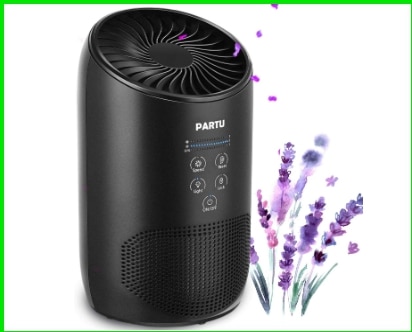 Its dimensions measure 6.3 x 6.3 x 11.4 inches and this is portable enough and operates between 38 to 59 decibels which is almost noiseless. This air purifier uses a HEPA filter (High-Efficiency Particulate air filter) to entrap pollen & smaller particles.
PARTU BS-03 uses an activated carbon filter to trap microbes & gaseous pollutants like dust, smoke, and bacteria, while the large filter traps larger particles. Air moves from the large filter to the HEPA filter and then to the carbon filter in a 3-way process.
Check Price on Amazon
13. Microphone and Stand
We have established that you need a microphone for your gaming area because you have to communicate with your opponents and your team members, and some games require audio feedback from you.
Your headset and webcam may come with microphones, but their sound quality will likely not be as high as that of an external microphone.
So your choice of a microphone has to be one with top-notch sound output, one that is easy to use, and one that is compatible with your device.
If you are getting an external microphone, you will surely need a microphone stand because you cannot hold the microphone with your hands while you play your games – that will not be comfortable for you.
FIFINE USB microphone comes with a tripod stand and is compatible with Windows, PlayStation 4, and macOS but not with Xbox. The audio quality on this device is more than worth the price it is set at; your recordings are audible, detailed, and crisp.
This microphone is portable and sleek; you can adjust the volume of your recordings to suit your requirements without raising your voice. The interface is uncomplicated; it is a plug-and-play device that anyone can operate.
Check Price on Amazon
Conclusion
While considering what to get for your gaming desk, you will consider the prices of the accessories – it is a given. But then there are other important considerations like compatibility.
You should ensure that the accessories you get are compatible with each other, that they would work with the operating system of the PC or gaming console, and that the right connection ports are available.
You should also consider the size of your desk and the size of the accessories you intend to get. They should not be too large for the desk and not too large for each other such that when placed side-by-side, they look disproportionate.
Consider the color compatibility of your accessories too, and make sure the colors look okay together; you may even choose a theme but avoid having a combination of colors that look off.