There is no doubt that Google Maps is a great means of navigating, giving clear, precise instructions on how to find routes, and calculating the number of hours it will take for you to get to your destination. Hence it gets really annoying when it malfunctions and users encounter the Google Maps Upside Down problem.
Google maps have made it easy for people to surprise friends and relatives by arriving unannounced at their location, leaving them wondering how you got there without their help.
Without proper navigation, you can be put off course, leaving you wandering aimlessly looking for help. 
Ever noticed how all of a sudden your Google Map turns upside down while you're navigating to a route. Annoying, right?
Not to worry, there are quick fixes to correct such a problem when it happens, so, be calm and enjoy the ride.
Recommended Fixes For Google Maps Upside Down
Let us jump right into solving your Google Maps problem. I recommend starting from the top and walking your way down the list to find a fix the works for you.
1. Battery Saver Off
As the name implies, a battery saver or power saver helps you conserve energy as much as possible by reducing the access and performance level of other apps on your device. 
Therefore, the smooth running of applications on your device will be limited causing those apps to become buggy which may result in your Google Maps turning upside down if you are using it at that moment.
If this is the case, you could start by turning the power saver off to let the Google Map application perform to its maximum potential.
To Turn off Power Saver on Android
Go to the "Setting" app on your smartphone and open it. Search for "Battery" under Device Care and click on it.
Then click the "Power Mode" option to reveal a list of options.
From these options, select Optimized.
There you go, the power saver on your phone would have been turned off now and your Google Map will be able to perform to its full capacity without hindrance, hence, correcting the Google Maps upside down problem.
2. Use North Icon
Have you ever noticed the handy compass Google Map offers you while you are navigating? This helps you know the exact direction you are heading to. The location could be the north, south, east, or west.
Lovers of geography will love this! So while trying to find your way to an area, you can just click on the compass icon at the upper right corner of your screen if your Google Map is upside down. 
3. Auto Rotate
If you have tried the first two techniques to resolve your Google Maps upside down problem but to no avail, this might just be the one that saves the day.
There are lots of reasons why your google Map upside-down problem is not going away. One could be a lock screen rotation situation on your phone.
When your phone's auto-rotate is disabled, the phone tends to lock itself, presenting an upside down orientation while you are navigating. 
The auto-rotate should be enabled. This could be the solution to your Google Maps upside down problem. Check to see if it works.
To enable auto-rotate on an android phone:-
Swipe down the screen of your phone to gain access to the quick setting panel.
There you will find the auto-rotate option, click on it to enable it. In some phones, it may be called "Smart View".
For iPhone users, disabling the portrait orientation lock from the control panel could help you get rid of the Google Map upside-down problem. 
From the top right corner of the screen, swipe down to access the quick setting.
Find the rotation lock button and click on it. You will see a "Portrait Orientation Lock: Off" screen message.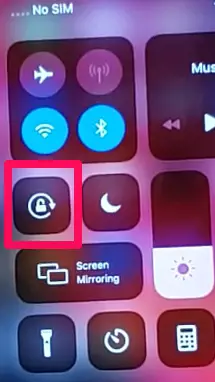 4. Use Your Devices' High Accuracy Mode
For Google Map to identify your location as accurately as possible, enabling high accuracy mode in the location setting might just do the trick. The high accuracy mode enables Google maps to get the precise location you are in and helps it calculate the distance you will be traveling to.
Leaving the high accuracy mode on would definitely put a strain on the longevity of your battery and data on your device but it has to be enabled for Google Maps to work efficiently.
So when you are about to use Google Maps, enable the location accuracy and immediately turn it off when not in use to preserve your battery and data.
How to Enable Location Accuracy on an Android
Swipe and locate the "Setting" icon on your phone. There, tap on the "Location" menu provided.
In the location menu, expand the advanced menu and click on Google Location Accuracy.
Then you turn on the toggle close to "Improve Location Accuracy".
For iPhone users
Navigate your way to the "Setting" icon. Find the icon that says "Privacy" and tap on "Location Services".
There, locate the Google Map app on the list provided.
Turn on the toggle on the "Precise Location" option.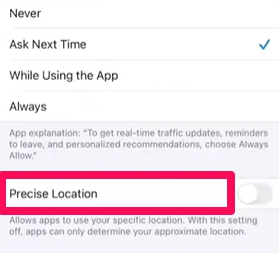 Enabling the high accuracy of your device location is one way to resolve the Google Maps upside down issue you are experiencing. Do this and know peace.
5. Clear Cache
Unknown to us, phones have a way of saving up files that are not of use to us which brings about the cache data storage. Your phone gets a lot of cache data from apps as you continually use them daily.
These cache data that are stored take up space that affects the performance and capacity of the device. Some of these cache data collected by your device may be corrupted and thus, be the reason why your device's Google Map is upside down.
Clearing these corrupted data occasionally may help improve the performance of your device, making all apps including the Google Map to function properly.
Here is how to clear cache data on your device:
Find your way to "Setting" and tap on "Apps".
From the list that will be provided to you, search for Map app and tap on it.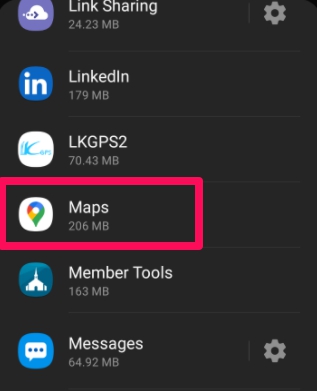 There, find the "Storage and Cache" and click on clear cache. This should immediately remove every corrupted file that your device may have been storing.
6. Reinstalling Google Map
Having tried these workarounds and none seems to be working out for you. You may need to uninstall and reinstall the Google Map app on your device. 
The Google Maps upside down issue could be as a result of the app is out of date or the app may have accumulated so many corrupted files that is stopping it from working efficiently.
7. Restarting Your phone
This technique is the most effective way of troubleshooting a device. It automatically closes all running applications on the phone, making every possible error caused by bugs fix itself without much hassle.
If every other technique has failed you, restarting your phone could be the exact thing you need to fix the Google Maps upside down situation you're experiencing.
To restart your phone:-
Long press on the power button.

You will be provided with power options.

Tap on restart phone.
Your phone will reboot and fix not only the Google Maps upside down problem, but also every other underlying problem that is causing your device not to function to its maximum.
FAQs
(Q) How is rotating Google Maps done?
This can be done by putting two of your fingers on the screen of your device and changing it to the direction of your choice.
(Q) My Google Map is facing North, why?
To make sure that the orientation of the map stays in place, this is how to fix it.
Go to the "Profile" icon on the top right corner

Locate "Setting", and tap on it.

There, find "Navigation Setting" and scroll downward.

On the switch close to "Keep map north up", toggle on it. Problem fixed.
(Q) Is Landscape Mode used on Google Map?
It definitely does work perfectly when placed in landscape mode. As long as your device is on auto-rotate, Google Map will work on your phone whichever way you place it while navigating.
Final Thoughts
It is usually a good feeling when you make appointments to unknown places and get there in time. Unfortunately, due to unexplainable reasons, we may be faced with a Google Map upside-down problem while navigating which can be a mood dampener. 
In cases like this, appointments are missed when trying to figure out where and when to turn to when driving. Causing confusion and frustration at the same time.
I'm optimistic that one of the techniques reviewed above will bring a halt to the Google Maps upside down issue, letting you explore the many features the map has to offer you on the way.
Please let me know in the comment section what fixes worked for you.