GPS trackers and GPS area innovations are becoming progressively popular every day. It guarantees a person's security, and these tools' primary goal is to ensure safety.
You can use GPS Tracker for Elderly in numerous ways; you can use this for personal security and safety. Locators also permit you to define limits around safe places, so you're alerted if they go out.
You should monitor them for many reasons. However, the most crucial goal is to keep them from being hurt. Many tools are there in the market; they are simple and readily available.
Compact GPS Trackers are little transmitters that permit you to follow real-time locations of individuals or things that are generally critical to you: your kids, older guardians, motorbikes, or vehicles.
You can see your person's location with a PC, tablet, or cell phone. Such tools have many advanced features and can trace a person within a short period.
Best GPS Tracker For Elderly – Our Top Picks👌
1. Revolar Instinct Personal Safety Device
It works with an app downloaded to your Smartphone, Android, or Apple-compatible personal safety device made for typical use of robust low-energy Bluetooth. Revolar Instinct is a unique yet straightforward device.
This GPS Tracker for Elderly device sends a notification to the people you add, and the alerts operate on a two-tiered system, red and Yellow. Red three rapid clicks on the device alert your contacts that the wearer is in danger and prompts them to call the cops.
Yellow 2 quick clicks on the device let your contacts know that the wearer is in an uncomfortable situation or distress is unsafe and sends notifications by email and text to all designated communications. 
It uses Bluetooth technology, your Smartphone, and will need to be within the Bluetooth range, typically 30 feet, and have a wifi connection or data plan to send alerts. So the device appears to only function if it is within a reasonable distance of the wearer's Smartphone.
Pros:-
A Revolar is a small device you can attach to your clip directly on your clothes or key ring and is easy to operate.

Revolar Instinct has excellent features like it sends different messages in different situations to the people you already add to your list.

It also provides an exact location on a map and continues to track until you cancel the alert. 

It has a replaceable battery, and it is water-resistant and lightweight 

No fees or subscriptions required
Cons:-
If you lose your Smartphone, The Reveller will not be able to keep tracking you once the phone is gone.

It is not best for remote hikers or those worried about approximately violent crime. 

It has a limitation of emergency contacts. 

It only alerts the exact contacts.
Check Price on Amazon
Revolar: World's smallest personal safety device
2. Amcrest 4G LTE GPS Tracker
It has an excellent GPS tracker watch for dementia and elderly care with an integrated maps interface to manage your settings and monitor yours.
It sends different types of alert messages or emails according to a person's situation, and the other person can trace them via smartphone or any such device.
It uses four main frequencies and works in more areas and offers good coverage. So it has excellent work efficiency and accuracy. 
It has an excellent battery working function, its battery automatically goes to a power saver mode according to your usage, and it lasts long. So it gives more battery life. It has very decent elements that work great under any circumstances.
It works with a real-time system and provides updates every 60 sec about location. You can record all the tracing scenarios in this tool.
Pros:-
Amcrest gives battery fluctuation notifications for both power and power off and sends messages for low battery.

You can operate Amcrest devices via your cell phone, laptop, or desktop.

Amcrest device has an emergency alarm function facility and an accelerometer function that gives output for motion and sends warning signals.

It is water resistant, barely more significant than a matchbox, and inconspicuous.

This device automatically collects information about the location and gives accurate results. The UI of Amcrest is excellent and readily understandable for users; it has a vibrant color map that gives incredible accessibility. 
Cons:-
Amcresthas, a region limitation, does not work out of 20 Geo-Fencing Regions. 

This device of Amcrest works in Canada, Mexico, and the US only. 

Amcrest devices are not compatible with mobile browsers.
Check Price on Amazon
4G GPS Tracker Amcrest Review
3. Americaloc GL300W Mini Portable Real-Time GPS Tracker
Monitoring for a person or a particular purpose is also an easy task through this GPS Tracker for Elderly devices.
Even while moving, the one monitoring can track the person or objectives for the device status indicators; you can check the device's power on or off along with the low battery warning and the front button pressed signal. 
If you regularly need to monitor your person, this product is perfect for you. It continually refreshes the location of a person and traces it precisely. You can change service without any request, and the company charges nothing extra.
It stores data for one long year for you to use later when required. It can monitor every little thing and store it for a long duration. It traces all the year's activities and sends all the information to your registered email.
Pros:-
It also sends signals to include speeding, movement, parking, entering, and leaving zones; it sends various warning signals and can track everything, whether it's a person, a car, or your luggage.

Americaloc charges nothing for cancellation, and you can give up anytime. Apart from this with first busying it gives free two extra months' service.

The Americaloc app is available on both iPhone and Android. You can download it from the related play store. It traces from time to time and gathers information and saves. You can see all the records from your cellphone or laptop. it works in different nations.
Cons:-
The tracking device gives you the general location when the wireless signal is strong. If it is the week, the accuracy is not that good.

No application available, and loose signal frequently

Battery life does not last as advertised
Check Price on Amazon
4. AngelSense ElderlyTracker and App GPS 
This device is made for unique and basic needs. It is designed with the most advanced location tracking technology to provide an accurate personal location. It ensures the maximum amount of protection during real-life emergencies.
It is designed to protect our most vulnerable loved ones and is a comprehensive safety device. Other GPS devices are made for simply tracking pets, cars, and destinies.
It sends life-saving alerts informing you when your loved one is and proactively preventing emergencies. 
You will also get alerts for unknown and unexpected places; when your person is left behind, gets off at the wrong place, or ends up somewhere. It has an SOS call button to know when they need you.
It has incredible features like customizable Geo-fence safe places, guardians, detailed location history, transit history, unlimited live tracking, and more. 
Pros:-
It has intelligent iALERTS such as early departure, unexpected places, late arrival, and new departure.

The safe ride monitoring feature is used for the exact route, max speed, ETA, unexpected delays & stops – other GPS devices only provide alerts when leaving a preset defense. It monitors your loved one anywhere and everywhere.

It has an emergency search tool, and it gets quickly activated. Its search and rescue send a temporary live map link to a 911 dispatch, first responders, police officers, babysitters, and neighbors. You can see where you are in the situation with your loved one and get directions and an alarm to hear where they are lost in the crowd or hiding. 

Well-being features like listen-In, location activity playback, step counter, and listen-In. It is non-removable and sensory sensitive, wearing, and waterproof.

Easy-to-use iOS, Android, or Windows apps for mobile, tablets, laptops, desktops, and phones.

Auto-detects are fully customizable, add guardians and set permissions, name places, turn on and off features, decide what alerts & notifications you want, and send them via push, Email & SMS. 
Cons:-
Monthly subscription required
Check Price on Amazon
AngelSense GPS & Voice-Monitoring Solution Introduction GPS2
5. GPS SmartSole shoe inserts from GTX
This SmartSole is an invisible, hidden GPS tracker for person and a wearable wandering recovery solution with stigma-free monitoring and is like a smartphone hidden in an insole.
A senior person tends to go out and sometimes forget location and get lost somewhere, and This system capitalizes on procedural memory. If they wear SmartSole shoes, it becomes easy for you to monitor their activities and smoothly find their location.
It.uses the same GPS and cellular technology as a smartphone, therefore requiring a data service plan and activation.
Its service plan Includes a smart locator app and GTX corp monitoring portal login access to track your SmartSole online. The app is available or free for the Apple app store & Google play store.
Pros:-
It is a patented GPS insole, wearable, and has hidden GPS, giving a web-based portal for viewing in any web browser.

The free tracking app is available for both Apple & Android platforms. Sends text, Email Geozone alerts with a service plan.

SmartSole gives every 5 minute of location tracking updates. It has a motion-sense sleep mode that saves battery and offers an 18 – 48-hour battery life.

It is water and dirt-resistant, protecting from moisture, sprays, and water splashing.
Cons:-
It requires a data plan which starts at $15 a month.
Check it out GPS SmartSole Product
At the time of our research on Best GPS Tracker For Elderly, we found a video about "12 Ways to Protect Your Home While You're Away," which is worth watching. 🤴😎
12 Ways to Protect Your Home While You're Away
6. Spy Tec Mini GPS Tracker
The STI GL300 GPS gives you real-time updates Tracker monitors location with pinpoint accuracy and goes anywhere discreetly while carrying it.
Spy tec mini GPS Tracker for Elderly provides a good quality performance and time-to-time updates, and you can trust its performance.
It works brilliantly to trace your person or anything you need to monitor. It is easily manageable and small in size, so you can easily carry it wherever you go.
You can put yourself inside your vehicle. It does not affect water or any other external things. It monitors everything that is far from you. 
Spy tech trace gives your Smartphone and laptop access so that you can watch your person's tracking. The tracking website lets you screen the device effortlessly. When your person goes somewhere or enters the tertiary, its geofence feature gives warning signals.
You can save up to a year of historical tracking information and can get custom reports, also. With its advanced satellite technology, you will know precisely where your target is, to within 15 feet. It has all the required and advanced features and is available in an affordable range in the market. 
Pros:-
It sends speed alerts and receives location and Email & text message

Spy tech monitors your person and vehicle and tracks your luggage continuously. 

You can access it remotely via tablet phone or computer. It has up to two weeks and has a rechargeable battery system.

It has full Geofence functionality and view route on Google Maps or Google Earth

It gives one year of historical data and also different custom reports available
Cons:-
You need to buy a monthly service plan.
Check Price on Amazon
7. PocketFinder
You can quickly locate, monitor, and track your family by logging into your account from pocket finder GPS Tracker for Elderly.
PocketFinder has dealt with three main functions, such as GPS, Google touch, and Cell ID, for all region tracking.
It continuously updates and assures one of your most significant resources and those that ride inside. It is a keychain GPS tracker, making it ideal for keeping track of your keys, bag, or other personal belongings.
You can register more than one person to track so that they can monitor all the activities of the targeted person. It works through wifi signals, and It receives the signal from the network and different satellites using wifi.
It gives a free app to all its users, and you can download it from Play Store for all platforms. In case of any critical situation, it sends warning signals through messages.
You can set boundaries or areas for your person so that when they go out or come, you will receive notifications, and you can create as many as you want or as per your and your person's need. 
Pros:-
It has Google's wifi Touch for indoor finds and sends Alerts when the tracker enters or exits the zone.

It sends GPS location as often as possible, as 10 seconds through the mobile network and every 60 seconds for the vehicle.

PocketFinder receives a secret code from the system you use, so it ensures privacy.

Customers log into a secure account using a tablet, computer, or Smartphone.

You can deal with every one of its features through the application.

The alert is sent via push notification and email when it goes in or out of the zone.
Cons:-
You need $12.95 monthly service plan upon activation 

It works a lot better in open areas.

It syncs the location every 2 minutes (minimum setting, so expect a delay on the map if moving).

Battery performance is not as per expectation.
Check Price on Amazon
8. Laxcido GPS Tracker Watch
All GPS smartwatches operate with a SIM card; because it supports the network for GPS watches to connect with GPS signals to form a GPS tracking function. Laxcido is an excellent choice for gps tracker watch for elderly.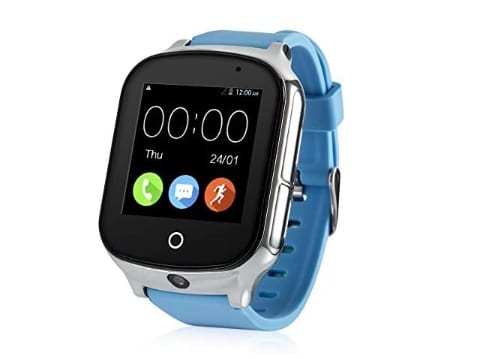 It has everything a person needs. It ensures safety and security by tracking a person each second with quality and small intervals of time. You can set up Geofence for places your individual will be, like Home, outside, and so on. 
The app sends a message if the device has gone outside the area and returns to it. With a voice monitoring feature, you can hear what is happening around your person. It has an emergency calling feature for up to two members.
You can set up Do not disturb features for specific hours of the day; in case of an emergency, you can just press the SOS button to family numbers. It has a fantastic calling feature, and a person can call using this in case of need.
You can decide the range of areas for them, so if they leave, you will be notified. Three months of tracking data stay in the device, and you can access them later. 
Pros:-
Real-time tracking and phone calls & SOS emergency calls. 

You can capture photos with Laxcido devices. Far more features to discover: Alarm clock, voice chat, remote voice monitoring, step counter, silent mode feature, historical route track and footprint record, and low battery alarm. 

Laxcido does not work with 2 G signals.

Laxcido gives color options to recognize a person quickly. For the elderly or an adult, it provides a great band black color option. For kids, they offer pink color options, and one more grey color is also available so you can choose accordingly.

Laxcido gives free service for the entire life of all its users across the globe.
Cons:-
You need another version to use this watch outside the United States.

You must get this watch with 3G compatibility; it doesn't support the 2G network.
Check Price on Amazon
9. iTraq Nano-Global Device
The iTraq Nano is a powerful and smallest all-in-one GPS Tracker for Elderly tracking devices that works everywhere because it uses GPS, cellular, and wifi. With minimum power usage, wifi works fantastic and gives the best result.
It functions outdoors and as well as inside the buildings. It provides precise location information whenever and wherever needed. 
It sends you a warning message when your device goes out of your prescribed area. You can download its app from the play store, which is readily available for both platforms.
Using a guard mod function, it also sends a notification when the device enters the specified region.
In case you are stuck in any critical situation, just hold a button for 5 sec, and it will send a notification to the concerned person. The person can put this device inside a bag or pocket or simply can hold it.
Pros:-
 iTraq gives Wireless charging facilities, and the function is effortless to use so anyone can use it effortlessly, the older person also. 

 iTraq devices support all frequencies, so it works with 3G and 2G networks anywhere in the world.

It gives the best quality information for both inside and outside regions.

 iTraq devices are not affected by weather conditions, and it's waterproof.

It is easy to carry it anywhere because the device is quite small and lightweight, can attach easily anywhere, and is water and dust-resistant.
Cons:-
The battery works ok.

Monthly you require a Service plan, but it is quite reasonable.
 Check it out iTraq 
10. TraX G+ Smart GPS Tracker
It combines the GLONASS system and GPS for higher accuracy tracing. It does not have more weight and gives quality output.
This GPS Tracker for Elderly devices has all features, including geofence security, an augmented reality fast-find feature, speed alerts, proximity, and a fast-find feature.
You can carry this device in a bag or anywhere you want. It supports tracking and sharing multiple devices.
Pros:-
It follows a real-time tracking system and refreshes as frequently as every 10-seconds for elders, pets, cars, kids, teens, and other vehicles.

It is a 3G-connected device with a built-in sim card. It falls back to 2G when a 3G signal is not accessible. 

You can set multiple digital fences and receive alerts as a tracker enters or exits a territory.

The AR feature will access your smartphone's camera to show you live images. 

You can check where your tracker has been in the previous days and hours.

Smart battery management for longer battery life 

Trax is a connected device with a built-in SIM Card and international coverage.
Cons:-
They don't provide a manual, so setup has become a headache 

Requires a Trax data plan to work
Check Price on Amazon
 11. Trackimo 
Trackman is an intelligent GPS tracker for an elderly device that allows you to see every move on your mobile phone with automatic alerts as needed. The method includes free phone support. Free app available for iPhone & Android. 
Trackimo permits you to have exact continuous data about every required thing. You can take it anywhere. It secures your tracking by providing different useful features.
The device is not affected by dust or water. One drawback is that it requires a network connection to work and cannot be traced if the network is not there.
Pros:-
Free one-year service included

Small, compact & lightweight

Long battery life- it can function for up to 144 hours or six days when in standby mode.

It has a USB charging option.

It is for Cars, luggage, drones, or remote-controlled items, and pets.

For any kind of dangerous situation, it sends a notification on the cellphone with the SOS feature. 
Cons:-
Trackimo operates on a 2G Cellular Network. Check your area for coverage.
Check Price on Amazon
12. Yepzon One GPS Tracker – GPS tracking bracelet for elderly
It is a Multi-purpose GPS Tracker for Elderly devices to find a senior, family member, vehicle, pet, or anything that matters to you.
It monitors the route at every small interval of time. It updates every 10 sec. It is a Lightweight GPS device with advanced tracking technology to protect your individual and resources. 
Many individuals living with cognitive decline dementia become disoriented when making the rounds.
This can be very distressing for the individuals who love them, but tracking devices such as The Yepzon can remove the stress by finding them quick and making everyday life secure and more relaxed. Connecting the device to your tablet or phone takes only a few minutes.
Pros:-
It works with Android, Windows & iPhone.

It has no fixed contract & no hidden costs.

It has a GPS Location on demand, and it is Waterproof and shock-resistant.

It works straight out of the box; just download the app, click once to link, and click once more to locate. It's that easy.

It is designed for living indoors and out.

Trackimo gives access across the world, so you are free to share.

It comes with a strap. You can attach it to keys, zip it into a jacket, or wear it like a necklace.
Cons:-
It works in the USA, Norway, Iceland, and EU + Switzerland. You need to buy an additional roaming time to be used in more countries.

It works with a 2G network only.

Yepzon freedom does not support Windows phones.
Check Price on Amazon
13. Bartun Aibele Personal Mini GPS Tracker
Mini GPS tracker is a new generation of personal GPS Tracker for Elderly tracking gadgets for old, kids, personal car assets, people, and pets.
A GPS Tracking device uses a miniature GPS receiver, which continually talks to GPS satellites to receive data associated with its exact location.
It then uses a built-in SIM card with GPRS capabilities to transmit its location data to an App, which translates it and displays it on a map in real time for the top user.
It uses different frequency networks to work so that you can operate it anywhere. It is a unique tool; you can put it wherever you want, like in a wallet, shopping bag, or car.
You'll know exactly where your loved ones or valuable assets are. It also comes with a voice message service you can send to your person anytime. It is an efficient and trustable tool.
Pros:-
Two-way conversation function

Tracking in real-time and is more accurate and smart.

It supports monitoring by the Android iOS app and pc and a Standby time of about five days.

Easy to set up and run on the app and has a good quality

Multi-function use and has a voice monitor & SOS emergency call function

Built-in speaker and microphone 

When the device is out of this range, the device will send a message to you if you have set up a position range.

Mini portable design with champagne gold color, easy to carry and beautiful and elegant, has three working modes: quick Tracking, standard Tracking, and power-saving tracks. 

You can find your previous history route map for almost three months by choosing the beginning and ending times.
Cons:-
This device will only work with a GPS sim card. It doesn't work in Canada.
Check Price on Amazon
📗FAQ
How can I track my elderly parents?
One can get GPS trackers for the elderly in several forms – tags, watches, etc. They can be attached to keychains or clothes.
The modern devices come with GPS tracking and a medical alert system that helps monitor the elders excellently.
What is the best GPS tracker for Alzheimer's patients?
Top trackers for Dementia patients are AngelSense GPS Tracker, Jiobit GPS Tracker, Family1st Portable GPS Tracker, Geozilla GPS Tracker, iTraq Nano, Trackimo GPS Tracker, TheoraCare GPS Watch, PocketFinder, Geozilla GPS Tracker, etc.
Is there a tracking device for seniors?
Tracking devices for seniors are provided by Medical Guardian, Pocketfinder, AngelSense, Spy Tec,  iTraq, GPS SmartSole, SPOT, Bay Alarm Medical, Trackimo, etc. These applications help track seniors, especially ones suffering from Dementia.
How can I monitor my elderly parents remotely?
Some applications that can help you track your elderly parents remotely are Aeyesafe Monitoring Alert System, Alarm.com Wellness, and Tru Sense.
These systems offer thermal monitoring, historical data, and a home security system.
Can you put a GPS tracker in a person?
As per Supreme Court in 2012, the government and its agents cannot install GPS devices on a person or property. They must obtain a warrant first to do so.
How do GPS trackers work?
How Does a GPS Tracker Work
Conclusion
It's essential to pick a simple tracker to understand and use yet durable enough to withstand extreme conditions. A perfect GPS Tracker for Elderly should have an SOS button for emergencies. With a GPS device, you can precisely trace your person's history.
You just won't be able to track the action as it happens before you buy a GPS Tracker; there are a few things you should consider when purchasing a device.
Like Real-time tracking features, device Design, Monitoring capabilities, Availability of tech support, Pricing, and Deciding how often you want a GPS tracking device to report the location. 
Budget GPS trackers are made of cheap electric components; they have less accurate coordinates, might work with unstable weaker signal reception, and require a periodical restart or even reset. Such devices have limited features.
Be careful that the market is full of fake tools. Contact a well-known GPS tracking device seller to get a genuine device and warranty; they will assure you that you get what you are paying.
Every GPS tracking device has different features, so pick a tool to fulfill your needs and purpose from all GPS Tracker for Elderly options.