Looking for the Best Handyman Apps which will help with tips for DIY Crafts? 🤔
We got you covered in this guide.
Let's jump right in.
There are so many things that you need to handle to keep things running smoothly at home. There are small repairs, some urgent and some not so urgent for which you need to call a handyman.
There are apps that can help you find a Do It Yourself approach to most of the things you need to do around the house. You will also find many tips for DIY crafts and daily routine stuff that will come in handy.
All you need is a mobile phone and a wish to learn something and make your home a better place. Get started on checking out the most happening handyman apps available for Android and iOS platforms. A few taps on your mobile and you are ready to experience the convenience.
Best Handyman Apps For Best DIY Tips 👌👌
1. TaskRabbit
You have been slogging away at domestic chores and hardly ever get any me time. Do not despair; the perfect application has already been designed for the job.
There are many happy users in the Bay area of San Francisco, New York, Washington DC, Los Angeles and Orange County, Boston, London, Chicago, Atlanta, Austin, Houston, Dallas, Denver, Miami, Philadelphia, Portland, Phoenix, San Antonio, Seattle, and San Diego.
The aim of developing the TaskRabbit is to help busy homemakers find assistance to tedious everyday chores around the house. Homemakers are often a harried lot and hardly ever get the "me time" to relax and do things they love. Taskrabbit resolves the issue and helps you find time for your favorite activities. 
You can organize any activity around the home with this app. You can request cleaning services, repairing deals, movers and packers, and local deliveries from this app.
The App hires and manages local workers for your job while you relax and indulge in your hobbies. The way to use the app is simple. All you need to do is download the easy-to-use TaskRabbit application and install it on your smartphone.
TaskRabbit | Tasker App Overview
You can literally get what you need in under a minute. Open the app, describe the job you want doing and the job will be assigned to someone and managed too. The professional is duly verified by the app managers and all the jobs insured to up to a whopping $1 million. 
You are always connected to the person assigned to the job. The payment terms are crystal clear too. You can opt to make the payment through the app. So, no ambiguity in pricing or tipping arises. 
The app has a simple but remarkably efficient design. You can see all the sections clearly laid out and a simple click can get your job done.
2. Family Handyman-DIY Tip Genius
The popular magazine, a Family handyman has launched the ultimate DIY app. It makes DIY projects look easy and helps you do the perfect job every single time.
The app offers smart ideas and professional secrets that help you save money, time, and a whole lot of hassle. The app helps you turn out perfectly done tasks every single time.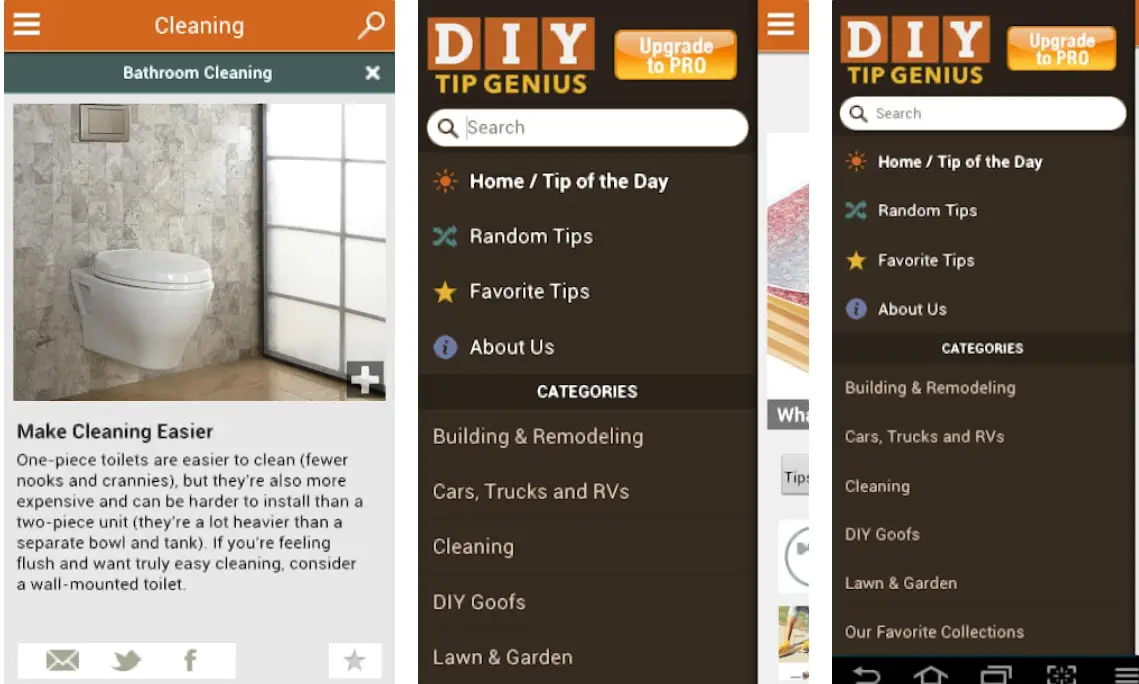 You can find tips on thousands of DIY projects ranging from cleaning to carpentry, woodworking, pest control, painting, washing windows, and cleaning cars. The app has tips on nearly all the home improvement projects you can think of working on. 
Just launch the app on your smartphone and choose the relevant option from the menu. Try searching for your specific job in the search barrel, or scroll down the choices available to look for a project that interests you.
There is a 'tip of the day section that allows you to read useful and quirky information on various crafts and projects that you can complete on your own. Mark the tips you have liked and would like to use or share with friends. There are detailed instructions and images that help you understand the tips easily. 
The app is very well designed and handles easily. The makers update the app regularly and you can enjoy the glitch-free performance. 
At the time of our research on "Best Handyman Apps", we found a video about "27 EASY LIFE HACKS FOR YOUR HOME" which is too good to watch.
27 EASY LIFE HACKS FOR YOUR HOME
3. The Family Handyman
The publishers of the Family Handyman magazine have developed another handy app for iOS users. The app is more like a digital magazine layout. It is featured as a collection of tips on home improvement.
This offering from the magazine also has a host of tips on cleaning, painting, carpentry, appliance repairs, and cool gadgets to use around the house to make life easy and fun, plumbing, and everything else under the sun. 
The app provides all the information you need by adding step-by-step DIY photos. Skill improvement is what the app is all about.
You can create projects at home that you are proud to show off in front of friends and family with the help of the Family handyman app. The well-designed and regularly updated app will never give you a dull moment. 
4. BrightNest app
Brightnest app will actually brighten up your little nest forever. The nifty little app is ingeniously designed to help you do myriad things around the house.
You will find hundreds of easy tips on how to make housework chores less tedious, easier and definitely more fun. The app has a ton of detailed information on how to clean, decorate and fix stuff. You can treat your home well thanks to the Brightnest app.
The everyday jobs you pay people to do like changing air filters, unclogging showerheads and drains, cleaning attics, organizing jewelry, cleaning and disinfecting ovens, making homemade disinfectant, simple decorating tips with chalkboards,s and so on and so forth.
Scrolling down the handy app you will find many such interesting projects by the hundreds. These easy-to-do crafts and activities will give you the satisfaction of a job well done.

You can download the app, create a wish list to return to, explore all the crafts in detail and look for new things to do every day. The simple user interface and the snag-free app will give hours of strolling pleasure.
5. Thumbtack
Thumbtack is a brilliant app that connects local professional handymen in your area for your help. You can look for any help you need from this app.
You need a repairman for a leaking roof, there is Thumbtack. You need a painter for your living room, a home appliance repairman, an organizer for your child's birthday, celebrating Halloween with spooky décor, or any other job you can think of, you will find a suitable person to do it on Thumbtack.
All you need to do is download and launch the app, fill in the details of the job that needs to be done, up to five handymen will reply to your query.
Thumbtack app has over 1000 kinds of jobs listed on the interface, You will never have to make a choice by default as every professional has a profile with photos, reviews, and testimonials from previous users. 
The app is widely used and downloaded. The app interface is extremely simple. All you need to fill in the details of the job description and you will instantly find a match.
You can see the prices for the particular handyperson on the app itself, so you are left wondering. All in all, it is a well-designed and useful app.
At the time of our research on "Best Handyman Apps For Best DIY Tips", we found a video about "37 TOTALLY BRILLIANT HOME REPAIR TRICKS" which is too good to watch.
37 TOTALLY BRILLIANT HOME REPAIR TRICKS
6. WikiHow
WikiHow is probably the most popular DIY app in the play store. This is an app that can find you a 'how-to' for anything under the sun.
There are tutorials for any query with illustrations, easy tips, and instructions on how to complete the job. Unbelievably there are over 150000 guides and articles on various topics.
You can mark an article to read it later or save it. You have to follow the clearly given instructions from the app to complete a tutorial successfully. The well-made videos are easy to follow and have guides on how to make paper umbrellas to how to kiss a boy. 
 The random articles section in the app has an 'article of the day' on outlandish projects that will amuse you. You can also consult the app for tips on how to handle emergencies.
Some of these provide information on diverse topics like 'what to do if bitten by a bee' to "how to open a door without a key". It is informative and fun and will keep you occupied with articles for hours.
It is available on both iOS and Android applications. 
Note:-
I have written a post for people looking for the 
Best Drinking Game Apps
?, do read it If you are interested.
7. Handy Ruler
The HandyRuler app is super popular with DIY enthusiasts. This app allows you to make measurements in inches and centimeters. You just put a finger on the screen of your phone and slide the phone.
First, you need to choose a ruler type by tapping on the screen itself. Then just follow the video instructions to measure anything and everything you want without a physical ruler.
In fact, you can carry your own ruler everywhere on your smartphone. You can also save all measurements for future use. Set different backgrounds to make the app more fun and interesting! 
8. Best Level
Measure any surface precisely with this tool. It is perfect for any handyman. It is a precision tool that is handily available on your smartphone too. The app has been tested on lots of devices and has been found to work well.
You can download this app to check whether a surface is a level. You can check if the given surface is flat. It is a boon for DIY carpentering enthusiasts who do not have all the tools that are needed. 
It also has a calibrating option that can measure the surface both vertically and horizontally. The screen has a ball that will turn red when the surface in question is flat, but if it no, the ball remains a dull grey color outside the viewfinder.
It is easy to measure slopes for shelves, roofs, and any elevation with this beautifully crafted app. You can even save the measurements for future use. 
9. Paint Tester
This is an app that can save you hours of deliberation and a lot of money. If you are looking to paint something but unsure about the outcome, you can use this app to find out.
It could be your walls, your furniture or the trim, this app can give you a fair idea of what the color will look like on the surface you choose. 
All you need to do is launch the app, choose the color, take a photo of what you want to paint and apply the paint color to the picture to see how it looks.  You can experiment on a variety of surfaces with multiple colors to reach a decision while having a lot of fun too. 
You must ensure that the picture that you take should be well lighted and clear and is of good quality. The paint will be layered on the well-taken photos automatically. You can actually paint one wall and compare it to unpainted walls to get clarity n how it will look.
Keep playing with colors until you reach a decision. Use samples of colors in different lighting to see the effects of the color in multiple conditions. You can choose shades, density, intensity, and other features that define a color.
10. 4000 DIY Ideas
This app will give you 4000 DIY craft project ideas to occupy you and create beautiful items. The app provides ideas to make stuff out of recyclable items.
You can create original stuff from waste. Be creative and save tons of money with this app. The app gives pretty detailed instructions about how to go about the transformation. 
Download the app to gift yourself and your family hours of creative entertainment. You can spend hours on these activities as a family, in a school craft class, or in a group. 4000 DIY Ideas app ranked number 9 in our Best handyman service apps list.
11. Houzz Interior design Ideas
This is an app that has won hearts across the globe. You can actually browse hundreds of design ideas, shop for home décor stuff, and get in touch with local professionals.
Houzz is the best app in its class to help you design or improve your home. You can get the best designs for decorating your home. There are more than 18 million photos to help you. The high-resolution photos cover both exteriors and interiors of homes. 
You can choose to do up your bedroom, your living room, your bathroom, or even the kitchen. Once you have designed the décor you can save the same to share with family and friends. You can take the advice of home décor professionals too. 
The sketch feature allows you to draw directly on the photos on Houzz to give you a sense of what your space will look like. Over 2.3 million home improvement professionals are active on Houzz.
You can read articles from top designers and basically be house proud with the app. The newsletter is extremely informative and fun to read. Houzz Interior design Ideas app ranked number 10 in our Best Handyman mobile Apps list.
12. Smith: Home Remodel, Improvement, and Repairs 
An application built for you to locate a handyperson who can help you with your home improvement ideas.
The app can help you find almost anything including maid services, gardeners, landscapers, movers and packers, roofers, pest control professionals, and many more.
You will see a list of the best people for the job at hand and you can choose the person you think suits you the best. 
Take a picture of the job in hand and upload it on the app. The app will send you a comprehensive list of all the professionals who can help you. Within 24 hours you will be given the top 3 bids from contractors. Pick the best one for your purpose and get your job done.
You will find the right person with ease. The reviews will lead you to the best people for the job. The next time you look for any handy jobs to be done, look for the Smith app on your Play Store.
13. Woodworking 101
The best app for learning how to do woodworking at home. Learn how to do basic carpentry and woodworking in simple steps. The process can be fun, but working with tools can be dangerous too.
Woodworking 101 teaches you how to use tools properly, how to design and create woodworking projects, and how to finish the job to make beautiful objects.
Once you master the act you can also open your own workshop and turn your hobby into a money-making one. 
You get access to free woodworking plans and designs. Secrets that can make your job easy and cheap are also shared by the app. You can download this app to cultivate a creative hobby that will make your home beautiful too which makes it put in our best Handyman Apps list. 
14. Handyman Toolbox
The Handyman app includes DIY tips for everything you can think of. You can use it to measure distances, like a compass, as a decibel meter to measure volume, as a vibrometer to measure vibration levels, like a magnifying glass, like a metal detector, and even a spectrum analyzer to visualize your surroundings.
This fun app is available on the Play Store and you can download it to make life easy and fun. Each tool has its own special indicators and you can use each one separately.
It is diverse and your smartphone can become a multi-tool for just about everything when you download this app. Handyman Toolbox app ranked number 14 in our Best Handyman Apps list.
15. Jobonji: Hire local pros handyman for odd jobs
This is yet another handy app that helps you find the perfect professional for any handy job around your house. It connects you with local professionals who you can access to complete your job. You can negotiate for the service, the time it taken and also the price.
You can review the service and rate it too. You can check out the available professionals in your area today!
If you are interested in offering your services as a handyman you can register on the app and earn too.
Jobonji - cash paid daily for helping neighbors house chores
16. Get It Done – Hire a Handyman
GID helps you find the best person to do the job at hand. You can sometimes find yourself in a situation where you cannot handle a situation at home alone.
It could be a leaky roof or a plumbing issue, an electrical fuse that is tripping, or a paint job for the porch. It is a job for more than one person. You need a professional who is skilled in the field to help you get it done. 
GID can come into the picture to sort it out for you. Just download the app and pick out the kind of work you need to be done.
The app will choose the professional to give you a quote and your job can be completed in a hassle-free manner. Your personal Home advisor is ready to work for you for free! Get It Done- Hire a Handyman app ranked number 16 in our Best Handyman Apps list.
At the time of our research on "Best Handyman Apps For Best DIY Tips", we found a video about "36 HACKS FOR A REAL HANDYMAN" which is worth watching. 🤴🏆

36 HACKS FOR A REAL HANDYMAN
Download on Google Play Store
17. Frapp-Do tasks to earn
Micro jobs are the new buzzword in the DIY world. Frapp allows you to explore that world. There are a plethora of work opportunities out there that you can explore. You can opt to be a tasker and earn from your smartphone! Frapp app calls these micro jobs Missions.
You can find and apply for these Missions from companies across the country. Once you complete the job you can be rewarded in cash, certifications, and cash too!
It is a great way to gain mini internships, learning, and experience with big guns. You can start without a resume or any kind of special skill sets too. Frapp-Do tasks to earn app ranked number 17 in our Best Handyman Apps list.

18. Cure.fit
This app helps you to be healthy and fit with workouts, yoga as well as meditation from home. The app also helps you get consultations about healthy food and general well-being.
The app helps stay-at-home people participate in group workouts and helps with maintaining mental and physical health. It is one of a kind app that will monitor your wellness quotient.
The app has a panel of Doctors and fitness consultants who help you plan and look after your health. The app is updated regularly and the performance is superlative as a whole.
It helps you be a better version of yourself every single day. Cure. fit app ranked number 17 in our Best Handyman Apps list.
19. HandyTime: Video Chat Handyman
It is one of the useful applications in the field of fixing things. This one is brought you by Diva Labs and they are committed to giving instant solutions to your queries.
Through this application, you can avail yourself of the facility of video and text chatting with experts. You can access it through your mobile or other systems without doing any changes in the setting.
That means for the chatting you don't need to give extra permission to this application. The best thing about this application is it does not consume too much space in your system.
Nearly 35 megabytes of storage is enough to use this application. That does not mean the application is not upgraded over time. They updated the application frequently even though the last update was done in July 2019 and gave the 1.3.1 version of the application.
This application is easy to use as there is a grouping of different sections that need the help of handyman works. This is an important feature of the application that with every update extra capabilities are automatically added to the upgraded version.
The application has the review app permission from Google. So, it is secure to download it and use on your device. You can learn a lot from this application and contribute to your family more. HandyTime: Video Chat Handyman app ranked number 19 in our Best handyman apps for iPhone list.
20. Rapidfy: Hire a service provider
Rapidfy will help you in hiring skilled experts to get your job done quickly. This app opens the door of a service provider and people need those services. That means it works as a bridge between the job seeker and giver.
Here they can come under one roof. So, you can hire a skilled person for a job in your house by simply texting them or you can be a handyman and earn money from this platform.
Rapidfy, 10x Faster Compared to Classifieds or Yellow Pages
There are more than ten thousand handymen registered in this application, hence you can hire the best one from a variety of choices. You can use the platform as a stage for starting your start-ups.
It provides different actions for its customers, business, and freelancers. For example, the consumers here can easily find someone who can help them even if they do not know whom to ask for help.
The service providers are just a click away from the consumers because of this. An instant click may be able to have a mobile chat with a particular professional.
You don't need to know who may be able to give you the best service. You just send your request to this platform and it takes your query to a range of experts. Among them, the most confident one will reach you.
This saves time and effort for searching and made smart searches a good feature of the application. The confident providers will reach you and text you the offer they can provide with their service charge. So, customers can compare the charges and services offered by different professionals.
From there they can opt-out for the best suitable offer for them. Business makers and freelancers also get leads from here and go for extra income. Hence, we can say that nobody gets away empty-handed from this application.
21. Handyman Calculator
This one is different from all of the DIY above mentioned here. This is only one of its genres. This is not an application to find tips, tricks, or an expert for some kind of fixing the problem at your home.
The application serves as a tool for handyman work rather than just a simple application of ideas. The application can do calculations of angles, distance, and other complex measurements that need a lot of time when you want to do it manually.
Therefore, it makes your work easy, sustaining, and time-saving and reduces complexity. The popularity of this application can be understood by the fact that it becomes one of the top hundred best new home products for its products in the year 2013.
Besides the calculation of angles and distances with tools like digital protectors and slide calipers it also helps to create and manage a to-do list. Again, the measurement of time can be tracked by this app in a project.
This application is not only for learning simple house fixing things but it is made to help the experts. A variety of features made it one of the best contractor applications used in construction work. Handyman Calculator app ranked number 21 in our best handyman apps for android list.
22. Homify- modify your home
This app is useful for both the user as well as the professional that is looking for a job. This app contains all the information that a user required in order to decorate their house.
This app also helps the user to find professional architects that will help to plan and beautifully decorate the house. This app contains about 3 million pictures of interior design and different architectural views that the user can see and save in memory.
Users can also get tips from the professionals and upgrade their homes according to their choice. This app also helps the user to find professionals from a nearby area and get ideas from them. 
It is useful for professionals that have studied architecture or interior design. This app has a facility to log in as a professional and give advice to clients. The advantage of this app is that it will choose the client from your nearby area.
This will save time for both the professionals as well as the client. Professionals will also love this feature as they will get a source of income from this app by registering in it.
23. DIY home project ideas
This one is created to give unique ideas to make your home a better place. The application makes a way of creating better in a happy way.
The numbers of articles available here are in the form of a stepwise tutorial. You can choose your favorite article from the categories too. The user can use it without registering but by registering on this platform you can save articles to read later even in offline mode.
It opens up a vast world of creating amazing homemade things only by you. The tutorial teaches you things beyond your imagination and pushes your limit.
This is not an application only but a playground that enables you to have different ideas such as a gift idea or an idea to decorate your room in a budget-friendly way. The modern use of UI helps you to add your ideas on doing-it-yourself projects too. Hence add this application to your list and play with vast ideas.
Conclusion
The apps discussed above are made with one goal and that is making life easy for the users by helping them in their daily work. These applications increase the level of creativity in people and helping professionals too.
The use of these applications makes the user enough confident in "Do it yourself" jobs and provides them a way to save more. Not only saving money but also save time for them. Now people can focus on their home even with their daily busy schedule of office and other works.
Many of the applications not only helping the users in by taking ideas from these platforms but also, they can share their creative ideas with others through these apps. There are many courses available offline to learn some fixing works like carpeting, painting, and welding.
These courses are time-consuming and expensive, yet they offer you only a few of the jobs. The solution is made by these digital applications that provide an easy and interesting way to fulfill your needs.
Moreover, the applications are accessible anywhere, anytime. Now, you don't have to worry about running taps, leaking of pipes, broken floors or roofs, painting rooms; add an extra electrical connection in your home. So, chose the apps that you feel the best to justify your needs and discover the world of creativity.
We tried to cover up all Handyman Apps For Best DIY Crafts in our post and we welcome your comment if you have any doubt about it or you want to add any new app in this list, kindly comment on the post.