Do you have confusion about what to search for in Google? But, we will do the same thing again and again in Google. Some of them are using it for Education, medical, tour, games, and so on.
But fortunately, Google has some excellent hidden games. Are you getting confused? Well, we have listed the 23 best hidden Google games for your reference. You can find in its search engine about Google Hidden games.
You need not waste your time downloading or waiting for the whole process of installation. You can play by entering the game name in the search box. This is quite amazing, right? In this article, you may find out the best hidden Google games.
I used to play the best hidden Google games, which give fun and excitement during my free time.
So, here I am listing the 23 best Hidden google games you should play anytime.
Let's explore the games from google right now, shall we?
Hidden Google Games You Must Play Today
1. Solitaire
The solitaire is open for everyone to plat insider Google without paying money. It is a single-player's game with multiple levels to play, such as easy and hard. Most of the players love to play difficulty level, which makes a new experience.
Original solitaire games will ever be played on PC, and the classic cards matcher is out there to play via the Google search option. In order to play, you just search out with the respective game name" Solitaire and hit enter.
(https://www.google.com/search?q=solitaire)
It is an old game about stacking cards in the form of descending order and also in the way of alternating colors. This card game features Google logos over it, and it has some common and basic settings to make use of by turning off a sound and start using an undoing option.
If you like a quick Solitaire session, there's no need to download anything, play right in google.
It offers easy and difficult modes. They even have nice sound effects, which you can turn off. There's also a timer in case you want to keep track of it.
2. Zerg Rush
It is one of the challenging games to play over Google. In this game, you can find out many balls that start dropping down from each corner. When the ball reaches the search result, then the respective links start disappearing.
At the same time, you need to ensure all shots from every corner. It is the type of the Thanos snap, but it helps to prevent from destroying the ball so that you can save the world.
This game is more exciting and filled with a lot of fun. It has exceptional control that you assure to love on playing at all times.
This is also a very fun game. Playing right in the Google search adds beauty. It's a real-time strategy game with a race of insect-like objects. You destroy these insects or they destruct your search results. The game is over when all results get destroyed.
Too much talk, how do I play?
Search for Zerg Rush on Google, or just click here (https://www.google.com/search?q=zerg+rush).
They call it a Good Game at the end with all those insects lining up to form the letter 'G'.
3. Pacman
It is a classic game that is accessed by everyone, and it was re redesigned by Google Doodle on May 21, 2010. This game simply plays over Google by searching with its name "Pac Man" Now click to play games.
All you have to do to play Pacman on Google is… well, a search of Pacman. We'll save you the trouble of typing, just click here(https://www.google.com/search?q=pacman).
It does not cover all areas on the screen, unlike other games. It only covers a small space on the screen. But, hey, it's still a lot of fun.
The main aim of this game is to move yellow Wakka- Wakka man around and need to eat all dots. At the same time, you need to avoid ghosts who are always ready to kill you at all times.
If you eat large dots, then ghost become blue so that time it never eats you so you can simply collect all dots. This game is open for all users to play over the PC at any time.
4. Atari Breakout
Almost, we come across such classic arcade game "Atari breakout. This game developed by an expert apple chief engineer, but now Google made some changes to it and also to play with few clicks at all times.
If you want to play such a game, then the user needs to search out with its names over Google and switch to the part of the image tab. Every image becomes more bricks and starts playing with the option of a ball bouncing on the paddle.
It is quite simple and more enjoyable for all users to play at all times. This game was launched in April 1976 and was well designed by Nolan Bushnell. This game supports the videos games consoles to start to play with more comfort.
Another brilliant game from childhood, now in the browser!
Launching this game takes an extra step from searching for 'atari breakout', you've to search for images and it makes familiar sounds of the game almost immediately! Just click here to directly go to the image search results. (https://www.google.com/search?q=atari+breakout&tbm=isch)
Have fun!
5. Snake Game
Snake Game is really fun at the time of the inception of mobile gaming. This game was developed by Google a doodle version, but now it is replaced with a new version of the snake game.
Some of the mobile phones have such games already, and everyone enjoys playing a lot of new excitement in this game. If you are new to play this game, you just search out and start playing the game with a variety of visual control and great sound effects.
This game simply plays over Google by searching with its name "Snake Game" Now click to play games.
This game is 100% free to access and spend much time. It has the necessary graphics and lacked colors, but now it is improved a lot to play with new graphics with extra fun. As a result, it makes a nostalgic experience, so let us feel free to try this game at any time.
6. Tic Tac Toe
Google launched the Tic Tac Toe game to play over Google. You just search with games' names and play games without spending money. This game has an easy and hard level, so if you beginner at the play, then start playing at an easy level.
This game simply plays over Google by searching with its name "Tic Tac Toe" Now click to play games.
As per your wish, you can adjust the setting to start playing the games. The main plus games are applicable to play other players again. During the play, Google monitors your score across the rounds.
It is simple to play by everyone at any time. This game is challenging, and everyone loves to play and spend their free hours with fun and entertainment. It is one of the top Google search games among people so that everyone can enjoy playing with new effects.
7. Quick Draw
Due to the significant development over the machine learning, there is a number of firms that allow a user to set the capability with the simple games. Hence you can find out a wide range of sports to start playing with real fun.
Here the Quick Draw is the right game that was launched by Google so you can start playing over PC with no risk of it.
This game simply plays over Google by searching with its name "Quick Draw" Now click to play games.
This game predicts the drawing, so it works better. Google help to identity the doodling at the time of the picture, and it remains to guess the doodle and enjoys watching great fun at all time. Around 5 million user runs these games.
8. Sherlock Mysteries
On Google Home, game lovers can enjoy this voice-based hidden Google game, Sherlock Mysteries. In case you love to solve mysteries, make use of this game. It gives good experience in solving mysteries and loves this game.
Just talk with the assistant regarding the Sherlock Mysteries and find a case to deal with. After that, Google Voice assistant narrates the story typically. You have to hear the case and understand the story.
You get enough time to answer the set of questions that are being asked here. This game is fascinating, and everyone loves to solve the mystery case given to them. It is the best hidden Google game played via voice assistant. You will like this game and solve many cases eagerly.
Fun Google Secrets - Part 2
9. All the Doodles!
This is technically not a game but still a very fun activity. As fun as a game on Google would be.
Want to go through all the Google Doodles? Leave the search bar empty and hit 'I'm feeling lucky. You'll feel lucky, for sure!
The direct link to a page is here (https://www.google.com/doodles/)
10. Find Chuck Norris
Want to locate Chuck Norris?
Go to google search and type 'find chuck norris'. Hit feeling lucky.
What happens? Well, that's a surprise waiting for you.
Hint: it does not locate Chuck Norris, sorry!
11. Google gravity and Google Space
If multiple forces hold the components in the Google search page together, what would happen in space or with higher gravity?
Like you'd expect, Google gravity pulls everything, and Google space floats everything.
Want to experience yourself? Search for 'Google gravity' and 'Google space' and hit feeling lucky!
Direct Links:
Google Gravity (https://mrdoob.com/projects/chromeexperiments/google-gravity/)
Google Space (https://mrdoob.com/projects/chromeexperiments/google-space/)
12. Feel Nostalgic with google
Are you excited to know how Google search looked in 1998. It's not very exciting, but what's exciting is it's possible!
Search for 'Google in 1998'. Enjoy the primitive look!
Direct link to 1998's Google search. https://www.google.com/search?q=google+in+1998
13. Wordplay
Google seems to like Wordplays!
Search for recursion, it'll ask you back if you mean recursion. That's recursion in itself…
More to search: Anagram.
https://www.google.com/search?q=anagram
https://www.google.com/search?q=recursion
Fun Google Secrets - Part 3
14. Are you feeling lucky
This is a voice-based game that asks general questions from science to GK. Are you feeling Lucky is the best Google gameplay online. This is a quiz game that has lots of fun and excitement. It gives a good experience and is quite enjoyable for everyone.
People can join the group and participate in quiz games. So, this is a multiplayer game and has to answer the questions. The questions are asked from general knowledge and science.
In order to commence this wonderful game, you need to say simply to Google Assistant, "Are you feeling lucky," and immediately the quiz will incept. You need to go to the Google home page to play it.
15. Word Jumblr
Word Jumblr is a Google chrome game that is fun for everyone. The user has to form correct words from jumbled words. This game is straightforward to play and need to ask for assistance to start the game.
Access the Google Assistant and simply say, "let me communicate to word Jumblr." It will connect to the game automatically. This is a straightforward game played by everyone. You need to find the correct word and take some time to solve it.
By playing this game, it helps you sharpen your language skills. Word Jumblr gives excellent practice to enhance vocabulary skills. If you are bored, connect to Google Assistant and start playing this Word Jumblr game.
16. Chess Mate
If you love to play the chess game, search using Google assistance. By using voice assistant, just say "talk to chess mate, and assistant will have the game connected. Color and mode, all settings could be changed.
The difficulty level could be changed based on your desire. This game could simply start then and further you can make your move by commanding through your voice. You will get a decent experience when you play chess mate. It does not give annoying experience when you are playing the game.
This is very easy for us to play this game by talking with Google Voice assistance. The game is fantastic, and everyone loves to play. Connect with assistance and play this game decently.
Fun Google Secrets - Part 4
17. Halloween
Halloween is the best google doodle games online<span style="font-weight: 400;"> for everyone. It is a user-interactive game, and people love to play this game online. The game story of this game revolves around a cat who is trying to protect her beloved friends from the so-called evil spirits.
https://www.google.com/doodles?q=halloween
This concept is exciting, and everyone loves to play this doodle game easily. If you want to play this game then you need to draw the symbols on your screen.
It quickly escapes from the ghosts. When you complete the next level, find many ghosts coming from all sides. But, this game is exciting to play and defeat the ghosts.
18. Text Adventure
If you are looking for the best Hidden Google Game, then sure you can pick this text adventure game. It is one of the most unusual games which are hidden behind the source code of chrome.
In case you want to play this game on windows, you have to search "text adventure" on Google and then press Ctrl+Shift+J. You have to Cmd+Shift+J if it's a Mac device. You can check out the option for playing this game under the console in an effective manner.
Note:- doesn't work on other browsers, so make sure you're using Chrome
By clicking yes, you will get some set of instructions. Along with that, you have to answer where the o,o,g,l,e is available from the Google logo.
In this game, now you will be considered as G and the other letters will be your friends. So, in order to play this game, you need to look for your pals i.e o,o,g,l,e. 
19. T-Rex
If you are a chrome user, then absolutely, you would have never missed this game. T-Rex is generally the most popular chrome game. In case you are having no internet connection, then this game will be active.
Really it is a very interesting game with a lot of levels. In order to start playing this game, you have to press the space button or else you have to click the up arrow button.
By now, you might be aware of the game you can play while you can not connect to the internet on Google Chrome.
Want to play t-rex even when you're connected to the internet?
It's here. https://www.trex-game.skipser.com
They have even ported it to the android app.
People at Google are fun … It has fun games all over the place.
Play these games right in the browser and kill your boredom or just have fun.
It is very sure that this is not new information for you. But while considering the best hidden Google chrome, T-Rex should never be skipped.
At first, the dinosaur will run slowly and as the level increases, the speed will get increased and the game will become very challenging. Until the internet is restored you can enjoy playing this game. Still, you can enjoy playing this game by visiting the official website.    
20. Gnome
In the year 2018, Google has published this Gnome doodle. This is one of the most interactive and interesting games which is completely based on German garden dwarfs. In other words, Gnomes are especially the small statues that can be placed in your gardens.
https://www.google.com/doodles/celebrating-garden-gnomes
German people believe that this Gnome is having the potential to protect the garden and bringing good luck to them. If you keep this concept as the major factor, in this game, you can locate the catapult to launch this Gnome to the further most field of the garden.
Here, you can able to score more points by planting more flowers. Based on the number of flowers you have plants, the point will get an increase.
Sure it is a wonderful game and you can absolutely enjoy it. In case you have never played this game means then you must absolutely try this. 
21. Soccer
Soccer is generally considered as the most interactive game that you can able to play on google doodle games online. This process was created at the time of the 2012 Olympics and still, it is the most famous doodle for playing this soccer online.
https://www.google.com/doodles/soccer-2012
The interactive doodle is very much popular here because of the great visuals and no downloads. Whatever the game may be, the opponent is a must for each and every game.
Google will be your opponent and you can kick the ball to the goalpost easily. Through that, you can able to easily defend as the goalkeeper.
Once you have crossed certain levels, the game will become really interesting and fun to play. If you are interested in football and love to play it in a fun manner, then sure you can play this soccer Google doodle game. 
22. Santa Tracker
Google has been creating the Christmas-themed Santa Tracker since 2004 that permits the user by playing various games to track Santa. There is an enormous process of various fun games with refreshing artwork and animations.
https://santatracker.google.com/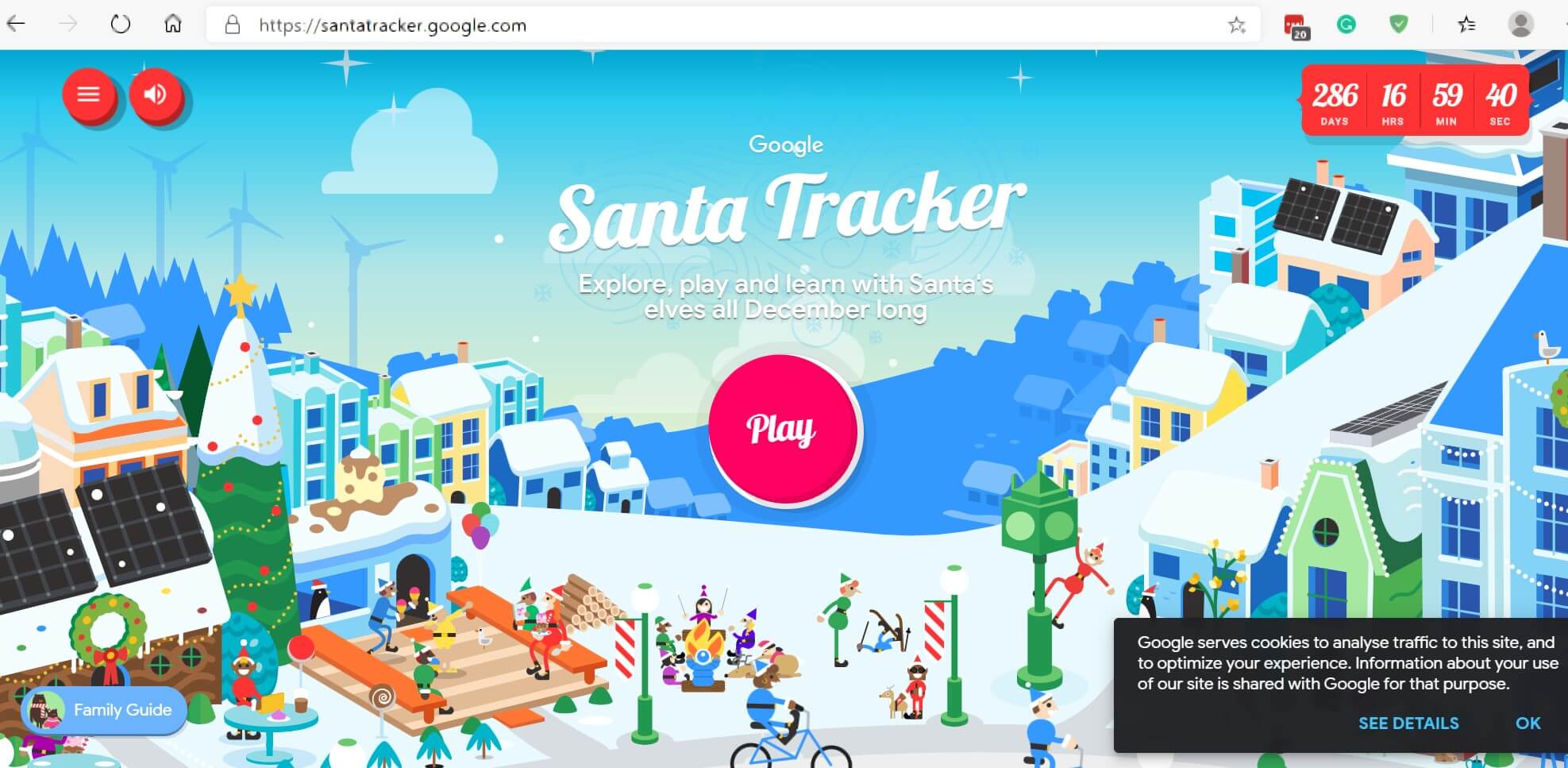 In case you need to visit the complete Santa world, then it is an effective Google game that you can able to play.
Google maintains adding the new games and activities at the time of every year's December. So, at that time, you can able to visit the website at the time of Christmas for more surprises.
23. Cricket
The life of a gamer will be incomplete without playing the cricket game. If you want to play cricket in a funny way, then sure you can make use of cricket doodle. Cricket is very much interesting with a lot of exciting gameplay. It will allow you to play cricket with great controls and animations.
If you want to play it regularly, you can visit the official Google doodle site and there you can get the cricket game. Google created the most interactive game at the time of ICC Champions Trophy 2017. If you are a tech nerd, then it is the best sports game for you. 
https://doodlecricket.github.io/
Bonus:
Fidget Spinner in the Google!
The fidget spinner hype is over, but you can still have the fun right in the Google search.
You can also spin the numbers up to 20 if you wish to.
Conclusion
From the above discussion, Google has many hidden secret games for you. As per my suggestions, the above 20 best hidden Google games are so familiar due to their features. From tech users to general viewers, Google offers an excellent experience in playing.
In this article, I tried my best to discover the hidden game with its exciting features. Users can find out a search, voice assistant, Doodle games from Google. Here, I love playing above listed game in my free time. So, check the lists and start playing the Google Hidden games for free.