Whether friend or colleague, work or home, any place, or anyone, trust is a factor that still hasn't progressed. Technology has seen different upsides and downsides but the humanistic factor of trust hasn't evolved much and still exists in the unconfirmed state.
Reports have suggested that people used to rather more creative in using their brains rather than today. Why? Due to the threat of data losses and data thefts. Why would anyone work knowing few moments later, their data is going away from them with or without their consent? Where technology has opened gates to mass opportunities for us, the same door is open for those who we do not trust.
You never know the friend you are sitting along with at home is your friend at the front, but is a foe on the inside. Any moment you walk in the kitchen to grab some snacks and hence find your data being stolen through a USB drive (inserted in your laptop) and now you are a goner.
USB block review:
For this very reason, many users contacted us doing a brief review on how you can eliminate such threat from your life. Just sitting in one place thinking all is lost is not the solution is it? No, it never was. Hence, we thought of reviewing a software that could help you eliminate such threats. USB Block, for example, is considered an option that would prevent anyone from accessing your confidential files or folders. The developers of this software had the concept of creating something unique which would have the ability to restrict any unauthorized device from connecting to your device. Hence, you limit the devices hackers use to exploit your data, you stay in safe hands. We personally liked the concept and now let's talk about their features.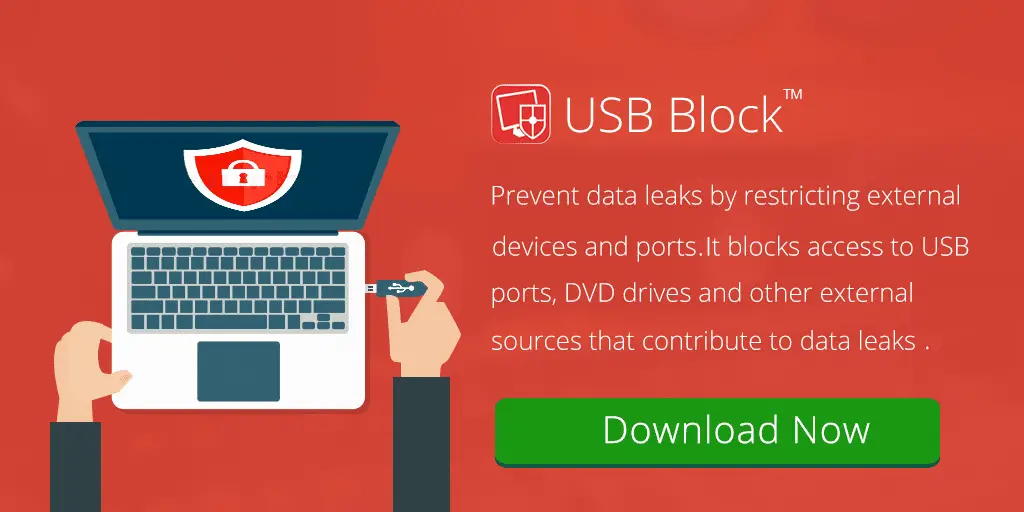 Features:
Hack attempt monitoring:
A hacker when tries to aces your account can make wrong login attempts and when it happens, the software would notify you of any such activity. Rest assured since you are the only one having the password, no hack attempts would generate any success and such attempts would be monitored regularly.
Authorize trusted USB devices:
The developers knew restricting all the USB drives isn't a solution as if that happens; even you won't be able to insert your USB for different purposes. Hence, USB block brought you the whitelisting feature where you can whitelist your device that you commonly use. Hence, you gain access while the unauthorized devices remain restricted. We found this feature a groundbreaking one that so far none of the competitors have created.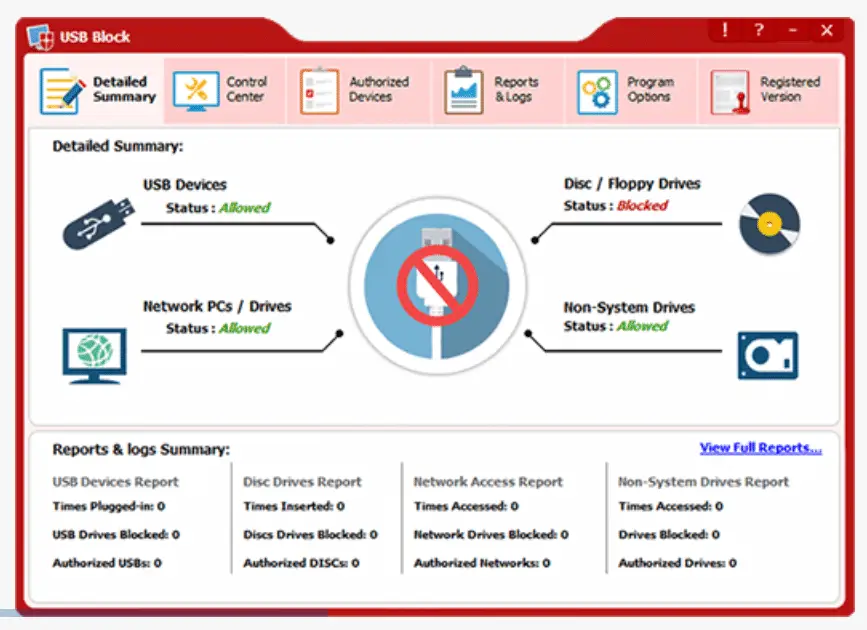 Set a master password:
The software would ask you to set a password after installation. You must have a good memory to keep the created password in your memory. If not, try writing it down at a safe place as whenever you insert your drive in, you would asked to enter that password. The best part? USB block remembers the devices it had interacted with in the past.
The program's interface has a modern design and is quite user-friendly. This means that any type of person can work with it, no matter their previous experience. The main window has a tabbed display that enables you to browse through a detailed summary, control center, authorized devices, reports and logs, and settings.
You can change your password anytime:
The software utility shows the last one hundred reports and logs possessing information like device name, type, total insertions, and more which further lets you monitor the actions taken on your computer and make sure the security wants tempered with.
Developer page for downloading free Usb Block http://www.newsoftwares.net/usb-block/
Pros:
Check logs to monitor any illegal activity
Hack attempt monitoring
Whitelist your trusted devices
Cons:
Conclusion:-
Hence, blocking unauthorized devices has now become possible as whether it is CDs, DVDs, and USBs etc. you are safe from any harm as long as you don't share your password with anyone.
You may also like to read this awesome tutorial article