DPI or Dot Per Inch is used to determine the sensitivity of a mouse. A mouse with higher DPI is will allow the cursor on the screen to move further than a mouse with lower DPI, if both of them are moved in identically in the real world.
If you are a heavy gamer and obsessed with Fortnite and Player Unknown's Battleground, then you might want to consider going for a mouse with controllable Dot Per Inch(DPI) value.
Sometimes you might require your mouse to be quite sensitive and therefore, the DPI to be high. As it helps the cursor to move accurately, at times like when you have zoomed your snipper in, and are about to do a headshot.
But on the other hand, if you want to charge in and attack the whole base camp, you might want to control your cursor effectively. So, for that, you should lower your DPI value. And in this very article, I am going to guide you through the process. We are going to solve this question "How to check Mouse DPI?".
Here are a few things you can do to check and enhance your Mouse's DPI.
How To Check Mouse DPI: Step-By-Step
1. Manufacturer Help
Sometimes the manufacturer mentions the DPI value on the case of their product itself. As most of the customers gravitate towards the product and decides whether to buy or not, by looking at the box.
If you have thrown your box away, just don't freak out. Most of the manufacturer upload the specification of their product online.
Do a quick online search by entering your Mouse's company name and model number in the search bar. You can see your mouse's specification and there you see your DPI.
So, by doing that you can check the DPI value. And can also download Drivers for your mouse, if your manufacturer is providing one.
Sometimes you don't need a driver as in this case, the Mouse mentioned above ProDot WM-165 has a separate button for switching between the DPI values, which are 800/1000/1200.
Try and Install the drives from your manufacturer's portal. As sometimes the default driver is not up to the standards. So, installing the drivers will help you in changing the settings and customizing the DPI,
When you install the drivers, most of the time you will get a sperate application through which you can not only change the DPI but you will also get multiple options that you wouldn't get otherwise.
How to Check Logitech Mouse DPI
Logitech is one of the most used mouse brands in the world and personally I am also using this on my laptop.
To check the Logitech mouse DPI, just navigate to support.logi.com and enter your mouse model number that you can get on the back of your mouse.
Like in my case my mouse is "M235" so I will enter this mouse model number on the website like below.
now click on the "Specifications" tab
Now scroll down, you will find the DPI specifications of your Logitech mouse. 🙂
How To check Mouse DPI With Online DPI Checker
After all that effort, if you are still are unable to find out the DPI of your mouse. Don't freak out! I got your back.
Multiple websites provide users the luxury of checking the DPI of their mouse online. You just have to search the keyword and the names of multiple websites will pop-up.
But first, you need to do some "un-tick" few boxes:-
Open Control Panel (Right-click on the Start Button and Select the Control Panel Option), this screen will pop-up, Click on the "Hardware and Sound" option here.
Click on the Mouse option under "Device and Printers"  and then pointer options.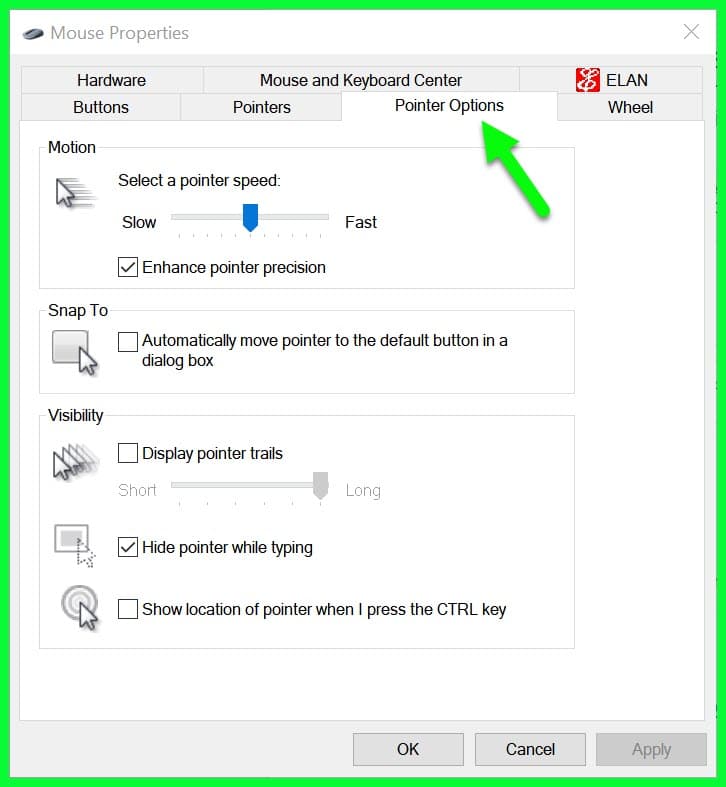 Now you can go to the DPI checker portal. There you will see a screen like this
Now, you can just fill all the requirements and check your DPI.
You might wanna consider using a ruler as a ruler is something that will help you in getting the distance moved by your mouse while dragging and dropping the app's cursor.
Now start dragging the red cross mark and drop it when you have reached the shore of the page. Note: don't move the mouse fast, as it will reduce the accuracy of the measurement.
Just make sure to not cross the edge of the window. As then the result will lose its accuracy.
Microsoft Paint:-
Yes MS paint can be used for something other than being a part-time tool for your children or younger siblings. You can identify DPI of your mouse using it.
Note: It is not a very accurate tool. So try and use the other mentioned tools.
Use the following tools to identify your current DPI value:-
Repeat the first four steps used in measuring DPI with the ONLINE DPI checker(mentioned above).
Step1:- Launch MS Paint, by searching it from the Start Menu. MS Paint window will pop-up. Make sure that your screen is "100%" zoomed.
Step2:- Select any kind of brush from the toolbar and place it at the edge of your screen. Make sure that the DPI value must be zero.
Step3:- Start a one-inch line. Without displacing your Mouse. Try taking at least three readings and afterward taking the average of all the reading taken. That average will be your DPI value.
So, here we are with three methods of checking DPI in our arsenal. Hopefully, this will help you.
Now, we are going to change the DPI value as per ou.
How To Change Mouse DPI Settings on Windows
Now that you know what your DPI value is, you might wanna change it for good, because sometimes especially while playing hardcore games changing sensitivity of the cursor is required.
Or you might now be satisfied with the default cursor sensitivity and want to change it. Then stay tuned as we are going to solve this problem for you.
There are two easy methods by which you can change DPI of your mouse:-
If you are blessed enough to have a separate DPI changing button attached to your mouse. You can just use the normal windows setting in order to control your Mouse's sensitivity.
For that, you just stick to the process mentioned below.
PC Settings:-
Step1:- Click on the Windows Start menu, placed in the bottom left corner of desktop's taskbar. Afterward, a tray of different applications will appear, from that tray click on Settings.
If you are in a hurry you can just use the shortcut "Window + I", this will redirect you to the setting application.
Step2:- A screen will pop-up. On that screen, there will be various setting options. Click on "Devices" located in the first row and second column.
Click on the "Mouse" option. From the list placed at the left corner of your screen.
Search and click "additional mouse options" situated in the list placed in the right corner of your screen.
Step 3:- After clicking "additional mouse option" a window will appear. Click on the "pointer option" placed at the header of that window.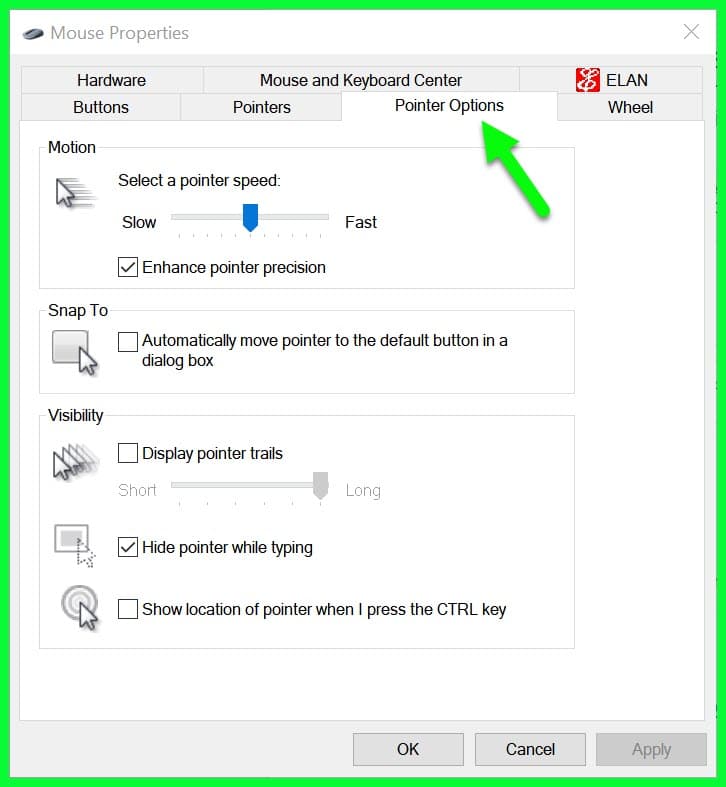 Now you can adjust the speed of your mouse, with the help of the slider placed in the "Select a pointer speed" option located below the "Motion".
After adjusting the speed as per your requirement, press OK.
Note: Turn "enhance pointer precession" off as it can mess with your DPI.
Hopefully, this will guide you to change and customize your Mouse's DPI.
Game Setting:-
Even if you forget to customize your DPI, and entered a PUBG tournament. Now, you cannot afford to leave the game and change the DPI. What will you do?
You can still go to the game setting and change the pointer speed there. A lot of games especially shooting games allows the users to change the pointer speed.
Just follow these steps and you will be able to escape from the wrath of your opponents. And then you can Thank me.
Step 1:  Launch the game that you are going to play.
Step 2: When your game is ready to go(after all the animations) search for "Option" or "Setting". You can do this step even if you are amid the game. For that, Pause the game and in that portal, you will see the "setting" or "option" link.
Step 3: Click on Controls.
Step 4: Search for mouse sensitivity slider. And then adjust it according to your needs.
If you have Microsoft mouse, and your mouse doesn't have DPI on-the-fly buttons, start Microsoft Mouse and Keyboard Center from the control panel or search in the start menu or you can download from here
Select the mouse you are using, click basic settings, locate Sensitivity, make your changes.
Now, you can thank me!
How To Change Mouse DPI Settings on Mac
In mac, you are only able to increase or decrease the mouse tracking speed, Scrolling speed, and Double click speed that you are able to access in the Settings > Mouse.
Summary
Let's conclude the article in this section.
DPI stands for Dot Per Inch, it is used to determine the sensitivity of a mouse.
Mouse with higher DPI is more sensitive compare to that with lower DPI
We have three methods of checking DPI.
Manufacturers sometimes upload the specification of their products online and/or print it on the box. In both cases, DPI will be mentioned.
By Online DPI Checker, dozens of websites will let you check the DPI of you Mouse.
Microsoft Paints has this option where users can read Pixels and by reading per inch pixels. One can easily identify the DPI number.
After checking the DPI if you want to change it as per your needs. You can do that by these following methods:-
PC settings allow users to change the sensitivity of their mouse. By start>setting>Devices>Mouse>Additional Mouse option>Pointer option. There you can adjust it with the help of the slider.
Even if for some reason you didn't change the sensitivity of your mouse via PC setting. You still can do that then and there, by just looking for the game setting>control>mouse speed.