There are many situations where you need to disable your USB, CD or other Portable devices in your Windows 10 PC. I really worked with many applications and even windows default registry hack and group policy options.
But Removable Access Tool is a simple to use portable freeware application which aids in the control of external storage devices such as USB flash drives, CD/DVD drives, as well as floppy, tape and WPD devices.
Ratool can disable USB storage access or enable write protection on all USB flash drives, thus preventing data from being modified or deleted, protecting your confidential data from being copied by others.
Download Removable Access Tool 
Block USB Storage Devices: disables all USB storage devices access to your PC
How to block all USB devices except yours
a. Plug in Your USB device (You can plug in more than one)
b. In the Options menu, click "Prevent Installation of USB devices"
Currently plugged in devices will be excluded (allowed), all other USB devices will be blocked.
1. Allow Read Only: Makes USB storage devices Read-Only. Write access is disabled. In certain situations, you may wish to prevent data from being written to the device.
2. Allow Read & Write (Default): reset everything back to normal so that USB storage devices function normally.
3. In the Options menu, you can choose to block or unblock removable drives, allow or deny access to them, or disable Autorun (a security measure preventing malware from using the Autorun feature to launch itself).
There is also an option to show hidden files on the drive, and one to safely remove hardware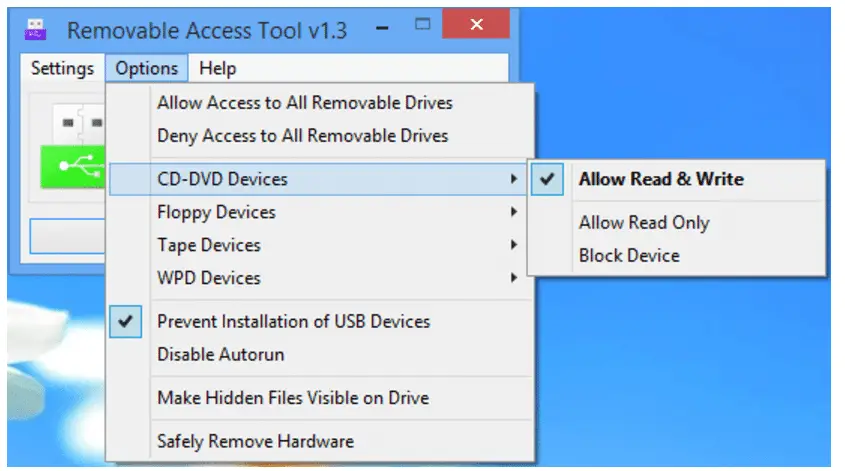 4.Under the Settings menu, you can set a password to prevent unauthorized changes.
Also under Settings is the option to switch languages (English, German and Turkish are pre-installed).
The Translate option allows you to edit the language and translate the GUI into your own language.
Video Tutorial:-
How To Disable USB Drives in Windows 10
Also Check:- How to Use Google Authenticator on a Windows 10 PC