Google dominates the web like no other company and we'd be lost without it. From Search, Gmail, and Chrome, to Maps, YouTube and Android, most of us use at least one Google product or service every day and enjoy the simplicity and seamless integration offered by Google tools.
It's a well-known but unnerving fact that Google monitors and stores your searches so it can target you with advertising – a shameless invasion of your privacy that allows the company to build a profile of who it thinks you are.
Remove Yourself From Google
1.Clear your Google search history
It's no secret that Google stores every search you make – whether it's through the search engine itself or YouTube, Maps, Google Play and so on – and uses the data to build a profile of your interests and target you with adverts.
The frightening part is just how much data the company has on you, and how many searches you perform every day without ever really thinking about it.
To see exactly what Google knows about you, and to delete these records so you can start 2018 without the baggage of past searches, go to myactivity.google.com and sign into
your Google account.
Here, you'll see all your Google searches sorted by date and organized by service, such as
YouTube. You can click the three vertical dots next to any entry and select Delete
to remove it.
If you want to erase more than one search at a time, click 'Delete activity by'. Choose
a time period from the drop-down menu or select 'All time' to delete everything, and choose either a specific Google tool or 'All products'. Click Delete and confirm to clear
your searches.
Killer Google Chrome Tips and Tricks You Should Know in 2018
2.Stop your details appearing in search results
If you have a common name, such as John Smith, it can be hard for people to find you on Google without adding further details to narrow down the search. People with more unusual names are much easier to find.
If when you Google yourself you see personal information, such as your home address
or phone number, you can ask the search giant to remove this from the results. Google can't remove the page the information appears on from the web (only the site administrator can do that), but it can make it harder to find.
To request a removal, go to https://support.google.com/ and follow the instructions.
3.Remove content from Google services
Google won't remove just anything from its services, but if you have legal reasons for wanting content removed from one of its sites, you can submit a notice to Google at Removing Content From Google.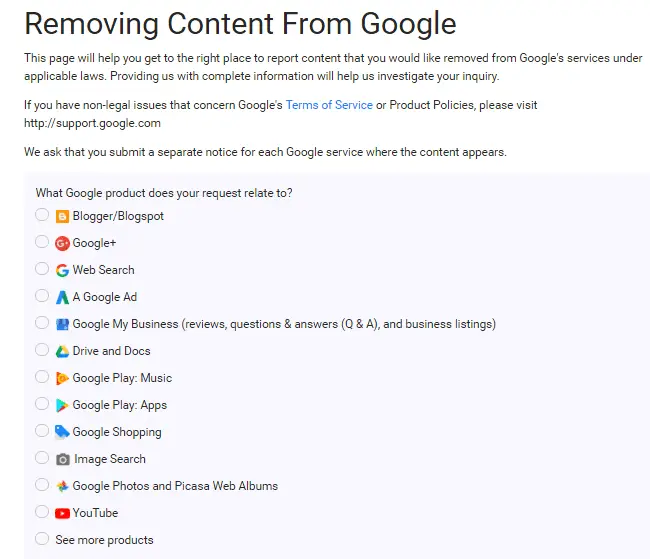 This covers services including Search, Google+, YouTube, Blogger, Images and Google Drive/Docs, and complaints such as copyright infringement, defamation and – most pertinently for this feature – privacy intrusion.
Annoyingly, if the content appears on more than one service, you need to go through the process multiple times.
Cool Google Assistant Tricks You Should Try
4.Delete your Google or Gmail account
This is very much a last resort, but if you really want to wipe the slate clean for 2017, you could consider deleting your Gmail or Google account and starting again. Doing this will erase all your emails, contacts, YouTube subscriptions and synced Chrome data, as well as
your Android account and more, so you must be 100% sure you want to do it.
Make sure you back up any important data beforehand. You can delete just your Gmail account, which will wipe all your messages and stop you or anyone else using that
address in future, or – more drastically – your entire Google account.
To perform either action, head to the Google Delete Services page and make your choice. If you only want to delete Gmail (or YouTube or Google+) select 'Delete products'.
You have the option to download your data before going any further. If you want to bid goodbye to Google entirely, select 'Delete Google Account and data' instead.
How to Back up securely to Google Drive
5.Remove yourself from YouTube
As we mentioned above, you can keep your Google and Gmail accounts but delete your YouTube account, which wipes any videos you've uploaded.
If you don't want to go that far, you can just delete certain videos by opening the video manager (www.youtube.com/my_videos), clicking the down button next to a clip and selecting Remove.
Alternatively, you can hide videos so that no-one else can see them. Popular or interesting videos are sometimes cloned – that is, uploaded by other users.
If someone is sharing your work without permission, you can submit a copyright takedown notice to YouTube.
If you want to be removed from someone else's video, the best option is to ask the
person who uploaded it if they would mind taking it down. If they refuse, you
can lodge a privacy complaint with YouTube.