Reddit is a source of information on pretty much anything you can think of, so it is a very popular online community. Sometimes though, people can get nasty through comments or inappropriate content. Learning how to report a subreddit is actually important because it helps sanitize Reddit content. 
This article will explain how to report a subreddit on any operating system ranging from android to PC. 
How to Report a Subreddit, User or Post
You could report subreddits, users, or posts and you do not always have to be a registered user to do so. Here is all you need to know: 
Reporting a Subreddit
Before reporting a subreddit, the main thing to look out for is to ensure that the subreddit actually goes against Reddit content policy. This is important because you might end up wasting the admins time when content you find disturbing is actually allowed by Reddit.  
Click here to read up on Reddit's content policy before even trying to report the subreddit. 
When you're satisfied that the content actually contravenes Reddit's content policy, use this link to get in contact with Reddit 
From the list that appears, click on Message The Admins which is the last option on that list.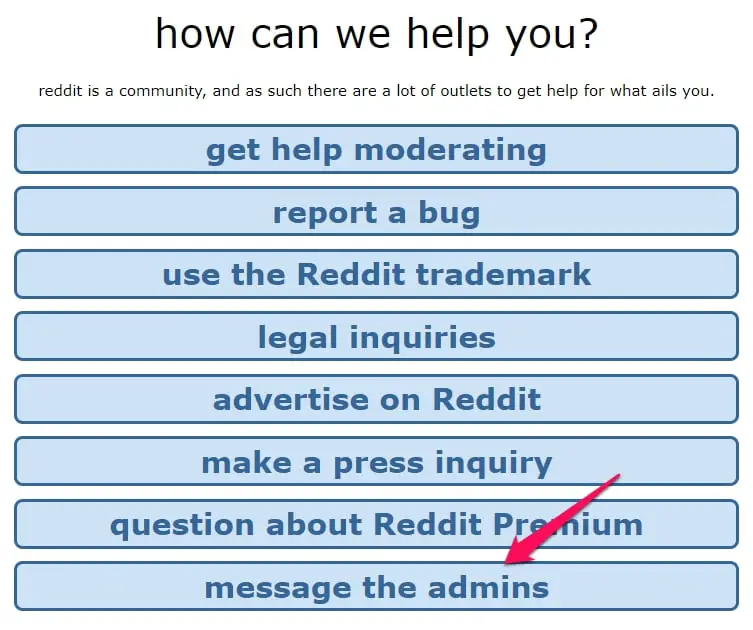 Another list with three options will come up. Click on the middle option Something Else. 
This will also bring up another list of options, click on Content Breaks Reddit's Rules. It is the first option on the list. 
You will be asked which rule the subreddit broke with a list of options for you to choose from. Click the rule that best applies to the subreddit and follow the following set of instructions to get in contact with Reddit administrators. 
The set of instructions you'll follow depends on if you have a Reddit account or not. 
Users with Accounts
Users with a Reddit account are advised to just click on the three dots found at the lower right-hand side of the subreddit you want to report, a pop-up box of options will show, then choose what you want to report.  
Click on Submit when you're done to complete the process of reporting the subreddit. 
Users without a Reddit Account 
For people who don't have a Reddit account but came across disturbing content, you can just email the admins directly through this mail address
Contact Mail – contact@reddit.com
The information needed by the admins from you includes the name of the subreddit, the rule it violates, and any other information that pertains to the complaint. 
Send the mail and you've just reported the subreddit. 
Reporting Users or Posts
This is a bit different from reporting an entire subreddit. To report users or posts, it is already assumed that you have a Reddit account. 
Open your Reddit account and navigate to the offensive Reddit post. 
You can easily use the Search option to get to the offensive post or user. Look for the Report feature, it is usually found beneath posts. 
Click on it and you will get a pop-up message saying "We're sorry something's wrong. How can we help?" 
Just beneath the pop-up message, options on why you want to report the user or post will appear. There are options ranging from whether it is spam or abusive content. Click on the option that best describes why you're reporting the user or post. 
The next screen will reveal additional questions about the post. This is happening because Reddit takes their content policy seriously and they want a community that is free of hate speech, abuse, and inflammatory content. 
The questions are not the same every time so there is no rote explanation. Just follow the instructions and provide as much information as you can on the post or user you're reporting. 
There might be other sub-menus to navigate but that also depends on the issue being reported. 
Whatever the issues maybe, when you're done explaining to the best of your ability, click on Submit and your complaint will be sent to Reddit's administrators. They will now take action if they find that the user or post is actually in violation of Reddit's content policy. 
How Not to Fall Foul of Reddit's Content Policy
Reddit is an online community which means it has its own set of rules and regulations. Reddit users even commonly call the rules and regulations "Reddiquette". 
This is important because new users can easily fall foul of the content policy without knowing it and it may lead to permanent bans or worse. The three major aspects new users must know is 
Reddiquette

The Global Rules 

Specific Subreddit Rules
These tips are quite different and reading through will definitely help you build a good understanding of Reddit and hopefully, as we say on Reddit, get karma in return. 
Reddiquette

 
Now you know how to report a subreddit, it is safe to make sure you are not reported. Reddiquette is a list that contains Dos and Don'ts. Follow these tips to avoid bans and other limiting measures placed on your account. 
Voting 
In Reddit, comments and submissions are voted on. The only reason you should ever downvote a comment or submission is if it is irrelevant to the conversation going on. 
Do not downvote based on differences in opinion or a belief or just plain jealousy. The Reddit community is not for petty brawls but for compiling records of information about a particular topic. 
Staying on the Good Side of Redditors 
Redditors are Reddit users who now moderate subreddits, posts, and comments. If you fall afoul of their rules, there will be consequences. To avoid that, always make thoughtful and relevant contributions. 
Comic relief isn't dead on Reddit but it must be appropriate and it must be within the context of what is being discussed. When linking to outside sources, be careful to link sparingly because if it happens too often, it could be construed as spamming and that is a cardinal sin on Reddit. 
Never Try to Promote Posts 
Any attempt to self promote, create a buzz, or gather traffic to your comments or posts is always viewed in an unfavorable light by Redditors whose intervention can lead to bans and other consequences. 
Editing Your Comments/Being Courteous 
Any comment you edit is seen by every user as an edited comment so courtesy on Reddit demands that you explain why you have just edited that comment. Use language that is comfortable for face to face interactions and always try to be polite. 
Rudeness isn't a character trait that the Reddit community tolerates so you might have to bite down rude replies and comments. 
Never Participate In Trolling/Flame Wars 
Some users can deliberately incite heated discussions that may bring about racist abuses and other harmful content. Stay off those subreddits and instead concentrate on adding meaningful substances to posts.
Do not attack users directly or indirectly or jest about anybody's physical appearance, typing skills, or limitations of the language. 
These are the main points of Reddit's Reddiquette. 
The Global Rules
These are laws that must never be broken because the punishment for breaking any of these laws is usually quite severe. 
No Sexual Content Featuring Minors 
This is a red flag on Reddit. It can even be punished by jail term if the authorities get involved. 
Do not ever post suggestive content child phonographic content. Avoid this at all costs because it is a huge deal for Reddit and they will take it up seriously if you break this law. 
No Personal Information 
Users always use nicks so everybody is known by their nicknames. Do not volunteer your personal information online for identity security's sake and do not volunteer other people's personal information either. 
No Spamming 
Spamming is not tolerated in any form, for any reason. Fall foul and you will most likely face sanctions on your account. 
No Self Promotion 
Begging for positive votes is not allowed at all on the sites. Do not beg or even ask or suggest that you want positive votes for your comments. Just post what is relevant and if other users find it relevant, they will vote accordingly. 
Do not harm the site too. This can even lead to criminal charges. 
Specific Subreddit Rules
You might obey all of the global rules but still fall foul of subreddit rules so it is encouraged that you read the content restrictions for that subreddit before making comments. 
Check Community Info to view the content restrictions for that particular subreddit. 
Punishment for breaking subreddit rules are much milder though, with perhaps removal from the subreddit the highest that can happen. 
But it is still important to keep to the rules to have a wholesome Reddit experience. 
Conclusion 
Knowing how to report a subreddit is one of the main reasons why Reddit still maintains being a community of knowledge and information. That is why users must not see abusive, harmful, or suggestive content and ignore it. 
Have you ever reported a subreddit? Tell us how the experience went and what happened afterward using the comment section.