How To Skip Ads on Hulu? 🤔 This question looks like your question! If Yes then keep reading.
We got you covered with 7 of the best methods to achieve this.
Let's get started. 🐱‍🐉
The internet has made life a lot easier and more fun. You have as much information and entertainment as you need at your fingertips. Whatever you want to read or watch is only a click away.
Streaming services such as Hulu, Netflix, and YouTube make it easy to watch movies, documentaries, sporting events, and whatever catches your fancy wherever you are.
For many, the issue is not choosing what to watch but having total control over your viewing experience.
Advertisements constantly interrupt the viewing experience. It is the norm for you to see several adverts while streaming a video.
Most internet-based companies make a large part of their revenue from ads. The U.S. advertising market is worth more than $229 billion, so, naturally, ads would be enabled in most online platforms.
Hulu earns close to $1.82 billion yearly as ad revenue. This means you're constantly exposed to ads, which is the price you pay to keep them in business.
In this article, we would explain what you can do to drastically reduce the ads you see on Hulu.
What is Hulu?
Hulu is a video service that allows you to stream popular TV shows in the U.S. and Japan. They emphasize newer TV shows from popular network broadcasters, along with some original content, movies, and documentaries.
It differs from other streaming services like Netflix and Amazon Prime Video because it allows you to have earlier access to new releases from popular networks.
If you don't like long waits before enjoying a new release, or you don't want spoilers from friends, you might consider being a Hulu subscriber. You typically wait about a week, and sometimes a day to enjoy new content.
Co-owned by the Walt Disney Company and Comcast, Hulu planned expansion to other countries in 2021.
How to Skip Ads on Hulu: Best Methods 👌
About 70% of Hulu users are on the ad-supported plan. For these users, learning how to reduce the time spent watching ads is important. Below are some methods you can use to make your Hulu experience freer of ads.
1. Go Premium
Hulu relies heavily on ads in other to give users a low-cost experience. This is unlike Netflix which doesn't rely as heavily on ads.
To really enjoy Hulu, you would have to pay more for their ads-free plan. Hulu's regular plan is $5.99/ month. Under this plan, your movies and other videos will be interrupted by ads.
To eliminate the ads you can choose to subscribe to the $11.99 Hulu (No ads) plan. The no-ads plan is suitably named because it eliminates most ads you would have watched otherwise.
Hulu also has a Hulu + Live TV plan that allows you to watch live programs from more than 60 channels. Under this plan, you get to enjoy sports, local news as well as all that is on offer on Hulu's regular $5.99 plan.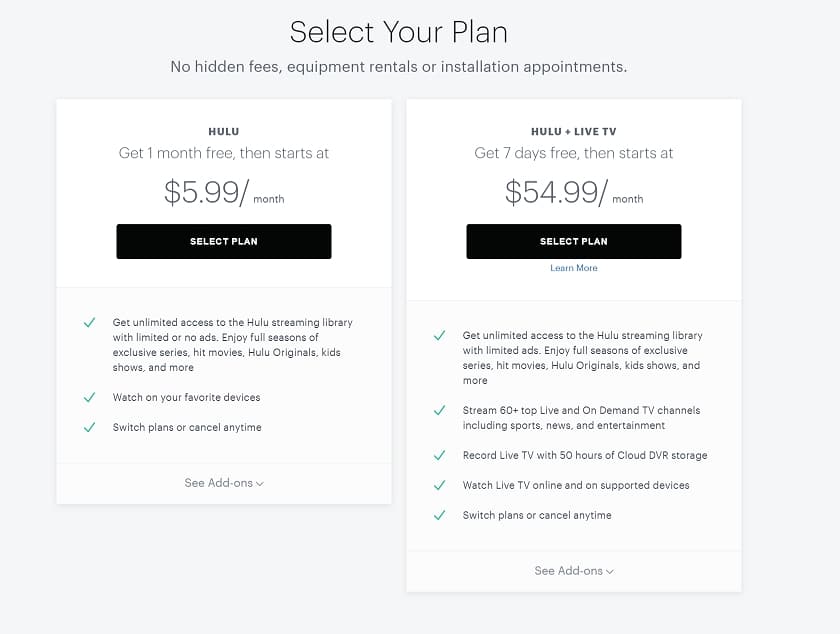 The Hulu + Live TV costs $54.99/ month, and the Hulu (no ads) + Live TV costs $69.99 a month. So with $6 extra, you get to stream much content without being burdened by ads.
How do you switch to the no ads plan?
If you have been using either the regular Hulu plan or the Hulu + Live TV plan, and you want to switch to no ads, it is a simple procedure.
– Open Hulu website. Hover your cursor at the top right-hand corner where your name appears, then select an account.
– After clicking on select account, scroll down to your subscription section.
– Click on manage, next to add-ons, Switch plans, and click the switch on the no commercials section.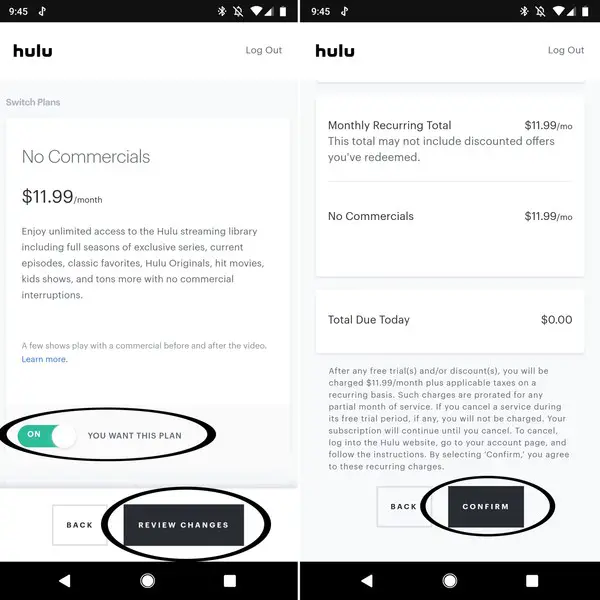 – Click the review changes that appear near the button of your screen.
– Click confirm, but first make sure you've reviewed how much you will be charged.
This can be done in a matter of minutes. It is worth noting that one added benefit of going premium on Hulu is that you can download videos that can be watched offline.
A drawback is that for some shows you still see ads at the beginning and end. This is a slight inconvenience compared to the benefits though.
2. Use Ad block
If you access Hulu on a desktop you can use a Chrome extension that blocks ads. This method does not completely eliminate ads because Hulu uses a back-end script for their ads. A good ad-blocking extension will work until Hulu stops detecting it.
One thing to note about ad-block extensions is that they do not completely block all ads, sometimes, they mask the ads so they don't show.
Also, some videos will not play with an ad blocker enabled. A good extension to use is Adblock Plus.
If you usually stream on Hulu with your mobile devices, you may consider downloading a mobile-friendly ad blocker. This method is usually effective at blocking most ads.
another popular adblocker extension is Hulu Ad Skipper (Download Here)
Fast forward through ads on Hulu
3. Reload Page
This is one of the oldest tricks in the book. Unlike the previous methods we have examined, reloading or refreshing the page does not eliminate ads, it rather shortens the length of time you would have spent on watching ads.
Some Hulu ads are short, lasting between 20-40 seconds, usually during a movie. Other ads are longer, some lasting as long as four minutes.
You are likely to find these long ads between movies. Refreshing the page may be a good method to employ when the long ads are playing.
Whenever there is a long ad, refresh the page to get a shorter ad. This method does not eliminate ads, but it is a time saver nonetheless.
4. Fast forward ads
There is another method you can employ to make those four-minute ads much shorter than they already are. You can fast-forward them. How do you fast-forward them?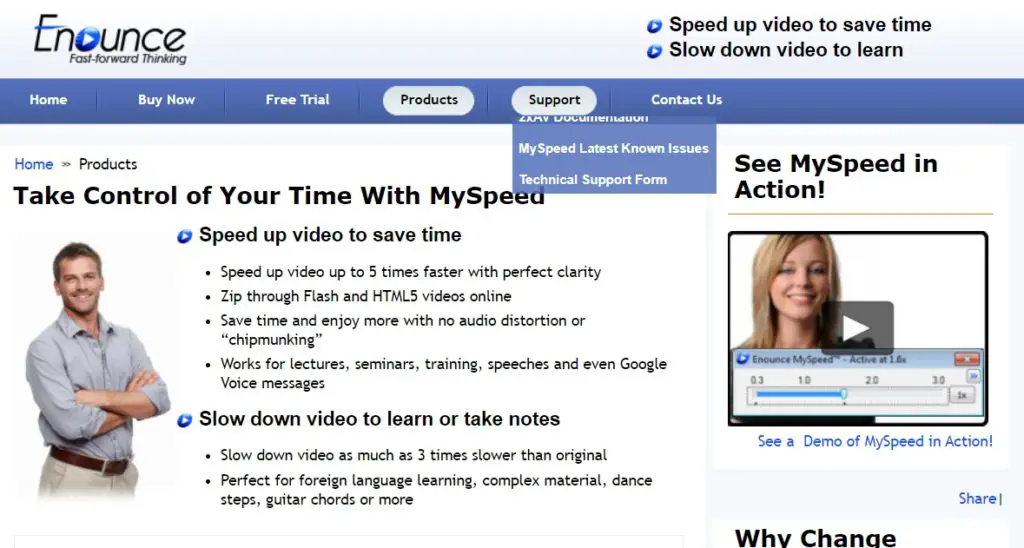 You can download the Enounce MySpeed software to fast-forward those annoying ads on Hulu. With this tool, a four-minute ad may become shorter than a minute.
Enounce MySpeed is not free. For $29.99 you can enjoy all the benefits. It also has a seven-day free trial pack.
5. Open Two Tabs
This may be the most complicated method to work around ads. However, once you understand it, it is an invaluable tool. This method doesn't require you to download any extensions or purchase software. All you have to do is open two tabs for the same program.
If you want to use this method, you should have unlimited and fast data. If your internet connection isn't swift, or your data is limited, it is not advisable to use this method.
Open Hulu and when you see the movie or show you want to watch, open it on a different tab. Repeat this procedure so you have two tabs of the movie you want to watch. Mute one of the tabs and fast forward to the first ad. Watch the movie on the other tab until you get to the first ad.
When you get to the first ad mute that tab, move to the other tab, rewind the opening commercial and then unmute, and continue watching the movie. Repeat this process until you have completed the movie.
6. Use Adblocking Browsers
We have discussed the use of adblocking extensions and apps. This method is similar to that.
However, instead of downloading an app or extension, you use a browser with an inbuilt adblocking mechanism. The best and most popular browser for this is Brave (Download Here).
No More Pre-Roll Ads - Download Brave Today
Brave is a browser that is dedicated to blocking ads and trackers that are an ever-present feature of most sites you visit. When considering eliminating ads, your best bet is the Brave browser.
Other than its efficiency, one of the biggest merits to sticking with this option is the fact that you can have most of the ads dealt with for free.
You may like to read our guide on
Brave Vs Chrome
: An In-Depth Comparison Guide For You.
7. Use Web Filtering
Various kinds of ads can be blocked with the help of web filtering. You can access this feature in your router control management under access control or parental control with these simple steps.
– Connect with your WiFi
– Open your browser and enter your default router address and hit enter
– Next, search for the web filtering option
– Add: ads-e-darwin.hulustream.com to your web filtering option or block record, and click on apply
– After you've applied it, restart your router
This domain is responsible for ads on Hulu, so blocking it should also block ads on Hulu.
Conclusion
Hulu is one of the biggest video streaming services in the world. For many users, ads make the viewing experience less pleasurable than it can possibly be.
The most effective way to stop ads from showing is to pay an extra $6 for an ads-free subscription. Other methods help reduce the time spent watching ads without the big tradeoff in price.
If you figure out other hacks and tricks please share them in the comments below.