The HTTrack is software that can make downloading stuff from the internet to your device much easier. It is a user-friendly offline software that lets you get HTML and other types of files from several servers by building directories to your PC.
This software is reliable when there is a download interruption as it resumes any website download from the exact stop point once the connection has been restored.
There is no bias as to how efficient the Httrack tool is, but sometimes you may have the need or curiosity to want to try something different like an alternative for when it disappoints.
In the below text, we will share the best of the best HTtrack alternatives you can always count on at any time.
Best Httrack Alternatives: Our Top Pick👌👌
The Httrack tool is definitely good software if you want to download an entire website on your PC. It is easy to use and has a user-friendly interface that is easy for anyone to navigate through.
But if you need some other tool that does the same job as Htttrack, here you go.
1. Offline Explorer
Offline Explorer is a paid easy to use tool that offers more features than just copying a Web page and photo albums.
The Offline Explorer, websites can be viewed and downloaded offline. Its customizable interface offers users ease in managing several downloads they are doing. This is one of the best HTTrack alternatives that you should check out.
Features:-
From the downloading URL, users can get back updated data

The URLs, servers, sizes, domains, and directories can be included or excluded depending on users' preference

It facilitates easy download

Proxy server support can be set up in ways that are pleasing to a user

It has an impressively smart web browser integration
2. NCollector Studio
Ncollector Studio (Download Here) is an offline website exploring download tool that helps you download any website of your choice and have access to it even when offline.
It helps you find websites specifics like a particular file, image, video, etc. All these can be done in an offline mode on your personal computer. 
The NCollector has an easy program that has every feature a site mirroring app should have. With it, you can enjoy offline website crawling and browsing. 
Features:-
The downloaded site can be shared with other users

Site links are translated to local links for maximum offline browsing experience

Status can be included to list download

The NCollector Studio is able to understand shockwaves

It has an improved image search provider from Google
In addition, users' experience with the NCollector Studio is one of the best there is since it can be used effortlessly. This is one HTTrack alternatives that should be on the top of your list.
3. GNU Wget
This GNU tool is another one out of free HTTrack alternatives that offer its users the tools for getting back online files with the use of FTP and HTTP. 
This is known to be its famous internet protocol since the function can work efficiently even when you are logged out. This tool can be downloaded for free and used on Linux and Windows OS. 
When it is installed and a graphic interface is not seen, the command prompt will have to be used to download a website of your choice.
If you are confused about how to get the command codes, you can get them on GNU Wget Manual.
Features:-
Interruption does not stop a user from retrieving URL files

Option to use Command-line to configure features

The tool automatically checks for changes in remote files

It offers recursive download

Supports proxy servers
You may like to read our guide on How To Download Files With
Python Wget
on Windows.
4. WebCopier
The WebCopier (Download Here) is one of the numerous HTTrack alternatives that you should consider using. It is an easy-to-use yet advanced type of programming that can be used to download any website.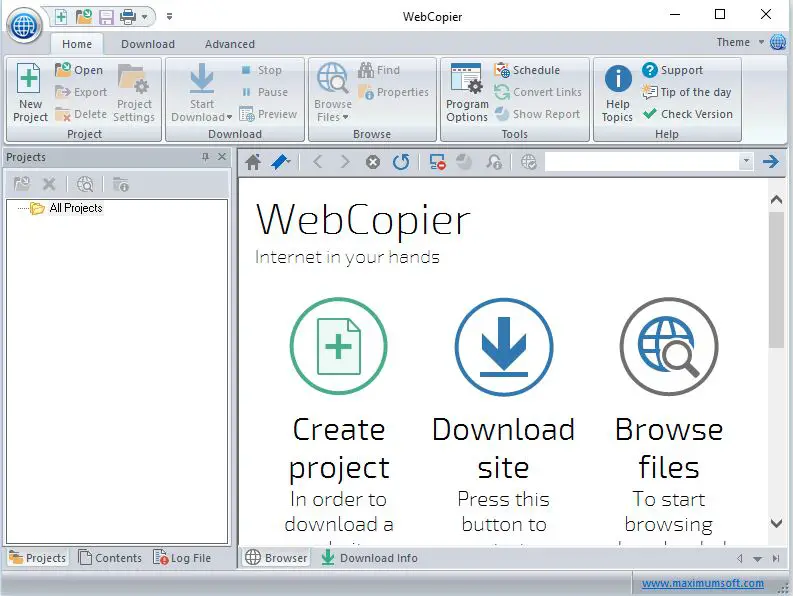 The WebCopier lets you copy and save internet connection for future reference on any site on your personal computer. The stored site can be accessible when in offline mode and sharing the file with other users is possible.
This tool can be used on Windows, Windows Phone, and Mac OS X. WebCopier offers website analysis structures, recovery of dead links, and transfer of files or work from one operating system to another. 
Complete information of any site of your choice can be stored. This is not limited to stock quotes and magazines alone. 
It has a free and paid version that you can choose from. The paid version has more features and functionality that are more advanced than the free version.
Features:-
Once data is downloaded, it can be accessed at any time

Copying and printing of websites is done with ease

Pages that are saved can be copied on thumb drives and disks

The downloading process can be scheduled

Downloaded data can be stored on CDs and DVDs

If there is an incomplete download due to interruption, it resumes automatically once the interruption is fixed

Filters can be used for partial downloads

A specific language can be used for a particular download

The interface can be customized using skins
5. SiteCrawler For Mac
The SiteCrawler for mac (Download Here) is a free web downloading app that is focused on capturing images centered on sites.
Users are able to explore and discover links on websites and saving the information found once their functions are understood.
They are limited to public pages only since they are able to sift through them with ease. The private websites they cannot go through are regarded as 'dark web'. 
Features:-
An application can be stopped or paused while changes are made in the settings. The newly changed setting is automatically affected when the app resumes without issues

Sessions can be saved for future reference when download is ongoing

Distinct URL patterns can be set by users for different websites
6. UnMHT Firefox Add-on
The UnMHT (Get Here) is a tool used for checking out website archives that are saved in MTH and MHTML format.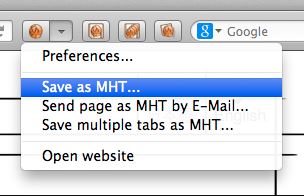 It is one of the few HTTrack alternatives that can save HTML, CSS, and images into one file. Every file that is downloaded can be opened by leading web browsers with few exceptions. It has an information panel that receives and saves data on every ongoing process of websites. 
Features:-
Webpages are saved by one click into a prespecified directory

Many tabs can be stored in one MTH file

Lots of tabs can be saved at once in an MTH file

Webpages can be saved as an MTH file

The URL and date of web pages can be saved in an MTH file
To enjoy every feature of the UnMHT, you will have to enable the JavaScript of your web browser.
7. The Save Page WE (Chrome Extension)
The Save Page WE is a Chrome extension (Get Here) that lets users save a web page in the form of a single HTML file.
This file can be used on all browsers. It provides users with the simplicity that comes with saving data on websites.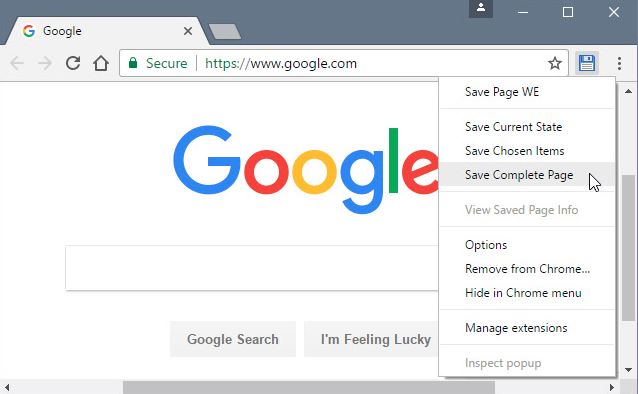 You can decide to save several pages by choosing more than one tab or by using a list of page URLs.
The saved data are accurate and are a copy of the original representation of the website where it is gotten from. It is one of our my httrack alternatives.
Features:-
Copies of CSS images can be merged together and maximum depth specifications for nested frames can be stored

Files in HTML ie images, videos, audios, etc can be saved

The location a user want a file to be saved in can be set

A default predefined field of a saved file may be found.
8. SiteSucker
When considering several HTTrack alternatives, the SiteSucker (Download Here) should be a part of those alternatives. It is especially good for MacOS users.
It lets you download the complete and original version of a site. It includes all that you may require it to download such as texts, videos, and files you want to be saved on your personal computer. 
The application does the download of websites with speed. This is one of its many perks. Its easy-to-use interface will make you get whatever it is you are searching to download. All you will have to do is input the site's URL and press the return button.
Features:-
It allows for downloaded files to be localized so that they can be viewed in offline mode

It lets you download sites without modification

Duplication of the website's directory structure can be done with SiteSucker

Downloads may be saved on your PC

Provides its users with a clean and friendly interface

Extremely useful for web developers and for common use
9. BackStreet Browser
BackStreet Browser (Download Here)  is an offline browser that allows users to download their preferred website and then explore it on the PC in offline mode.
It provides a compressed version of the downloaded webpage. You may look over the site's contents by browsing it.
Everything is downloaded and displayed for you to look at, including images, HTML, Java applets, sound, and other such things.
Features:-
Users are able to view links

A stylesheet formatting mode may be used

Order of placeholders may be given by a user

It allows for configuration

It gives you a comprehensive report of websites

Website diagram may be customized according to the users' preference
10. Cyotek WebCopy
Cyotek WebCopy is one of the HTTrack alternatives that lets you automatically download a full website on your computer for an offline viewing experience.
It allows you to link to resources like images, style-sheets, and every of the website pages will automatically be remapped so that it can be a match. To use this application, all you have to do is enter a URL in a website box and click on the copy button. 
Features:-
URLs can be seen and filtered

Downloads can be scheduled

It has a user-friendly interface that makes it easy for users to navigate

It is configurable. 
11. Fresh WebSuction
Fresh Websuction (Download Here) is one of the HTTrack alternatives that comes as an offline web browser that makes downloading and exploring any site possible in an offline environment.
It is one of the best tools used to download important content like reference materials, news, online book, articles, and so much more. With this tool, you are able to share the content of the download with as many users as you would like. 
Sometimes, to build a permanent record of data, you may want to use web downloading programs. This way, you are able to save yourself additional internet connection payment and still have the availability of the downloaded information at your disposal without the need of visiting the site again.
It has several key functionalities that are listed below:-
 It has the ability to make simple configuration

It gives several options to choose the type of file extension you would want the program to operate on

The file extension can be added or removed

It has a user-friendly interface

Conversion of links can be done with the Fresh WebSuction application
12. WebZip
WebZip (Download Here) is one great tool that you can use to get content off from a site by downloading the whole website. When a download is completed, you are able to access the file offline with all of its content intact without having to go back to the site. 
This download file could be a video file, photo, sound, or other types of file you wish to have saved on your personal computer. All downloaded files can be saved in HTML format. 
A newly integrated tool in the WebZip called the FAR system offer users the ability to compile downloaded HTML-help content. The FAR system lets users save downloaded content into a single compressed file without the fear of losing some important data.
This WebZip option is great for archiving purposes and sharing them with other users.
Features:-
Save a lot of time

Easy to use interface

Efficiently captures every data you want to save

Lets you enjoy easy offline access
13. Mozilla Archive Format
Mozilla Archive Format (Download Here) is an archive format that is available in an extension form for Firefox. It is used for storing content gotten from one or more web pages and websites.
One exceptional aspect of the Mozilla tool is it has a unique way of working as compared to other traditional MHTML based platforms.
The scrapbook extension on Mozilla is also one of my go-to ways of getting whole websites.
Features:-
It is highly compatible 

It efficiently saves your data in a file without losing any. Saved files could be audio, video

Every downloaded file is linked to where it is originally gotten form

You can take snapshots with this tool

It is a free tool that can be used on any OS

It lets you convert saved pages

It has a user-friendly interface that can be used by anyone

Once or more web pages can be opened and used all at the same time
14. PageNest
PageNest (Download Here) has features that let you download a set of twenty or more files at the same time. You are able to get every downloaded content of your choice without fear of network interruption. 
Since all downloaded files are in HTML and JPEG format, they can be moved to another device when downloading is completed. This is one of the few tools that let you download a complete website and have instant access to all of its functionalities intact. 
It provides you with two download options on how to download either a full website or some specific pages that are important to your need. It has a customizable system that lets you set ranges for the pages you wish to download.
It works efficiently with host websites on any server and you have the choice to set a minimum and maximum range value of the size of download you wish to carry out. 
Features:-
Processes HTML, CSS, and Java quickly

It is a built-in browser

It offers all users a two-way click download option

The navigation of downloaded sites can be easily managed

It oversees site management functions

Any type of file can be download and save

It has a pause and resumes download option for its users
Final Thoughts
There are lots of HTTrack alternatives you can opt for if you want to try something new. These apps are basically used to copy content from websites and web pages. They can be used offline once the download is completed.
The above-listed alternatives are by far the best ones that we can vouch for because we have had experience using them and are still using them.
However, it is possible that we may have missed out on some really great HTTrack alternatives that you may know about.
If you know any of such tools and it is not on the mentioned ones above, feel free to tell us about them in the comment section.