Gaming is something that is never going to end. You get millions of options to choose from. From games such as Call of Duty to the imposter, many games are emerging and capturing the audience's attention. Some gamers stream various games.
It is a myth that people perceive indie games as lame and not in trend. But that is not true. Indie games develop with crazy graphics, immersive and realistic displays, cool characters, and great missions and stories.
Gamers are getting attracted to these games as the developers use their freedom to be more creative and keep experimenting with them. We can say that these indie games are no less than the hyped AAA games. And we cannot ignore that indie games have been the start of everyone's gaming journey. 
This article is for you if you are a new gamer and want to explore these game fields or have been a previous fan looking for some great indie games. Researching a game that suits your taste and won't get you bored in a few seconds could be tiring.
So we have collected reviews from various users and researched to present you with the top 17 indie games on the switch. We have made sure that all these games are captivating and entertaining and offer something new to their users. 
Best Indie Game on Switch – Our Top Pick👌
1. Hollow Knight – Best indie games on switch 2022
Hollow knight tops the list for the best indie game on Switch, and the reason cannot be counted on fingers. The game is filled with amazing graphics that immerse you in the story.
We have to say that team cherry did a great job in this game development. Indie games are known for their storyline and adventures.
Hollow knight is a Metroidvania action-adventure game. You will love it if you are a sucker for zombie-type infection-related games. But it is suggested not to get addicted to the dramatic dark theme of the game.
The visuals and audio will take your gaming experience to the next level. Everything in the games hides a secret; you must reveal it once you complete the missions.
The stages and challenges are linked in a way that will only grow your interest in it. You are going to love hollow knights. You are the leading knight who has to save this Hallownest town called Dartmouth, a great kingdom.
Hollow Knight: Voidheart Edition Trailer
You have to help the previous king to achieve his mission to protect the kingdom from infection. People claim that it has one of the nicest. 
The game gets interesting as you will fulfill more and more targets or missions. You can play this game on Windows, macOS, and Linux.
2. Dead cells
Dead cells is another addictive game on the switch games list. The thought of saving yourself from danger gives another kind of adrenalin rush.
You need to constantly be alert to be alive because if you lose, you will die and lose all the rewards you have collected till now, as the game is based on permadeath.
The graphics and visuals are at the following levels. It will give you a realistic feeling of being stuck in the situation. The visuals are colorful and give an eerie yet exciting feel. This game is hands-down for its graphics and visuals.
Dead cells are based on the theme roguelike, a subgenre of role-playing video games in which you have various levels that should be cleared by dungeon crawl. Roguelike is inspired by Metroidvania combined with the binding of Isaac.
Motion Twin has done a great job in developing the storyline. This is why indie games are popular because the developers put in their [passion and creativity for gaming.
Unlike other indie games, you are not a knight or a hero who will save the world or kingdom. In this game, you are a decapitated corpse who needs to save himself and find his way out of the dying dungeon.
You have to fight and overcome various obstacles on your way out, and you will earn rewards. You will also get cells that are a currency that will save you from dying.
The more cells you collect, the close you are to winning. But you have to ensure that you don't die because you will lose all your cells, and you have to restart it from zero.
Dead Cells Release Date Announcement Trailer - Available August 7, 2018
If you are new to indie games, too, this will make you a fan of them. The game works great on windows, Linux and macOS. 
3. Raji: an ancient epic
People believe old age things are primarily dull and overrated, but Raji proves it wrong. It is, to be honest, a new concept.
One of the game's unique features is that the game's main protagonist is a woman. We have seen knights and superheroes, but this is the first game that shows women taking charge and being powerful.
The graphics and the visuals will transform you into ancient history. The simplest of the details have been taken care of by the developers. From the fantastic monument to the scriptures, it feels like a time journey to history. And you will love the serene music that gives an Indian flavor.
The game's story is that there is a fight between the gods and the demons. Everything is destroyed, and the lives of humans are in danger. Raji is on her mission to save the world. She goes to the goddess to receive blessings from her. 
On her way to defeating demons, Raji gets a lot of power. It looks like a combination of modern and traditional gaming styles. Whereas everything looks traditional, there are a lot of sci-fi things that are included in the game.
You will find out how captivating indie games can be regarding visuals. We suggest trying it, and we know you will love it. The game has some powerful graphics and a great storyline.
And you get a chance to be a superhero and save the world. It's an action-adventure game and something new that we are used to playing.
4. Spiritfarer
If you are not into horror, eerie, and action-type games and are more of a calm person, the Spiritfarer is your game. This is something new to try your hands on.
Like the game above in the list, this one also gives serene and calm vibes. This is more of an emotional game, but it is nice to immerse in some game that brings real emotion.
The users are in awe of the visuals of the game. It is just breathtaking and has one of the best 2D animations. Everything in the animation is handcrafted, and it is surprising how the human mind can work on such small details.
The sound effects were mesmerizing, and you will love it as the game continues. Calm games are often dull, but this one is an exception. There are multiple themes for the character, the environment that changes from day to night.
The whole game is pretty refreshing; you will go through a drift of emotions. You will see countless funny and sad experiences. The storyline is genius work and engaging. You will find out about different characters and enjoy the journey.
Spiritfarer is a sandbox action game that gives multiple chances to interact with the characters. It is surprising how a game about death can be so lively.
In this game, you are a spirit catcher named Stella with a pet on your journey to catch the spirit. You must interact with various spirits and grant or help them fulfill their last wish. You have to sail the door and leave it in the afterlife.
Along with fulfilling their last wish, Stella has to collect various tools and resources for her boat to make space for more spirits and provide them with essentials. Stella has to get food and resources to make it through the whole sail.
5. Ghost of a tale
Ghost of a tale is a famous indie game on switch. It has an entertaining storyline which is the main highlight. Gamers like to indulge in the adventure the story provides as it grows. You will love the game and find it hard to stop playing it.
The graphics are a work of art. Indie games are known for their colorful graphics, and this game is one of the best examples. As it proceeds further, this game will captivate you from the very start with its visuals and soundtrack. The background is pretty colorful and gives a warrior feel.
Ghost of a tale is an independent action role-playing game that revolves around the character and proceeds with the game. If you are interested in a saving the world kind of game, you will enjoy this. You will find many interesting characters and creatures.
The game is about a medieval period where several animals lived in a kingdom. Frogs, crabs, and mice control the kingdom, and there is lots of trouble.
Tilo, the main character, has to save their home and reveal the weakness of others and destroy them. Tilo, in the end, will be thrown into a dungeon by rats who will win the war.
You have to escape the prison and surrounding land. The whole game will keep you intrigued about what will happen next. 
On the switch, this one will be your favorite indie game: action and adventure-packed.
Ghost of a Tale - Launch Trailer - Nintendo Switch
6. Untitled Goose game
If you need some refreshing, funny prank game, the Untitled Goose game is for you. It also helps you to improve your imagination and problem-solving skills. The graphics are pretty good and are very English. Once you get the hang of this game, you will get addicted.
You will be a goose as a player and have to complete the mission and escape the supervisor. The game is pretty entertaining and funny. There are many missions where you will feel challenged and use a lot of your brain. You will create a lot of havoc and what we call a comedy of tragedy.  
There are lots of stages and different arenas to play. You can create a whole nuisance, so you could take out your frustration here if you had a bad day.
It will give you a relieving feeling, and you will leave with a smile. Untitled goose is a puzzle stealth game, meaning you have to use analyzing and logical pattern recognition to succeed.
Untitled Goose Game - Two-player trailer - Out now!
You can do many things such as honk at strangers, duck down, run and save yourself. You have a to-do list that you need to complete to pass to the next level, which is more complicated. 
The game received good reviews from users. There are a lot of streamers who enjoy this game as it attracts a lot of audiences. We are big fans of this game because of its uniqueness from other games.
7. Shovel Knight
Shovel knight has become another famous Switch indie game due to its adventurous and exciting storyline. It is an example that graphics are not the only thing that matters when it comes to indie games. People love the game as it has some great effects and action.
Shovel knight is a 2D side-scrolling platform game which means you can view the action from the side. Most people believe it becomes boring in this graphic-driven gaming world, but that's not true. We all remember how crazy we all were about Mario.
The game's story is that shovel knight, and shield knight is two warriors that protect the land from getting attacked by anyone. These characters have gone through many adventures together and are best friends.
But unfortunately, the shield knight gets trapped in the tower of fate, leaving the shovel knight outside. In the grief of losing a beloved friend, the shovel knight leaves everything. But there is the rise of an evil known as enchantress that destroys everything. It also unsealed the tower of fate.
Now, to save and find the shield knight, the shovel knight goes on this mission to defeat evil. There are a lot of powers that you gain that will help you later defeat evil. Several levels in the games will get more challenging as you proceed.
8. Enter the dungeon
As the name suggests, the game revolves around many action-packed gun scenes. The game will keep you on your toes, and if you want to stay longer in the game, you need a good presence of mind. The sound and graphics are so thrilling that you will be all excited from the time you start the game.
The game's main goal is to find a gun that holds a lot of power and can destroy anyone who falls in front of it. You have to save yourself from the guns and bullets to reach to complete your mission.
You will find a lot of rewards and special guns that will help you climb up the ladder in your mission. You have to collect all these rewards, and you can buy some tools to help you stay alive for more time and survive your enemies.
This is your game if you are a gamer into firing shots and playing heavy action-packed games. You will love how the game proceeds and more complicated to complete the mission. You have to save yourself from coming in front of any bullet that will blow you up.
Enter the dungeon is a bullet hell game which means that the screen focuses on the enemy's bullets, also called the curtain fire.
You can choose to be a protagonist from several characters such as marine, convict, pilot, and hunter. These characters have some remarkable abilities that will help you in the game.
The player has to go through many floors and save themselves while killing the enemy. You have to be very alert as the enemies can fall from any side. There are tools like binoculars that will help you to have a close look at your enemies.
9. A Short Hike
This is your game for all the gamers who are true wanderers and love to explore but cannot get out of their houses. After a list of action games, this one is pretty much an eye-pleasing game. If you like to play a game related to treasure hunting and secret revealing, you will love a short hike.
As the name explains, a short hike is a hiking story of a bird named claire who loves to explore a park called Hoek Peak provincial park.
Clarie flies all over the park and finds many little and exciting secrets about the park. You can reach out to new places and interact with many creatures as a player.
The creatures will tell you secrets about the treasure. You have to find various treasures connected by collecting hints and clues. The game gives a cheerful and refreshing feeling. Being a nature person, you can do many things, such as climbing, hiking, and moving around green trees.
You will simply get immersed in the whole game, and it will relax you with easy and quirky adventures. You have to search for golden feathers to reach the mountain's peak. Once you reach the peak, you can help your fellow creatures find their lost items; you can go fishing with them and play beach stickball. 
The graphics are colorful with a really beautiful sound, which gives you the feeling of actual hiking and nature surrounding. We suggest you try this one because it is critically acclaimed.
10. The Messenger
The messenger is an exciting game for those who love thrilling and suspenseful games. It is an intriguing game, and the graphics of the game are unmatchable.
The audio and the visual are a throwback to a retro vibe. If you love games that include action, adventure, and a great storyline, then you love the game.
It is a ninja journey whose village is attacked by some evil people who tend to destroy it. The ninja finds ways to save his clan from these villains and protect them.
As the game proceeds, you will see an action-packed storyline that includes time travel, surprises, and humor.
The story might sound easy but trust us, it is not simple. The game is challenging enough to keep you hooked until you finish it properly. It might even get frustrating when you discover that you have reached just half the game, even after overcoming many obstacles.
The villains and bosses in the game are also epic. Some are difficult to fight, and every villain needs some special tricks to be tackled. But one thing we assure you is that after killing each one, you will be left smiling.
Also, you will be rewarded with special abilities that will make you a more powerful ninja, and you will be able to fight the next villain. 
There are many ninja games, but this one is a whole package. There is no section in which the game lacks graphics to sound to how the game is designed.
11. Spelunky 2
Spelunky was our favorite indie game on switch for many people, and Spelunky 2 is even better. If you like space adventures with treasure hunting games, you will find Spelunky 2 interesting. The whole game is 2d, but again the graphics are worth appreciating.
Spelunky 2 is a platform game, meaning the main character has to move between points in a rendered environment.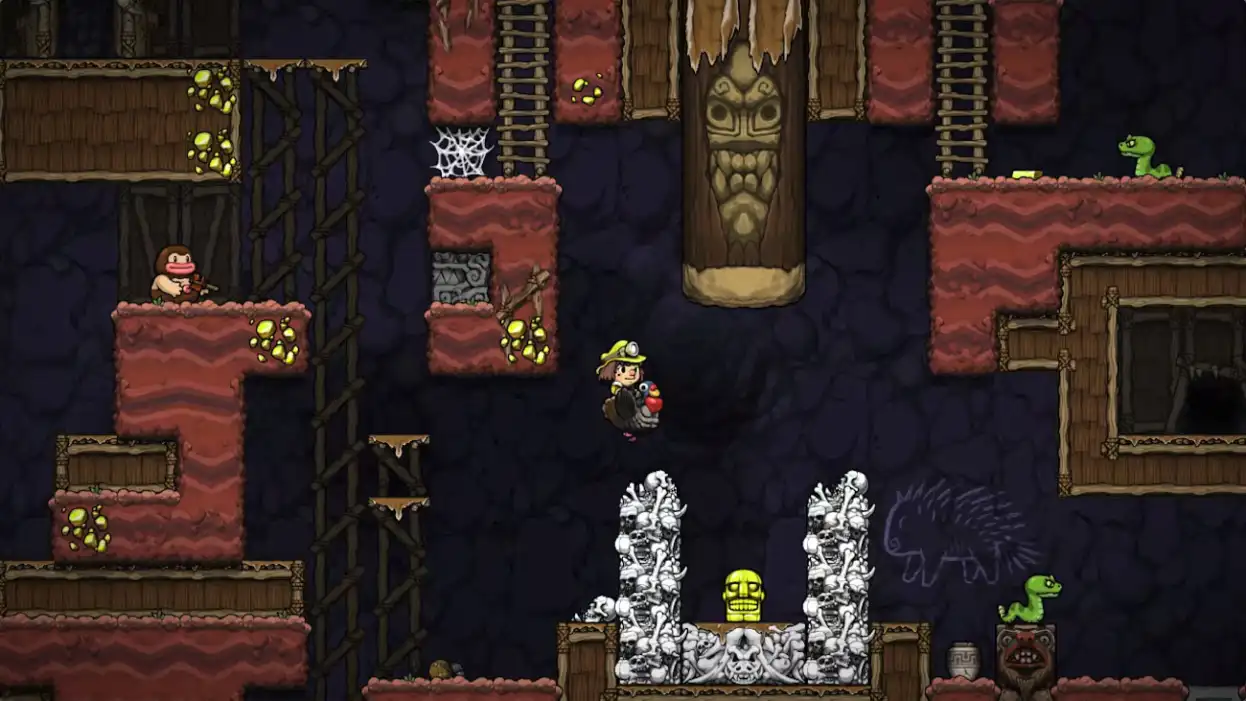 It is seen as one of the most appreciated games in this genre. The game is pretty light with no heavy action and gunfight. It is a simple adventure where you have to use logic and skills to solve puzzles and connect the dot.
The game is based on the character Ana, who has lost her parents on the moon. Now she needs to find her parents by overcoming obstacles in the game. She must pass barren caves that could be the residence of deadly creatures. Ana has to collect treasures and pieces of evidence that will navigate her to her parents.
One thing that is important to note is that if you are dead in the game, you will lose all your points and reward and restart from the beginning. So make sure that you are on your toes while playing the game.
Spelunky 2 also allows you to play in multiplayer mode, in which you could be joined by your friends in both ways, local and online.
The game is fun, and you will enjoy it with your friends. It has some exciting treasure hunts that will test your skills and patience.
12. Chicory: a colorful tale
By the list of games till now, you might be wondering if they are all indie games about adventure, actions, treasure hunts, etc. Isn't there space for artists and people that love problem-solving artistically? If you want to try some artistic, fun indie game, you should try chicory.
The game is simple and does not include heavy, complicated gaming lessons. You can simply start the game, and you will have a good time.
This game can be refreshing if you want some break from long work hours. If you love coloring, then you should try this out.
Chicory is basically about a town luncheon. An artist named chicory is now locked inside the room with her brush left outside. You can choose from anthropomorphic creatures or get the default character "pizza," which is chicory's dog. The whole town has lost its color, and now you must fill in the colors. 
You must interact with other creatures, solve their problems or puzzles, and keep coloring the town to become colorful and lively again. The game is good, and we suggest having first-hand experience playing it.
13. Undertale
Undertale is one of the most interesting indie games. It is unique from others in terms of its approach to completing a mission and depends on a player's decision.
It is not wrong to say that Undertale tells you what kind of person you are. Are you someone who will engage in battles or use the diplomatic approach? It will help you to find your dominant trait.
The Undertale is a role-playing game in which you have to play a particular character and make decisions. The upcoming event of the game will be solely dependent on your choices. Now, this is an area where you can test your problem-solving qualities.
So the main character is a boy( human) who has entered a town filled with monsters. To help a boy, a good monster trains him with all the techniques and tricks to kill monsters. But the boy is a human too. It is human nature to live in peace and harmony.
So whenever the boy faces the monster, he will choose to go for a battle and shed blood or be diplomatic and befriend the monster. You will get points for your success in dealing with the demons.
If you choose a battle, you will have a small heart with your soul. You need to protect the heart to survive in the game. As you kill monsters, you will get points and many tools to make you more powerful for your next battle.
14. The Long dark
If you are a fan of man vs. wild and find it very intriguing, this game will impress you. This takes man vs. wild to another level.
The Long Dark is a survival-based game. The game's graphics will give you a realistic feeling, and you will feel the urge to escape from the deadly condition.
Survival indie game on switch is quite popular and liked by many people. It includes management and continuous hard work to save yourself from dying. You will be so immersed in the game that you will find it hard to put it down.
It is a story of a crash-landed pilot stuck in this barren, freezing place. The pilot has to arrange the things he needs for survival, such as food and water; you also have to protect yourself from animal enemies and control your temperature. You have to craft tools, find shelter, and find weapons to survive in such a challenging situation.
The whole environment is divided into a mystery lake, coastal highway, pleasant valley, desolation point, and many more to avoid making the game monotonous. You have to use different survival skills to pass them.
There are three modes in which the game can be played. The first is survival; you can choose a particular region and survive in that condition as long as possible.
The second one is the story mode, the player has to keep proceeding as the story suggests, and you can be given any area. You must complete your survival and some adventures in a restricted geographical area.
The last mode is the challenge mode, in which you will face challenges such as facing the animals and the enemies. It is one of the hardest of all the three, but definitely, you will enjoy the journey, or we can say you will enjoy the obstacles.
15. Risk of rain 2
Risk of rain 2 is the sequel to the desperately demanded risk of rain. It is as good as the first one, and if you have completed the first game, you should try this. It is more challenging than the previous one, with better graphics, adventures, and more powerful villains.
It can be played by one to four players. The core aim of the game is the survival of the players. There are several levels, but the target is to spot a teleporter and activate it for each level. Once activated, you will face some deadly bosses and aliens.
It would help if you defeated the aliens to move to another level. You will be rewarded with collectibles that boost your ability to kill demons.
The game becomes interesting as you proceed. Many levels will keep you engaged. With aliens trying to kill you, you have to ensure that you survive till the end.
16. Hades
Hades is a fantastic action-packed indie game on switch with lots of twists and turns. If you love a game about mythology, you should try it. The game has a tremendous mythological storyline. The whole goal of the game is to survive and escape. 
Many indie games like Hades because of their colorful visuals and graphics. The whole vibe is pretty eerie and based on survival instincts. There will be a lot of challenges, and you must keep looking for enemies because they can appear from anywhere.
So the story is about the main character Zagreus, a son of the underworld king, hades. Zagreus wants to escape the underworld and go to Mount Olympus.
But it is against Zagreus' father's will. Zagreus has to overcome the various challenges and kills his enemies who stop him from reaching Olympus, not making his way out of the underworld.
To help Zagreus in his mission, many Olympians will help him by providing some boost. You have to make sure you pass through the four stages. If you die in one stage, you can save the game and start from the point the game is saved.
17. Cozy Grove
Cozy grove is another indie app on the list. To my surprise, it is the opposite of its name. Cozy grove is not cozy but a mess you need to sort out.
It was once a cozy place, but now its peace is disrupted by the monsters and demons living there. You must take a spirit to a place full of ghosts and spirits.
The game's main aim is to establish coziness in Cozy Grove again. You have to face various challenges, and the demons will try to fail you in your attempts to make the Cozy Grove cozy. It is a pretty exciting game to try.
📗FAQ
What Indie games can we play on Switch?
Some important Indie games to play on Switch are Hollow Knight, developed by Team cherry, Bug fables: the everlasting sapling, developed by Moonsprout games; 2064: Read-only memories Integral, developed by Midboss.
Gris, developed by Nomada studio, Spirit father developed by thunder lotus, Moonlighter developed by Digital Sun, Untitled Goose Game developed by House House, Stardew Valley developed by ConcernedApe and some other games. 
What does indie mean in games?
Indie stands for independent video games. An indie game is a video game frequently created by individuals or smaller production teams without a major game publisher's financial and technical support, in contrast to the majority of "AAA" (triple-A) games.
However, other situations where a publisher helps fund and market a game, but the game's creation still retains some degree of independence from publishers, like creative freedom, may also qualify as "independent."
Which platform is best for Indie games?
Some platforms to publish indie games are:-  
 
Steam – It is not free of cost and charges $100 for a game.  
GOG – It's a free-of-cost platform for posting games, but the revenue split is 70/30. 
Itch.io – Here, the submission of games is free, and the division of revenue is optional. 
Gamers Gate – Submission is free, and the revenue split is 70/30. 
Game Jolt – submission is free, and the profit split is on the creator and how much they want to give. 
Why are indie games so loved?
The current generation appreciates its unique and challenging gameplay. The Binding of Isaac and Rocket League are two tough and complicated independent games.
It takes some time to get skilled in the levels & master their distinctive functions. And their complex nature attracts humans to learn it, and that's where the obsession begins. 
Why are Indie games so popular?
Indie games are loved because they can take considerably more significant creative risks than AAA studios. Independent game developers are pretty popular because of their innovative and natural ideas.
This implies that you can find games about various subjects that are inventive and raise important issues to talk about. 
What are the biggest indie games?
Some independent games that received lots of love and appreciation from the audiences are Shovel Knight, Terraria, Stardew Valley, Celeste, Hollow Knight, Rocket League, Undertale, and one of the best indie games that broke all the records is Minecraft.
Although Minecraft is not an Indie game anymore, it is now owned and operated by Microsoft. 
Conclusion
We know that indie game on switch can never be out of fashion. It is integral as they are filled with great graphics and missions to complete.
There might be games like call of duty or fortnight, but these games still have their fair share in gaming. We have been brought up while playing these indie games and enjoying the missions.
This was the top 100 indie games switch that you should try. The list has covered various games such as action and treasure hunting. We suggest that you try some of these, and we are sure you will find them interesting and challenging to put the game back.