I am almost certain that most of you get excited using Instagram reels to create short engaging videos for your followers online. It is literally an all-time answer to Tiktok and its numerous entertaining video clips.
Unfortunately, apps and their features come with unavoidable problems that could wreak havoc on your social life. Instagram Reels isn't an exception to these problem-causing features.
There are many reasons why your Instagram reels not working problem continues to persist regardless of you trying many workarounds to resolve it. 
Let's first find out what Instagram reels are.
What is Instagram Reels?
Instagram newbies may be wondering what Instagram reels are. It is a feature that lets Instagram user users create and record videos for no more than 15 seconds, giving a wide range of filters to use. These filters make the video look exciting, bringing thrill to their fans. 
One of the major filters mostly used is the music filter. Who wouldn't want to add their favorite music while swaying in the background of their video?
Knowing that these features are constantly there waiting for you to make your move and choose is exciting for Instagram users. This is why when experiencing the Instagram reels not working is a real pain.
Not to worry, together we will explore different fixes you can do to get rid of the problem so you can continue to enjoy the Instagram experience.
Easy Workaround for Instagram Reels not Working on Android
These techniques would relieve you of your desire to get your Instagram reels working without fussing so much. After trying these hacks, double-check to confirm if it's working perfectly.
Check Reels Through Every Available Access Points
It is important to see if you can access Instagram reels through the different means provided for you by the app. We will discuss the various access points to curb the problem of Instagram reels not working.
Via Navigation Bar
Navigate to the button of your Instagram app to scan the navigation bar.
When done, the "Reels" tab should be visible by now.
Via New Post Screen
Go to the top left-hand side of your Instagram app page. 
Click on the "plus like" icon to create a post of your choice.
Check if the Reel option is working for you by navigating to the bottom of the tab.
Via Explore Screen
Open your Instagram app and go to the search bar to view the "Explore" page.

Check to see if the "Public Reels" display is visible in the result area.
Via Stories Screen
Open your Instagram app and go to where you have "Instagram stories".

Search your app to see if it has the "Reel" option at the bottom of the page.

Via The User's Profile
Open the Instagram application and navigate to your profile.

Check beside the "IGTV" option to see if the "Reels" option is displayed.
Via Instagram Camera
Navigate to the Instagram camera, open the application, then swipe from left to right on the homepage.

Search for the "Reels" tab at the bottom of the page.
Logging Out and In of Instagram
This method should be among your first choices when facing issues like Instagram reels not working on your phone. This troubleshooting technique is used when your phone is faced with a bug that could be a result of multiple logins on the device.
Logging out of the account, then logging in again could save you the stress of Instagram reels not working on your phone.
These steps would help you log out and back in the Instagram account:
Tap on your profile picture. This is located at the lower right corner of the app's screen.

Your profile will display alongside your picture, go to the top right side and click on the three lines or the "Hamburger" menu.

Options will be displayed, tap on "Settings".
When in "Settings", search for log out and click on it.

Tap to Check on the account you wish to be logged off on. You could toggle on the "Remember login info" so that the app saves them in case it will be impossible to remember.
Tap "log out" to finalize the process.
Clear Cache Data
Over time, data and cache get stored on your device continually as you use the app, which could lead to the app not working as effectively as it was when you first downloaded it.
It is recommended to always clear the data to save up space and improve the performance level of the application you are using.
Here is how to delete cache and data on your Android device:
Navigate to "Settings on your phone.
Locate "Apps" or "Manage apps".

There, locate the Instagram application and tap on it.
Here you should see the "storage" icon. Tap on it to reveal more options.

Finally, tap on the "Clear cache" option and select "Clear data".

This process will help rest your Instagram account, thereby, resolving the Instagram reels not working problem.
Uninstalling and Reinstalling the Instagram App
Even after trying the listed above hacks to resolve your Instagram reels not working problem, it could just be that the Instagram app on your device needs to be updated to get rid of the buggy issue.
A good option is uninstalling and reinstalling the application on your device. This will get rid of the underlying issue caused by bugs and will give you the updated version of the Instagram app.
These steps would help you uninstall the Instagram application on Android devices.
Open "Settings" on your device.
Find "Apps and notifications" and tap on it.

Navigate and tap Instagram.
Choose the "Uninstall" option and tap OK.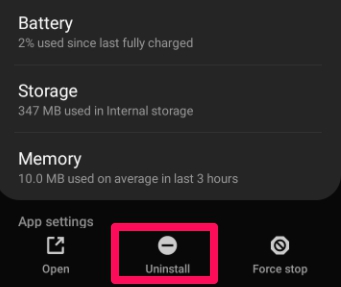 Here is how to reinstall the app on your device.
Navigate to

Google play

store and search for the Instagram app.

Tap on the install button and allow a few minutes.

After installing, open the app, log in and check to see if the Instagram reels not working problem has been resolved.
Use Instagram Beta
The Instagram app on your phone uses the standard version by default. The Beta version of Instagram offers you numerous innovations mainly used by tech developers and buffs to test innovations that are quickly turning the social media world around.
It may just be a good idea to sign up for the Instagram Beta program to gain access to new features and functions coming to the app before the world gets it. 
It could be a way to put a fix on your Instagram reels not working. How? This way, you are provided with multiple-choice features, even to a more advanced version of reels.
Sometimes, the Instagram Beta version comes with a lot of bugs that could affect the functions of other applications on your phone. So, regular fixing of these bugs may be mandatory if you want to fully utilize all of the Instagram features, alongside other apps on your phone.
Follow these steps to join the Instagram Beta version:-
Google play store or app store is the surest way to download the app.

In the search bar above, type in Instagram to find the app.

Swipe down to find the "Join button" that is beneath the "Join the Beta" section.

Click join to confirm the process.


Now, update the Instagram app to use the Beta version without issues.
 This way, you can use the Instagram reels option without the Instagram reels not working issue. Cool, right?
Update your Phone
The Instagram reels not working problem could be due to the device you are using. Your device could be outdated causing bug-like issues on your applications. 
Check to see if your device has the latest operating system running. If not so, it is recommended to update the device to ensure apps function the way they are supposed to.
Here is how to update the OS on your android phone.
Go to "Setting" on your device.
Swipe down and tap on "System".
Find "System or software update" and tap.

Wait a few minutes while the device searches for possible updates.
After searching, if there is any pending update, your device will install or upgrade it.
This is an easy peasy process that takes a few minutes to sort out. This will guarantee that your phone has the operating system required to support Instagram features, hence, possibly eliminating the Instagram reels not working problem.
Report to Instagram
If you have followed the above-listed techniques to fix Instagram reels not working on your device and they have proved to be abortive, the next step you should consider taking could be reporting the problem.
Applications like Instagram provides their users with ways they can reach the customer care specialist, which could lead to the developers if their customer care cannot resolve a particular problem.
This way, you can explain your problem and wait for them to respond with solutions that could save the day.
It may be frustrating using this method since you don't know when they would respond and resolve the Instagram reels not working problem you are faced with especially if Instagram is an income source.
If eventually, you want to try this technique and report, read on:
Open your Instagram account.
Tap on the three horizontal lines icon at the top right corner of the page.

Press the "Setting" option.

There you will find the "Help" icon and tap.

A prompt will appear for you to report a problem. Please feel free to tell them what you are experiencing using their app. Take a picture or screenshot if possible. 
This way, you will give them a clearer picture of the issue, you could explain the techniques you have tried so they don't suggest them to you again. This will make the process short and precise. 
FAQs on the Issue Instagram Reels Not Working
How do I fix the "Something went wrong, please try again" on Instagram reels?
You could be experiencing a technical glitch. Try using the above techniques to fix the issue. 

The "force stop" option could be employed after you have checked that all the permission it needs to function properly has been granted.
Why are Instagram reels not working on my business account?
First things first, you could try updating the app, afterwards, you log into your account and wait for a few hours to see if the Instagram reels option is still available to you.

You could also log out of your business account and log into some other account for a few minutes. Log back into your business account to see if it is working.
Why is my Instagram reels not being uploaded?
It could just be that your internet connection is not strong enough. Check to see the upload strength of your internet. Disconnect possible devices that may be stopping the successful upload of your reels.

Another way to curb this is by logging out and into your account, giving it time to repair itself as the case may be.
Why are my Instagram reels showing "sound isn't available in your region"?
This can be very annoying especially if it is one of our favorite sounds. Sometimes, there are restrictions for some music or sound being used in a region. This is called copyright.
You may not be allowed to use some of these sounds to promote your brand.
Final Thoughts
This feature on Instagram is a good way to sell your brand on the media and accumulate followers. It is a great feature that helps you reach out to followers exploring different features according to your preference.
Usually, the Instagram reels feature works perfectly unless the device you are using has problems or you forgot to update the app.
I hope that one of these fixes, if not all, will help you resolve the Instagram reels not working problem whenever you are faced with it. 
If there are other hacks that you think we might have omitted, feel free to let us know in the comment section of this post. 
Let us know the technique(s) you find most helpful.