We live in an era flooded with likes, posts, and comments. Everything is news, nothing can go unseen, and the internet knows you better than anyone else.
The world is interested in knowing who you are, what you like, and how you feel. This is more deliberately seen in Instagram stories, posts, and reels. 
From newborns to the elderly, everyone knows what's Instagram, how it works. Social media influencers today see Instagram as the most powerful tool.
Are you sipping a morning coffee, having a great lunch, or even cooking dinner, or don't feel like doing anything – why don't you post? Or you can choose to repost! Aww! That puppy is cute; this song has my heart, my favorite voice.
I am on cloud nine, the growth of Instagram seems to be enormous, and new apps are born every day to make it easier to use. One such is the Instagram repost app.
So in this article, we will be briefly discussing and looking into the various Instagram Repost Apps that are available for the users.
Before we jump into the different Instagram repost apps available on the play store, let us briefly understand what an Instagram repost app is. and how it facilitates efficient reposting. and if it is chargeable or free of cost.
What Exactly Is The Instagram Repost App?💁
Instagram repost apps for Instagram allow you to repost your images or videos, as well as the photos and videos of other Instagram users, onto your Instagram feed.
Instagram repost apps make it simple to repost any material while crediting the original owner and Instagram user who contributed the photo or article.
This Instagram repost software is compatible with both iOS and Android users, who may use it at their leisure at any time and from any location.
Instagram repost apps are trustworthy software that you can download and install on your mobile devices, making it simple to repost the material you enjoy in a matter of seconds.
Furthermore, it allows you to copy the description and all the hashtags while reposting it.
Is There A Cost To Reposting?🧐
Various repost applications do the same purpose at varying levels of access. At the beginning of the reposting process, all of these apps provide a free version where you may repost without interruptions from adverts. 
However, the free version allows you to rapidly repost photographs (single or numerous) and copy the description and the original account's username so you may provide correct acknowledgment. Depending on your preferences, you may either watermark or not watermark the image.
Furthermore, there is a possibility to pay money to upgrade to a premium, which gives you complete freedom of reposting with advertisements, watermarks, and other extra perks.
Now let us look into the top seven Instagram repost apps in detail and their pros and cons for better understanding.
Best Instagram Repost Apps – Our Pick👌👌
1. Repost For Instagram – Regrann
If you are a new user, this REGRANN app could be the best one for them. This app is quite simple and requires almost less effort to use. For people who enjoy sharing and having fun, this is what they need.
This app has more than one crore downloaders and more than four lakh reviews on the PlayStore. It is available for both Android and iOS users. If that's all, you are wrong; the best thing is that it's " free"
Regrann is an amazing repost app equipped with many bonus extras, in addition to standard features, which most Insta followers are pleased with.  The interesting part of this app is its Repost Later option, which lets you bookmark posts for when you wish to repost.
For the interesting part, this app allows you to copy an Instagram link and lets you either Quick repost it; Quick Save it, or Quick Post Later.
These options appear from a popup window that opens up without having to leave the Instagram app. However, these three options are also available as separate modes.
Moreover, the Regrann reposting app also helps to gain followers on Instagram, which could adversely turn and boost your business.
Many influencers on Insta are using this app to grow their IG account, which has become a holy grail for influencers. Through this app, you also learn how to get more followers on Instagram for free.
So basically, this app runs in the background, making it much easier to use. It reduces the time involved, and the user need not go back to the Regrann app each time the user has to share something.
The user can also save photos and videos on their mobile phones. Unlike most apps, this app does not alter or add any additional filters to the posts that are shared or saved, so the user is at liberty to edit the saved posts as per their individual preferences. 
The steps involved are simple as follows:-
Step 1 – Download the app
Step 2 – Open Instagram, choose the posts you like, tap the three buttons on the top right corner, and select copy link.
Step 3 – The link automatically gets posted in the Regrann app and is automatically saved.
Step 4 – Now, freely edit the saved posts according to your preference and share the same.
Pros:-
It is easy and simple to use

It is free of cost, which makes them more attractive

The app is fast and bug-free.

The company is very responsive to emails
Cons:-
To many ads makes it irritating

There are crashes and stops working abruptly

Certain posts are unavailable for download.

Frequent deletion and redownloading are needed.
Since there was an upgrade in the policies of Instagram, the app might require the user's id to log in, and the app can be used without any ads if payment is made.
Download the App on Google Play Store
Download the App on Apple App Store
2. Repost It! – Instagram repost apps To Save And Repost For Instagram
In a country like India, most of the population are android users. Almost every youngster in the country owns a mobile phone. We have so many people using Instagram today, and the craze is increasing daily.
To follow your favorite stars is such bliss and is seeing what they have to share. So the REPOST IT SAVE AND REPOST FOR INSTAGRAM APP is a reward. It is designed only for android users, which makes it even more appealing to our country. 
This app helps the users to download both audio and video. It is also simple to use and easy to understand, and it's getting popular among the youth.
Another specialty is that this app enables the user to repost the stories; this is something new and is a much more attractive feature to talk about.
It provides the user with multiple options for reposting, which include stories, posts liked, reposts by URLs, and timelines.
This app allows the user to search for a user or post through the timeline method, which is a great add-on.  The app is free but contains ads. The paid version is ad-free.
Pros:-
Works quickly and efficiently

It allows the user to change the background color of the credit badge and the text color to match the photo.

The user can keep or remove the watermark whenever necessary
Cons:-
Too many ads

The new version no longer allows users to select and save multiple images simultaneously. UI is a disaster.

The free version seems to work slowly.
Download the App on Google Play Store
3. Video Downloader For Instagram
This app is one of the favorite apps for many users. For people who have been using this app for almost six months, like any other teenager, the urge to share the posts and songs they liked pushed them to find a great app like this one.
If you are a beginner to this app, this will help to save and share a lot of videos that you like and have found to be interesting. The best part of this app is that it will allow you to save content on your phone and repost it at your convenience. 
This app also allows user to manage their history and save stories. It does have a watermark – it comes with the source, yet the user can repost without any worry or hesitation.
It is available in PlayStore and has more than one crore downloaders. It mostly has positive reviews, which should also be considered. The user can take advantage of also downloading Insta IG tv – stories and the recent hit feature (reels).
The company is very responsive to all the queries posted by the users. The steps for downloading are similar to all other apps; it also has a cool autosave option.
Pros:-
It helps to save unlimited stories, videos, and pictures

Simple to use and conveniently designed

Very much supportive customer care
Cons:-
Unnecessary ads irritate the users. Ads before downloading each video.

Frequent error messages and says Instagram is not stable

Shows – detected fail
Download the App on Google Play Store
4. Repost: For Instagram
In recent times there's been a constant rise in the number of people who use Apple. The users prefer Apple, not just for its name but its overall IOS system.
Safety and privacy are what come first when we think of Apple. So, like any normal user, even Apple users may find the urge to repost, and the REPOST app facilitates the same.
It's free for Apple users, and the design the company has come up with is subtle and minimal. There are no irritating ads like the other apps that are available.
It allows the user to repost photos and videos the simplest way possible.  Monthly subscriptions are also available.
The steps to repost are as follows:-
Step 1 – Download the app

Step 2 – Select the desired video or photo and  click the top right corner 

Step 3 –  Select copy link and the open repost – the post automatically shows up.
Let us now look at what the company has to say about its product:-
Facilitates the function of Reposting and archiving photos and videos from Instagram.

Provides support with multiple media storage for posts, stories, reels, and IGTV.

You can repost media from private profiles after signing into your account.

Customizable option for adjusting size, position, and color with an optional overlay.

All captions can be automatically copied and pasted from your clipboard on Instagram.
Pros:-
Highly positively reviewed app – (4.8-star rating)

Good user experience.

Options like repost all media or only current video available.

Better experience in the paid versions as well
Cons:-
Presence of bug while copying a link

The sudden crashing of the app
Overall it is a great app for iOS users.
Download the App on Apple App Store
5. REPOSTA – Repost for Instagram
As the name suggests, the app focuses on providing the re-posting feature; it allows users to repost all their photos and videos from their accounts. The best thing about this app is that it is free of cost and has no watermark.
So the user will be delighted to repost and enjoy using this app; there is a preview option available so the user can double-check before deciding to share the content; this one brilliant feature because many times, the user may, by mistake, choose the wrong post and in the absence of preview option, they may go for direct save or repost without checking.
The design is also user-friendly, and it is available on PlayStore for free. There are some good reviews about the same.
Pros:-
Fewer ads and user friendly

The smooth running of the app

Most preferred by android users.

Highly recommended by the users.
Cons:-
Some videos cannot be downloaded

Frequently displays an error with the link

Files get corrupted while trying to save.

One user complained that the app interfered with the phone calls.
Download the App on Google Play Store
6. Reposter For Instagram: Instagram repost apps For Download And Save
This app lets the user explore the user posts and tags directly. The user can decide when to repost.
Another specialty of the app is that it offers a large variety of edit options such as stickers, colors, text, etc., which makes it more attractive. The user can also copy captions and remove watermarks as per the user's preference.
It does not save usernames and passwords, making it safer and more secure. It always allows the user to view the saved posts offline, stored in the phone's gallery.
The Most Advanced Repost App
Now the user can not only Regram IG posts but also send them directly to others via any messenger: Telegram, WhatsApp, Facebook, Twitter, and Pinterest.
The reels can also be downloaded using this app. This app has free and paid versions; the paid versions have fewer ads.
Pros:-
Useful in resharing ideas with the client

Amazing facilities

Copy captions and hashtags.

Easy to use
Cons:-
Stops abruptly

Lack of proper design

A few users have reported that the app has stopped working after downloading two posts.

Too many glitches though it's easy to work.
Download the App on Google Play Store
7. Tailwind: Instagram repost apps With Instagram Planner
Tailwind is an online computer application that, in addition to reposting, has many other useful capabilities.
Tailwind is a social media scheduling platform that produces tangible results in less time. Increase the effectiveness of your social media promotion! Determine the optimal times to post to increase interaction. 
Tailwind provides everything, from scheduling your posts to doing hashtag research and analyzing thorough data, as well as a slew of additional capabilities.
While Tailwind is not free, its user-friendly interface compensates by assisting you in planning, growing, and managing your Instagram account.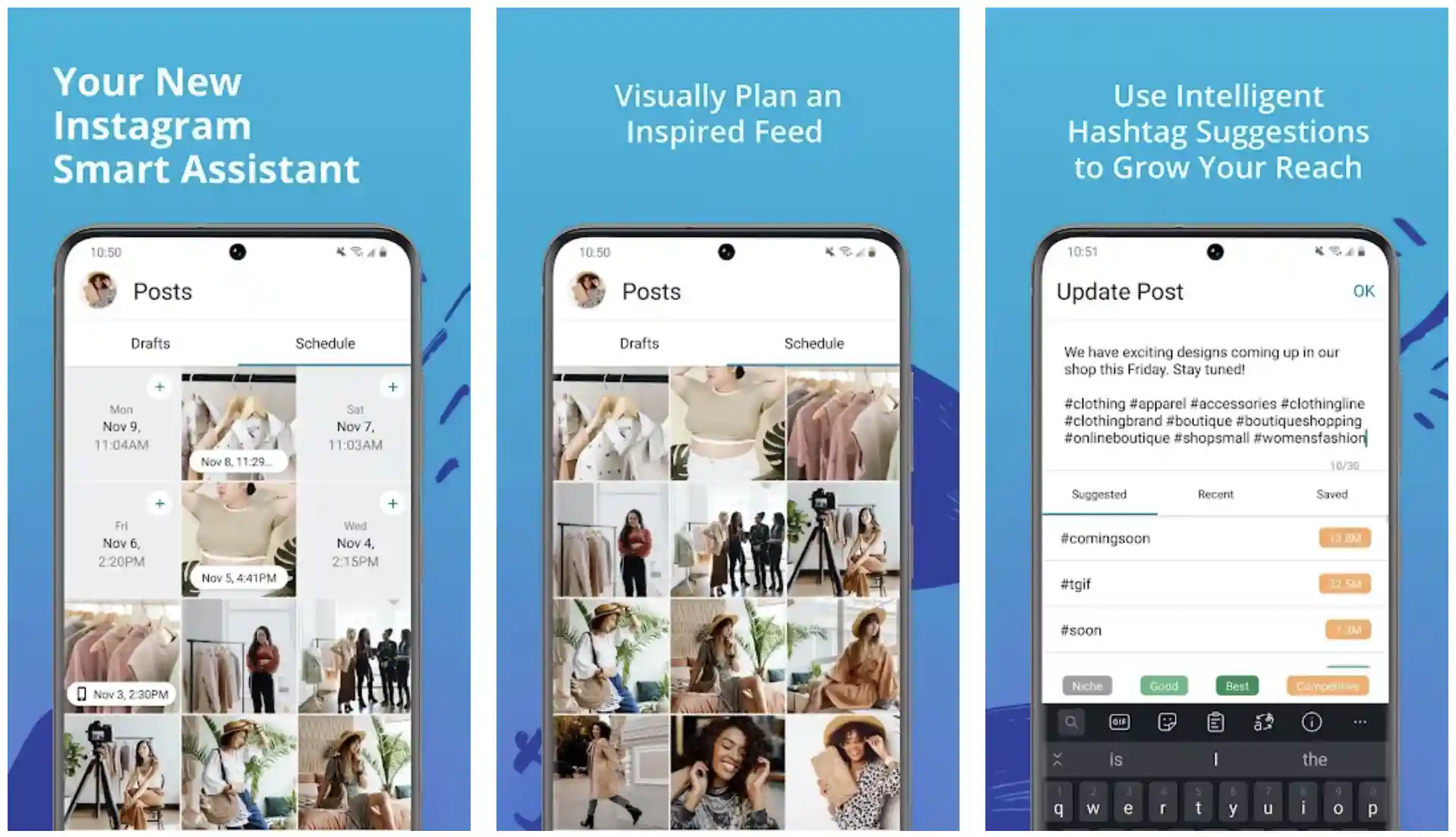 You must use your computer to republish Instagram material from Tailwind online. Not to add that you can only Repost single photographs, not multiple images or movies.
Furthermore, Tailwind's function is as easy as when you can click on the hashtags to add them to your posts, Tailwind continues to recommend more and can even offer you some ideas you haven't thought of before.
As you discover more hashtags that work well, you may store them as lists to access and utilize later.
In addition to its capabilities, Tailwind allows you to tailor your post by selecting Auto Post or having Tailwind automatically publish to your Instagram Feed at the set time.
Download the App on Google Play Store
Download the App on Apple App Store
📗FAQ
Does Instagram have a repost app? 
No, there isn't any official repost app designed by Instagram itself. However, you can use many available Instagram repost apps like Regrann. Repost It!, Video Downloader for Instagram, Repost for Instagram, REPOSTA, etc.  
How do you repost on the Instagram app for free? 
Using some amazing Instagram repost apps like Repost for Instagram, REPOSTA, Video Downloader for Instagram, Regrann, and Repost It! etc. are among the most preferred free repost Instagram apps and are loved by a lot of Instagrammers and influencers. They prefer working on multiple social media platforms at a time. 
Which app is best for repost? 
Repost, REPOSTA, Repost for Instagram, Reposter for Instagram, Tailwind, etc., are among the best applications for simple, quick, and perfect reposting of all types of Instagram posts. 
Is the repost app safe? 
Yes, the repost app is not only safe but is a very reliable application that allows you to repost any content only in a matter of a few seconds. 
What is the best repost app for Instagram 2022? 
Repost for Instagram, Tailwind, Save and Repost for Instagram, REPOSTA, etc., are among the best repost applications for Instagram in 2022 and are designed to completely change the way you have been reposting Instagram posts. 
How do I repost on Instagram? 
You can use any of the readily available Instagram repost apps to repost on your Instagram feed effortlessly. Some of the best apps to mention are Repost for Instagram, Repost It!, REPOSTA, Video Downloader For Instagram, Repost, Tailwind, etc.  
There is an airplane-like sharing button below every photo or video in the feed. You have to hit that button and then tap "Add to Your Story." Tap the arrow button in the bottom right and finally tap share. 
Which is the best repost app for Instagram? 
Repost, REPOSTA, Reposter For Instagram, Video Downloader for Instagram, and Repost It! etc. are among the best repost apps for Instagram and enable you to repost and share all types of photos, reels, stories, videos, and more.  
How much does a repost app cost? 
The repost app is available free of cost with various in-app purchases. However, the report plus is available at $1.99 per month or $9.99 per year and varies from country to country.  
Is reposting on Instagram legal? 
Instagram has no problem whatsoever if you have permission from the original content creator.
However, you may be in legal trouble if you share copyrighted content without permission, especially if it belongs to an influencer or Instagram account holder with Blue Tick.  
Is reposting on Instagram good? 
Yes, reposting on Instagram can be a decent way of getting the best out of the momentum of conversations, especially if they are getting a lot of engagement among the target audience and followers.
It can be a win for both the original poster and the one who reposts, as it improves engagement and widens the overall exposure. 
Can you make money by reposting on Instagram? 
Yes, you can make money by reposting on Instagram. However, it's not as easy as it sounds. You have to spend a lot of time and be patient. Picking the right niche and username makes a lot of difference.
You also have to find high-engagement content and ask for permission from the creator. The focus should also be on generating many interactions relevant to your niche.
The better and more professional your repost account looks, the better chances you have to make money and build a long-term business. 
Can I post celebrity pictures on my Instagram? 
No, you cannot post any kind of celebrity picture on your Instagram without having permission from the owner.
Most of the time, a professional photographer is an owner. And you don't only have to take permission but also show it while reposting. 
Conclusion
Like every coin which has two sides, all the above-discussed apps have no exception. These apps have both positive and negative sides.
Many users have constantly complained about the login problem, but the actual point is these apps require login id because of the change in the policies of Instagram.
The success of these apps depends on their constant innovation and adaptability to change. The company must also be very careful in understanding and addressing their consumer(user) complaints because in downloading apps, the user rating plays a major role.
A low rating explains low-quality products & services, and a higher rating explains better quality and service.
Consumers today are so sure of what they want. The market is more competitive, so people keep changing. In my view, the above apps have tried their best to do the work right.
We hope that the articles mentioned above helped you to know and choose the best Instagram repost apps of your own choice.