Who is not a social media geek and what better platform than Instagram? One can predict the popularity of Instagram with the fact that almost 50 billion photos have been uploaded on Instagram till 2020.
This whooping number could have been more, it isn't as Instagram won't let me some of the posts. And since you are here, I am assuming you might be a part of the crowd that wants to know why Instagram won't let me post. In this article, we are going to find fixes for this problem.
Why Instagram won't let me post?
There are tons of reasons for this problem, such as buggy software, wrongful setting, or incompatible hardware. Most of these problems can be easily resolved but there are some that you can't resolve as that's because of the bugs from the developer side.
The following are the problems faced by many Instagram users:-
Instagram won't let me post photos or videos:-
As we have mentioned earlier Instagram is one of the most popular photos/videos sharing platforms. Therefore, we can understand how important it is for us millennials to upload a photo or video, and not being able to do that can create a bit of panic.
There are quite a few reasons behind the problem "Instagram won't let me post photos or videos" and a weak internet connection is probably the most common one. 
If you are using your Mobile Data then the first thing you should do is to either restart your device or put it on Airplane mode for a while and then try using the internet.
If you are using Wi-Fi then there are quite a few fixes for it that you can see here. But two of the most common fixes would be to restart your router and restart your Wi-Fi.
Read our detailed guide on Why is My WiFi Slow Like Snail.
If this is not the case then things are a bit serious. One of the major reasons for Instagram won't let someone post content is when they violate Instagram Policies. According to Instagram any nudity or violence is not acceptable. If you are going to put something that has violence then you need to put a disclaimer.
Another reason behind this is uploading multiple photos or videos at once. This reason primarily affects the new beginner as they want to upload more content but for some odd reason, Instagram thinks that you are spam.
Another reason why you are not able to upload photos or videos on Instagram is the lack of permission.
Most of the times Instagram asks you to permit it to access your gallery or camera, but if you are not receiving any such option then you can do that manually, by Settings> Apps> Instagram> Permission> Camera> Allow(Your UI may have different options but you can get a general idea.
When it comes to video, in particular, you should know one can only upload a 60 seconds long video on Instagram and 15 minutes long video on IGTV. Anything more than that is not acceptable.
There is another reason that we will talk about later in this article, that is when Instagram temporarily blocks you.
Instagram won't let me post stories:-
IG Stories are revolutionary they allow you to connect with your followers in the crudest form. But not being able to do that can create a bit of panic. 
The things that we have talked about in the previous section, apply to this issue as well. As mentioned, you can not upload obscenity, nudity, violence on your story and a fast internet connection is required.
Apart from this, there is a special case in which users have encountered this problem that is when they are uploading a post in their story. If the account of that post is public then you are good to go but if it's private then you can't upload it on your story.
There is one more thing that I want to mention here, if there is a particular song that you can't upload on your Instagram then it is likely that the music is not available in your country.
Instagram won't let me edit your post:-
This is not a severe issue the only two reasons can be either a poor internet connection or bugged software. For the latter, you need to update your application as the Instagram developers have already fixed the issue.
Instagram won't let me comment on a post:-
The reason for this problem can be a bit emotional for you, that person has restricted you from commenting on his post, or maybe he/she has restricted everyone from commenting on his/her post.
"Instagram will Autopost when possible" message:-
This is particularly a problem that needs much attention, you just need to fix your internet. According to this message, Instagram will automatically post your content once your internet connection gets fixed. But sometimes, it doesn't so you have to repost the content.
Before going to explore the fixes for this issue, first, check if the Instagram website itself is up or not. it might look weird to you but in reality, the Instagram website went down many times.
The easy way to check the status of the Instagram site is to visit the down detector URL (https://downdetector.com/status/instagram/), which will show you the website's live status.
It will show you the global status of the Instagram website like the below image.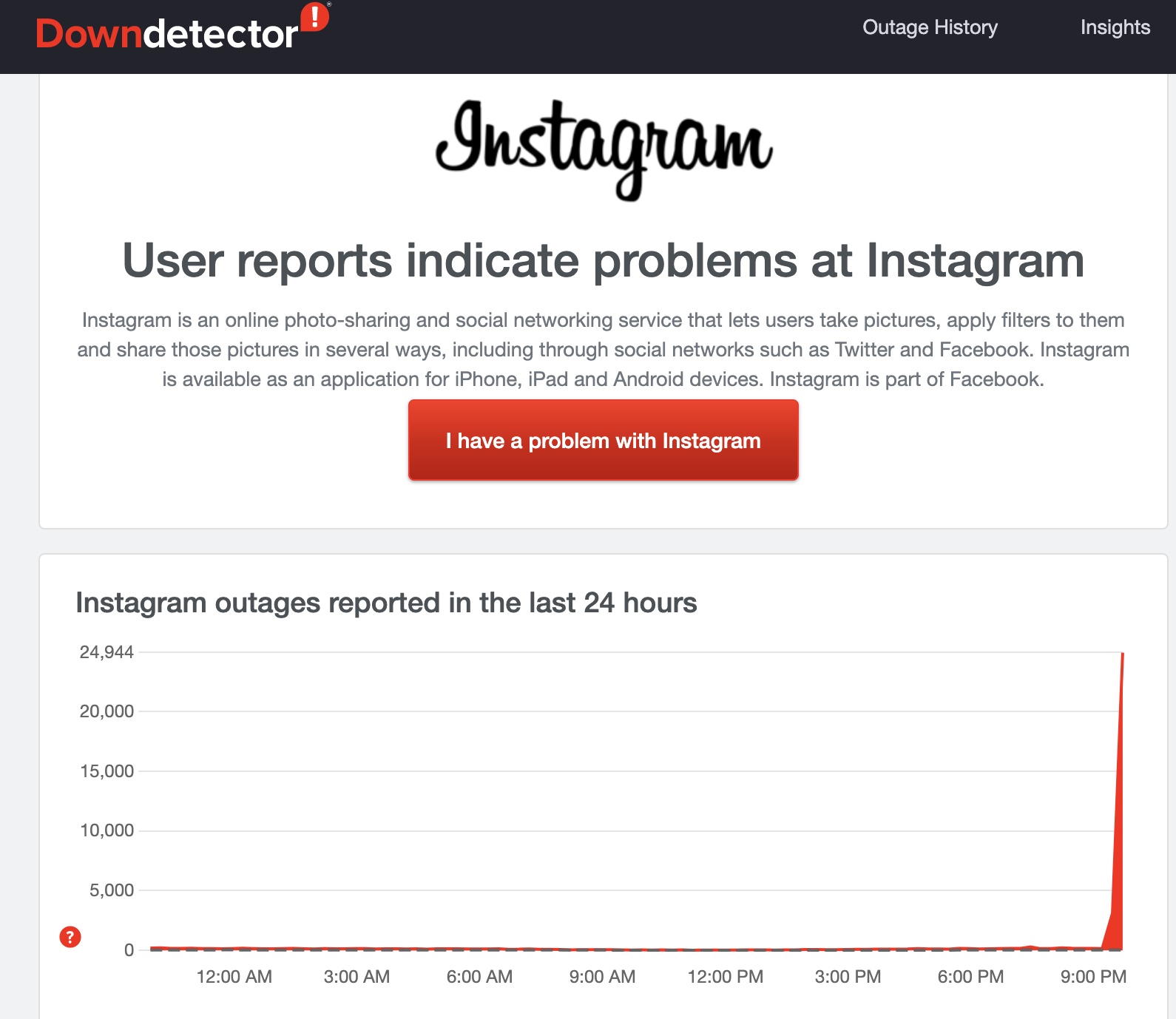 7 Fix For Instagram won't let me post issue
After seeing the problems it is time to see the fixes for this problem. The following are all the fixes for this problem.
1. Clear the cache of the Instagram application
Your smartphone has two kinds of memories, permanent and temporary. The permanent one is the slowest and the temporary one is the fastest. Therefore, Instagram stores your information in temporary memory as a cache. 
Now, to clean the cache of your Instagram application you should go along the lines of prescribed steps(it may vary depending on your User Interface):-
Step 1: Launch the Settings application.
Step 2: From the appeared window, scroll down to Apps & Notification and press it to expand the option.
Step 3: Now, either search Instagram by typing it from the search bar or search it by scrolling down the list and open the section.
Step 4: From the appeared screen, click on Storage & Cache.
Step 5: Press on Clear Cache to delete all the caches.
Note: You can either get a confirmation request. So, you have to select OK.
Hopefully, this will clear your Instagram cache, and eventually "Instagram won't let me post" issue will be fixed.
2. Make sure your Data Saver is turned off
Today in this world of fast internet we often run out of data, therefore, most developers optimize their application in order to save data by integrating some kind of Data Saver mode. And Instagram is no exception to this rule.
So, if you turn the Data Saver mode on and then try to upload an image or a video of high resolution, it is likely that you won't be able to do that. But if you don't mind Instagram scooping a bit of your Mobile Data then you should turn the Data Saver off with the help of the following steps:-
Step 1: Launch the Instagram Application.
Step 2: Click on your Profile Pic placed at the bottom-left corner of the screen.
Step 3: Press the three vertical lines placed at the top-right corner of your window and then open the settings from the appeared list.
Step 4: Then click on Accounts and then Cellular Data Use.
Step 5: This will redirect you to a page where you can use the toggle to turn the Data Saver off.
Hopefully, the "Instagram won't let me post" issue will be fixed.
3. Fix your Internet
We have discussed a lot about the impact of good Internet on Instagram. 
There are many ways to check if you have a poor internet connection, but the most efficient one would be by playing a Youtube video as it is something that required quick internet. If you are experiencing sluggishness then the problem is you know that problem is your internet.
You can not do much about this if you are in a place where you are getting bad reception.
But if you are in your home and are connected to your Wifi then there are somethings that you can do to fix it. 
The three of the most basic ways to fix this issue is by restarting the mobile data/wifi, enabling and then disabling them, and then restarting your phone.
4. Empty your phone
When you download Instagram from the Playstore it is merely just a 40 to 50 MB application, but as you start using it and posting stuff that size keeps on increasing and it can exceed 1GB as well.
And Instagram is not the only software guilty of this but there is some other software such as Facebook and Whatsapp on whom you can blame as the memory eater. And this number keeps on increasing as you use your phone.
Therefore, if you are not able to upload a post on Instagram then deleting some unnecessary files and applications can help.
5. Update Instagram
 All the Operating System and some of the software has some kind of bugs and because of this, you may face some problem. And you not being able to post on Instagram can be because of that buggy software. Therefore, you need to update your Instagram to the latest version.
You can update Instagram from Google's PlayStore and Apple's App Store. If you want to see whether this update will fix your bug or not, to do that you just need to launch either of the two apps, search Instagram and then see the description. If it is saying bug fixed then you need to click on the Update button to update your software.
You can even update all of your application by pressing the three horizontal lines placed at the top-right corner of the screen, select Apps and Games, and then Update All.
6. Reinstall Instagram
If the above methods failed then you can always uninstall and then reinstall the application. Doing this is pretty easy on any smartphone, you just need to long-press on the application and either drag it to the uninstall option or press on the Uninstall option. Your UI may have an extra step but you can get the idea.
After uninstalling the application, launch either AppStore(iOS) or PlayStore(Android), search Instagram and Update.
Hopefully, this will fix the "Instagram won't let me post" issue.
7. There is something wrong with your Account
As mentioned earlier, Instagram is very strict with its policies and is not afraid to block an account permanently or temporarily. And if the above-mentioned steps didn't do it for you then it is likely that there is something wrong with your Account. 
Let's see the different reasons for this problem.
Use of a Third-Party Application to get more likes, followers, and comments:-
Instagram Influencers are a real deal. They earn thousands of dollars with the help of their account via brand endorsement. But they need to work hard in order to build a real fan base here, no shortcuts are acceptable.
But a lot of new Instagramers tend to use a third-party application to get fake followers and fake and because of this malicious practice, Instagram blocks the user.
Read our detailed guide on A Step by Step Guide To Solving Instagram User Not Found.
Liking or Commenting on posts too quickly:-
As in the previous section, Instagram won't allow you to use a third-party application. And this is because of the bots that they usually have. These bots are assigned to like and/or comment on one post after another too quickly and if you do the same, Instagram will assume you to be a bot and as a result, will suspend you from using it.
Therefore, you should not like or comment on posts too quickly.
Mass Following or unfollowing:-
A lot of new users tend to mass follow celebrities in order to gain more followers and after few days they unfollow all of them in a single go. According to Instagram's policies, this practice is not acceptable and can result in your account getting suspended.
Wrap-up:-
In this article, we have tried rectifying the "Instagram won't let me post" issue. This problem can be because of many things such as outdated software, overwhelmed memory, data saver mode turned on, use of third party application, liking or commenting on posts too quickly, mass following or unfollowing, etc.
Hopefully, this article has helped you in fixing the "Instagram won't let me post" issue.