Every year, thousands of virtual meetings, webinars, and classes are conducted in the hopes of instructing students on the newest and greatest techniques for being successful.
And every year, we see thousands of attendees who all want to learn the same things. But it's a rare occasion when attendees know what they came for.
Everyone should be working on their own to increase productivity. But the best way to do that isn't to bombard your employees with emails or yell at them for the slightest mistake.
It delivers them the tools they need to execute their duties effectively and efficiently.
There are several Interactive Apps out there, but none will let you down. Just remember that it's not how many of these tools you use but how well you use them that counts!
Let us look at some of the best Interactive Apps we can find.
Best Interactive Apps – Our Top Pick👌
1. Quizizz – Interactive apps Loved by educators
Quizizz is a gamified platform that helps educators create and administer quizzes, surveys, polls, and forms. It is a cool tool that allows you to produce and host online quizzes.
Quizizz aims to make class time more engaging by getting students to participate actively in their learning.
Students receive immediate performance feedback and comprehensive results reports that help them understand how they are doing in each exam area.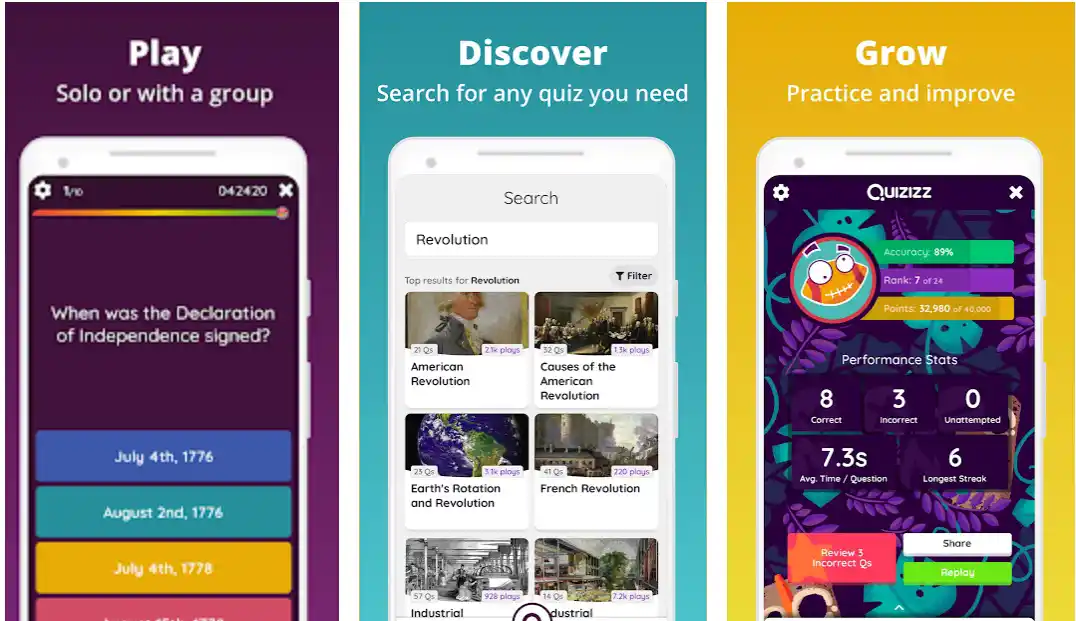 Educators or students can create tests; they can be timed or open-ended and administered to individual students or whole classes. The software also has an analytics dashboard that provides teachers with student performance, engagement, and activity.
The signup process is lengthy if you want to create quizzes for personal or professional use. Signing up for an account is the only method to create one.
Quizizz requests your name, phone number, and email Id. If you wish to skip the registration procedure and take someone else's quiz, ensure the quiz's owner has enabled guest mode.
There are different quizzes like Text Quizzes, Image Quizzes, and Polls. You can choose any combination of these into one quiz as well.
How should students use Quizizz?
The text quizzes allow you to add multiple-choice questions, checkbox questions, fill-in-the-blank questions, and text answers with varying point values.
Teachers can use it to create their assessments and quizzes and share them with their students, or they can use the premade content at the Quizziz library.
Teachers can personalize the quizzes by adding images, video, audio, text, or links to their questions.
It allows you to assess students' learning of subjects anywhere at any time in your class.
Download the App from Google Play Store
Download the App from Apple App Store
2. Vevox
Vevox is one of the leading providers of live polling and Q&A software for businesses. The company's award-winning products allow professionals to engage with audiences and collect feedback in the most efficient manner possible.
It's simple to use and produces reliable results. The platform can be accessed from anywhere via any mobile device, making it an excellent tool for employee or student engagement, social media, and customer service.
Users may also obtain session reports in Microsoft Excel format from Vevox to read a summary of attendance, poll or survey results, and any comments, queries, or messages.
Introducing Vevox for business!
The solution provides several options that enable users to add more value to their polls by creating multiple-choice questions (single answer), multi-select questions (multiple answers), yes/no questions, ranking questions, and open questions with unlimited responses.
Users can quickly create polls differently by copying an existing survey or starting from scratch. Results can be published instantly on social media such as Twitter, Facebook, and LinkedIn or saved in the user's account for later use.
Vevox is an online polling tool that allows you to conduct surveys, get answers from your team, poll your customers, and measure their satisfaction.
You can create polls and surveys on Vevox by logging into your account. You will be required to register with an email address. 
Vevox has three plans – Single Event (Standard & Large package plans), Business (Free account, Individual, Team & Enterprise plans), and Education (Free account, Individual, Department & Institution plans).
A business account allows you to create polls and run primary surveys with 500 respondents. At the same time, a free education account gives you the ability of up to 100 participants.
You can make polls private if you want to share them with only a few people or make them public if you want more people to answer the questions. 
Download the App from Google Play Store
Download the App from Apple App Store
3. Mentimeter – Interactive apps To Transform Boring Presentations 🥱 into Interactive Meetings
Mentimeter is an online app that helps to build word clouds, scales, ranks, and open-ended questions, as well as fun quizzes in which you may ask the audience to submit their responses or pick from alternatives you'll supply.
You can integrate your presentation on your website by creating a free account and setting it up. You can then post it on social media or your website so that people may watch your presentation without logging into Mentimeter.
You also could save your presentation as a PDF or PowerPoint file for further reference.
The platform is user-friendly, with a clean interface and straightforward steps to create and publish your Poll. You do need to register with an email address.
You can then select from a variety of templates or start from scratch.
The site has all the features you need to create a poll quickly: multiple choice, free response, ranking, number of options, and so on. The free version limits you to five quiz questions and two questions of any type, but you can always upgrade for more choices.
Among the powerful tools for creating quizzes, surveys, and polls, it lets you create multi-question slides, perfect for more extended questions and surveys.
The other awesome thing about Mentimeter is its collaboration feature. It allows you to work with others on a survey, which means a wider pool of opinions and more accurate results.
The only drawback is that you cannot host unlimited audiences with a free account. But if you are an individual looking to conduct a poll or survey, this will not be an issue because you can only make up to two questions and up to five quiz slides.
Transform Boring Presentations 🥱 into Interactive Meetings 🙋🏼‍♀️ | Mentimeter
Download the App from Google Play Store
Download the App from Apple App Store
4. Poll Everywhere
The Poll Everywhere App is a free app that allows teachers to use their cell phones, smartphones, or computers to conduct interactive in-class polls, quizzes, and surveys.
Teachers can create polls in advance and send them to students through text messaging or over the Internet through this app. This allows students to vote on their teacher's Poll with their cell phone or computer.
The best part of Poll Everywhere is the sheer variety of ways it can be used. It has a primary interface, yet it can construct polls, quizzes, and surveys for almost any purpose.
The platform's versatility is one of its greatest strengths, which is why it's popular with teachers who want to engage students through various methods.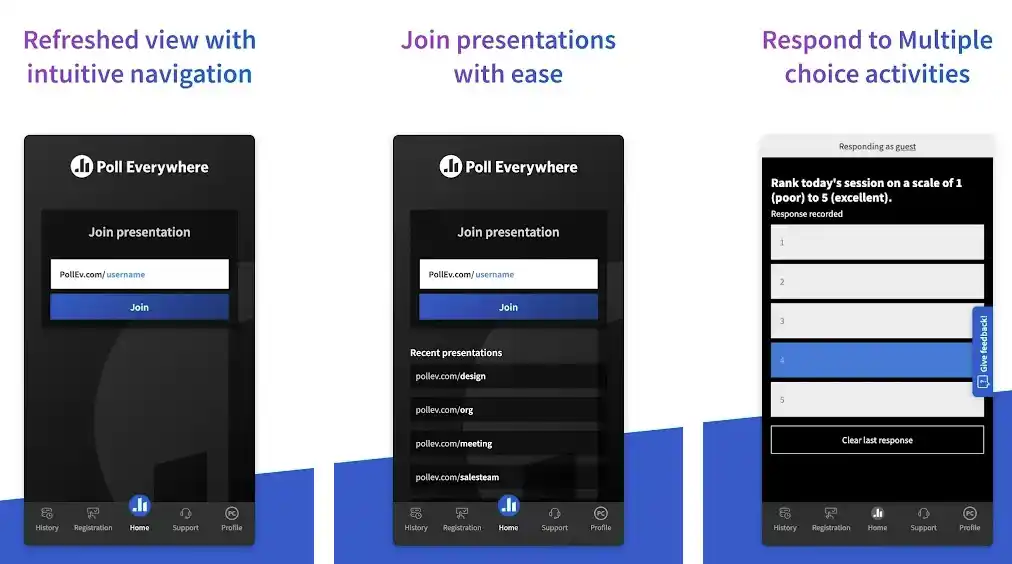 Pre-made templates are available for quizzes and surveys, but you can also build them from scratch by using the blank template or inserting your images.
We like that you can embed the polls on a website or blog (using the embed code generator) so that others can access your poll results.
The free version allows for up to 25 participants at a time, and there are no boundaries on how many individuals you can invite or how frequently you can utilize polls.
Following the poll results is easy. Each Poll has an individualized URL that you can share with anyone via email, Twitter, Facebook, and more. The URL will provide a real-time display of results for everyone who has voted during the polling period.
You can also use this URL to embed a custom audience feed in your website or blog. This integration offers seamless access to Poll Everywhere features from Google Drive so you can create an interactive and engaging poll experience for your next presentation.
Download the App from Google Play Store
Download the App from Apple App Store
5. Kahoot!
Kahoot! is a website where you can design interactive quizzes. Various question types will enable you to test knowledge or collect opinions.
You can select from answer options (text, images, videos, and audio). You can also change the time limit, points, and response alternatives.
It offers a wide range of topics that users can explore. You can select from a collection of templates or design your own game or quiz. You can also assign public Kahoot for self-paced learning or host a live game for your class.
Kahoot! may be an excellent tool for teachers, but it is also notable for students. It provides feedback and opportunities to learn from mistakes. This may be utilized both in the classroom and at home.
Today's generation of kids is tech-savvy, which means that they will find this app helpful, as it provides them with a fun and straightforward way to learn and interact with their peers.
The app has various educational mini-games for students of all ages and languages. The games are interactive and fun, so students can earn points and trophies as they learn new subjects.
Teachers can also create quizzes on Kahoot! to play with their students. The app supports up to 20 players with primary mode, whereas 50 players can participate with the study subscription mode.
Kahoot! It makes learning more fun and engaging and allows quizzes to be created quickly and easily with no coding experience.
This app was created for use in the classroom and pleasure at home, and it works on any device, including Windows, Android, Macs, and iPads, making it simple for instructors to incorporate into their lesson plans.
Download the App from Google Play Store
Download the App from Apple App Store
You may like to read our guide on the 13 Best
Social Skills Apps
To Develop Important Social Skills.
6. AhaSlides – interactive apps for students
AhaSlides is one of the best Interactive Apps that enables you to create amazing presentations quickly. With AhaSlides, you can make interactive presentations with buttons, polls, live chats, quizzes, word clouds, spinner wheels, and more.
The primary function of AhaSlides is to make it easy for you to add polls, live chats, and quizzes. The other features include creating engaging Q&A sessions and hosting competitive quizzes for your workplace or class.
This tool can create an engaging experience that encourages participation and gets audience members involved in your presentation.
People can submit their votes and responses by clicking on the link or scanning the unique QR code.
AhaSlides is a free online tool for creating PowerPoint-style presentations to create your slides in an editor similar to Google Docs. You can then present your slides on their site and download the presentation PDF or video.
The site works with up to 7 people (each has their account). If you need more than that, you can upgrade to one of their paid plans: Essential(up to 50 live participants), Plus(up to 200 live participants), or Pro(up to 10,000 live participants).
7. Crowdpurr
Crowdpurr is an all-in-one solution for your audience engagement needs, offering a variety of features that make it very easy to create, manage and share interactive experiences with your audiences.
This platform is a perfect fit for event organizers who want to bring their events to the next level of engagement and interaction.
Tie live polls, surveys, quizzes, and more into your video content in real-time. Offer an engaging experience by sending users to push notification reminders and goal alerts.
It allows people to develop and share their ideas with the community. The platform is centered around the concept of an experience, which has a consistent visual design and a set of questions.
A participant channels their thoughts into an experience by answering these questions. They can then invite other participants to participate in the experience, adding their responses to the mix and some basic metadata.
Upon completion, participants are shown a simple overall ranking of all responses and any relevant comments made by others. It is a way of putting on live polls and quizzes that instantly shows viewers the results as they happen.
Crowdpurr's Projector View shows real-time responses, rankings, and results. It can fit many display devices, from tablets to event display projectors. It can also be streamed on free streaming devices like Twitch and YouTube Live.
You can make up to three experiences with 15 questions, each with a free account. Each experience allows up to 20 participants.
With Crowdpurr Pro, you get an unlimited number of experiences with endless questions and an option for anonymous voting.
You may like to read our guide on 11
Best Autism Apps
To Improve Cognitive and Social Skills.
8. Slido – Interactive Apps For Q&A and Polling
Slido is the latest result in a long tradition of conference software. They are among the fastest and easiest Interactive Apps to create, share, view, and vote on content in meetings and events.
It is an audience interaction platform for all types of meetings, from small virtual to large conferences.
Slido is the best audience response system for your next presentation. From polling to live Q&A, you can easily engage your audience on any device.
It offers free and paid tiers for individuals and enterprises, with rich analytics, a mobile app, easy integration, and several languages.
The free tier allows anyone to create unlimited polls or quizzes. Paid plans provide innovative moderation tools, complete responses per Poll, embedding polls or quizzes on websites and social media channels, custom branding options, and more.
It allows participants to share live video, text, and audio via the Internet. It can be used from a computer or a mobile device.
Millions of participants have used it since its launch in 2012, and several companies currently use it. It also offers a "mini" version designed for presentations that are 10 minutes or shorter.
Slido Demo | See How Slido Works
With a basic plan, the site can handle up to 100 people. You have the choice of switching to one of their premium plans if you require more: Engage(up to 200 participants), professional(up to 1000 participants), or Enterprise(up to 5,000 participants).
Download the App from Google Play Store
Download the App from Apple App Store
9. Pigeonhole live
Pigeonhole Live is a tool for live Q&As and polling at conferences, meetings, town halls, and other events.
To get started, you create an event page that people can visit from their smartphones or PCs. You then upload your agenda (speakers, topics, etc.) so attendees can learn more about upcoming sessions.
You can also import the plan from your existing conference management system or export it to one of many supported formats.
During your event, attendees use the Pigeonhole Live app to view the schedule, choose what they want to see, and vote on polls. This allows them to pick which speakers they want to hear from most of what session they wish to visit next. They may also submit questions for speakers via text messaging or the web using the app.
Audience members can view your live event on their mobile devices and participate in real-time polls, Q&As, and surveys with the speaker on stage during their presentation.
They can also watch recorded sessions afterward and share feedback with others in their organization after the event.
Connect, Engage and Collaborate Effectively With Pigeonhole Live
Pigeonhole Live includes support for 1000 audience members across all of your sessions. When you need more, upgrade to a paid plan that provides filtering support.
10. Glisser – interactive learning apps for adults
Glisser is a virtual event platform that enables companies to engage in powerful experiences for their customers, partners, investors, and employees.
Virtual events are digitally delivered live anywhere globally, allowing companies to connect with their global audiences in real time. The platform can provide memorable virtual, hybrid, and in-person events.
The team has imagined and built it behind the world's leading virtual event platform. It is real-time feedback and is probably the best Interactive Apps that connects the presenter and presentation with the audience through mobile devices.
Glisser provides a freemium version with all interactive capabilities but is restricted to a few presentations, features, and data access. This is intended for non-commercial users who want to receive the basic functionality for free.
You may upgrade to Engage, Corporate, and Enterprise accounts for more significant events with numerous sessions for additional presentations, features, complete data access, and Glisser's sophisticated event management tools.
Glisser incorporates slide-by-slide 'like' voting, Twitter feeds, feedback slides, polls, and live audience queries, all seamlessly integrated into the original deck.
Glisser may be handled by a single presenter from a single device, eliminating the requirement for a second display or technical help to switch screen streams. It's as easy as that.
Audience members can access slides via their web browser – a solution that works across all major devices. It enables you to incorporate social components into your presentations.
Presenters can create presentations in minutes by uploading their files to glisser.com, turning on the social features they want to use, and dragging and dropping in audience votes. They will then be given a unique code to deliver to their audiences, utilizing in-app or through their web browser.
The basics of building a Glisser Session and Event
📗FAQ
What are interactive online applications? 
Interactive applications include Telnet and SSH. Any application where you input information and receive an immediate output fall under this category.
As a result, the application responds to your input and you. Therefore, the application should promptly process your information. 
What is similar to Gimkit? 
Some of the games that are most like Gimkit are Kahoot! Quizlet Live, Padlet, Bamboozle, Bookwidgets, Quizaline, etc.
These games will help you learn more about the various classroom review games offered and help you choose which gaming programs will best fit your curriculum, your budget, and your student's educational needs. 
Is Blooket like Kahoot? 
Yes, the Blooket website is similar to Kahoot in that it was created to improve student's learning experiences through trivia games. The website now includes six game modes, and more are being considered for addition. 
Only live games in their traditional mode, modeled after Kahoot, are permitted. Five more game options are available than on the beloved and well-known website.
The other five can be played alone or with other players whenever you want, and they can get you tokens. These tokens can be used to purchase items for books. 
How can I make my activity more interactive?

 
The following are some of the best recommendations for enhancing the interactivity of your online activities. 
Inform the participants of your expectations.

 

Employ names.

 

Establish a setting that promotes participation.

 

Participant-centeredness is key.

 

Utilize ALL of Zoom's functions.

 

Separate into more manageable groups.

 

Use tools for collaboration.

 

Utilize thought processes.

 

Pose inquiries.

 

Allot time for reflection.

 

Take time to listen.

 

Develop into a BIGGER version of yourself.

 
The Final Verdict on the interactive apps games list
Today's online platforms allow for easy digital collaboration, which is excellent for businesses, schools, and non-profit organizations.
Using various available technologies, you can make your online learning experience more interactive and engage students in their lessons.
Interactive presentations can be created from virtually any device, such as your PC, smartphone, or tablet.
Your audience will appreciate the extra effort if you have the resources to create intricately detailed digital presentations.
Interactive presentations and meetings also allow you to pass around many different types of content (text, articles, links, images, and videos) that keep everyone on the same page.
In this article, we have listed interactive apps that use several different technologies to provide a range of engaging and immersive experiences. We have also highlighted the best interactive apps based on task categories so that you can pick the app that best suits your needs.