Is Brave Browser Safe? Many internet users have asked this question. Naturally, people tend to trust what they know and distrust the unknown. The longtime barber is preferred to the new trendy stylist across the road.
The local grocery store known for years is preferred to the newer, cheaper chain stores that stock more goods. The reason for this distrust is information. When people know more about something, only then can they make informed decisions about it.
In this review, we will be looking at everything concerning Brave Browser (Download Here ) from ownership to the vision of the creators to answering some pertinent questions and checking out all the awesome key features that Brave Browser has to offer, all these will establish whether it is safe or not, to use. 
Brave Browser Ownership:-
The familiar face among the owners of the Brave browser is Brendan Eich (credited with creating JavaScript and co-founding Mozilla). This automatically makes Brave browser the expert's choice. This is not a Russian hack or Chinese malware. It was created by some of the brightest minds in the software industry.
Over the years, Brendan Eich raised some concerns about privacy in browsers and ensuring content creators' payments for their work. These concerns in part led to the formulation of a brave browser.
With the introduction of the Basic Attention Token (BAT), people will be paid virtual currency for watching ads. There is also an option for tips. Let's say you write a very good article that people really liked, you can get tipped by them for it.
Overall, it has been noted that the owners of the brave browser and its parent company are known. So, no worries on that front.
Speed:-
Researchers have said that Brave Browser on desktop browses sites about 0.02 seconds – 0.2 seconds faster than other browsers (except Vivaldi). The mobile device version is just as fast as all its competitors while its iOS version just lags behind Firefox. 
Brave Browser Speed Comparison 2019
This might not seem like much time wasted until you've been browsing for hours and the seconds are tallied up. The speed of a brave browser actually ensures efficiency more than other notable browsers. 
I will recommend you to read our guide on Brave Vs Chrome: An In-Depth Comparison Guide For You
Weird But Important Default Ad-Block
Concerns raised against brave browser is that it will reduce payment for content creators even though it was specifically made to help content creators earn more. 
The basis of its ad blocking is that all ads except brave browser accepted ads will be blocked. You will receive compensation in the form of "Brave Tokens" when you watch the ads that Brave Browser allows. It is important to note that you can still totally reject all ads and just browse freely. 
A plus for determining if Brave Browser is safe to use is that with its automatic ad blocker, users don't have to trawl the internet looking for ad blockers that work.
Now it just comes as part of the free package. Protection against malware and extensive tracking by advertisers is also a major bonus for a brave browser. This shows that in terms of security from a whole lot of intrusive ads, the Brave browser is the safest out there.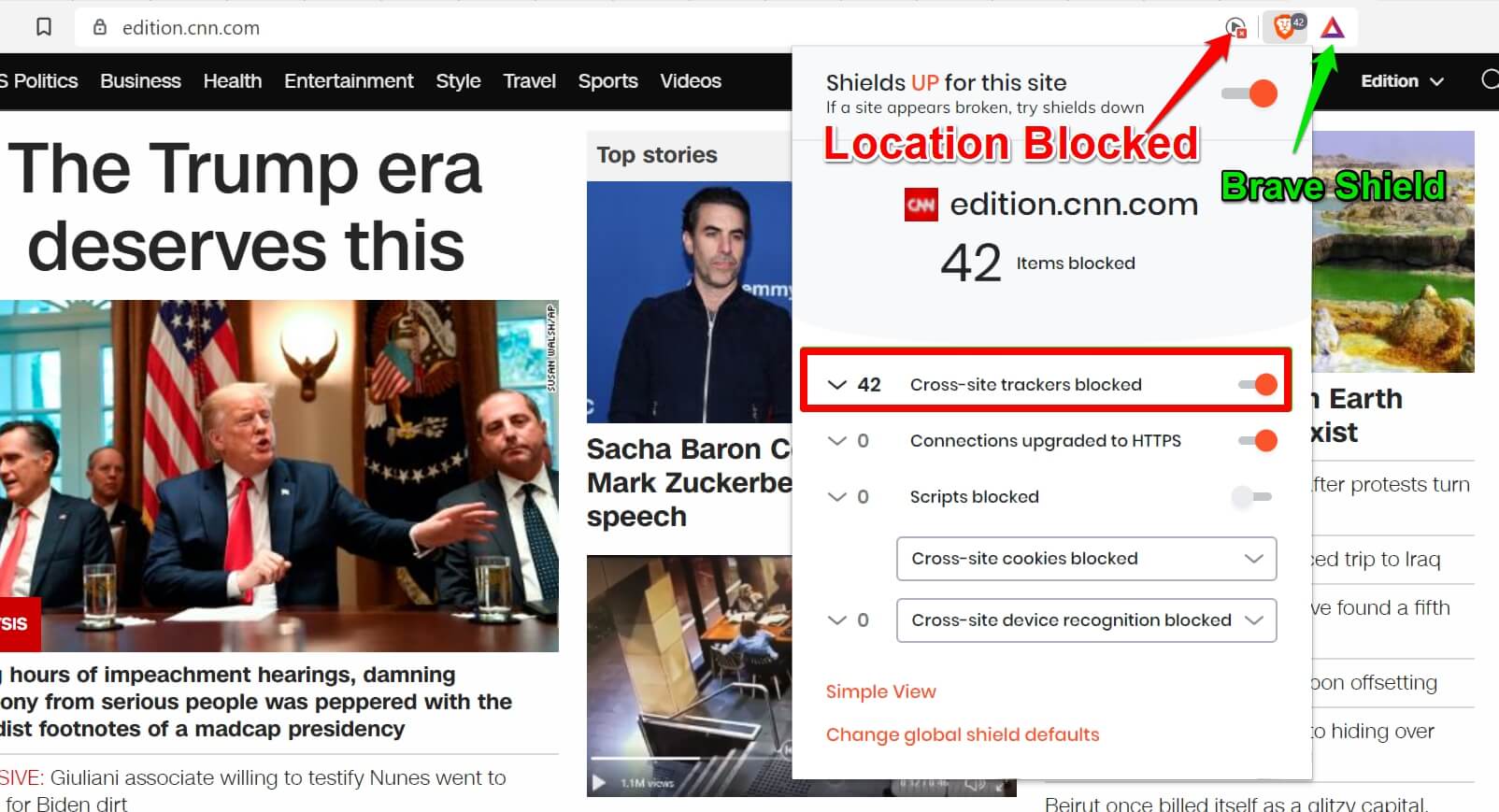 It is vital to point out however that brave browser does not block first-party cookies. It blocks third-party cookies but first-party cookies. Users will have the option of allowing or disallowing cookies on any given site. It also does not block ads on search engines like google. Search pages will still contain ads as usual. 
The Reward System Designed To Help Content Creators Earn More
This feature of the brave browser is a bit controversial. It is very dicey because of the avalanche of information that will be needed to register for this reward system. The fear from users is that their very personal information (such as financial information) will be on yet another site that can be hacked. 
Registering for the Reward System can be complicated but in simple terms, here's how it works though. 
For General Users:-
Download Brave Browser (Of course) It comes with a BAT (Basic Attention Token) wallet.  This will store all your virtual currency.

Load wallet using credit cards require the payment processor Uphold

Other ways include Ethereum, Litcoin, Bitcoin and the BAT tokens itself

Features like "Defined Budget" will help distribute in whatever percentage you want, a specified amount of virtual currency to your most visited sites
The underlying principle is that you'll be able to support your favorite sites without viewing intrusive ads. Something I'm sure many of us would like to do.
In a way, Brave Browser helps streamline our browsing while not neglecting content creators.
For Users Who Want To Earn:-
Download Brave Browser (Yeah, I have to spell it out so some poor sap in Brave Browser IT does not have to listen to somebody claim he isn't getting paid while using Chrome)

Enable Brave Browser Anonymous Ads. The good thing about this part is that you can tweak your settings to the number of ads you want. Let's say, 5 notifications about ads per hour. If you click on more, you earn more.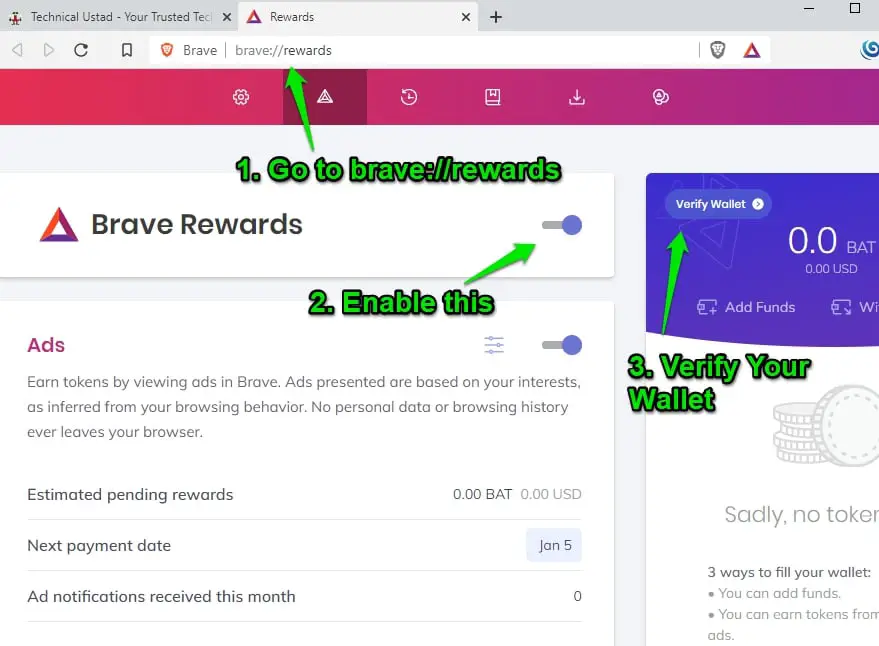 Single users generally earn about 15% of revenue. The amount will depend on the time spent using the browser.
For Publishers Looking To Earn:-
Navigate to https://creators.brave.com/ and signup here and after that click on the  + Add channel option to add your website, YouTube channel or twitch account to monitor.
after verification, it will show you all your verified property in the down, As shown in the below screenshot our Websites and YouTube Channel is verified.
Click on the Referral link option to get your referral link.
Once someone is downloaded Brave browser from your referral link and used this for a month, you will get paid for 5 USD.
You can check out the below-mentioned YouTube Video from Shoutmeloud.
Brave Publisher Program Overview & Earning Proof - Make Money from YouTube & Blog
Here are the Pros and Cons of the Reward System:-
Pros:-
Money. In the world of freelancing, every dollar counts. This reward system is designed to ensure freelancers gain more from their work

Streamlined browsing while still supporting sites
Cons:-
The process of converting points, rewards, compensation, or revenue into cash is quite stressful

Information needed to register for the reward system is quite personal and fear of information theft is apparent
We see here that there are pros and cons to this reward system. The need for privacy, fast browsing, and rewards for content creation must be tempered with the need for safeguarding financial information. 
The Wonderful Feature Of Ads Selection
One of the best features of Brave Browser is its ability to allow users to select their own ads. Gone are the days of random "private parts enlargement" schemes.
You can easily select the ad topics you want to see. The browser will shield you from the business that created the ad but still, it assures the business authenticity in viewing numbers and reach.
All ads are specific towards users' information but in a brave browser, this information never leaves your computer. Ads specification is only done locally.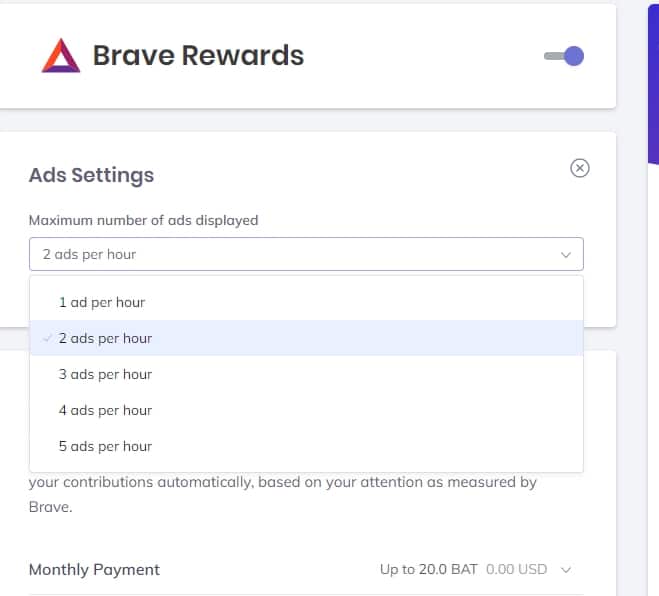 In layman's terms, privacy is ensured about browsing records. This shows that Brave Browser at least ensures the safety of browsing history and other browsing records. 
Privacy When Browsing:-
The main question facing the Brave browser here is whether users are assured privacy during their browsing experience. In a world of increasing cyber-attacks and hijacks, it is imperative that browsers must be defense conscious. 
Brave browser with its "block all ads" policy automatically supports really safe browsing. It also can not access identifiable user data.
Although there is the presence of the "anonymity aggregated ad campaign-related data", the first word itself suggests that there is complete safety of the data as it cannot be used for any other purpose except accounting. The data itself cannot even be tracked to any one user's device.
There is a different but good fingerprint feature that bars third parties from tracking your activity. This feature has to be enabled in "settings" before you can enjoy it.
Other features are included in the Brave browser's package. Features such as the incorporation of HTTPS enable the usage of web encryption when it is possible to be enabled.
There is a little icon that appears on the screen when you install a brave browser. The icon is in the form of a lion, it is the brave shield. Clicking on the icon will allow you to change your security settings from the global presets to a more customized version based on your preferences.
Generally, it is safe to assume that on the basis of privacy during and after browsing, the Brave browser is leading the pack. The "block all ads" feature especially makes it really secure and safe to use. 
Memory Space Usage/Availability On All Platforms:-
We all know how much RAM Chrome (for instance) consumes. A whole lot, that's for sure. For a browser that is Chromium-based (Chrome is also Chromium-based, so your brave browser will look and work a lot like chrome) Brave browser sure uses a whole lot less. About 170MB of your RAM to be a little bit precise. 
In a way, you can say the Brave browser achieves a whole lot with less memory usage.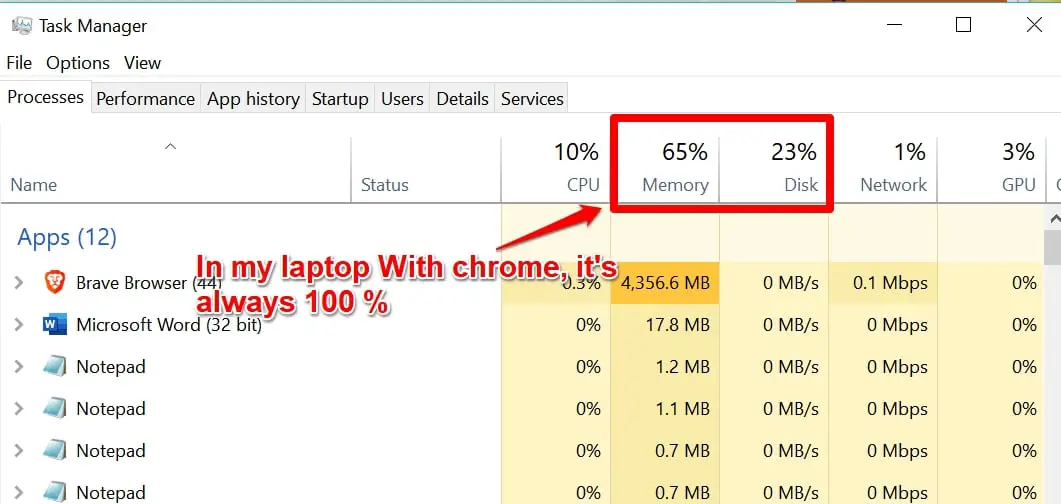 It is available on Android (Yay!), iOS, macOS, Linux, and Windows platforms. With more than 10 million downloads on play store, it is increasingly becoming the people's choice.
On the mobile version of Brave browser, there are options that allow you to enable or disable features like "background playback". Sometimes we might just want to listen without watching the video. You can find this cool feature in settings on your mobile. There are other little features like " appearance" which can be tweaked to user's 
Other mobile version features include features like turning any website into a .pdf file. It even allows basic editing of .pdf files. It is essential that for optimization of conversion, users should switch to reader mode before converting. While on the desktop, you can use any search engine, users are limited to a few on mobile devices.
A nice and tidy feature is the ability to sync Brave cross multiple devices. Let's say you're using it on your mobile device and on your desktop, you can easily sync your bookmarks by generating a QR code on your desktop and using your mobile device to scan it. This handy setting can be found by going to "settings" and clicking on "sync".
Can I Still Use Chrome Extensions?
The answer is a big YES! But with a few (very few) exceptions. With Brave browser being on the same open-source system (Chromium) like Chrome and probably Edge (Soon), extensions can easily be transferred to Brave browser with no stress. They can be added from the Chrome web store. 
In the Setting Menu, once you navigate to the Extensions option and click on the "Get More Extensions" it will send you to the Chrome web store itself.
Exporting all settings, bookmarks, history, and extensions from Chrome to Brave Browser is relatively pain-free. 
It is however up to you to carefully select extensions that will not cause harm or unintended consequences. You can carefully consider all extensions by reading the messages that follow extensions (Nobody does, but now you have to). 
Your personal data can be infiltrated if you install the wrong third-party extension so you have to be careful when installing extensions. Even after installing extensions, you can still change the permission settings (disable, enable, remove, add, view additional details and view options). You can do all these in the extensions window.
Carefully consider all extensions before installing so as not to jeopardize the safety browsing with Brave browser gives you. 
Aesthetics
To some people, the reward system and ad-blocking features are the most attractive but some folks just want their browsers nice, fast and sleek. 
Brave browser can deliver on that with its themes. Installing themes from the Chrome website is also accepted but the default themes that are available upon download are the
Emphasis is on the dark theme, it gives the browser a "chill" vibe and it also has the added advantage of being friendly to the eyes. This is vital to users who will want to spend a whole lot of time browsing.
However, the light theme is enabled at first upon download so you will have to switch to the dark theme to enjoy the feature.
Under Aesthetics, there is an unusual function called "distill page" that could prove invaluable to users. It is a reading mode function that totally strips all other content apart from text and showcases that same text in a clean and highly readable format.
There is also the option of blocking social media sites content embedded in other sites. This ensures minimum distractions especially when all you're looking to do is work.
Is It Widely Used?
This is the last qualification we will use to judge Brave browser in this review. It is generally known that when something is accepted by a lot of people, it is good (not always). But in the case of Brave browser, it holds true. 
Studies show that in March, downloads on play store passed the 20 million mark, and it was just for the android version alone. As of January 1, 2019, active users were numbered in millions. With its popularity growing every month, we can assume that it is relatively safe to use.
It isn't yet as widely used as Chrome or Firefox yet but with its exciting features, it promises a whole lot more than the old guard. The verdict is, with proper consideration, Brave browser is safe to use.
Conclusion
It is obvious that a brave browser is a really good browser that promises to be efficient, memory saving, fast, stylish, and more important, private.
Users will enjoy a whole lot of advantages without suffering the disadvantages of huge memory usage of more established browsers like Chrome, Firefox, Vivaldi, and Microsoft Edge. 
However, it isn't perfect. There are niggles that could affect users. Not all extensions will work, mobile devices have restricted search engine usage and the most important of all, using the reward system means providing a whole lot of sensitive financial information that could prove disastrous if hacked. 
On the whole, the good features outweigh the negatives. It is a very fast browser where you can genuinely get the ad-free experience or at least the closest you can get to that experience (because ads from Google searches are not blocked). 
Our verdict is that Brave Browser is a safe browser to use and we are sure you'll agree after going through this review.