Are you in search of functional and efficient land surveying apps for your real estate business or personal use? If that is so, then you have come to the right place.
In this post, we will be discussing briefly some of the best land survey apps that can be used on both android and iOS devices. 
As a surveyor, you need to have all the elements in your hands to make crucial decisions based on the calculations. A decade ago, surveyors did not own or possess apps that were a convenient method to calculate the area and make immediate results. 
With the help of land survey apps designed by talented and skilled mobile application developers, you can now make accurate measurements. They provide instant solutions for otherwise complicated results. Now, surveying land, calculating the area on your roof for installing solar panels, or setting up fencing in your property, can be done a lot easier with apps. 
What is Land Surveying?
Land surveying is measuring the land or your territory using the accurate calculations and right equipment. It could be your property, rural project, farmland, constructing roads, building bridges, tunnels, apartments, and highway. 
How does land surveying work?
To be able to start the project, accurate results are dependable on land survey apps. Unless the exact results and desired answers are provided, construction may not happen there. We will read why land surveying plays a significant role in construction briefly. 
Importance of land surveying
A land surveying firm can help you immensely with your real estate purchase or sale. Not to mention, when you plan on fencing your territory, you can make use of them. As you know, purchasing or selling a real estate property is a massive investment in your life. 
Hence, you do not want to make a mistake and regret it later. They provide you with accurate data, whether the property is an ideal buy or not.
For example, you can find out if the area is prone to floods, documents before you purchase, the actual size provided is accurate or not, and so on. 
Not to mention, you also benefit from them through other services like surveying of the boundary, a survey of the locality, survey of the site planned for construction, survey of the engineering land, markings of the apartment, and estimation of the earth moving tasks. 
Why You Need A Land Survey
The task of land surveying has become simpler with the tablet or smartphone. The results can be shared without any delay. We have listed some of the top land survey apps that are in use today in the market. 
Best Land Surveying Apps: Our Top Pick 👌👌
1. GPS Fields Area Measure
GPS fields area measure is an app that lets you calculate measurements without much hassle. The need to compromise on functionality and accuracy is not there. We have ranked it the first on our list because of its vast features. 
The working format is simple and easy to understand. You can perform daily tasks using this land survey app. It comes with several modes to mark and calculate areas on a property. You can mark the terrain and distance. 
It is a fast process and also helps you collect data instantly. The points are placed accurately, giving you the correct results. Some of the other features include the ability to save data, editing the data, sharing the data, placing the data into groups, and setting the data likewise. 
Thanks to the fact that you can use GPS using the app, accurate results, and operations are carried out. Builders use the land survey app for construction purpose, adventure travelers and mountain climbers want to calculate distance and even farmers for fencing use. 
Apart from that, it also comes with a simple design. Using that, you can paint, add your own creation, and add thumbnails. One exciting feature of the app is the use of automatically generated links on a route or particular area. 
These details can be shared with your colleague or client. It is an indispensable tool for calculating distances and areas for planning different events.
It is safe to say that it is one of the best land survey apps in use today. As you can see, it is used in a wide range of sectors.
2. Land Calculator: Survey Area, Perimeter, Distance
Land calculator: survey area, perimeter, distance is another excellent land survey app that is used globally by people of all walks of life. The tool comes with a simple format and interface that makes it suitable for engineers, construction workers, and even farmers. 
Those with no experience in handling these kinds of apps will find it easy to work. The app comes with a set of features that allow you to make calculations and performance more accessible. You can also use it to measure large areas and property. 
The measurements are done in a few methods that have been mentioned below:-
You can manually input the coordinates on the app.

You can trace the shape of the map. 

The app makes perimeters based on the movements of the handler.
The GPS on the app is a high-precision element that works in favor of getting the best results. The primary function of the app is provided to you in the most straightforward format. It comes as no surprise that even novices find this app easy to work and use. 
A wide range of users like GIS students, farmers, workers, and the like will find working on the app simple. The function of survey tools and land measurement is quickly done using this app.
It is safe to say that this app helps you find accurate results without much strain and hassle. 
3. GPS area measure – land survey
GPS area measure, like the name, goes is another useful land survey app. You can easily take measurements of a particular area and perform calculations with ease. The best part about this app is that you do not need the skills to use and operate a land survey app. 
You do not have to be somebody who is trained and skilled in the field of engineering. The reason for that being, the actual value of the land or area is measured. It does not matter whether you are a client or a surveyor. 
Thanks to the interface that is extremely simple to use, you need only to press a button for it to work. For taking the calculations and reading, you need to walk around the area you plan on measuring. 
You need to click on the GPS walk button to get started. Walk around the boundary of the territory you plan on measuring and then press calculate when done. The perimeter and area are immediately found out. 
It is as simple as that. How is it calculated? Well, the GPS sensor that is fitted in the app is able to analyze the movements of the user and performs the calculations likewise. Users have commended the fact that it implements the prescribed standards (WGS84-model) for measuring and calculating the longitude and latitude. 
This is very crucial for being able to get accurate results. Even minor changes in the metric or waypoints can cause significant discrepancies. It is not surprising to note that the app is extremely popular on Google Play.
4. Geo Measure Area Calculator
Geo measure area calculator is perhaps the most versatile and beautifully designed land survey apps in the market today. Though we have listed the app at number 4, it deserves better mention. 
The app provides you with an excellent view of the details and results. However, it is available only on the iOS platform as of now. The functions and abilities can be found on most of the GPS survey apps, but the aesthetics are worth the mention. 
Geo Measure Area Calculator For Android Version 3.0
You can calculate the area of the territory or real estate very easily and quickly. Users can do that in two methods using the automatic version and the manual version. In the manual version, you need to input the coordinate on the app. 
In the automatic version, you let the GPS take its cause. The data is collected, and then the necessary calculations are done. The results are accurate with the help of high-precision GPS. Minimum errors are vital here because even small changes can affect the entire measurements. 
You are also provided with several features like saving the results, sharing the data among your clients, an excellent view of the map, and viewing modes of the map. There is no denying that this land survey app is extremely useful for iPhone users. 
That is also a drawback here for Android device users, who do not realize what they are missing here. If you are planning on purchasing a property or selling your rural farm, then you know where to get your measurements from. The Geo Measure Area Calculator app ranked number 4 in our Best Land Surveying Apps list that you should download.
5. GPS Test
GPS Test is a powerful and efficient land survey app. Though it is designed only for professional experts, even novices can use it with ease. The main feature that is worth mentioning here is the accuracy of the results. 
In a land survey, everybody is looking for exact results. This is lacking in most of the apps that are available in the market today. All you need to do is enter the coordinates and press the calculate button. 
The calculations are presented in a very systematic and simple manner. Anybody will be able to understand it. Apart from that, this app provides you with several methods to quickly share the results. 
You can do it either by social media, SMS, emails, and others. There is also a speedometer, compass, and altimeter available on the screen that offers adequate information to the user. The readability features, too, are quite excellent and worth mentioning here. The GPS Test app ranked number 5 in our Best Land Surveying Apps list that you should download.
Tablet Android Apps: #31 GPS Test - Nexus 7
6. Theodolite
Theodolite is one of the oldest measurements used by land surveyors. The app provides you with a wide range of functionalities and applications. It is the ideal land survey app you can hold in your hands. 
Some of the features include area calculator and viewfinder. For novices, this app might not be very useful because it comes with extensive features that need some understanding and clarity — ideal for engineers and farmers who want accuracy in results and numbers. 
Apart from that, you can also save, transfer, and process the data. Of course, users will want to know that this app is not free. You have to pay and register for use. Perhaps, the only minor issue with this app is that it can be used on the iPhone. 
Android device owners may find it slightly annoying for the lack of it, because of the abundance of usage and flexibility that this app offers you.
When you are into the real estate business or planning to delve into farming, then this app is a must-have. 
7. Simple GPS Survey
A simple GPS survey is a land survey app that helps you make perfect calculations using GPS technology. The data management system present in the app is commendable. You can receive, store, and share data with others. 
Not to mention, you can also perform other tasks without hassle. There is also a tool through which you can edit data. This helps you to adjusts your tasks and edit calculations as and when necessary. 
The location details can be recorded and saved in your survey. Details can be easily edited through the edit function. The app allows storing several locations in one place. 
Many users find the management and the interface simple to use. You can read all about the positive comments on the Play Store. So, whether you are a novice or a professional in this field, you can use the app. 
That is ideal for clients or property owners who want to find out measurements and other vital details. The operational use is easy once you start the survey using the GPS pushing the start button. 
Its working is quite simple. The app captures the starting point and then notes down the route of the property or area. You can remove the non-essential information from the app. The app can be used on Android devices. 
This is an ideal example of a very easy-to-use, efficient, and functional land survey app that you do not want to let go of. When you want the best results using GPS technology, then this app is your friend.
The Simple GPS Survey app ranked number 7 in our Best Land Surveying Apps list that you should download.
8. Map Pad GPS land surveys & measurements – GPS land surveying apps for android
Map Pad GPS land surveys & measurements app comes with all the features that you are looking for to enable you to perform your land survey accurately.
Using this app, you can calculate all the necessary data, handle data, categorize them, and share it with your clients.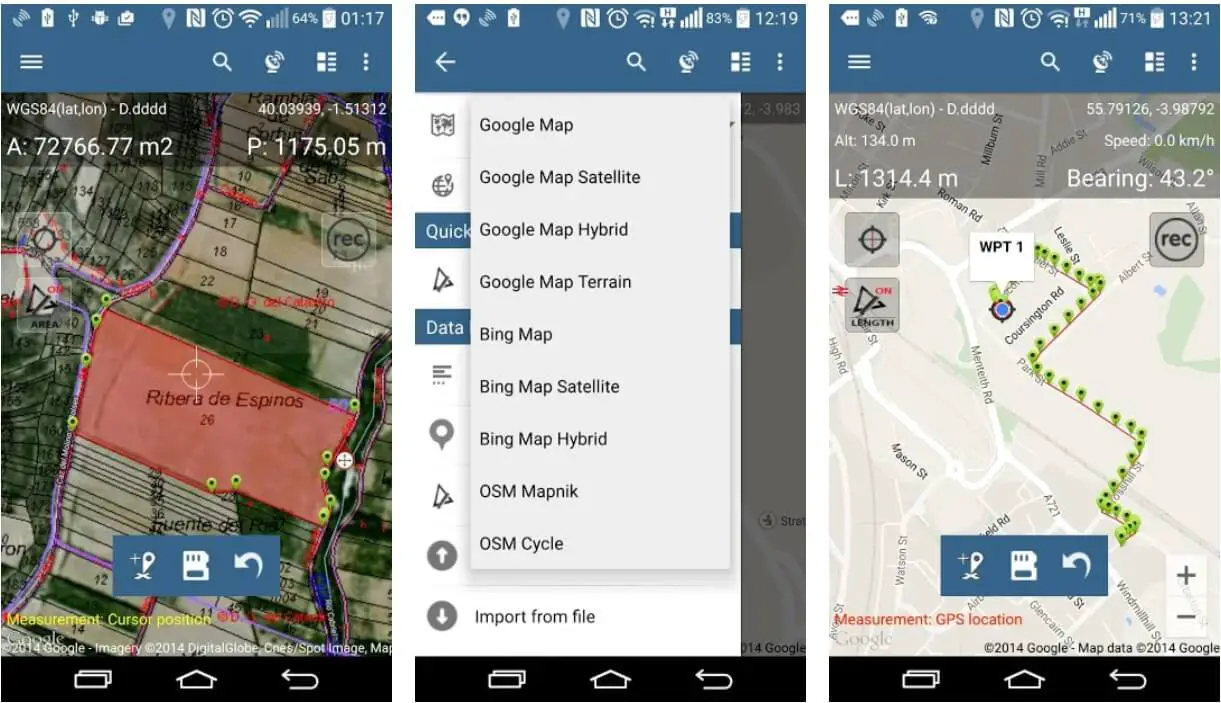 Another noteworthy feature in this app is the GPS. The positioning gives you real-time data and works without fail. That means you can make use of Bing map satellite images to help get accurate results. 
Of course, you can use Google too when finding out imperial units and the number of metrics. You can find several points of measurement when using the information received from the app. Calculations are performed manually using the data that is received automatically. 
Otherwise, also calculations can be done using the map. Sectors like agriculture and real estate have benefited immensely through this app. Android users can download the app and begin using it for the calculation of perimeters, areas, distances, and others in a quick manner. 
Once downloaded, exporting, saving, and sharing with others becomes easy. Measurements have to be shared quickly with colleagues and clients to make accurate calculations for different purposes. 
Deals can be either made or broken depending on the speed and accuracy of the land survey app. With a wide range of features like GPS location, tap on the map, map cursor location, this is one of the best apps in the market currently. 
It is ideal for construction, fencing, measuring the roof or terrace for installation of solar panels, finding out the total area of a property, gardening, and others.
If you are yet to choose an app or looking to update your land survey app, then you need not look elsewhere. Unfortunately, this app can be used only on Android devices. The Map Pad GPS land surveys & measurements app ranked number 8 in our Best Land Surveying Apps list that you should download.
9. Surveying In the Field
Surveying In the Field is another land surveying app that is popularly used worldwide. The operational style is simple and easy. Probably that is the reason for its ability to provide the users with all the details that they need during calculations. 
Thanks to its minimalist style, you can now deal with the numbers without hassle. The GPS transmitter on the land survey app lets you gather data in real-time. However, you can also work with the manual data that is also got. 
The app is free to use and can be accessed on Android devices only. Those of you who are novices and do not have much of an idea on using land survey apps would find this tool easy to use. The Surveying In the Field app ranked number 9 in our Best Land Surveying Apps list that you should download.
10. Land Surveyor
Land Surveyor is probably one of the simplest forms of a land survey app. The interface is quite simple and elegant. Some users have complimented on its looks, while others feel that it is way too simple. 
The workspace is conveniently designed to enter all the data without hassle. You can also find that the visual tools are not too bright and come with just the right amount of functions. The functions can be used for performing regular tasks. 
Working is also simple. Even a novice can get things started. You need to input the area you plan on measuring. In a sense, the area has to be divided into rectangles or triangles. You can also combine both shapes. 
Then you should add the information for generating the results. The results are provided to you visually. Once in the working mode, the input is converted to the desired results. Professional land surveyors have found this app extremely useful in getting accurate results. 
The working concept is more than that of a calculator. This can be accessed only on android devices. iPhone users may want to think about using this app if their work is related to land surveying or civil engineering. 
You really do not want to miss out on this fantastic land survey app. We forgot to mention that the measurements are done in meters. Do not forget to use the converter option and change the reading into the kind of results you want. The Land Surveyor app ranked number 10 in our Best Land Surveying Apps list that you should download.
Advantages of land survey apps
The land survey rules and regulations are different in most countries. However, in the United States of America, Canada, and some European countries, land surveys are a must before purchase, sale, or construction. 
Just like you consult with a doctor before having an operation in an affectionate area of the body or talk to an interior designer about improving the décor in your home, it is the same here. A land survey engineer can help you by measuring the potential area and give an estimate. 
These can be done quickly with land survey apps. As you read above, most of them are free to use. You need to download on the device specified and start using them. Of course, one or two in the list mentioned above are paid versions. 
Without the land survey apps, you might not be able to get the exact area of the plot or area. This causes inaccurate land measurements.
An accurate land survey clearly mentions what is yours and what is your neighbors. This solves unnecessary disputes that might arise during construction or in the future. 
The value of the property or real estate cannot be estimated without a proper land survey. You need accurate measurements.
Otherwise, you might undervalue or pay more during the purchase of the property. To avoid these confusions, a land survey app can provide you with exact measurements. 
The land survey apps also provide you with crucial data like flooding, issues with the structure of the house or building, and so on. It prevents you from a disaster waiting to happen. 
Conclusion
Finally, land survey apps are easy to use. The need to be well versed in using the apps is not required. Though some paid versions of the apps are suitable for professional experts, you will do fine with the free versions.