A perfectly functional laptop could suddenly develop the problem of laptop touchpad not working. When this happens to you, there is no need to panic because in all probability there is a simple explanation and easy solution to the problem.
Your malfunctioning touchpad may be caused by you accidentally pressing the wrong button that disabled it. Faulty or outdated drivers could also cause the problem, as well as malware or virus. The settings of your laptop may have been changed during an update. Regardless of the reason, there is a solution.
This article will focus on all the possible solutions when your laptop touchpad is not working. The solution will obviously depend on what the most likely cause of the problem is.
Laptop Touchpad Not Working: Possible Fixes
Since there are a good number of things that can cause the malfunction of your laptop, there are also many possible solutions.
The problem of your laptop touchpad not working may even be solved by a few simple clicks. Knowing what to do can make what seemed like a big problem becomes only a small hurdle.
For many of the suggestions that would be given below, you need either an external mouse or a touchscreen to be able to find the solution. Since your touchpad is used for navigating around your computer, you need something to help you navigate and click in its place.
If you or someone you know is complaining about their laptop touchpad not working, these suggestions are going to be of immense help. 
1. Restart the Computer
This is a suspect if the computer is generally slow, and if the touchpad is lagging or hanging. Before you try anything, restart the computer, and see if the problem persists.
Restarting your computer is a very simple—and sometimes overlooked —remedy to many problems a computer may have. This is because some of the problems are caused by background applications interfering with the regular operation of the computer; or because of insufficient RAM memory.
Restarting the computer forces all applications to close. So their interference will be ended. It also clears the RAM.
If the problem persists after the restart, check for updates of the operating system. Many problems and bugs are usually fixed during updates.
2. Disconnect External Mouse
A  mouse and touchpad have overlapping functions. The issue of your laptop touchpad not working may simply be as a result of your laptop automatically disabling your touchpad when an external mouse is connected. Simply disconnecting the mouse will solve the problem.
Unplug the USB mouse, or if you use a Bluetooth mouse, turn it off. If it cannot be turned off, turn off your laptops Bluetooth or take the mouse out of range. 
You may still have to manually enable the touchpad. How to do that will be touched upon in a later solution.
3. Remove Other Mouse Drivers
The previous solution mentioned simply disconnecting the mouse as a remedy for your laptop touchpad not working. Sometimes the problem is a little more complicated than that.
If you've used multiple mice in the past and did not remove their drivers, it is possible for the drivers to interfere with the workings of the touchpad. Some drivers even automatically disable your touchpad.
To solve this problem, go to your laptop device manager. Tap the arrow beside "mice and other pointing devices".
Right-click on the Mouse to uninstall. Uninstall every mouse one by one. This should solve the problem if the mouse drivers were responsible for your laptop touchpad not working.
4. Double Check Touchpad Disable Zone
Some touchpads can be disabled by simply double-tapping on a certain portion of the touchpad. So, innocently tapping your touchpad can possibly disable it. 
Laptops that have a small square logo at the top left corner may be enabled or disabled that way. So simply double-tap at that corner to enable the touchpad if it stops working. 
To prevent a future occurrence of this accidental disabling of your touchpad, disable this feature.
Go to your laptop's settings, then to devices.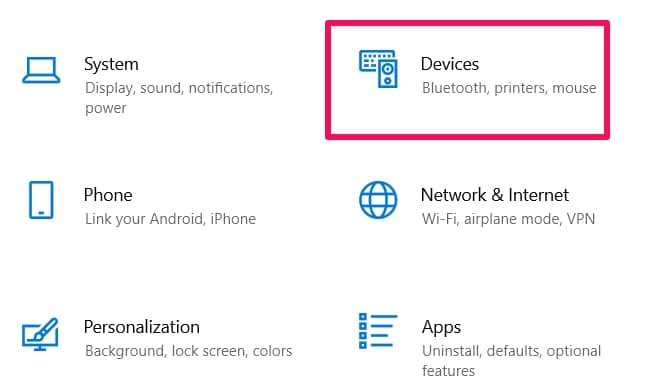 Tap on "touchpad" and next, select  "additional settings".
The next steps may be absent on some computers or different in other computers:
Locate "touchpad entry", then " touchpad disable zone". Finally, untick the "double-tap to disable touchpad" option.
5. Check If Touchpad is Disabled in BIOS
An often overlooked fact is that your touchpad may somehow be disabled on the motherboard BIOS. A possibility is that the touchpad was disabled after a firmware update.
Enter the BIOS by repeatedly pressing the "delete" + "F2" keys while your laptop is booting. Note that on some laptops, the buttons to press may be different.
Find the "internal pointing device" option in the BIOS. Ensure the option is enabled. You may have to go to the "advanced" option to enable. Once it is done, select "save changes and exit".
6. Update/Rollback Touchpad Driver
An outdated or defective touchpad driver can lead to your laptop touchpad not working. If you have not updated your drivers in a while, they may start misbehaving. A simple update will solve the problem.
To update, go to your laptop's device manager. Locate and tap on the "mouse and other pointing devices" option.
Right-click on your touchpad. Make sure it is enabled, and if it is, click on "update driver ". After the update, restart the computer.
Some complain that the touchpad developed issues only after they had upgraded to Windows 10. This means that the Windows 10 driver is misbehaving. Rolling back the driver solves the problem. 
In your device manager, right-click on your "touchpad" and select "properties". Next, select the rollback option under the driver tab and follow all the prompts.
7. Uninstall Driver
This option is similar to the one explained previously. The major difference is that you uninstall the driver and allow your computer to find the driver that is perfect for it.
It is known that some older models may not support the newest update of drivers, and the driver may have some bug disturbing it. Totally uninstalling the driver in cases like that is a good solution.
Open your device manager. Navigate to your touchpad driver by first clicking on "mouse and other pointing devices". Next, right-click on "touchpad". Select uninstall, and then restart your computer. 
Upon restart, your laptop will attempt to download a touchpad driver.
8. Enable Touchpad in Mouse Properties
On some laptops, the touchpad cannot be enabled via device manager. If your touchpad is disabled, you'll need to go to the mouse properties to enable it again. So, don't be surprised if you have not seen an enable option for your touchpad.
Go to your laptop's search bar and type mouse. Go to mouse settings. At the mouse settings, click on Additional mouse options.
The next steps may not be available on every computer, or would differ slightly:
Click on device settings. Find touchpad in the list and click enable.
Once you've enabled the touchpad in the mouse properties, the issue of your laptop touchpad not working will be a thing of the past.
9. Enable Touchpad Using " Fn" Key
Some laptops use the combination of "Fn" and function keys as a shortcut for several things. It is possible that you pressed the wrong function key which disabled the touchpad. If this is the case, the solution is equally simple.
Hold the "Fn" key and press the function keys one after the other and see which one enables the touchpad. 
With just a few keys pressed you can solve the problem of your laptop touchpad not working.
10. Disable Tablet PC Input Service
This option is available for users of laptop-tablet hybrids with a touchscreen. 
There is a possibility that tablet PC input service is interfering with your touchpad. The input service controls the stylus functionality. You can disable the input service if you don't use the stylus. If you use the stylus you'll have to decide to toggle the setting on and off whenever you want to use it.
To disable the input service, hit Windows key + R. Next, type services.msc in the box that appears. Scroll down till you find "Tablet PC input service" or simply "tablet input service". Right-click on it, then hit disable.
Conclusion
If there ever is a situation of your laptop touchpad not working, it can be really distressing. It feels almost as if the whole laptop is useless when the touchpad is not working. Luckily, a touchpad that is not working does not necessarily signal hardware malfunction.
This article has explained the different things you can do to solve the problem. Share with your friends who may have encountered the problem of their laptop touchpad not working.