Isn't it amazing that you may be immersed in a fantasy world where you can role-play your favorite characters with others who want to be a part of the fun as well?🧐
To be in a fantasy world, you must dress as one of the characters that define it, and one small error in your LARP costumes may damage the pleasure to an entirely different level.
Now, in order to have LARP costumes, you may either make them yourself or get someone to do it for you if you are not skilled in the arts and crafts. There are numerous professionals who can help you find a costume that you will like wearing.
We have included seven of the best online stores for LARP equipment and costumes below.
What Is LARP?💁
If you've seen and enjoyed movies and series like Lord of the Rings, Dungeons, or any other fantasy role-playing games (RPG) video games, then LARPing your favorite character is the greatest way to immerse yourself in them. 
LARP stands for live-action role-playing and involves activities such as dressing up, which allows you to dress up as one of the characters, and act out a tale with all of your other friends who are a part of it.
If you believe these events aren't well-known, think again. At festivals all over the world, such as ConQuest in Germany, Lorien in the United Kingdom, and Mind Eyes Society in the United States, you may attend as a guest or even as the main character.
You also get whole scripts to play out as a character in some of them, allowing you to truly experience and be a part of a fantasy world. These gatherings provide a distinct level of freedom, where no one cares what you become as a result of your inspiration.
Top LARP Costumes Online Stores – Our Pick👌
1. Andracor
Andracor, situated in Germany, has established a strong presence in the LARP Costumes world with a well-known name.
Isn't it incredible that it gives such a diverse choice of characters and ship outfits all around the world? When we say "all forms of character costumes," we mean everything from leather armor to skull masks, pirate pistols, and monster makeup.
The price of a character's attire or equipment will vary depending on what you pick. For instance, if you want to buy a drinking horn with a holder, it will probably cost you approximately $12, which is reasonable, and if you want to buy jewelry, it will probably cost even less.
On the other hand, if you plan on purchasing a whole set of armor, the price may rise to several hundred dollars.
It is not inexpensive to take up LARPing as a pastime. So you should do some study into what you want to be and then look for things online that inspire you in some manner. With that, you may personalize it by using your DIY abilities. As a result, only purchase items that will complement your ensemble.
2. Chow's Emporium
Chow's Emporium is an online LARP Costumes shop situated in the United Kingdom that takes purchases from all around the world.
It not only caters to people's LARPing needs, but it also provides a variety of other unique and intriguing things, such as oriental styles. It creates stunningly complex outfits, such as tunics with additional fabric motifs.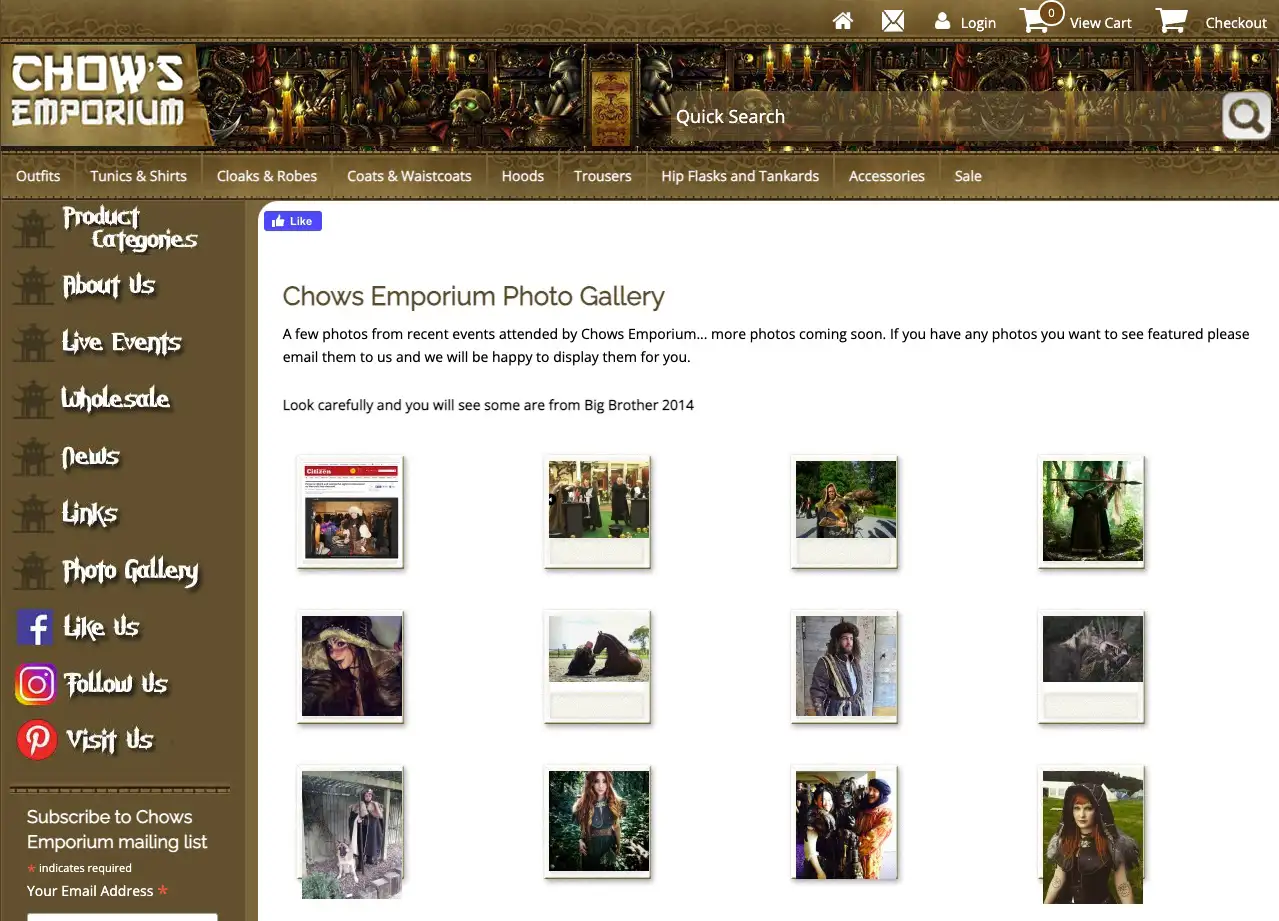 Aside from that, one of the most important things to know about Chow's Emporium that leads to a minor disadvantage is that it lacks armor, and because the prices vary accordingly, so does the quality. As a result, the higher the price, the higher the quality, and the lower the price, the lower the material used.
For example, if you want to buy a jacket and tunic set with faux leather and a mantle, all of which will be of high quality, you can expect to pay around $326, which is on the high end.
As previously stated, Chow's Emporium has some amazing unique costume pieces and equipment. So, what we recommend is that you get those one-of-a-kind pieces, such as unique hats or masks, that will complement your costume.
When it comes to the costume, you can either save up your money and get the costume plus the pieces that go with it from Chow's for your next LARP event and impress everyone, or you can buy it from another source or make it yourself.
3. Larp Inn
Larp Inn is one of the internet shops that has kept its dream consumers happy and satisfied with their unique and unusual costumes.
Larp Inn is headquartered in the United Kingdom and is one of the most popular online websites with a wide range of options. It has always offered a wide range of games, from D&D to Warhammer.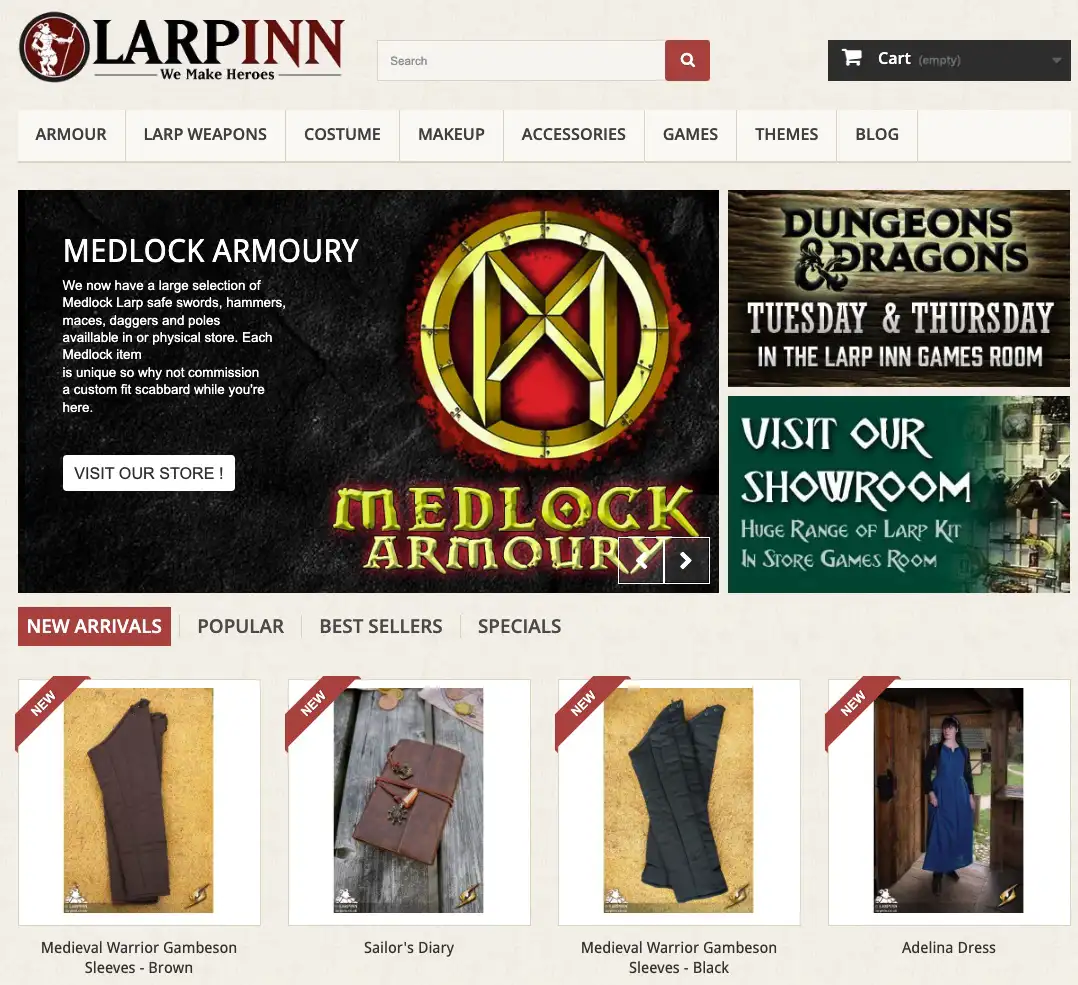 If you are looking for armor or battle x, Larp Inn is the place to go for all of your demands. With its clothes, Larp Inn covers all of your favorite fantasy LARP games, as well as futuristic and apocalyptic larps, and ensures that you have a memorable experience. 
Even if they are plain and not unusual, the quality of each piece is superb. It features designs like Celtic, samurai, and steampunk, all of which will compliment you in some manner. In terms of price, this online store may be considered high-end.
For example, if you want to buy a breastplate, it will set you back more than $140, and if you include shipping expenses for inside the UK or international, it would set you back much more.
However, even after a long time has passed, a good quality outfit remains the finest. As a result, shopping at Larp Inn is steel. You may also shop for a costume elsewhere and pick out components to go with it from here.
4. Your Larp Store
Germany has a thriving industry for LARP costumes of exceptional quality. Your Larp Store (Visit Here) is one of the stores that provide excellent quality in the items and costumes you choose, encouraging you to come by again and purchase. 
Your Larp Store provides you with a genuine depiction of the characters you desire to bring to life through the costumes they create, as well as the necessary equipment to compliment every aspect of your body.
They have a lot to offer, from medieval attire to LARP-suitable weaponry and armor, but the price varies depending on what you pick. For example, pricing can range from $10 to over $1000, depending on your preferences.
With all of the costumes available, Your Larp Store also offers picture CDs and LARPzeit publications, which means you can purchase costumes and fantasy world news all in one place.
5. Calimacil
When it comes to contributing to the world of LARPing, Canada has a unique approach. Canada has established its own LARP costumes workshop and store, where buyers may browse a wide choice of items.
Everything from ordinary medieval and fantasy clothing to equipment themed on popular video games like The Witcher, Kingdom Come, and Destiny can be found in stores, making it popular among those looking to purchase one.
The cost of the same might vary, for example, a handcrafted sword or ax could cost anywhere from $78 and $188.
On the other hand, if we look at some basic trinkets to buy, such as quills, the price drops to $10, which is a bargain. However, if you want to get more sophisticated and unusual things, such as metal armor, you will have to pay more than $500, which is on the upper end.
Now, the entire cost is determined by the product's quality. The greater the price range, the higher the quality. So it all depends on the level of quality you want in your costumes, and you may purchase goods or outfits for your next large LARP event accordingly.
One thing to keep in mind about Calimacil is that it works with some extremely innovative firms to ensure that you, as a LARP member, have access to all of the luxuries you desire in a costume. 
The business contains a fantasy publishing firm called Seyrawyn which sells books for all ages, as well as a Mythic workshop that sells high-end costume equipment.
6. Epic Armoury
Until now, nations such as the United Kingdom, Canada, and Germany have risen at the top of LARP Costumes online businesses. However, Denmark is another nation to consider.
Epic Armoury is based in Denmark and works with some extremely great event organizers to create the most immersive and unique atmosphere possible, allowing you to use all of your purchased costumes and equipment. 
That's why you will discover so many unique items and outfits on our website that you will want to own.
Roman fire pits, medieval silverware, potion bottles, and several fantastic types of gold coins stand out among the others. They also have fantasy gear like armor, some unusual apparel, and accessories to go with all of these items.
Now, if we look at Epic Armoury's pricing range, there are certain things that can be a good bargain and cost around $10, which is not too expensive, but if you want to buy anything larger and more complex than the usual, it will undoubtedly cost you more. 
Also, if you enjoy designing your own LARP outfits, this store has something for you. It offers a DIY (Do It Yourself) part that will guide you through the process of creating your own unique costume from the ground up to ensure that your time with them is remembered.
7. Armstreet 
Finally, we have Armstreet, which is situated in the United States and offers a large selection from which to choose your ideal LARP outfit for the event.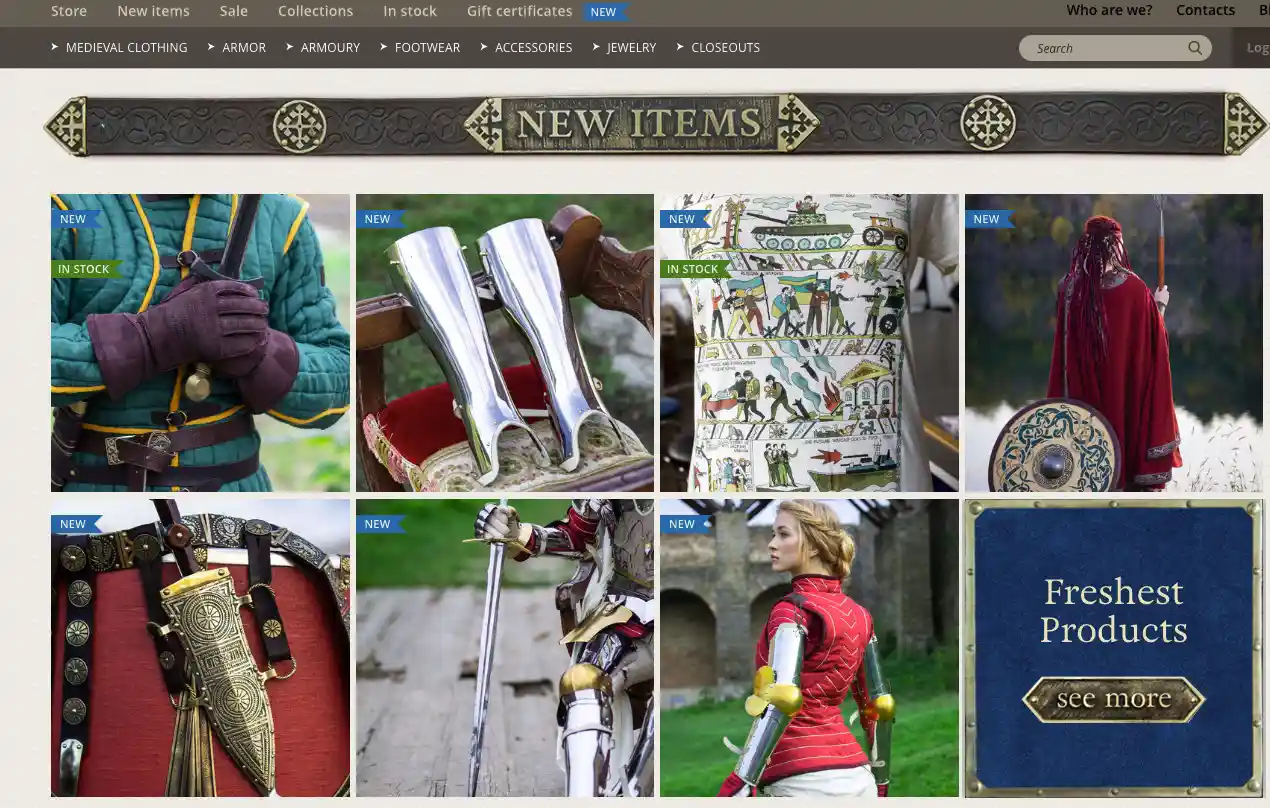 It takes into account all of your fashion recommendations as well as what you want to wear as a LARP character, ranging from Viking to Tudor to fairytales. So you won't only get tunics and gowns; you will also get aprons, hats, stockings, and a lot more.
The patterns you pick will never go out of style since Armstreet's high quality will never let you down. This implies that your designs will always be loyal to you. 
Even if you want to add something to your dress to make it stand out, they can accommodate all of your needs. Add-ons can range from gorgeous jewelry and mirrors to archery and bracers, among other things.
That being said, you have probably figured out that Armstreet is not inexpensive because it provides high-quality outfits and even the lightest of equipment. A steel and leather cup, for example, will set you back around $44, which is the lowest price you will find here.
But, while the sale is on, you may anticipate prices to drop and, as a result, some nice savings, but that will rely on the proper moment and a pre-planned budget to ensure that what you want is available in that price range.
LARP Costumes Tips:-
If it is your first time attending a LARP event, you will undoubtedly want to look and perform your best. However, putting extra care into your outfit will allow you to enjoy your LARP event even more.
Here are a few pointers that may be useful:
Shoes:- You won't have to worry about what shoes to wear to complete the appearance because most LARP activities will have you on your feet rather than in shoes.
So, if you wear anything that is really uncomfortable, you will not be able to enjoy your LARP event in peace, and you will be extremely unhappy by the end. As a result, make an effort to dress comfortably.
Suits: There are several genres in which a character's suit serves as his or her costume. So, if you come across a character like that, you can just put on the suit that you have, which will give you the impression that you are dressed as a character, as opposed to others who choose a character for whom they went all out.
Vests: When you want to hide a strange shirt design, a vest is a perfect option. You can wear your vest with a white shirt if you are portraying a character from a medieval background.
If you are portraying a character from fantasy land, though, a colored cotton vest with a white shirt will do. A vest may make you appear smart and intelligent, and it can help you step up your game.
Pants: The majority of the time, basic black pants will suffice. If the LARP will be conducted outside, you should wear cotton pants that will allow you to breathe more easily. You may acquire cotton pants for around $10 in most department stores because they aren't too pricey and will fit your purpose nicely.
Belts: This is something that will immediately get the attention of other LARP participants. Modern belts won't work because they won't match the outfit at all. As a result, you will need to look for shops that specialize in stunning medieval belts that will go with your outfit.
Pockets: You should make sure that anything you wear for your next LARP event has plenty of spacious pockets. You will wonder why.
The solution to the query is that LARP events may require you to carry trinkets and valuables, but where are you going to put them if you don't have a pocket? You will need pockets to retain those treasures and trinkets so you don't have to spend all of your time juggling them in your hands.
Water Skins: If you are heading to an outdoor LARP event, you will want to get an authentic-looking water skin, which you can easily find at any outdoor store near you.
Waterskin is a must-have if you plan on participating in a long outdoor LARP event. Additionally, you must stay as hydrated as possible when participating in outdoor activities in order to maintain your vitality.
Know Your LARP Costumes Needs:-
You may live like a character, you can realize the LARP dream that you have been having, whether you have a passion for various types of games or series, or if you are into a fantasy world.
However, you must first make a detailed strategy for how you want your LARP costumes to be prepared and how much money you have to spend on it.
That being said, a memorable outfit does not necessitate a large sum of money; you may also have a lot of fun and have the time of your life creating your costume on your own. All you have to do now is look for the appropriate goods.
Conclusion
We understand that picking LARP costumes for your next major event can be difficult and intimidating. To make things easier for you, we've compiled a list of seven of the best online businesses that sell and produce LARP costumes and equipment.
Along with that, we've included some LARP costume tips that will assist you with your upcoming event.